The Ha Giang Loop driving adventure: our Vietnam highlight!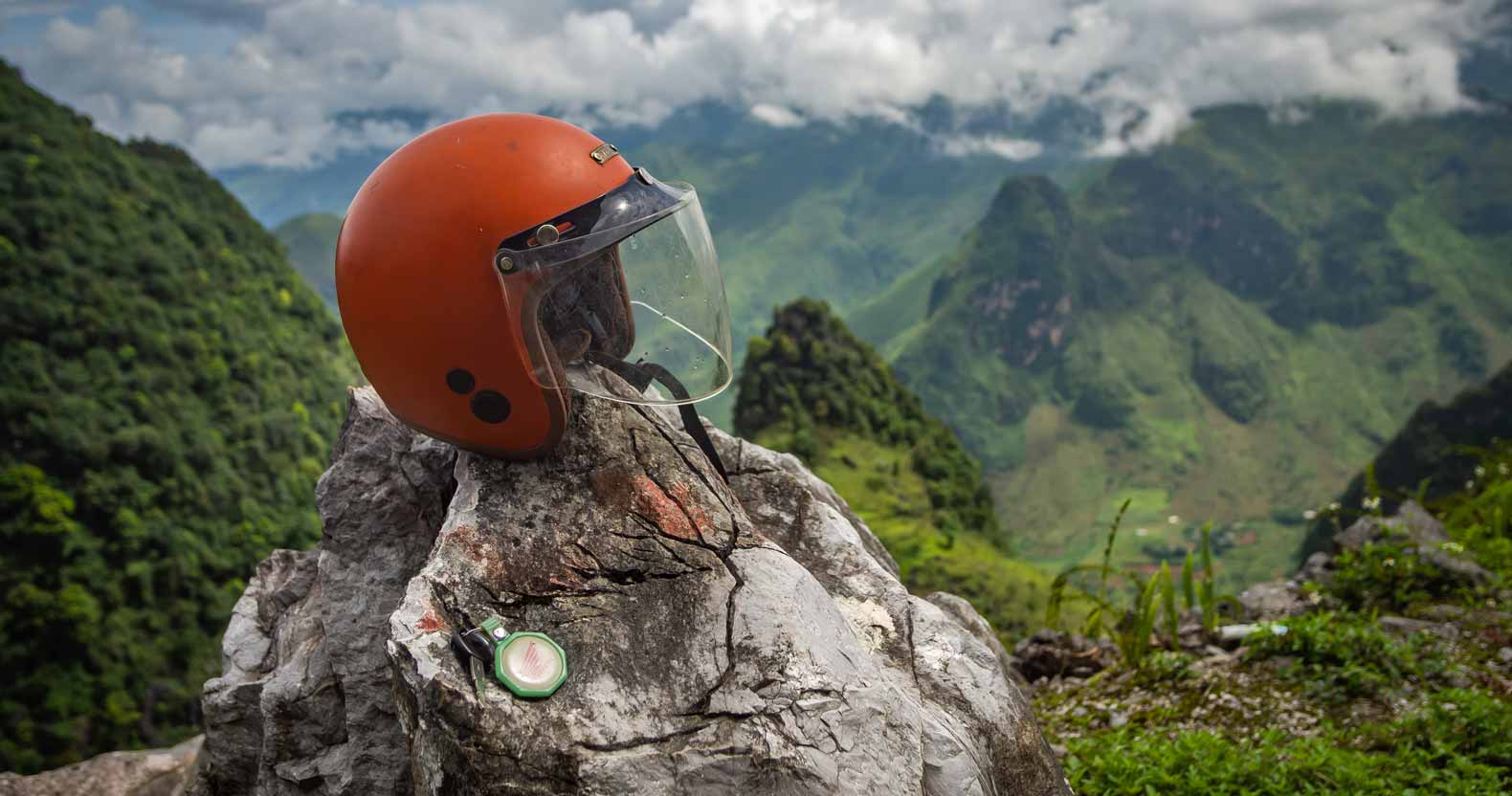 This post might contain affiliate links, which means we may receive a small commission on purchases made through these links, at no additional cost to you.
One of the greatest adventures you can undertake in the north of Thailand is driving the Ha Giang Loop. You'll encounter stunning landscapes, curvy roads, friendly locals and lots of other adventurous travelers.
Renting a motorbike will enable you to set your own pace and stop to admire the beautiful scenery. And believe me; there are a lot of places you'll wanna stop! Besides driving on your motorbike you'll spend several more hours enjoying deep river valleys, beautiful rock formations and rural local life. I guarantee you that your camera won't get any rest!
Tip: If you have never driven a motorcycle, the Ha Giang Loop might not be the best place to learn. With curvy roads, sometimes heavy rainfall and long muddy parts, the road can quickly become dangerous. However, if you have the necessary driving skills and you don't ride like a maniac, you should be fine. If you don't have any experience, you can still enjoy the loop while riding double with an Easyrider (like we did in Dalat). This means that you sit on the back of a motorcycle while a local drives you around. This way you don't have to focus on the road and can enjoy the scenery even better!
We have lost count of how many times we rented motorbikes in Southeast Asia. With already having two big motorcycle loops under our belt (read all about our experience with the Mae Hong Son Loop in Thailand and the Thakhek Loop in Laos) we felt pretty confident for the Ha Giang Loop.
Although you can do the loop in three days (and we even heard about people doing it in two, skipping some parts), we always like to take our time. I guess it's part comfort and part laziness! 😉 The entire loop is about 250 miles/400 km, so we decided to do it in four days.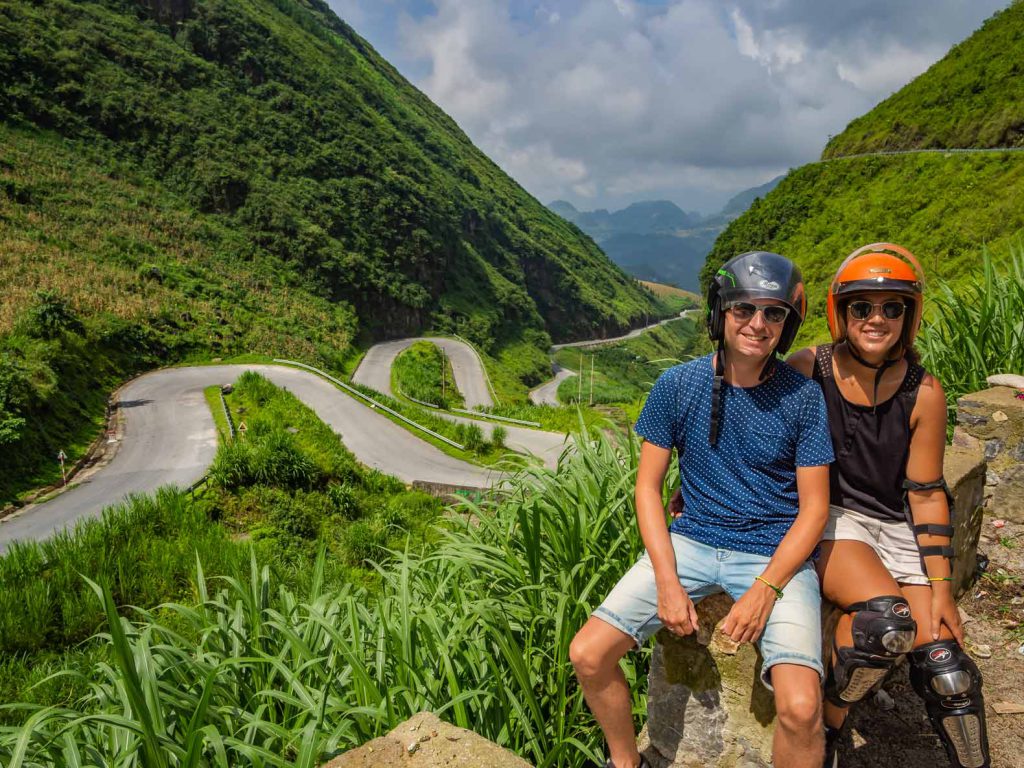 Bike rental and accommodation in Ha Giang
We arrived in Ha Giang the day before because we wanted to start the loop early the next morning. We got our motorbikes from Bong Hostal. This is a very respectable rental company with good reviews and we would recommend it.
We decided to rent a motorbike each, instead of sharing one between the two of us. During the loop we also saw a lot of travelers riding double. We chose for comfort over price however because the entire loop is long!
We got two semi-automatic 125 CC motorbikes for four days for the price of 1.200.000 VND (about 52 USD/46 EUR). Semi-automatic means that you have to shift gears with your foot. If you're used to automatic motorbikes and have never driven a semi-automatic before, don't worry; it's very easy and it'll only take you a little while to learn!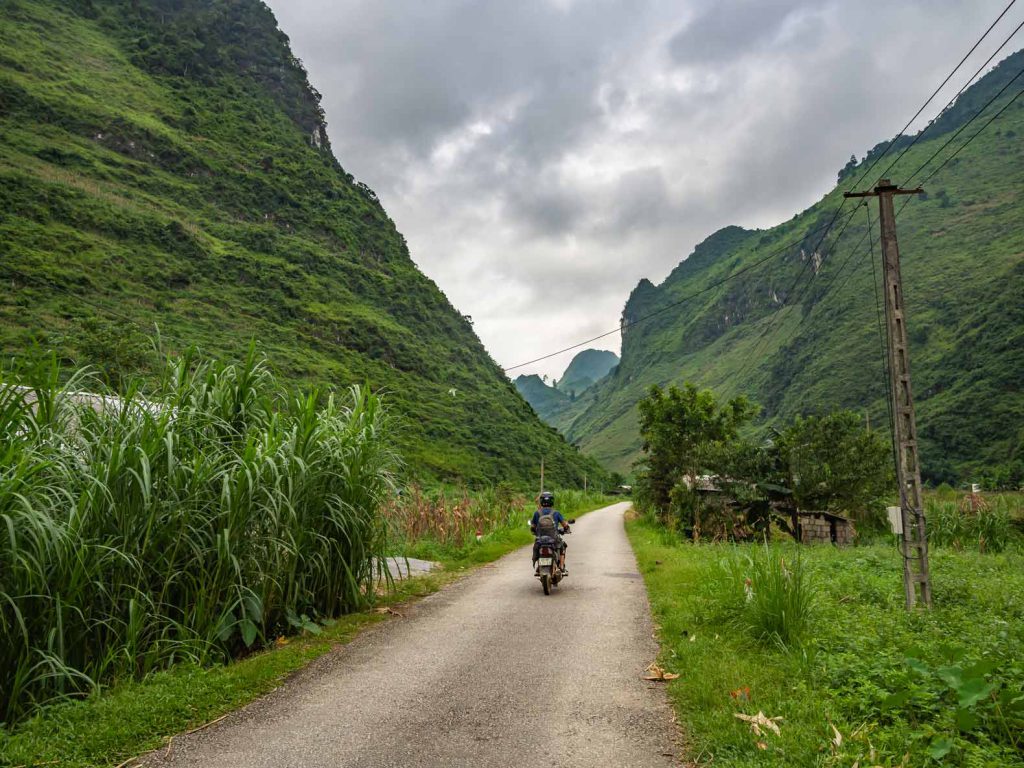 The motorbikes had a luggage rack in the back, to which we could fasten our backpacks. That's way better than squeezing it between your legs while driving!
Bong Hostal also offers accommodation and gets great reviews. We didn't stay there, however, because they only offer dorm rooms and we prefer private rooms.
Before the loop we stayed in Mi Homestay. It was very cheap but not particularly good, we wouldn't recommend it. The night after the loop we stayed at Dream Hostel, which has both dorm rooms and private rooms. Our private room was really big and comfortable. Breakfast included freshly made coffee, Vietnamese style! At this moment, we don't know if Dream Hostel is still available. At the time of writing this blogpost the accommodation wasn't available on Booking and Agoda.
Ha Giang Loop Day 1 – 60 MI / 96 KM
After showing up at 9AM at the rental shop and filling out the paperwork, we were advised to wait until 11AM. At that time we were escorted out of the city by one of the employees. We waited until 11AM because of the police checkpoint that closes down at 11AM for lunch. Apparently, if you drive up to the police checkpoint before 11AM you get stopped and fined if you don't have the correct drivers license. See more about driving motorbikes unlicensed in Southeast Asia at the end of this post.
After we left Ha Giang City we drove through a beautiful valley following the Sông Lô river on our right. The roads on the first day are very good. After a few hours of driving we entered the mountains and the road got a lot more curvy but still of excellent quality. We stopped at Heaven's Gate for lunch, a nice place to stop and have a drink and some food.
Our stay for the night: Kien Thao Hotel in Yen Minh
After we refueled (ourselves, not the motorbikes) we continued driving on the mountainous road. Several hours of driving, stopping, taking pictures and driving again brought us to Yen Minh. Here we stayed the night at Kien Thao Hotel, a nice place with good beds!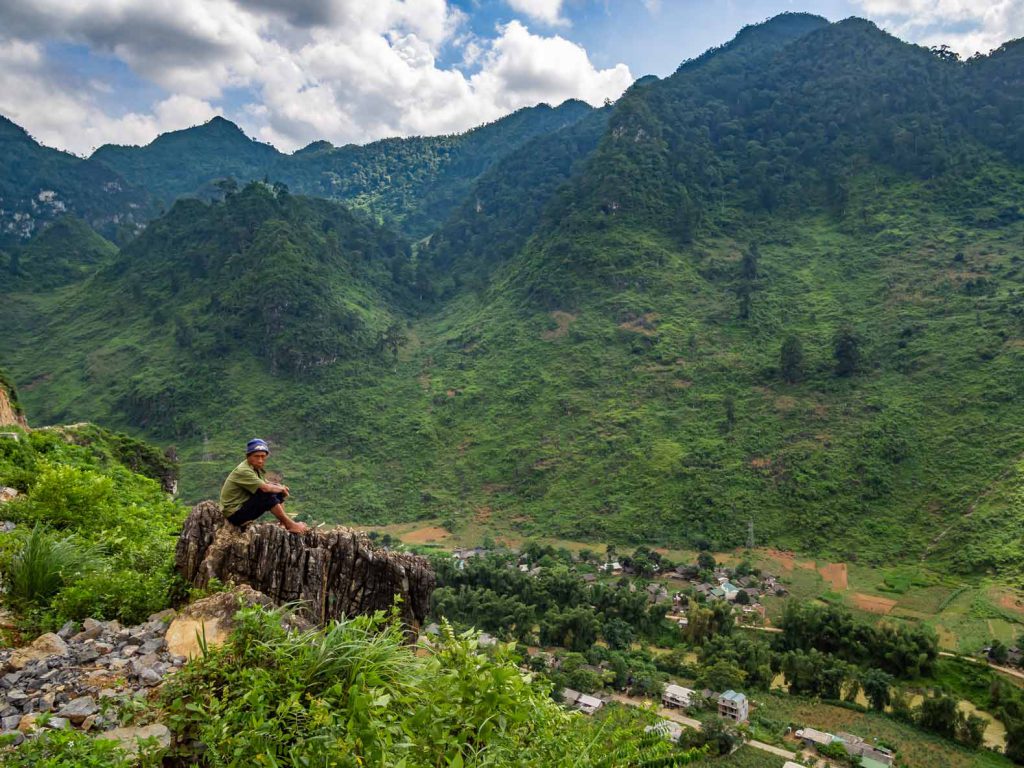 Ha Giang Loop Day 2 – 54 MI / 87 KM
The next morning we left Yen Minh early as we had a lot of ground to cover. There are two options for this part of the Ha Giang loop: drive straight to Dong Van, where you'll stay the night, or make a detour to Lung Cu Flagpole. We chose the latter.
Before we took the detour we ended up having coffee and delicious spring rolls at Su Su Coffee Shop. A little restaurant with one of the best views!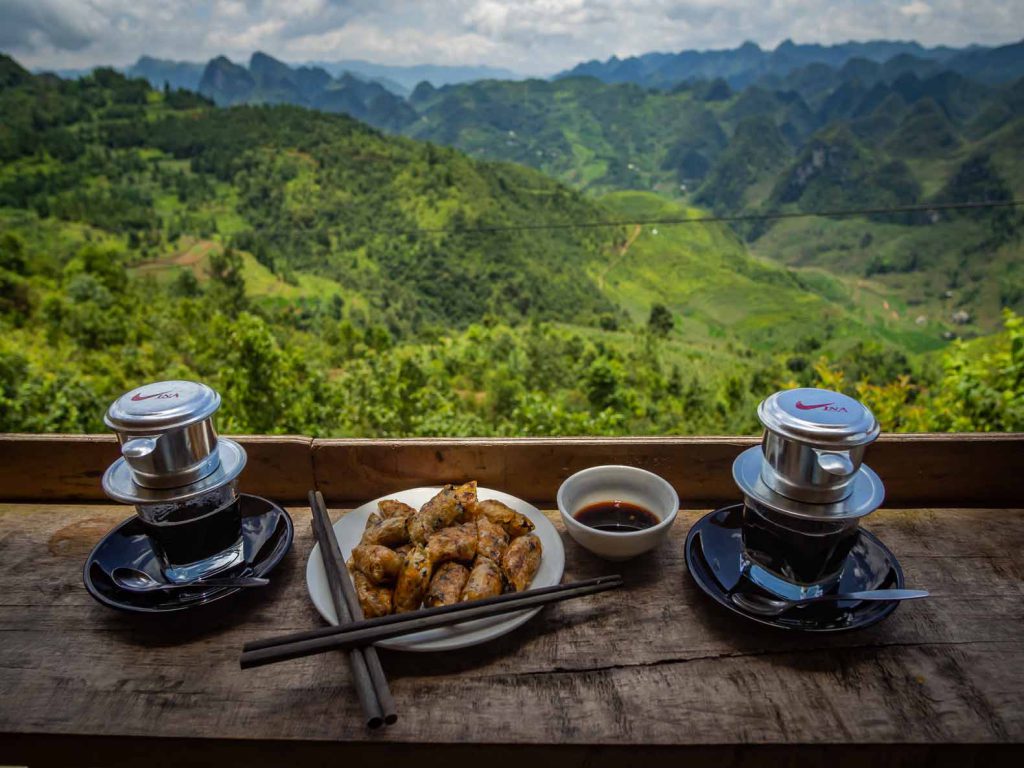 Lung Cu Flagpole
The Lung Cu flagpole is a monument close to the border of China. It was erected on the top of Lung Cu peak to mark the most northern part of Vietnam. It's a 98 ft / 38 m tower, topped off with an enormous Vietnamese flag. You can climb the hill and the tower to get a good view of the surrounding countryside, including China! Unfortunately, when we were there, there was a lot of construction going on in the surrounding area, somewhat diminishing the beauty of the views. If you choose to do the loop in three days, instead of four, I suggest you skip this detour. It'll save you 24 MI / 38 KM.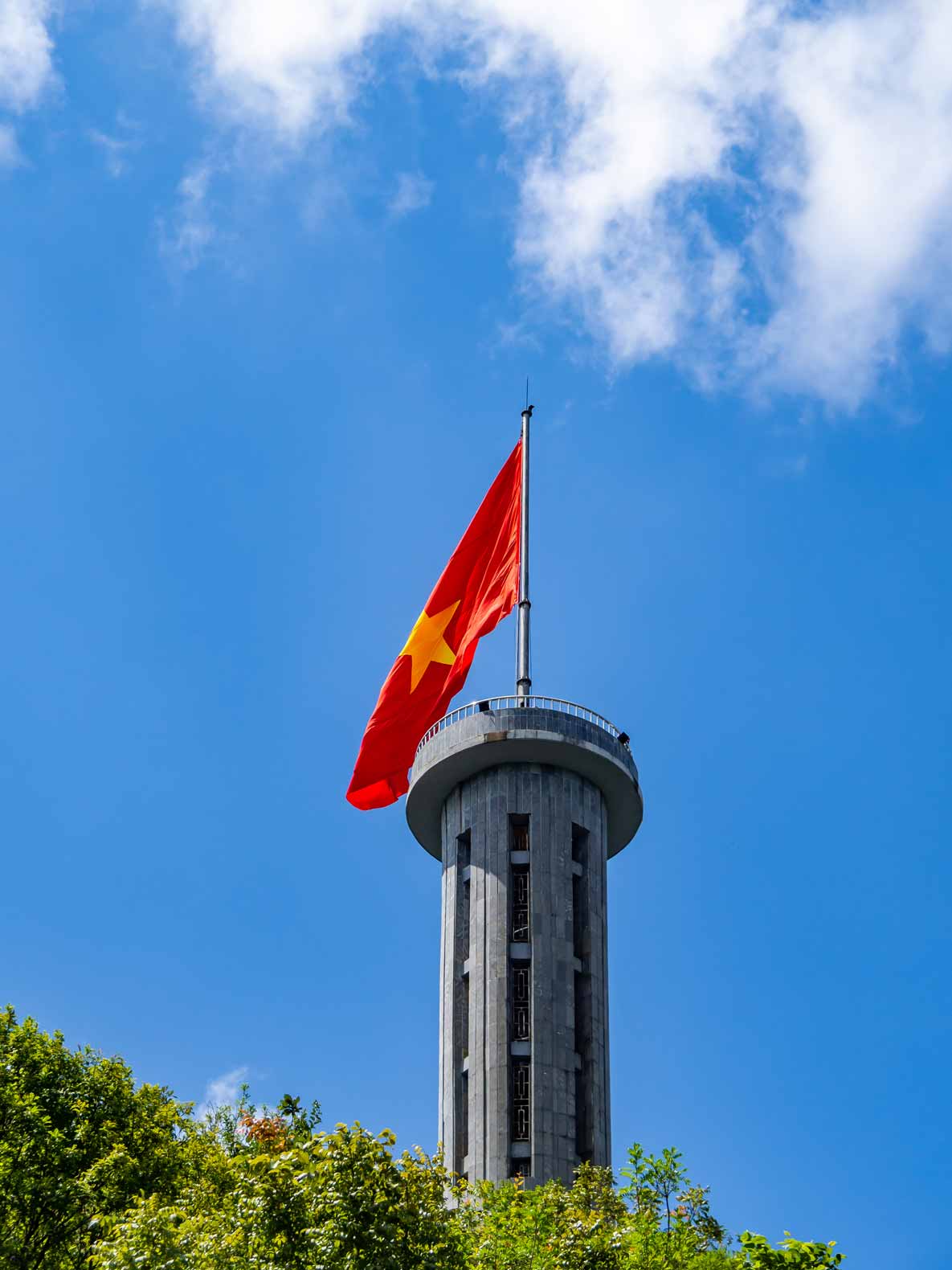 When we drove back from the Lung Cu Flagpole it started to rain really badly making the roads very wet and slippery. Although this made our drive more dangerous, we managed just fine by lowering our driving speed.
Our stay for the night: Binh Minh Hostel
We arrived in Dong Van soaking wet around 5PM. Luckily we could hang out and dry our clothes at Binh Minh Hostel. We ate at Bongo Restaurant. It's from the same people as the Bongo Hostel in Ha Giang. If you mention you rented your motorbike at Bongo Hostal in Ha Giang and show them their business card, you get a 10% discount on your food order.
We called it an early night because we wanted to get up early the next morning!
Ha Giang Loop Day 3 – 51 MI / 82 KM
This day was the day we were most looking forward to. On this part of the Ha Giang loop we drove the Ma Pi Leng pass. This pass is one of the most beautiful and stunning mountain passes in Vietnam! Well, we haven't seen them all, but it certainly was very impressive! Way below you can see the Nho Que river snaking its way through.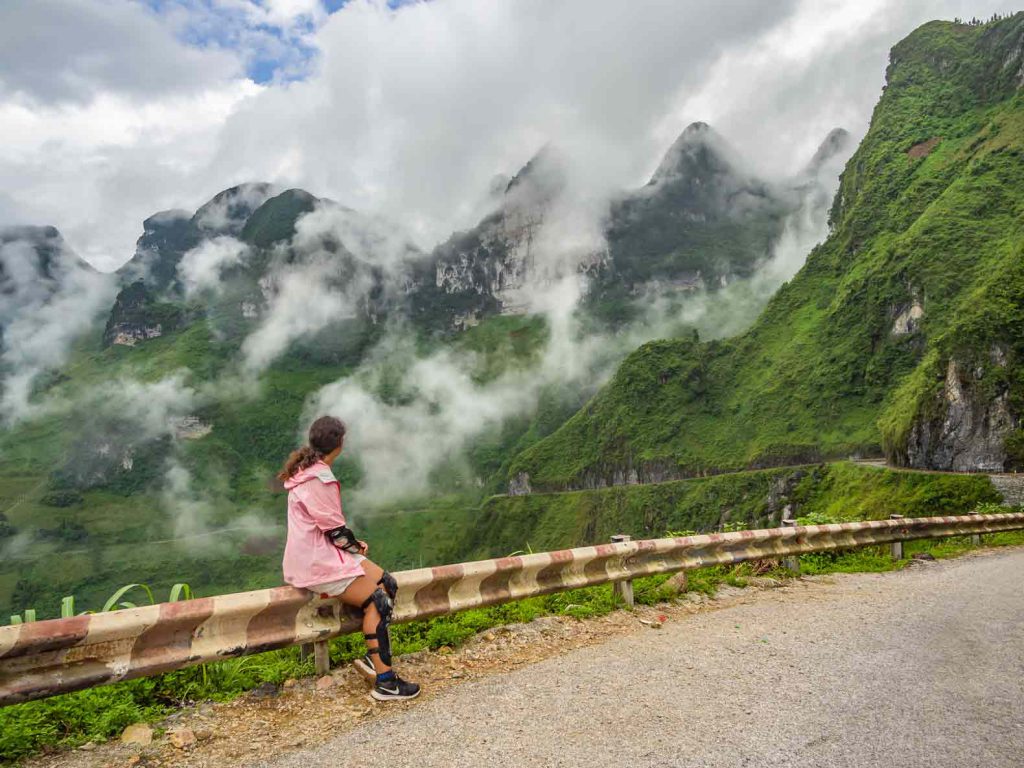 The pass is about 25 KM / 16 MI long, 4.900 ft / 1.500 m above sea-level and lies between the towns of Dong Van and Meo Vac. The road has a lot of hairpin curves, which makes driving more difficult but also fun!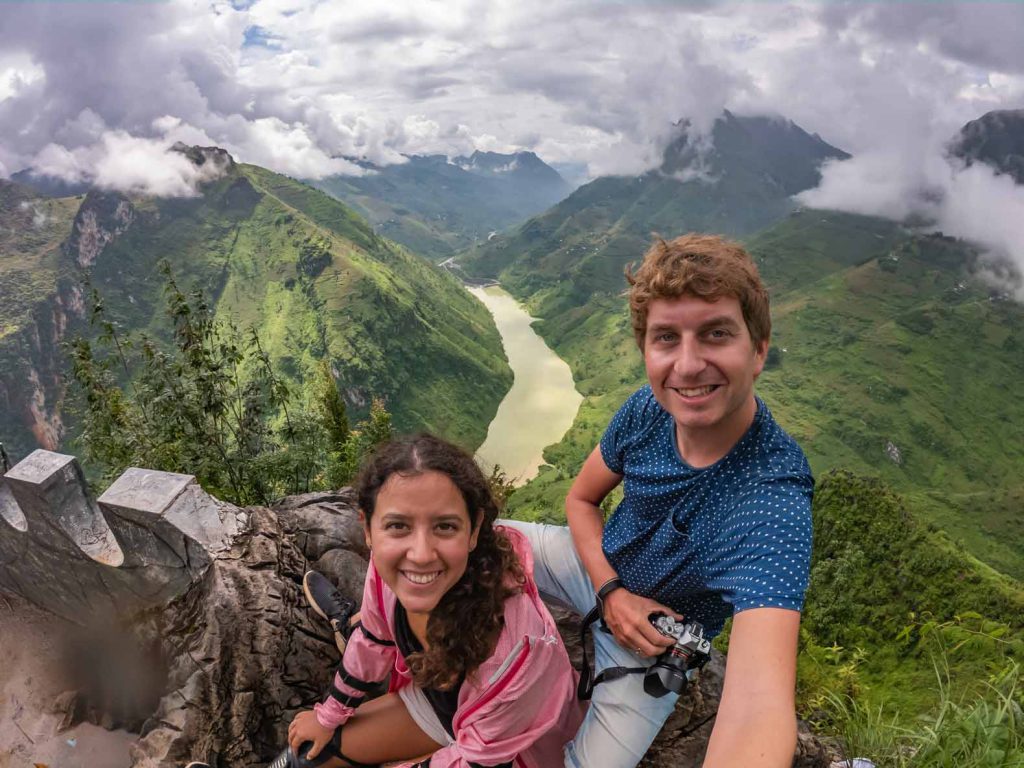 Ma Pi Leng Skywalk
While driving the Ma Pi Leng Pass, you can also visit the Ma Pi Leng Skywalk. It's supposed to be the most dangerous road in Vietnam (Google it!). It forks off from the main road to a viewpoint, even higher than the Ma Pi Leng Pass. The road itself is only about 3 ft / 1 m wide and at the edge you have a drop-off of 1.300 ft / 400 m. One wrong move on your motorbike and you'll drive off the cliff.
Although the locals drive up and down on their motorbikes, most tourists walk the road up to the viewpoint, parking their motorbike at the start of the road. Can you imagine driving on a road only 3 ft wide with a cliff on your side and a local driving the other way, looking to pass you? Yeah, recipe for disaster. There are a few tourists who dare to drive the road on their motorbike, but they are either overconfident or downright crazy, in my opinion. They call it the Ma Pi Leng Skywalk, not Skydrive, for a reason, right? 😉
In any case, we accidentally drove past the entrance point for Ma Pi Leng Skywalk (oops!). So no extremely dangerous road for us!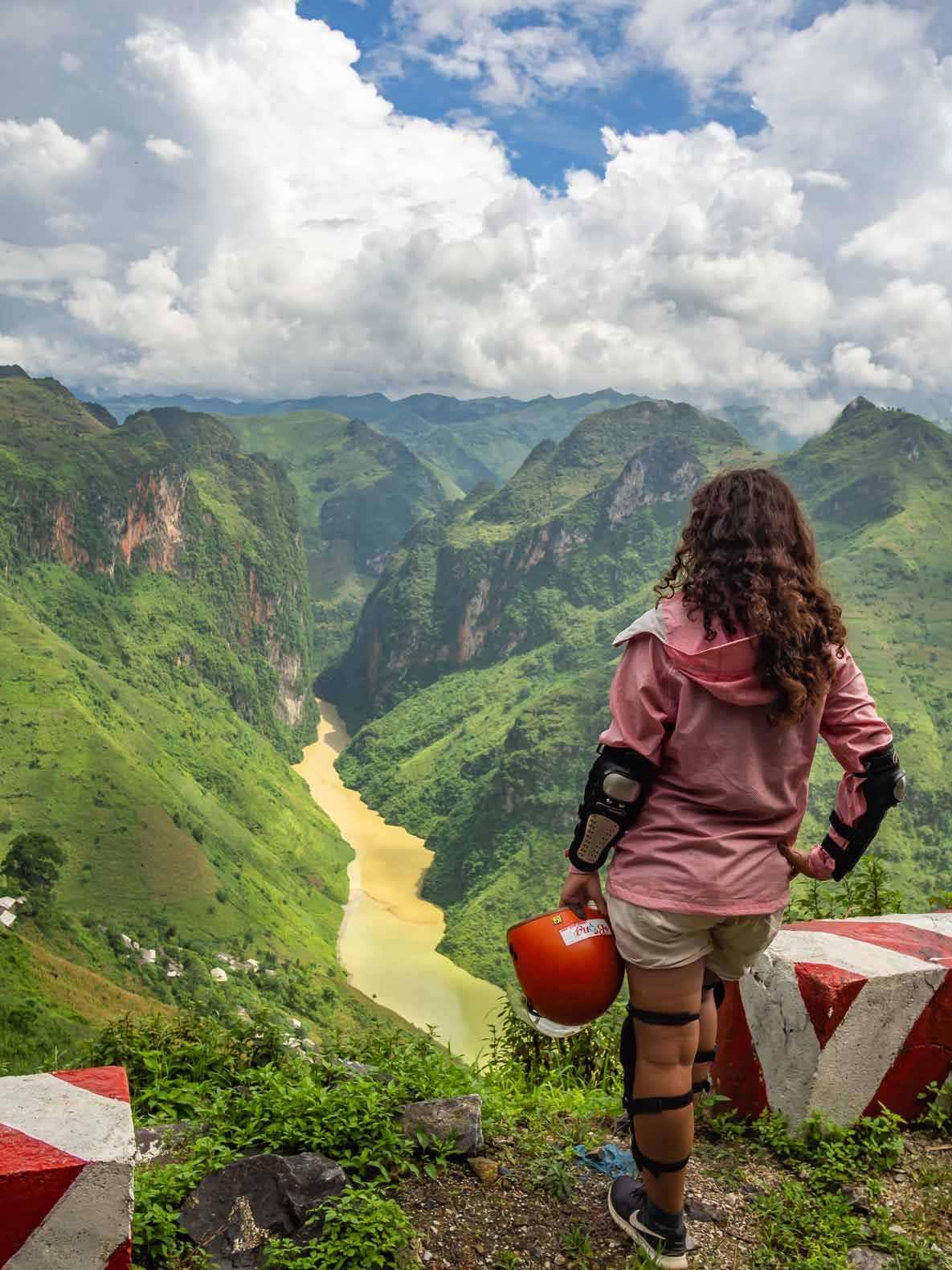 While the road at the Ma Pi Leng Pass was still good the road after was full of pot holes and covered with land slides. So the second part of the third day was very taxing! Very tired, we were happy to arrive in Du Gia, our stop for the third night.
Our stay for the night: Backpacker Garden Homestay in Du Gia
The town of Du Gia itself isn't anything special but our accommodation (Backpacker Garden Homestay) pleasantly surprised us. While the rooms are very basic, they have a great garden and communal area with hammocks. A good place to relax after a hard day of driving! They also have a delicious family dinner where you get to meet other travelers who are doing the loop.
Ha Giang Loop Day 4 – 65 MI / 105 KM
In Du Gia you can visit the Du Gia waterfall before you get on your way back to Ha Giang. It's about a 2 MI / 3 KM one way drive from town. We decided to skip the waterfall however. The weather wasn't that nice for swimming and the fourth day would be the longest driving day. So we left town as early as possible.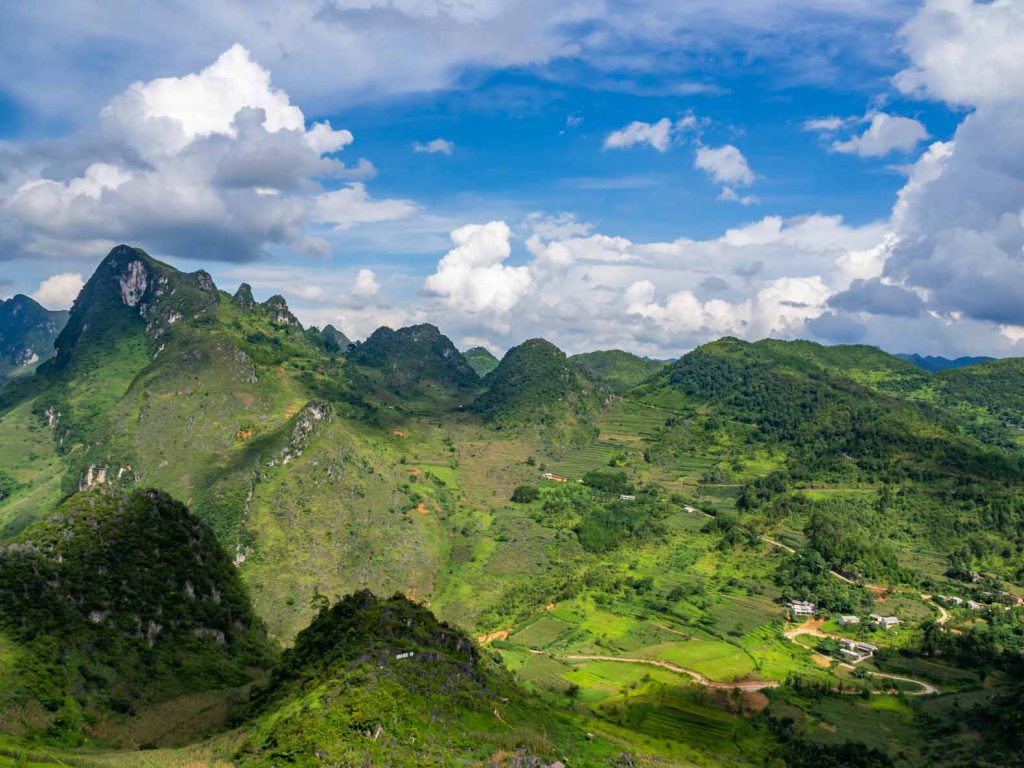 Three (or two) ways to get back to Ha Giang
On your way back from Du Gia to Ha Giang you can decide on three different routes. Always check with your hostal owner about the conditions of the roads, and which they advise to take. We decided to go for the first option.
Option 1
From Du Gia you can head north for a little bit and take a left at the junction of road DT176 and DT181. This road is a lot more challenging than the second option below. You shouldn't take it if it's going to rain all day. When we had to decide the weather forecast was good so we went for this option.
The drive is very nice through a beautiful valley with lovely small villages where children will be waving at you while you drive past! The roads weren't the best (understatement)! We had to pass several parts of the road that were covered by landslides, making the road very muddy and difficult to drive. But we managed, and saved a lot of time compared to taking option two.
Option 2
You can drive all the way back to Yen Minh, using the roads DT176, DT182 and QL4C and continue on QL4C until you reach Ha Giang. This is the longest route, because you go in a big arc (first going north and northwest, before going south to Ha Giang). Of the three options, this one has the best roads. If you're not a confident motorbike driver, we suggest you take this route. But you'll have to drive 91 MI / 146 KM to get back to Ha Giang.
Option 3
You can also go down south and take the shortest route to Ha Giang. However, this road is said to be in the worst condition. Even locals avoid this road (and they are pros in driving a motorbike!) and will advise you against taking it. So, if you value your safety, don't take this road!
When you take option 1 or 2, you'll eventually return to the same road that you used leaving Ha Giang. The last part of the road is in great shape, so we could pick up the pace in the last couple of hours of our trip and arrive in Ha Giang around 3PM.
After a tiring but very fulfilling 4 days of driving the Ha Giang Loop we went on to Hanoi. You can also continue to Sapa or Ha Long Bay (or the better alternative: Lan Ha Bay).
Driving a motorcycle in Southeast Asia: a word of caution
When driving a motorcycle in Southeast Asia always check if you drive one that you are licensed for. For example: in my homecountry, with my regular drivers license (for a car), I can also drive a motorbike up to 50 cc. For anything higher than 50 cc I need a specific motorbike license (which I don't have).
In Southeast Asia however, you won't find many 50 cc motorbikes for rent. Most of them have 110 cc (for a city bike) or higher (for driving in the mountains). But make no mistake, the rental companies don't care what you can or can't drive back at home. They'll give you your requested motorbike anyways.
So what, you may ask? Well, if you're not licensed to drive that specific motorbike there's a fat chance that your travel insurance won't cover a thing when you have an accident. Also, if you hit someone in Southeast Asia while driving a motorbike you're unlicensed for there are hefty fees and sometimes even jail time involved. Not to mention the physical damage you can do to a person!
I'm not trying to scare you out of renting a motorbike, lots of travelers do it. But be aware of the risks you're taking and drive sensibly. We've seen too many travelers driving like crazy just because they feel overconfident and they want to feel the wind through their hair (Also stupid! Always wear a helmet!)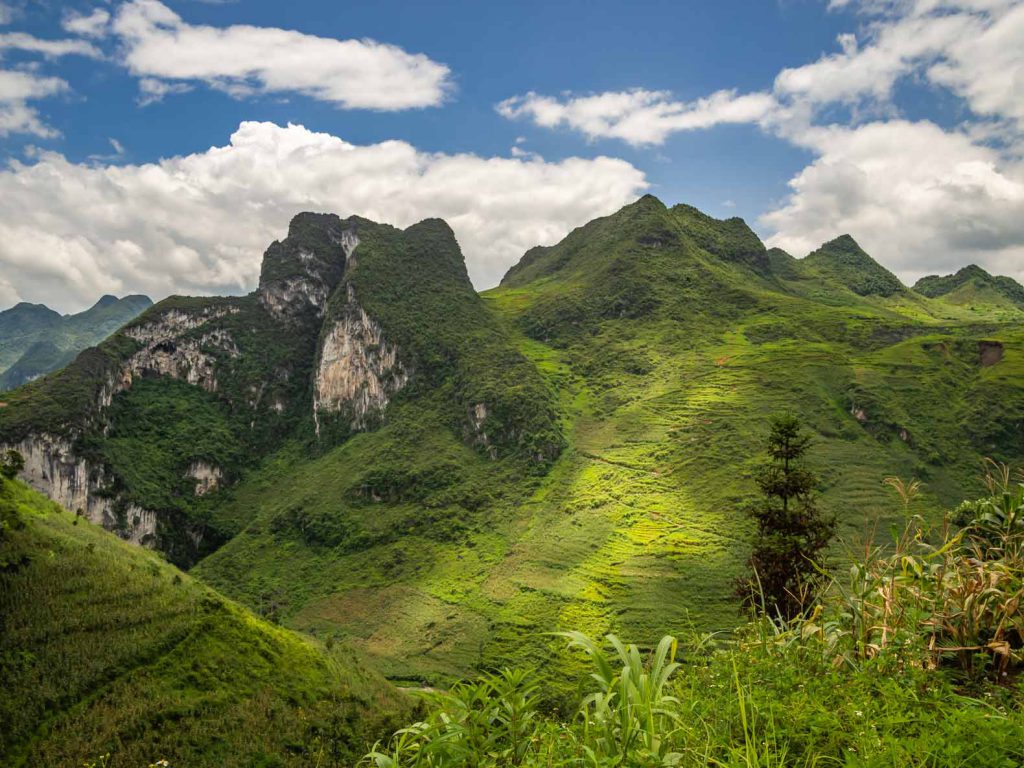 Pin it for later!
Hi, my name is Geert and I'm traveling the world together with my wife Sandra. I like photography, cooking and eating good food, and exploring the outdoors.
---
---