The Ultimate Guide to Visiting Tayrona National Park in Colombia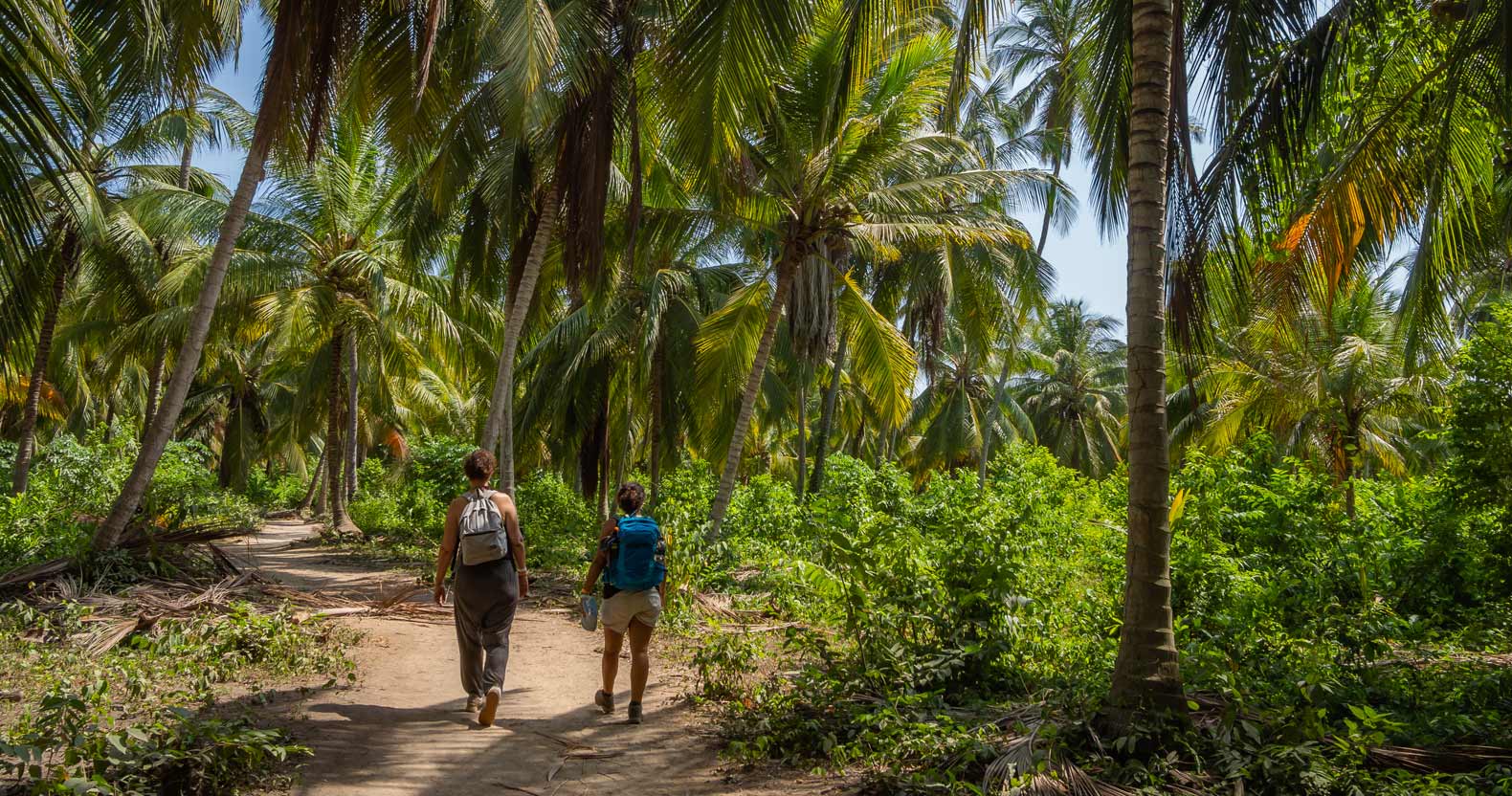 This post might contain affiliate links, which means we may receive a small commission on purchases made through these links, at no additional cost to you.
Tayrona National Park was one of our first destinations in Colombia. We'd just arrived from Southeast Asia and were looking forward to discovering a new continent. Tayrona National park is a popular destination for both national and international tourists, so we knew that we could not miss out and had to pay it a visit as well.
We've put together this guide for those of you that also want to visit the park. It has everything you need to plan your visit, including how to buy tickets, how to get there and where to spend the night.
Let's get started!
Where is Tayrona National Park?
Tayrona National Park is located in the department of Magdalena in the North of Colombia, directly on the Caribbean coast. The closest city is Santa Marta, which lies about 15 kilometers West of Tayrona National Park. Further East along the coast lies Palomino, another popular tourist destination. Cartagena, the most famous city on the North Coast of Colombia and the starting point for most coastal explorers, is about 250 kilometers away.
How to get to Tayrona National Park?
The easiest way how to get to Tayrona National Park is from Santa Marta. However, most people do not find Santa Marta a pleasant city to stay in (we disagree, btw) and will therefore either arrive to Tayrona National Park from Cartagena or Minca. We'll give you directions from each of these three places.
Santa Marta to Tayrona National Park
To get to Tayrona National Park from Santa Marta, you need to first make your way to the Mercado Público between Calle 11 and Calle 12 in the city center. If you've spent the night in Santa Marta it'll probably be within walking distance of your hostel. From here you can catch a Palomino bound public bus for 8.000 COP that will pass by the park. Expect the ride to take about 1 hour.
If you're coming from Santa Marta Airport, it's easier to take the bus from the Terminal de Transportes, which is located along the highway outside of the city.
Minca to Tayrona National Park
This is the route we took, and you can choose from either of two options. The first is to take one of the colectivos from Minca back to Santa Marta. This ride will cost you 8.000 COP per person and will take about 45 minutes. Ask to be dropped off as close as possible to the Mercado Público. From there you can take a 1 hour bus to Tayrona for 8.000 COP.
The other option is to take a taxi directly from Mica to Tayrona National Park. We were able to get a good deal from a driver that had just dropped off people in Minca and seemed desperate to not return to Santa Marta without clients. We payed him 60.000 COP for over an hour in the taxi. Not bad, as we've seen prices of 80.000 COP quoted from Santa Marta!
Cartagena to Tayrona National Park
To get from Cartagena to Tayrona National Park, you will first need to get to Santa Marta. Though there are a few coach options, the most convenient way is to take the Berlinastur minibus. It departs quite frequently from the Berlinastur office, just a short taxi ride from the walled city. You can just show up and buy your ticket for the next bus (we paid 46.000 COP each). You probably won't have to wait more than half an hour.
The ride to Santa Marta should take about 5 to 6 hours, depending on traffic. Tell the bus driver that you want to take the bus to Tayrona National Park, and he'll make sure to let you off as close to the bus stop as possible. There will be taxis waiting to take you the final stretch.
From here, just follow the instructions above as if you're departing from Santa Marta.
Tayrona National Park Opening Times
Tayrona National Park opening times are fairly straight forward. The park entrances are open from 8 AM to 5 PM. You can enter the park between these hours. If you're already inside the park, you don't need to leave at 5 PM. You can stay for as late as you like (or spend the night). Just keep in mind that there aren't any park services, such as shuttle buses, available beyond the opening hours.
When planning your trip to Colombia, the one thing to keep in mind though is that each year Tayrona National Park is closed for a couple of weeks. This allows the indigenous community that still lives inside the park to perform an ecological and spiritual cleansing.
In 2020 Tayrona National Park will (most likely) be closed from 1 to 15 February, from 1 to 15 June, and from 19 October to 2 November. Be sure to check the official government site a bit closer to the start of your trip, as the dates are subject to change.
Tayrona National Park Tickets
You can buy Tayrona National Park tickets at the park entrance. However, it's recommended to buy you your tickets online in advance. There is a daily limit of 6.900 people inside the park and on busy days this limit can be reached early in the day.
So to make sure you won't be turned away at the entrance, buy your Tayrona National Park tickets online as soon as you know your travel dates.
You can buy Tayrona National Park tickets on the official website: www.parquetayrona.com.co. The website is only in Spanish, but otherwise fairly easy to navigate. Payment is by credit card only.
As of 2019 Tayrona tickets for foreigners cost 53.500 COP in low season (most of the year) and 63.500 COP in high season. High season is from 5 June to 15 July, from 15 December to 15 January, Semana Santa (holy week) and several long weekends.
On top of the entrance fee, you have to pay a mandatory 2.500 COP insurance fee per day. The strange thing is that when buying your Tayrona National Park tickets online, you're not asked how many days you will be staying. You just pay the insurance fee for one day. Another good reason to buy your tickets online in stead of at the park entrance!
There is some confusion about the need to get vaccinated against yellow fever before entering Tayrona National Park. As far as we know (and according to the information we found on the official government website) it is RECOMMENDED, but not mandatory to get vaccinated. We were not asked about our vaccinations at the park entrance.
Where to Stay at Tayrona National Park
There are no hotels in Tayrona National Park, except for the very fancy and very expensive Ecohabs at Cañaveral beach. Therefore, staying in Tayrona National Park basically means you'll be sleeping in a hammock. Embrace the adventure 🙂
For the night before you enter the park, we recommend you find accommodation near the park entrance. This allows you to enter the park as soon as it opens at 8 AM. Like we said earlier, it can get very busy and having an early start will ensure you stay ahead of the day tripping crowd.
There are some very nice hostels near Tayrona National Park, mostly located along the main road. You can definitely find a nice place (with swimming pool!) for a decent price. Here's some of our suggestions:
Budget
Midrange
Luxury
Most hotels will store your luggage for you while you're inside the park.
How to Visit Tayrona National Park
To plan your visit Tayrona National Park, you first need to decide whether you want to stay one or more nights in the park or whether you want to do a Tayrona National Park day trip. Both are very well possible, so it will probably depend on how much time you have in your itinerary. Below we will describe our recommendations on how to visit Tayrona National Park.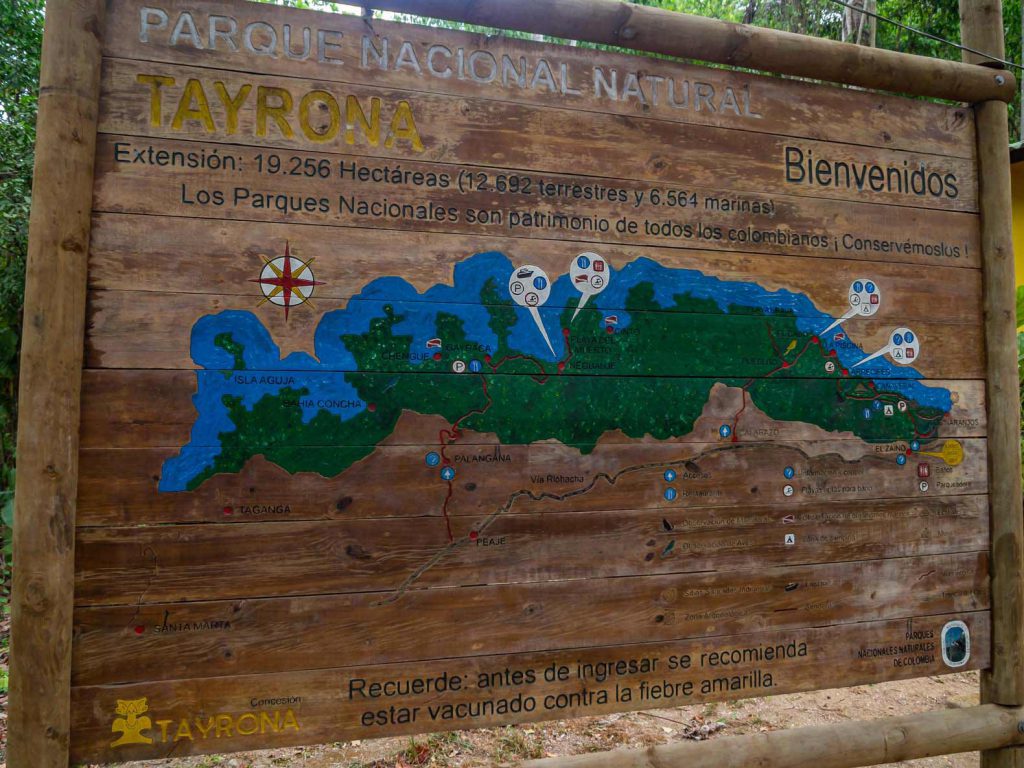 Getting in
Once at the entrance you will be approached by people telling you you need to make a reservation for a campsite, because otherwise it will be full once you arrive. It's up to you whether you want to do this, but we didn't and had no problems with finding a place to sleep in the park, even though we were there in the weekend (more on that later).
At the entrance you will find there are different lines. If you've already bought your ticket online (which you should have), you'll have a different (shorter) line than the rest of the people. Here you'll register and receive your bracelets.
Once you've passed through the entrance, you can choose to either walk the 4 KM asphalt road to the beginning of the hiking trail or take the 3.000 COP colectivo. We highly recommend you take the colectivo.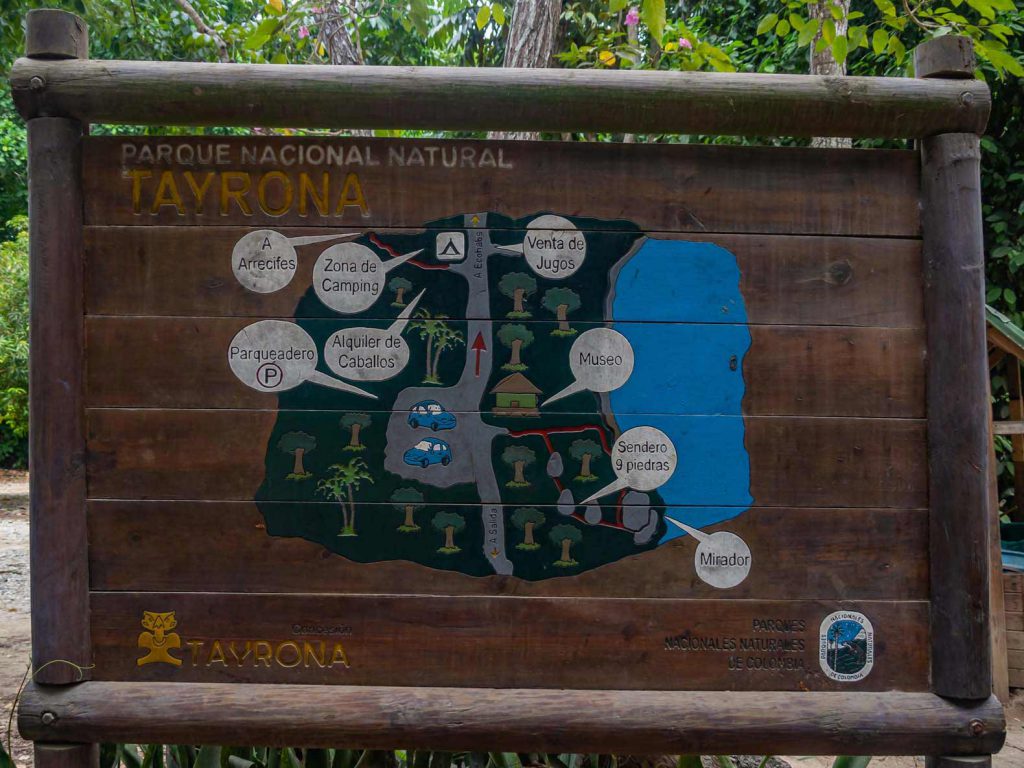 At the beginning of the hiking trail, you'll find several men offering to take you to Arrecife on horseback. The horses looked well cared for, so go for it if you would like to try horseback riding. You don't need any experience. The horses take a different (easier) path than the hikers, so you won't get in each others way.
The Hiking Trail
The hike itself is quite easy. The path is well maintained and there is a wooden boardwalk for some parts. You will be climbing stairs to get on the other side of some big rocks. There is a man selling water and ice creams along the way, at a very well chosen resting point. It'll be hot in the sun, so you'll thank him for carrying the refreshments all the way down the path.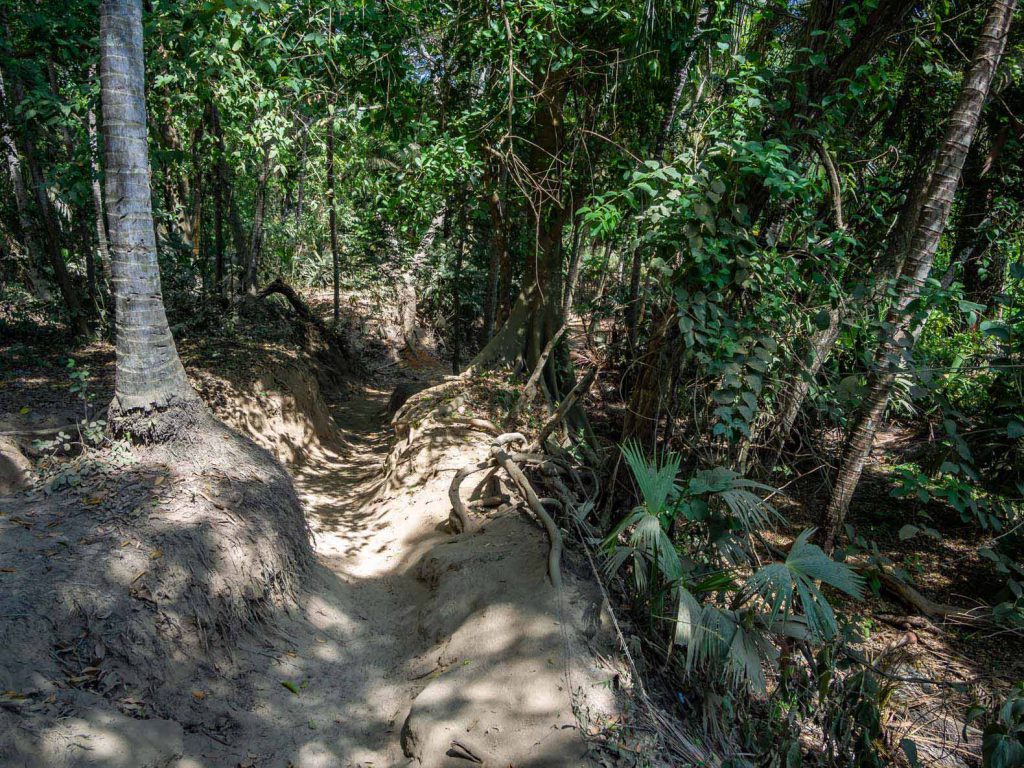 After you've passed the ice cream man, you'll arrive at the first of a few beaches along the way. They are absolutely stunning and invite you to take a dip in the water. Unfortunately, you are not allowed to swim there as the currents are very strong and dangerous. Be patient, your beach will come…
Reserve your Hammock
It's about a 1.5 hour hike in total until you reach Arrecife. The first camping you will see once you turn right towards the beach is the official government camping. We highly recommend this place. Reserve yourself one of their clean and comfortable hammocks with mosquito nets, fans and lockers. The bathrooms at this camping are also quite nice as far as camping bathrooms go.
You might be tempted to opt for one of their other accommodation options, but trust us, the hammocks are the absolute best. You'll pay an arm and a leg for the cabins and the tents get extremely hot in the sun. We slept like babies in our comfortable hammocks.
Beach Time
Stash your stuff in your locker (all but your swimming gear) and continue to walk along the path. You'll pass other camping options on the way, which are probably cheaper than the official government camping, but they also looked quite unappealing to us.
You'll also pass a bakery selling great chocolate / ham and cheese breads. This is a great option for lunch or for breakfast tomorrow. You can also check out one of the lunch stalls a bit further on or bring your own lunch.
Finally, you will get to the beaches that are safe for swimming: La Piscina and Cabo San Juan. You'll know when you get there, because you'll see plenty of other people sunbathing and enjoying the water.
Once you've had your share of sunshine, head back to your camping at Arrecife. Keep in mind that the showers are only open for a limited time before dark, so make sure to not miss that time slot.
We had dinner at the camping's restaurant. It was good, but a bit on the expensive side. We decided to just accept it as we didn't want to bother with the hassle of bringing our own food.
The next day spend some more time at the beach if you want or head back to the exit the same way you came. You'll be sweaty and dusty by the time you reach the exit, so we recommend you find yourself a nice hotel for the evening.
Pin it for later!
Hi, my name is Sandra and I'm half of the traveling couple that makes up Bus stops & Flip-flops. I'm finally living the dream by traveling the world with my husband Geert. My other hobbies are eating good food, dancing and sleeping in. Did you enjoy reading my blog post? I'd love it if you leave a comment!
---
---