Where to see the best graffiti in Colombia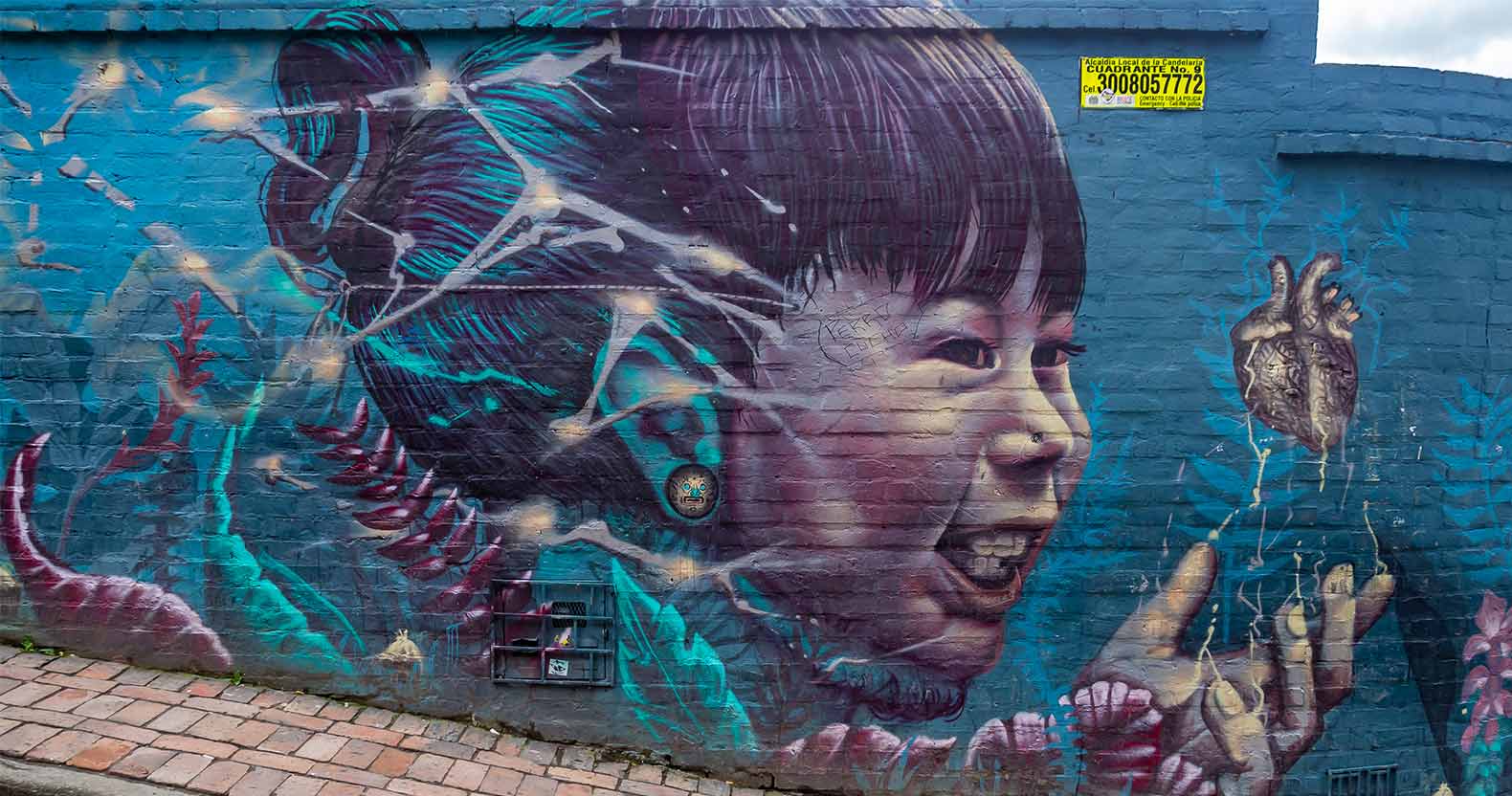 This post might contain affiliate links, which means we may receive a small commission on purchases made through these links, at no additional cost to you.
The days of Colombia being one of the most dangerous countries in the world are over. Many people however still think about Colombia as a very dangerous place where gangs rule the street and every tourist should fear for their life. But this couldn't be farther from the truth.
Over the past few years safety in Colombia has increased a lot. It's now pretty safe for tourists to visit and enjoy everything this beautiful country has to offer. In this post I want to share with you one of our favorites: the awesome graffiti in Colombia!
Graffiti as a way of expression
One of the (few) good things to come out of the country's violent past is the graffiti in Colombia. Over the decades, this art form has been a social protest against all the violence and corruption terrorizing the country. The Colombian locals have mastered this art style to perfection and it has become one of the most important ways for them to express themselves. And boy, there's a lot of graffiti in Colombia!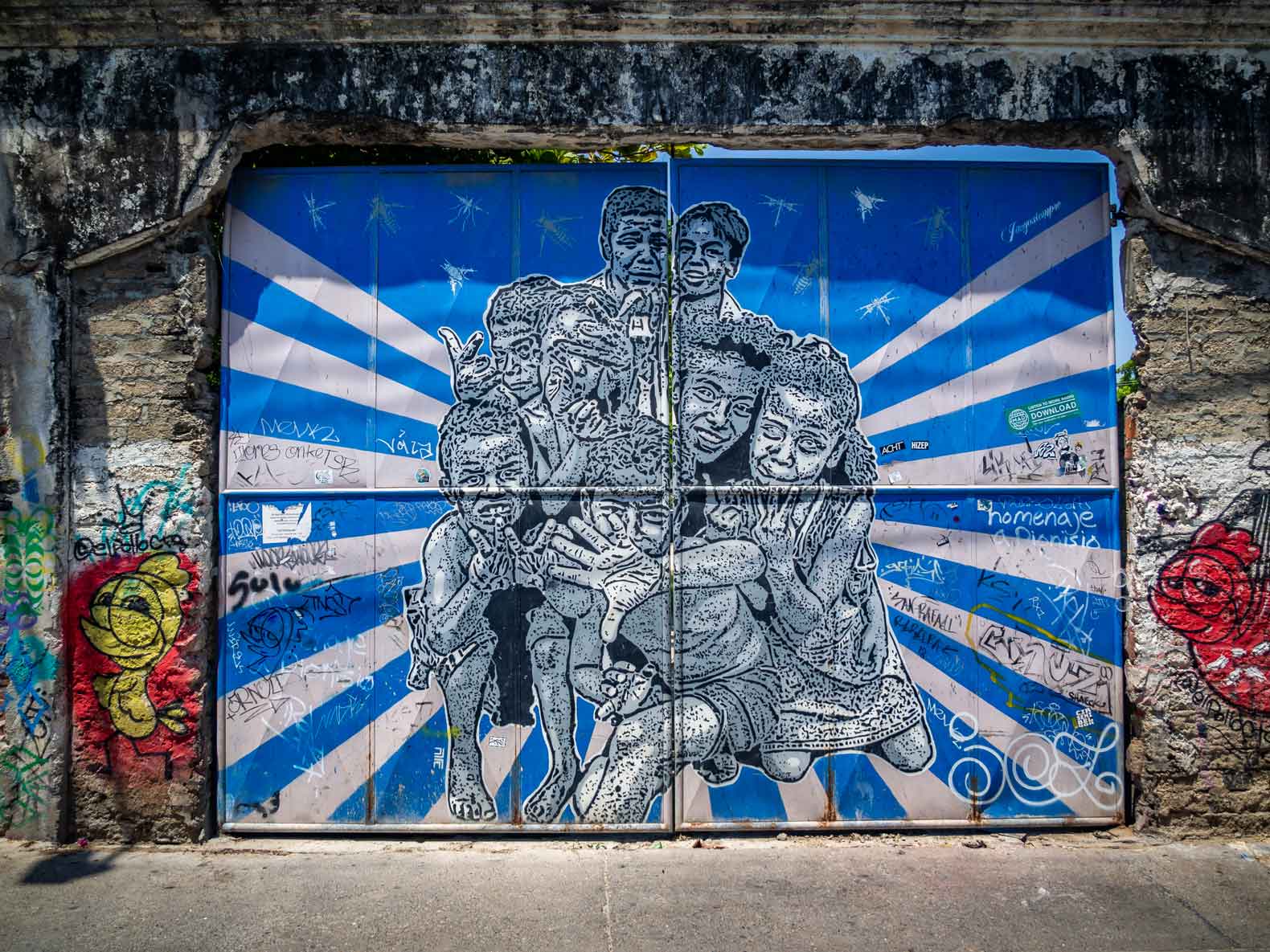 Tip: Colombia still has its safety issues and you shouldn't go wandering around at night or in bad neighborhoods. But if you take care you should be fine!
You'll find graffiti all around Colombia, but the largest clusters of these art works are in the big cities. Many boring gray building walls have been turned into colorful images that convey strong political or social messages.
If you want to see and experience some of the most beautiful graffiti art in Colombia (and in the world) I suggest you go to the following cities.
Medellin has the best graffiti in Colombia!
Our favorite city to see graffiti in Colombia is Medellin. You're going to find a lot of graffiti in the neighborhood El Poblado, the touristic center of Medellin. You'll be probably staying in El Poblado anyways (most tourists do) so it's an easy and nice half-day trip to just walk around and admire all the wall paintings.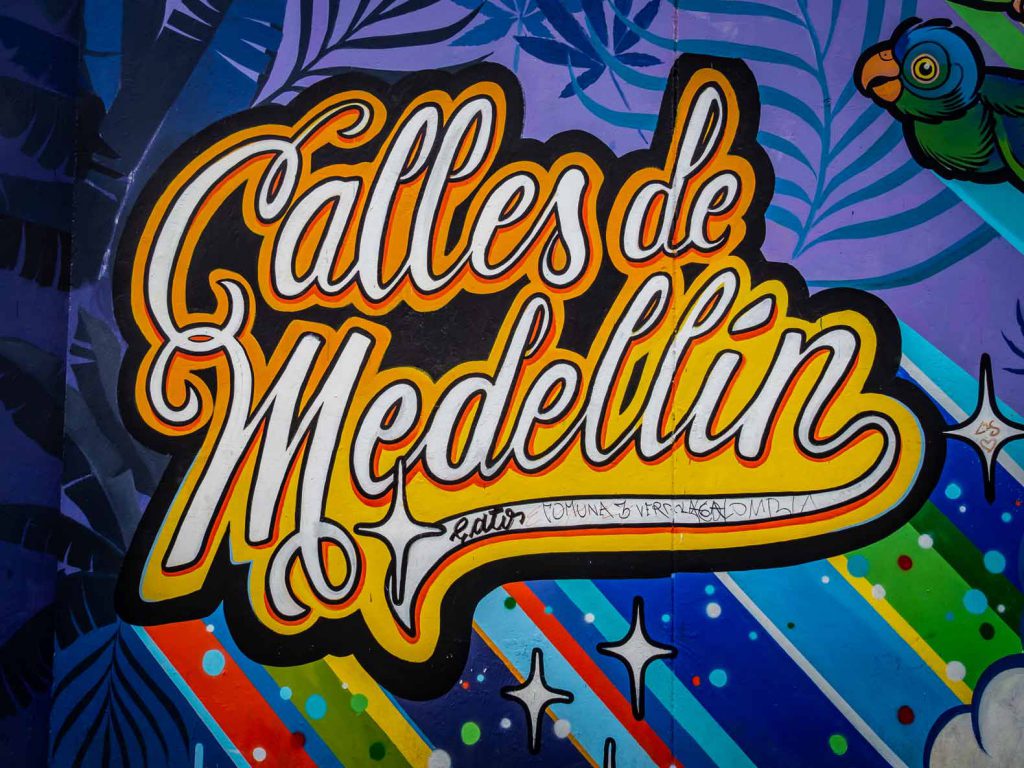 Comuna 13 – a (very) short history
The street art highlight in Medellin for us, however, was Comuna 13. This neighborhood had a bad rep in the past (and still has with many of the locals in the 'richer areas'). Because of its strategical location in Medellin it has a history of drugs and weapon trafficking. From the late 1980's the guerrilla movements FARC and ELN fought over control of the area, because of its strategic significance. This made Comuna 13 at one time the second most dangerous area in the world.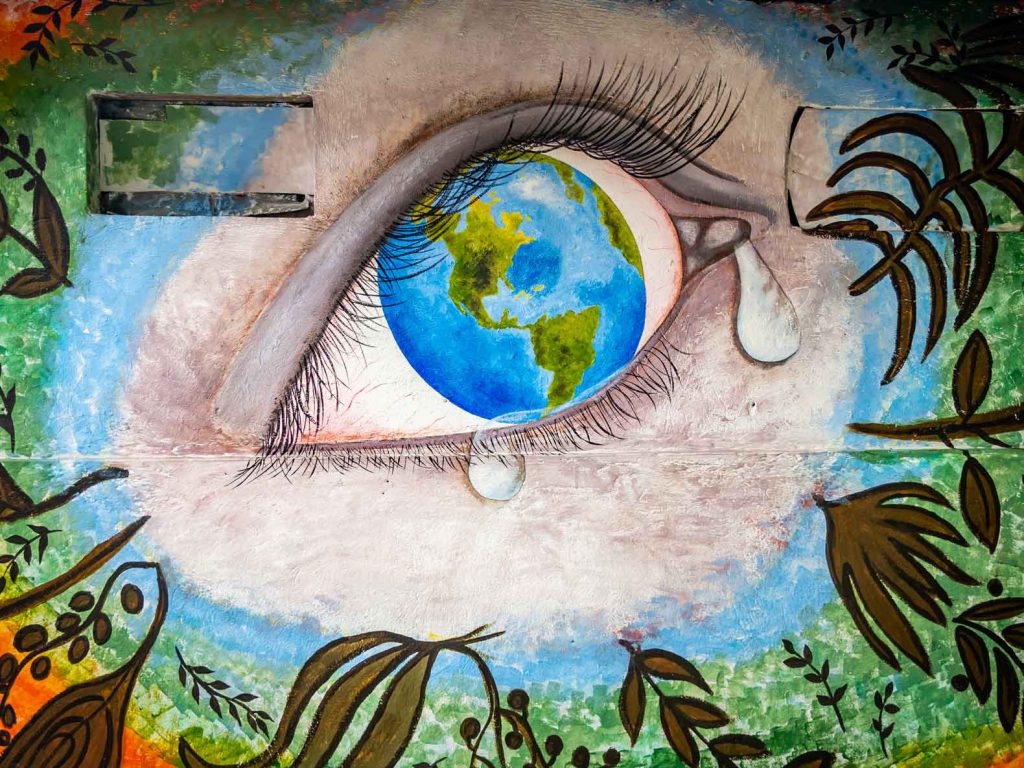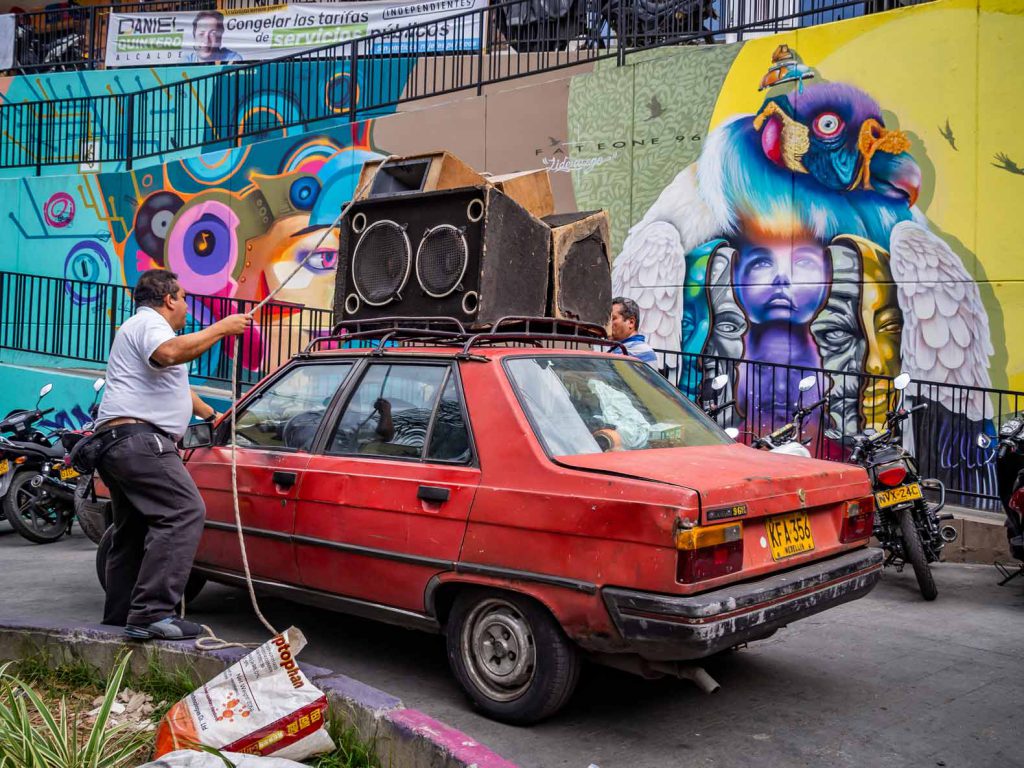 After decades of violence (from both guerrilla movements, drug cartels and the government) that killed many people, something finally changed. In 2006 the city of Medellin decided to invest in the safety of Comuna 13 and other neighborhoods by building a large teleférico (cable cart system). This way, the people in the neighborhoods could safely travel from one place to another.
In 2011 the city even built a system of outside escalators (crazy right?!?) so that Comuna 13, although it's on a steep hill, is now very easy to climb! Nowadays, Comuna 13 is a lot safer than it used to be and it has turned into a touristic hotspot.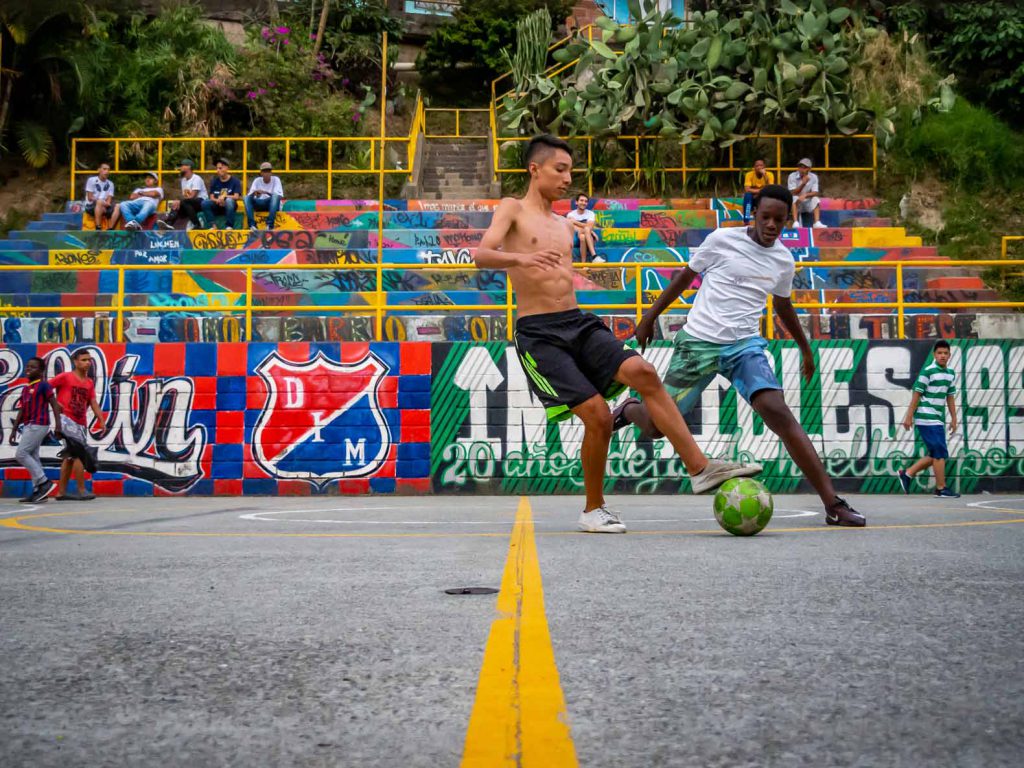 Our experience in Comuna 13
So, although many local people in the city still don't recommend going to Comuna 13, we had the feeling that a day trip with a tour operator would be perfectly safe. And we were right! We didn't feel unsafe at all during the tour. What we found was a bustling neighborhood with warm smiling people. They were eating, dancing, playing soccer, singing and just generally enjoying themselves on the streets.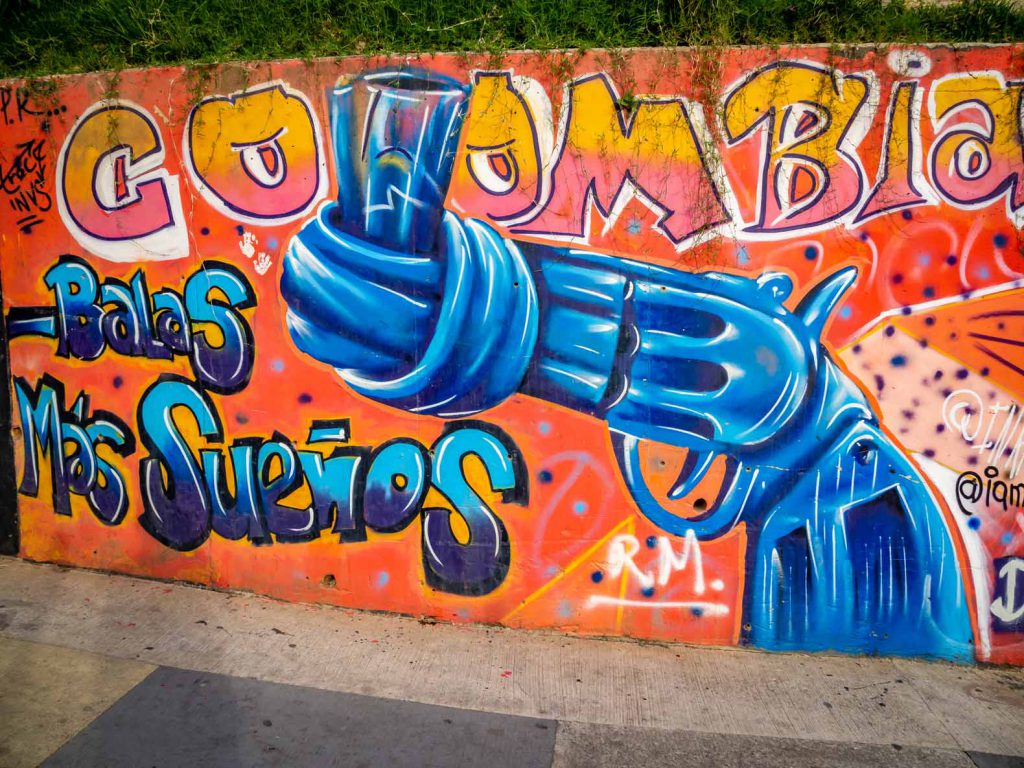 The streets itself were just amazing, with wall art as far as the eyes can see. I don't think I've ever seen such a colorful neighborhood. We took a Comuna 13 tour with an English speaking guide who was a Comuna 13 local himself. He told us a lot about the (shocking) history of the community and how it's better now. He also explained the interesting story behind many of the murals.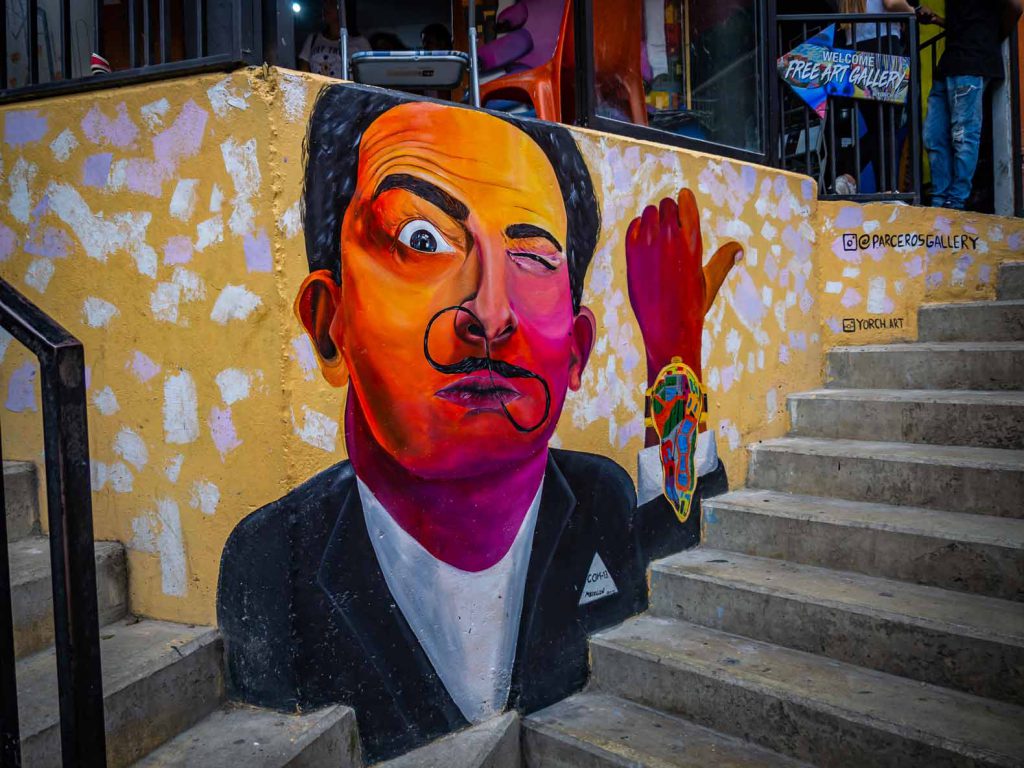 Tip: If you want to visit Comuna 13 in Medellin (and we believe you definitely should!) we advise you to go with a tour, just because of the wealth of information you're going to get. If you want to book a Comuna 13 tour in advance, you should check out this popular tour.
A wealth of street art in Bogotá
The capital of Colombia, Bogotá, has actually more or less legalized the art of graffiti in public places. In 2011 a 16-year old graffiti artist was shot to death in Bogotá by a cop. The cop who killed him tried to cover it up as shooting an armed robber, which sparked worldwide public outcry. The result from this sad incident was that painting street art was legalized.
Nowadays Bogotá has a flourishing street art scene and you'll see big and small graffiti's everywhere. If you're into street photography, like me, Bogotá will be a paradise for you! There are several neighborhoods you can visit to see the most beautiful street art.
La Candelaria
La Candelaria is the most famous one and you won't be able to turn a corner without seeing at least a couple of graffitied walls. Many of the business owners in this area actually pay artists to graffiti their walls with beautiful paintings. So you can imagine that this neighborhood is graffiti heaven!
La Candelaria also happens to be smack in the middle of the touristic area, so it's the easiest and safest place to go by yourself and admire some of the best graffiti in Colombia.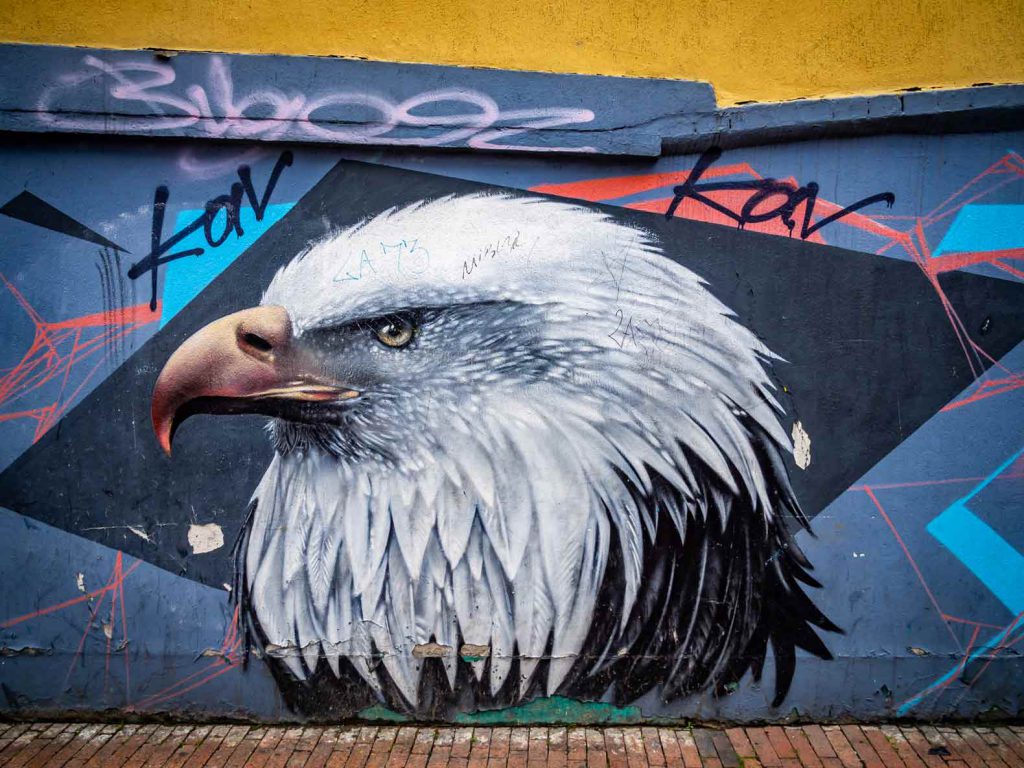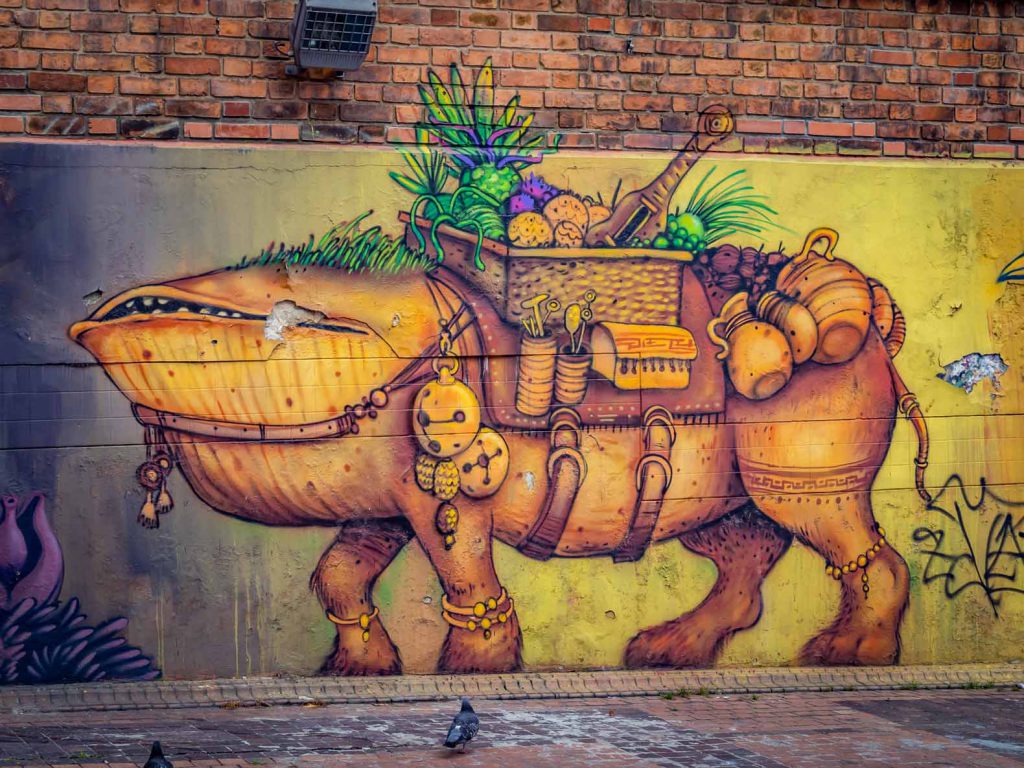 The upside of going by yourself is that it's free! 😉 We walked around the city by ourselves; mainly La Candelaria and the commercial center. The downside on going by yourself is that you won't get any information about the origin of the graffiti and the stories behind the individual pieces of wall art.
If you're still doubting about whether to visit Bogotá or not, check out the post that we wrote about it: Is Bogotá worth visiting?
Other good areas for street art
Besides La Candelaria you can also visit the areas of Avenida El Dorado, Santa Fe and Teusaquillo. Not all these areas are safe for tourists to wander around (even during the day), so if you want to go, check how safe it is and book a tour with a local company if necessary!
Another great tip: whenever you are traveling through the city by taxi, metro or bus, keep your eyes peeled outside. I guarantee you, you'll see some great graffiti murals just staring out of the window!
The smaller urban art scene in Cartagena
Cartagena is in the north of Colombia and is by far the most popular city for tourists to visit. This colonial city boasts a lot of beautiful old buildings and, surprisingly, also some great urban art! The street art scene isn't as big as those in Medellin or Bogotá, but you still shouldn't skip the beautiful art works that are scattered throughout the city.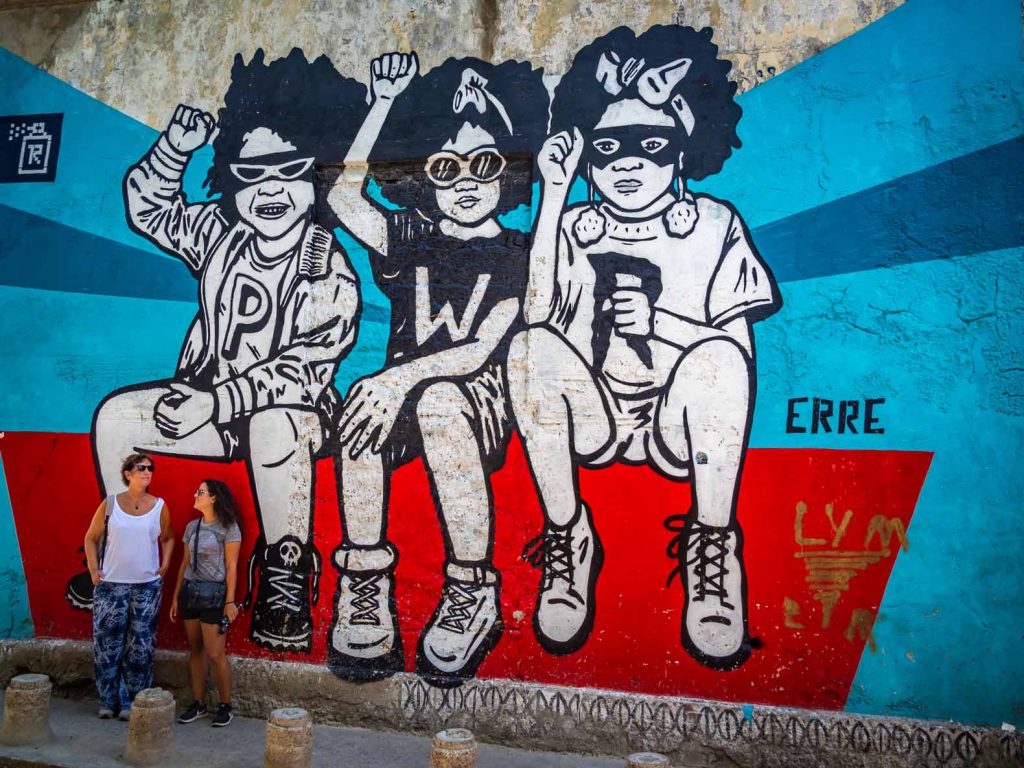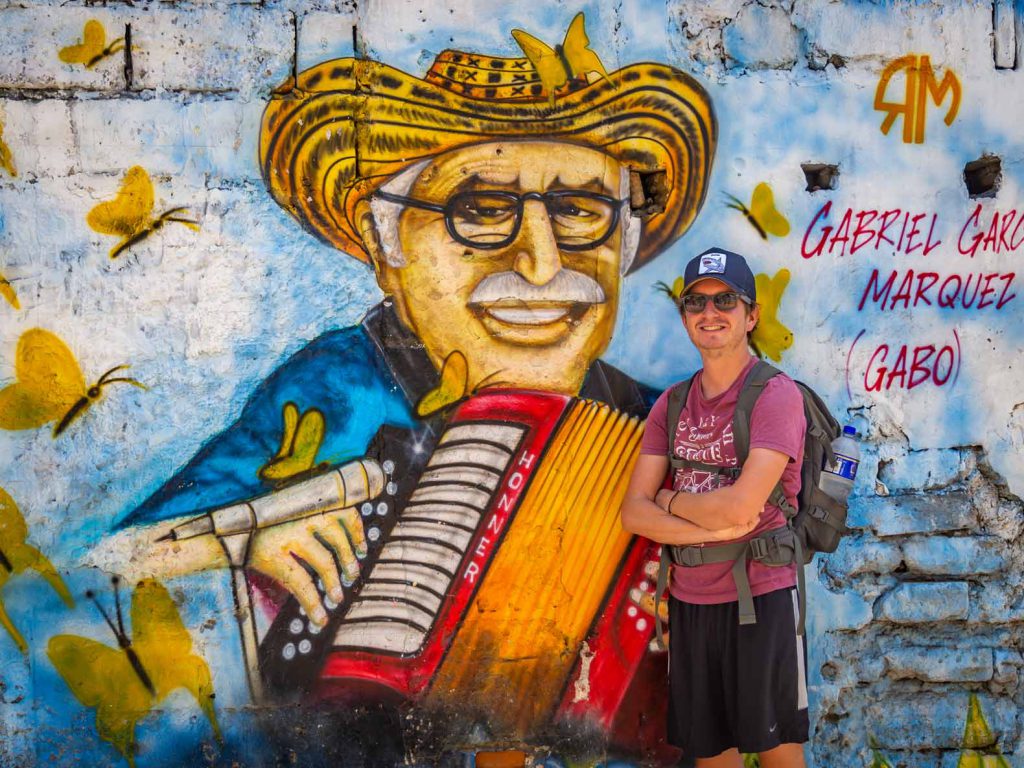 The best place to see street art in Cartagena is the neighbourhood Getsamani. The old city center that lies next to Getsamani isn't that good for graffiti sightseeing, because it's Unesco area. That means no graffiti on the beautiful old buildings!
So take your sunblock and a lot of water and go exploring. Getsamani is best discovered during the day, as you'll be better able to enjoy the wall art in daylight. Also, the streets are safer during the day.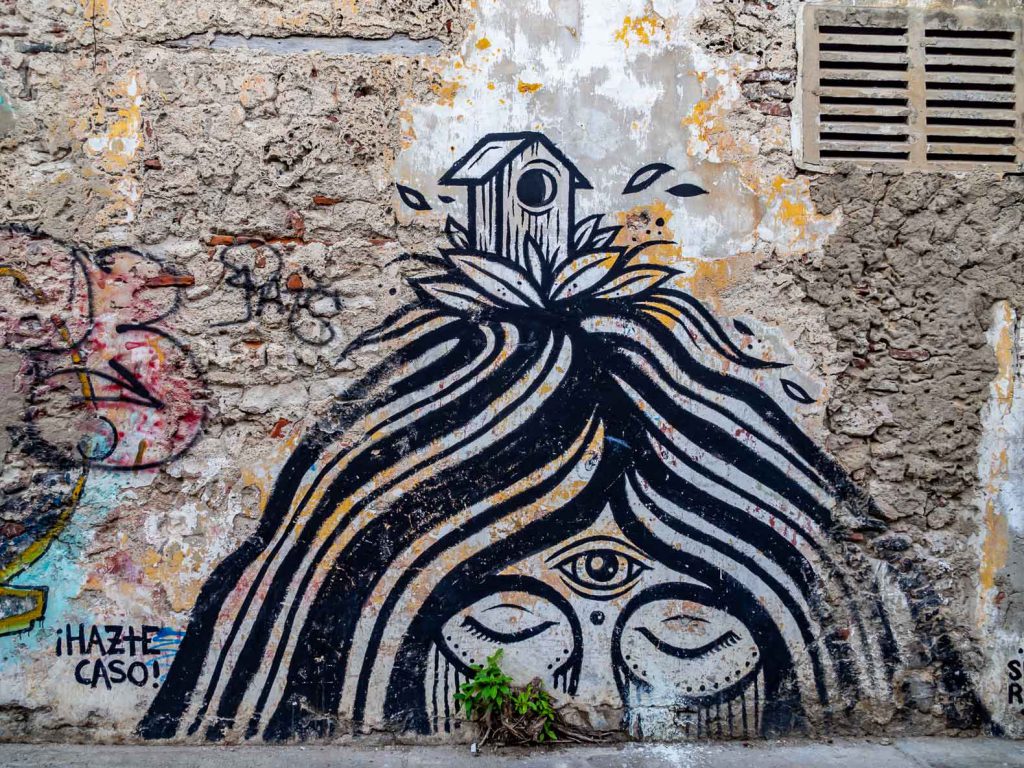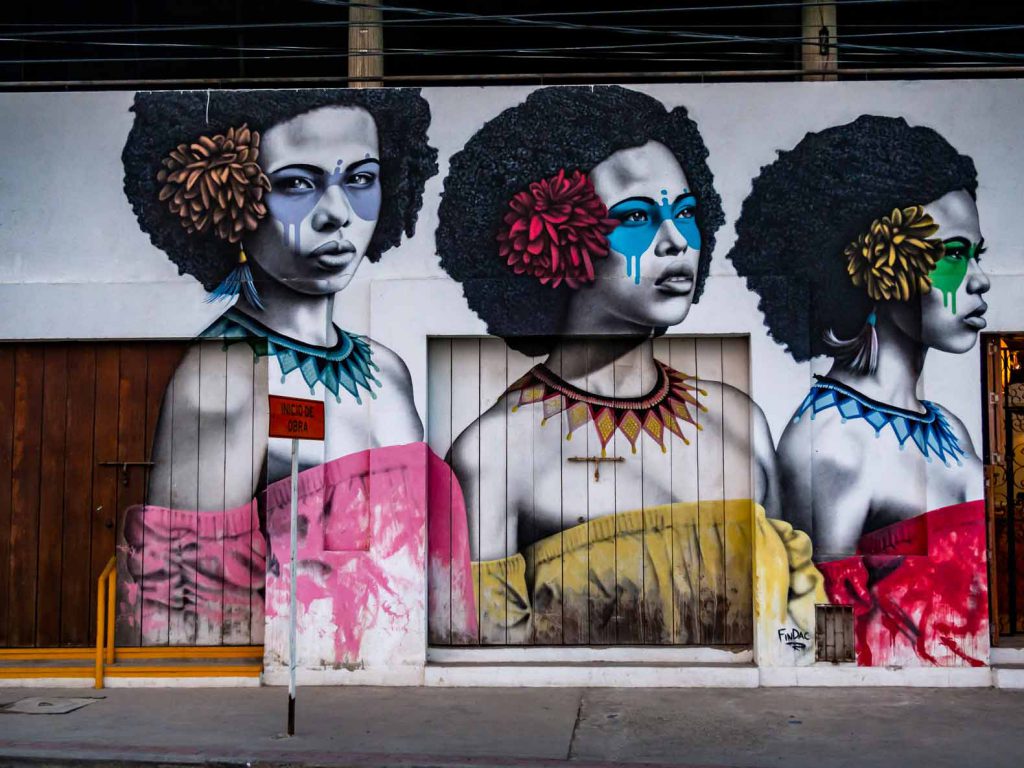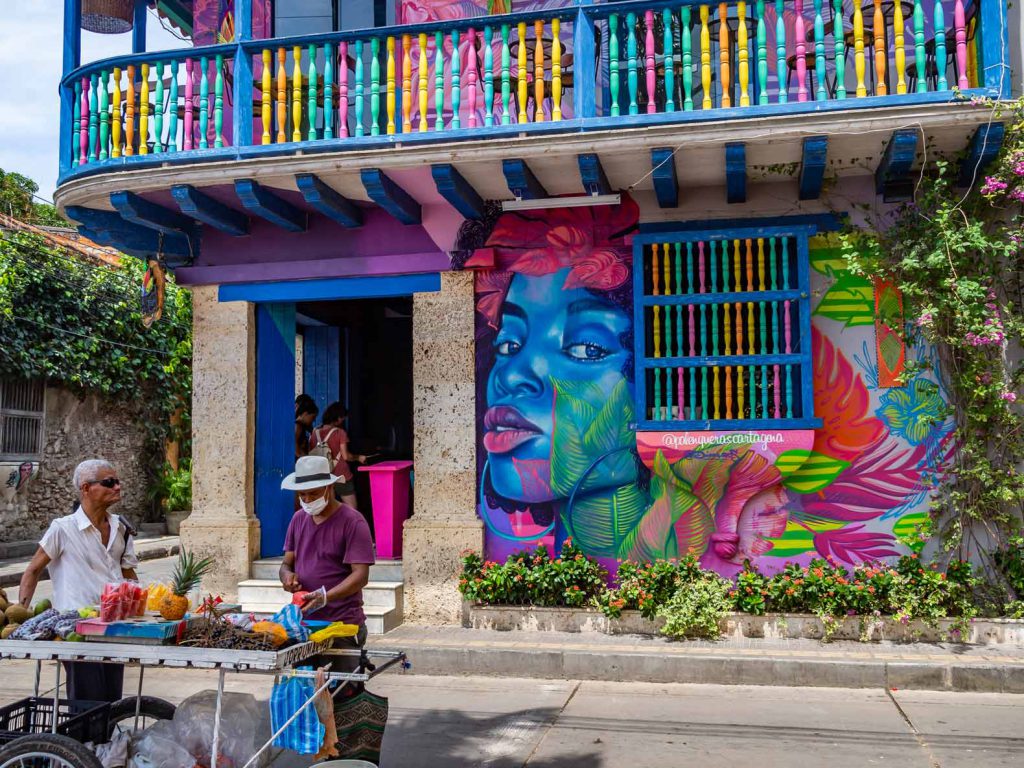 So, that's it! We thoroughly enjoyed all the different graffiti in Colombia and we hope you do too. If you have any other street art hotspots in Colombia that we didn't write about, let us know in the comments below!
Pin it for later!
Hi, my name is Geert and I'm traveling the world together with my wife Sandra. I like photography, cooking and eating good food, and exploring the outdoors.
---
---