Don't miss these 7 amazing Salento activities!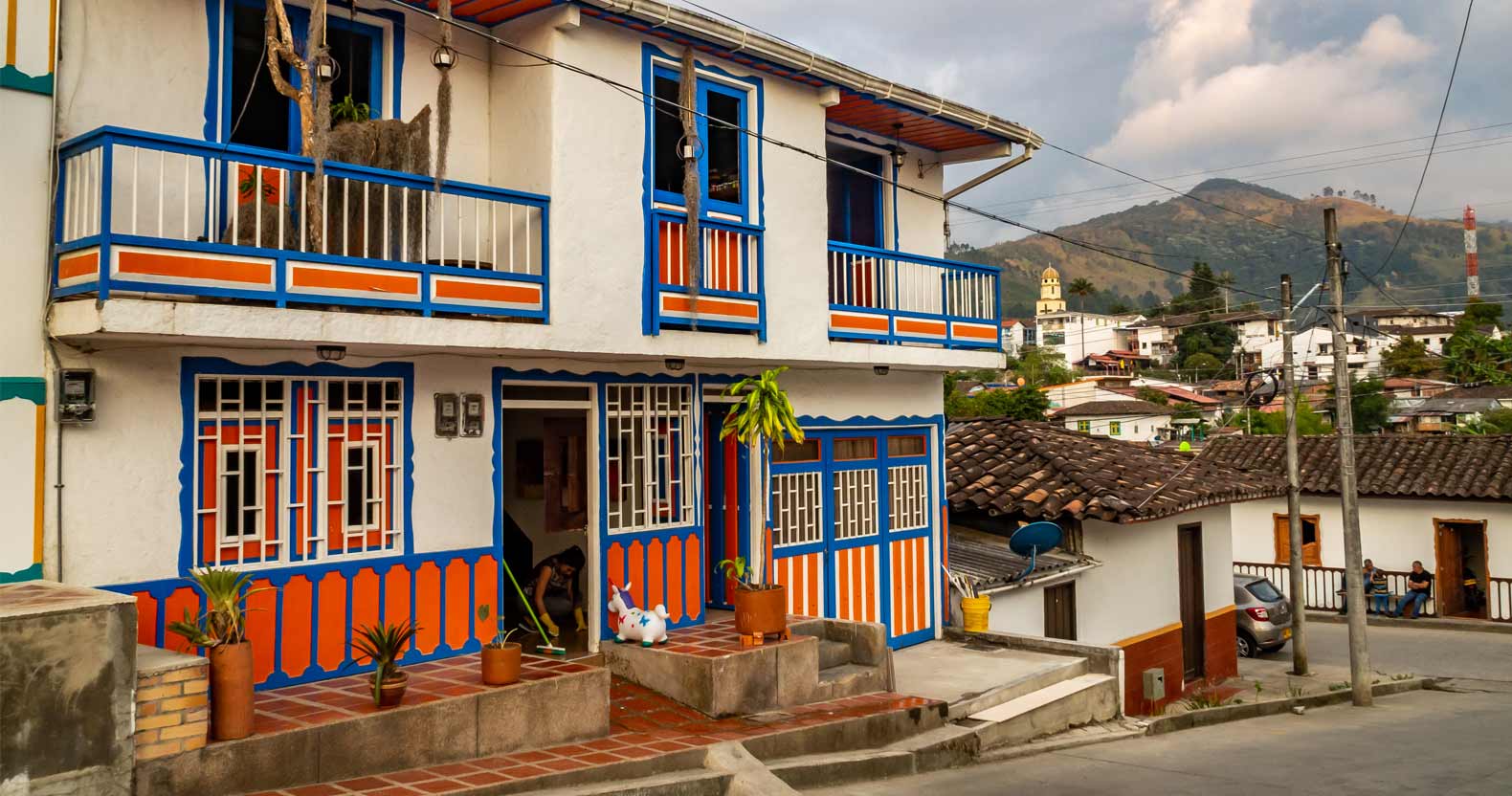 This post might contain affiliate links, which means we may receive a small commission on purchases made through these links, at no additional cost to you.
The small village of Salento was one of our favorite places to visit in Colombia. Though it can be a bit touristy during the high season, it has definitely not lost its authentic charm. The architecture is colorful, the surrounding nature is beautiful and the people are friendly. What else do you need? Oh yeah, great ho(s)tel, delicious food and these 7 amazing Salento activities!
Visit Valle de Cocora
Walking through the Valle de Cocora is probably the most popular of all Salento activities. At least for us, it was the main reason to visit Salento. And it is truly an amazing place that you can't skip when you're visiting Colombia.
The Valle de Cocora is home to the world's tallest palm trees, known as wax palms. These truly unique trees can grow up to 60 meters tall, but they don't get very wide. This makes them look like they could fall over at any time. But don't worry, they won't. It's quite safe to stand underneath one to take a picture!
To get to the Valle de Cocora, you simply take one of the colectivo jeeps (which they call Willy here) from the main square of Salento. This in itself is a fun experience and a beautiful ride.
Once you've arrived at the Valle de Cocora, you can choose between two loops. The big loop will take you about 6 hours, and the small loop is only about 1 hour. We did the big loop and would highly recommend you do the same.
Besides visiting the valley itself, this walk will take you through a very diverse landscape of meadows and jungle. You can even add a detour to visit "Casa de los Colibris", where you can see dozens of hummingbirds.
If you only have one day to spend in Salento, this is the Salento activity that you should do!
Hiking Los Nevados National Park
Of all Salento activities, hiking Los Nevados National Park is definitely the most adventurous one. We recommend this activity only to those who are physically fit and have hiking experience.
Los Nevados National Park is part of the Colombian Andes and lies at high altitude. It is known for its páramo, an ecosystem with unique vegetation consisting of shrubs, grasses and giant rosette plants that is only found in the Andes. But that's not all; you'll also find glaciers, volcanic peaks and lakes, resulting in a very varied landscape.
There are several different hiking routes with different entry points available in Los Nevados National Park. Starting from Salento, you will enter the park through the Valle de Cocora. You will walk for at least two days, staying in basic accommodation along the route.
Two things to keep in mind when planning your trip: you can only hike Los Nevados with a guide, and the park lies at high altitude, so altitude sickness can be an issue.
Salento Coffee Tour
Salento is located in Colombia's coffee region (Eje Cafetero) to the west of Bogotá, so it's no wonder that going on a coffee tour is our second recommended Salento activity!
Colombia is actually the third largest coffee producing country in the world (after Brazil and Vietnam). Furthermore, the Colombian coffee is of very high quality and known for its excellent taste. However, rising temperatures over the past thirty years are becoming a threat to the production of coffee beans. So go on a Salento coffee tour now while you still can!
There are many Salento coffee tours to choose from, but they all include more or less the same things: a tour of the farm and a tasting. It's a great way to learn a lot about growing coffee beans, producing coffee and brewing methods.
Choose your Salento coffee tour base on the type of farm you want to visit (small vs large, organic vs traditional, etc.). We visited Finca Momota, a small organic farm focused on permaculture and we had a great time!
Sample the Trout
We absolutely love trout, or trucha as they call it in Spanish. And even though fried trucha is a popular dish throughout Colombia, they make it particularly well in Salento. So if you're a fish lover like us, you can't miss this local delicacy!
To get yourself a plate of trucha with patacón (smashed and fried plantain), just walk into any restaurant in Salento and order your favorite preparation. We love our trucha fried with garlic and lemon on top, but you really can't go wrong.
Another fun experience is catching your own trout at a trout farm in the Valle de Cocora and have them prepare it for you the way you like.
Horse Riding in Salento
With Salento's location right in Colombia's coffee region, it shouldn't come as a surprise that its surroundings are absolutely beautiful. Besides the many coffee plantations, there are valleys, rivers and waterfalls to explore. And in our opinion, this is best done on horseback.
There are a few different places that offer horse riding in Salento. We went with Cabalgatas San Pablo, which is run by the eccentric Oscar, and can recommend them.
You don't need any prior horse riding experience; they will make sure to pair you with a horse that suits you. Depending on your experience, you can choose between different routes. Ours took us riding through a river, which was great fun.
You could also go horse riding in the Valle de Cocora, thus combining two of our favorite Salento activities!
People Watching on the Square
After a day filled with awesome Salento activities, Salento's main square is a great place to hang out, enjoy the sun and drink a beer. In the late afternoon, the square is a bustling place with villagers talking, dogs sniffing around and kids playing.
There's a minimarket right on the square, across from where the Willy's are parked, where you can buy your beer (and maybe some snacks while you're at it).
Find yourself a nice bench, sit back and relax. If you're in Salento during the weekend, you might even find some souvenir stalls, food stalls and music around!
Play a game of Tejo
It's hard to explain the experience of playing a game of tejo to those that have never done it before. But I'll try anyway 🙂
Tejo is a game that is only played in Colombia. It involves throwing a metal disc over 15 meters onto a court of clay. The fun thing is that they place a small packet of gunpowder on the clay, which will explode if you hit it with the disc.
Sounds easy enough, right? Well, hitting the explosive is actually a lot harder than it looks! But if you bring some friends and drink a few beers, you'll surely have an entertaining evening. In Salento, tejo is best played at Cancha de Tejo Los Amigos or BetaTown.
Pin it for later!
Hi, my name is Sandra and I'm half of the traveling couple that makes up Bus stops & Flip-flops. I'm finally living the dream by traveling the world with my husband Geert. My other hobbies are eating good food, dancing and sleeping in. Did you enjoy reading my blog post? I'd love it if you leave a comment!
---
---