Our 2-day Off the Beaten Track Trekking in Sapa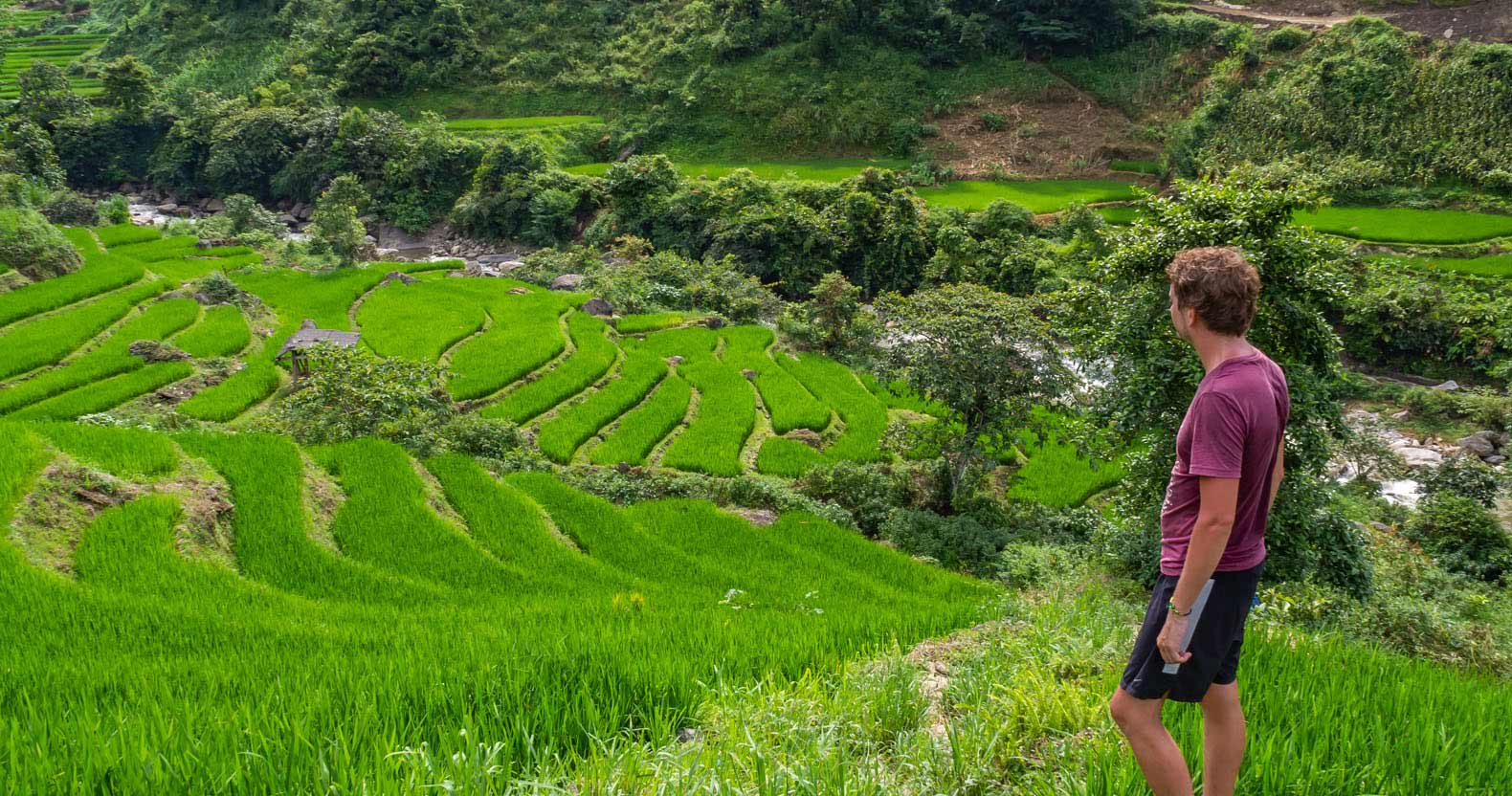 This post might contain affiliate links, which means we may receive a small commission on purchases made through these links, at no additional cost to you.
Trekking in Sapa is the highlight for many people visiting Vietnam. And we fully understand why! Hiking through the vibrant green rice fields with an indigenous guide was a truly unique experience and one of our favorite activities in Vietnam.
In this blog post we'll tell you all about our experience of trekking in Sapa for two days. How we chose our guide. How we were able to get an off the beaten track experience in this major tourist destination.
Our 2-day trekking in Sapa
We arrived at the office of Sapa O'Chau bright and early, ready to start our 2-day Sapa trekking. After a short wait, we were introduced to our guide, a lovely woman in traditional clothing from the Red Dzao minority. I truly regret not remembering her name… Having a Red Dzao guide is rare, as most guides are either Black Hmong or Blue Hmong, which are much larger minority groups than the Red Dzao.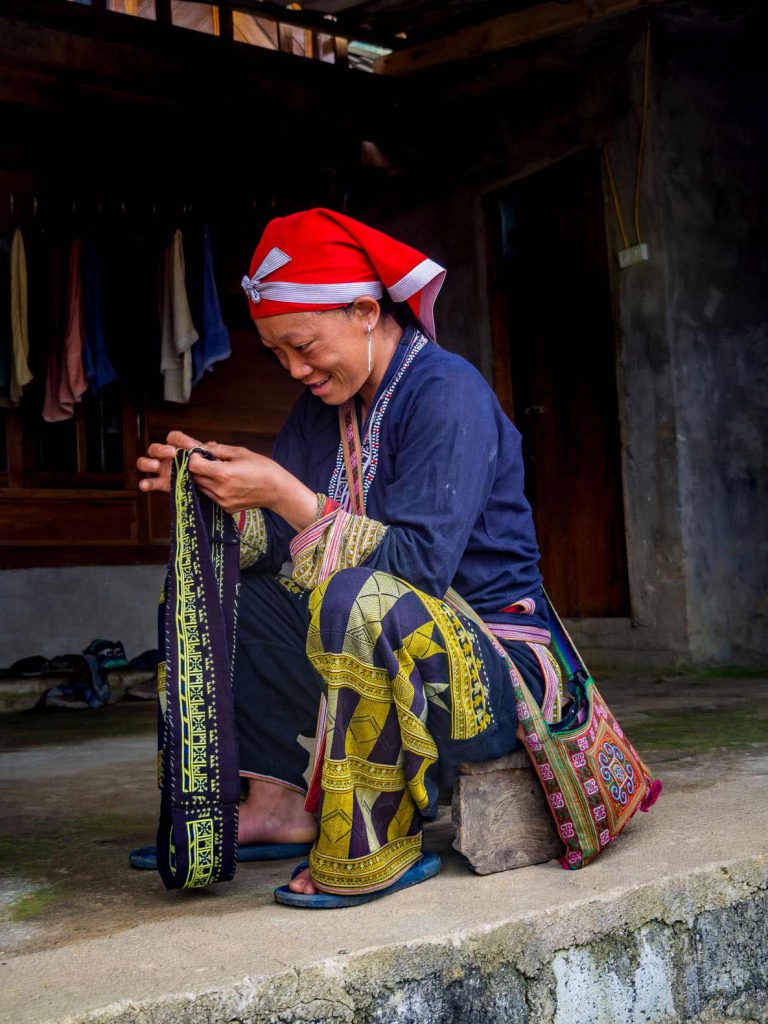 There was also a young Hmong guy coming with us, who was studying to become a guide as well. This was his first trekking and he was a bit shy, as he couldn't speak English very well yet.
The four of us got into a car with a driver and drove about 30 minutes to a small village. This village is mostly inhabited by Red Dzao families, including our guide's.
Walking around the village, a few women in traditional clothes walked with us in the hope that we would buy some of their embroidery. They weren't to persistent though and trailed off once we reached the end of the village.
We'd noticed that we only saw women in traditional clothing and that all men were dressed in jeans and T-shirts. We asked our guide why, but didn't really get a cohesive answer. We suspect this is because it's generally the women who work as guides or sell their handicrafts and tourist respond better when they're dressed traditionally.
Leaving the village, we started our hike uphill. Today we would be walking a total of 17 km. We didn't have to wait long though for the first magnificent views over the vibrant green rice fields.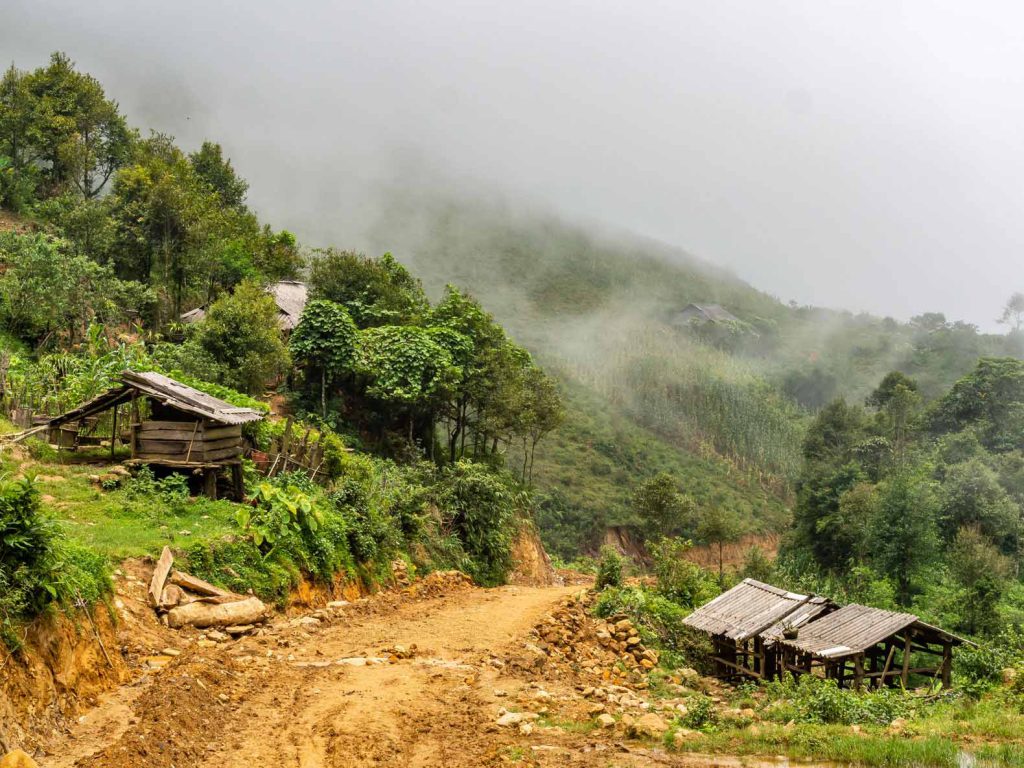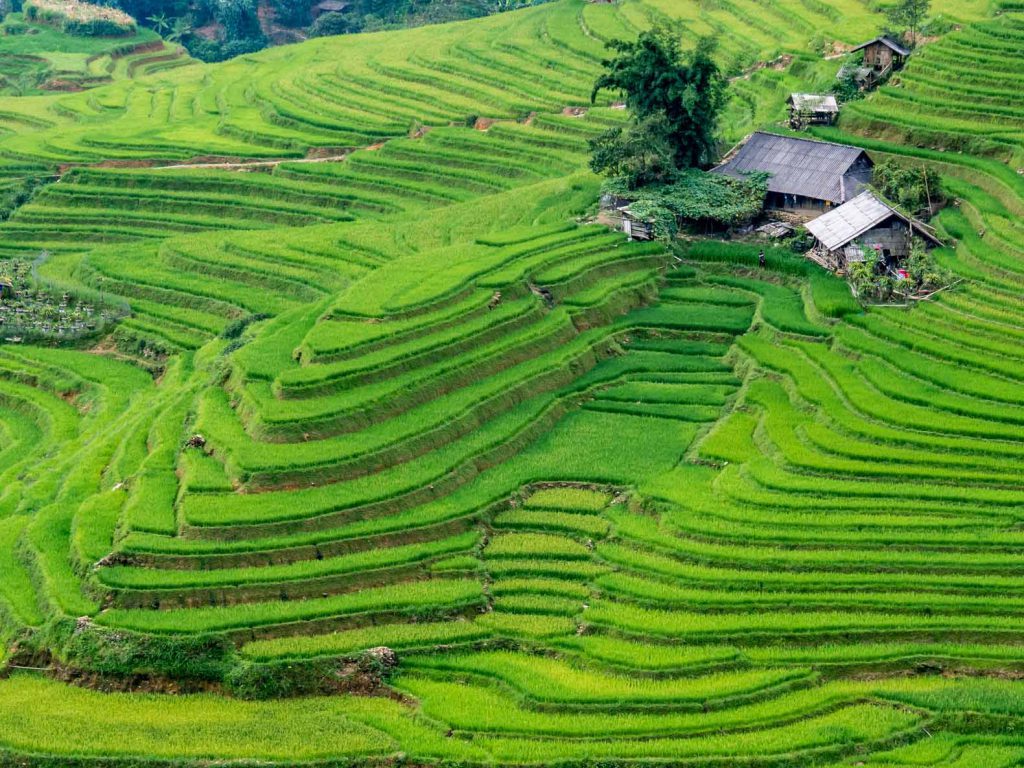 We walked through mountains, valleys, forests and terraced rice fields greeting local farmers along the way. Meanwhile our guide showed us all kinds of edible plants and told us about her life growing up as a girl in the Red Dzao tribe.
She talked about babysitting her younger cousins at the age of seven and being responsible for herding the family's cattle at the age of eleven. She told us what it was like having to work in the fields and carrying heavy loads of harvested crops and firewood on her back as a teenager. How she got married off when she was 19, had to leave her family to move to her husband's village and had given birth to her two sons by the age of 23.
Hearing about the demands put on her by her family and community throughout her childhood and early adult life, we were especially impressed by the way she'd taught herself English, got a job as a trekking guide and managed to become financially independent in a culture that did not see the need for girls to be educated beyond primary school.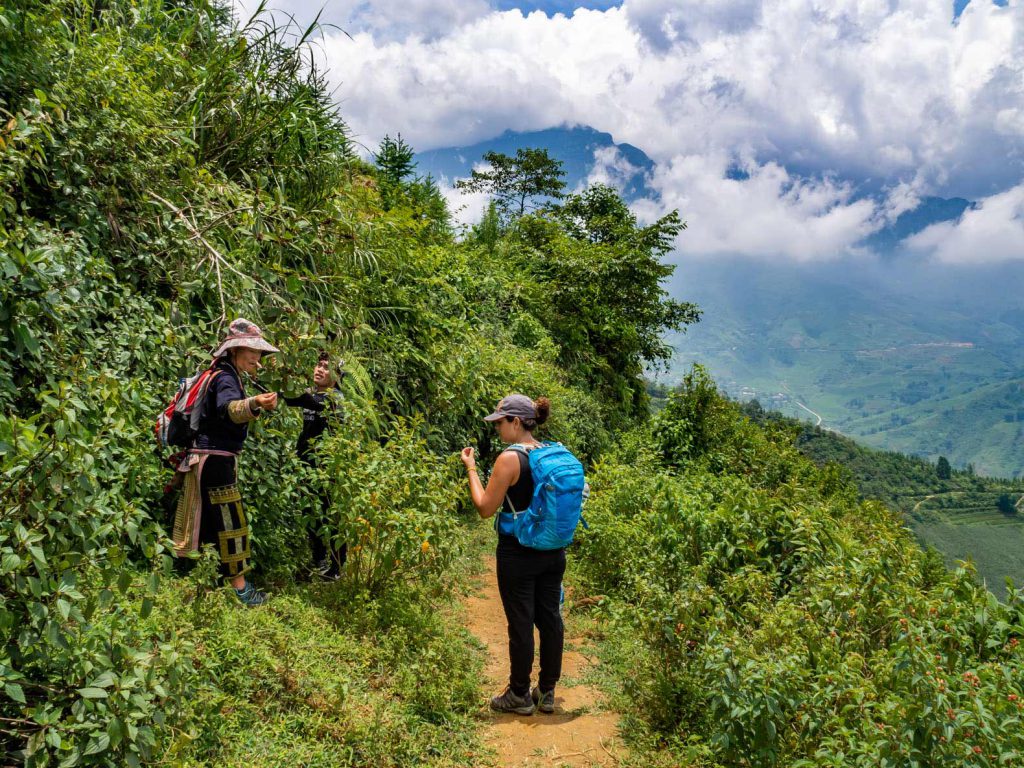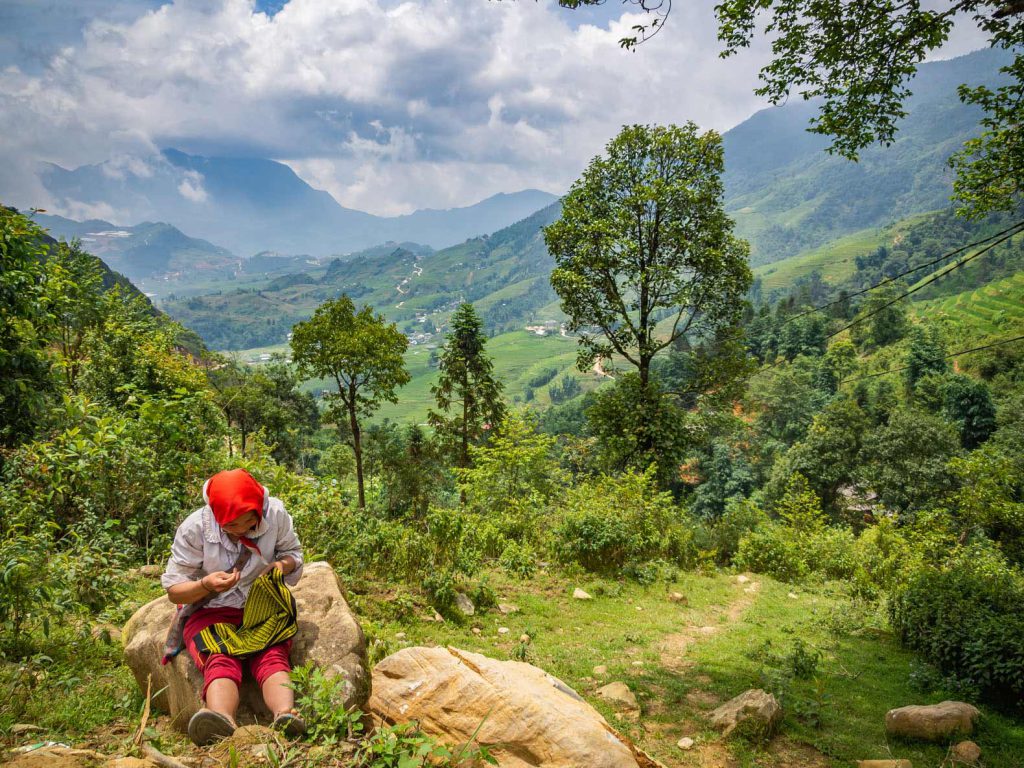 After a couple of hours of walking we reached another village. Here we were invited into the traditional wooden house of a local Red Dzao family, where we could see how they live and enjoy a delicious noodle soup for lunch.
Continuing our trekking after lunch, we reached the most beautiful part of the hike: a large valley with terraced rice fields as far as the eye could see. We descended down into the valley, walking between the fields until we reached the river at it's bottom. I've decided to block all memories of how I crossed the rickety bamboo bridge across the untamed mass of water below…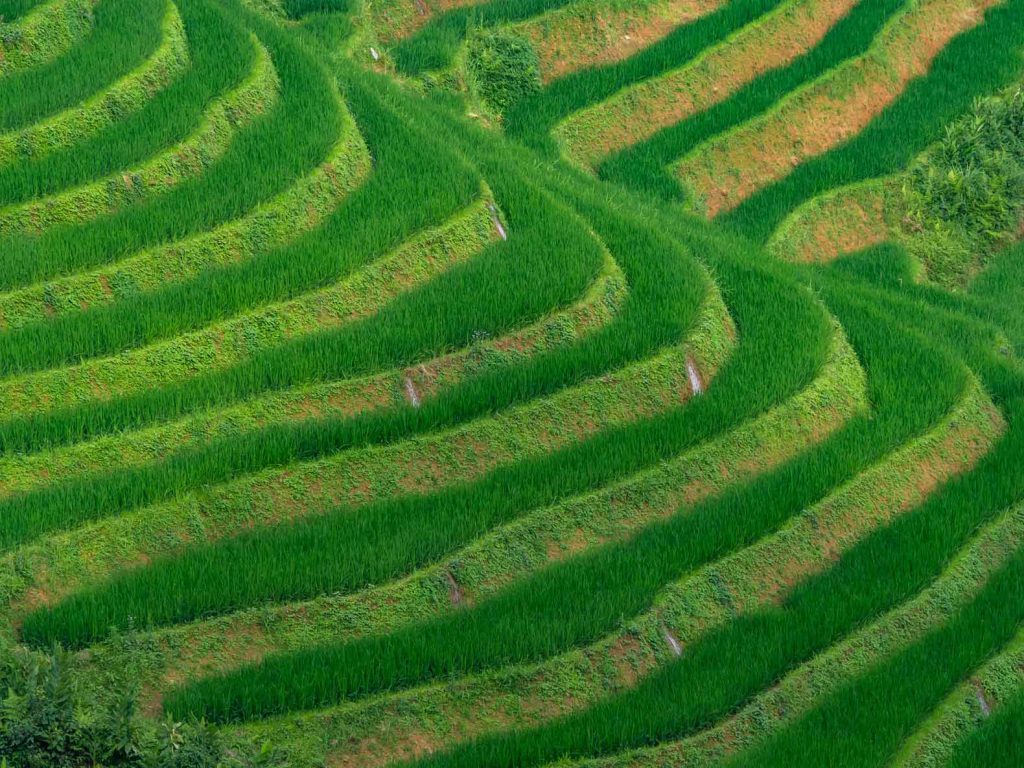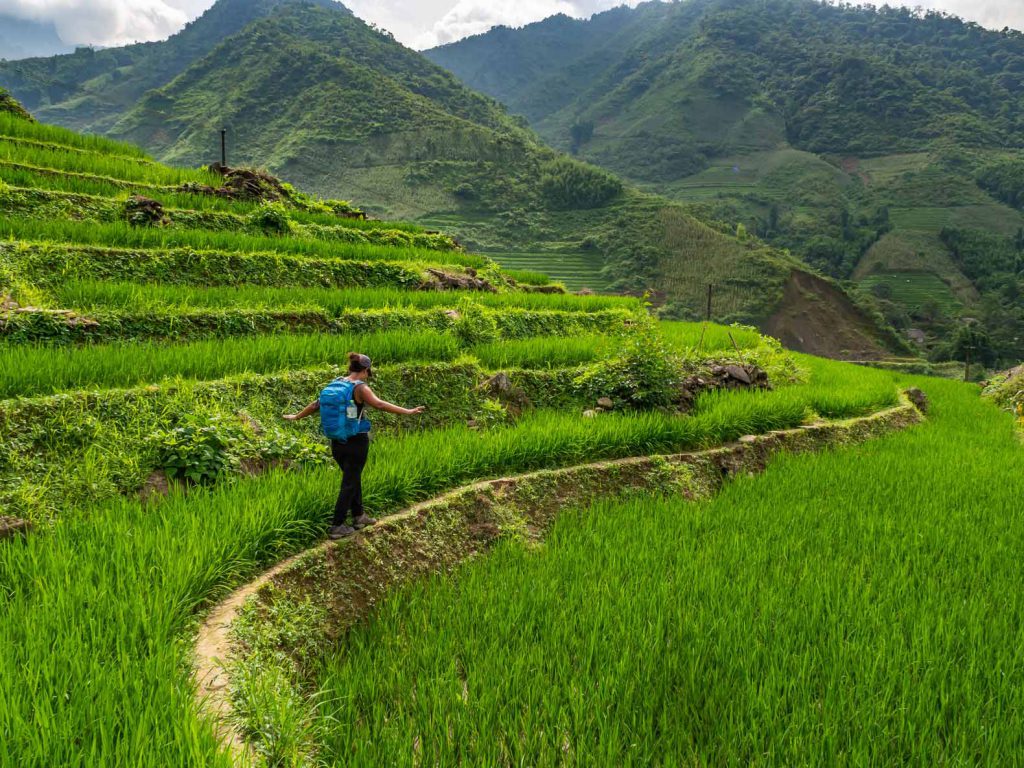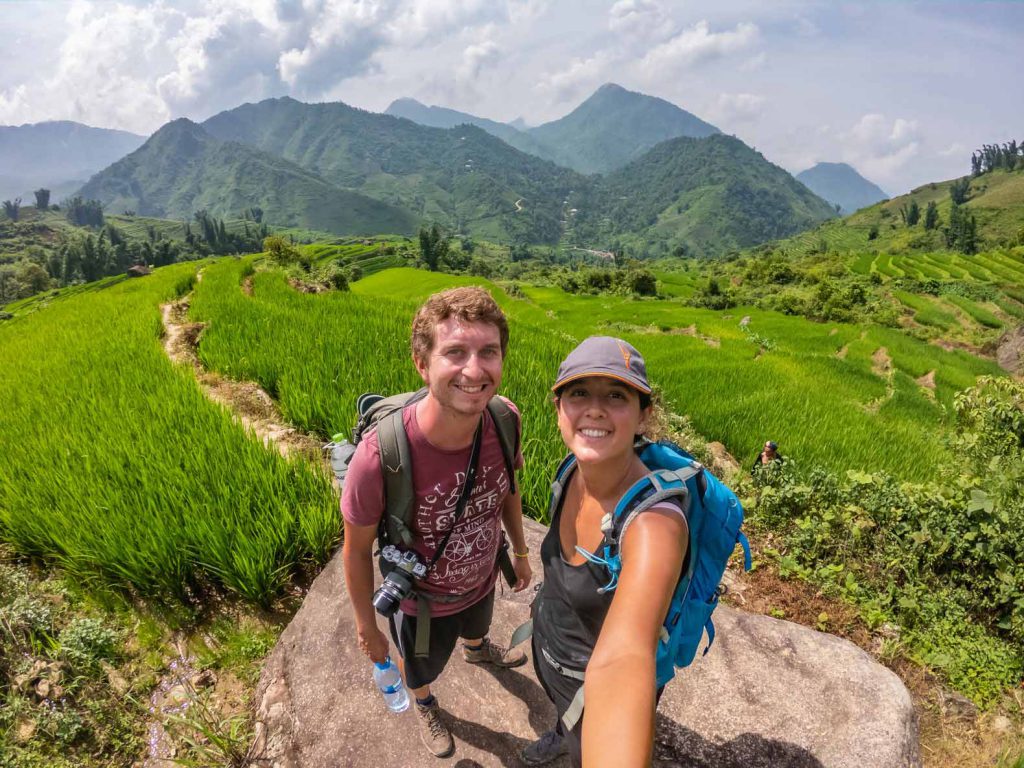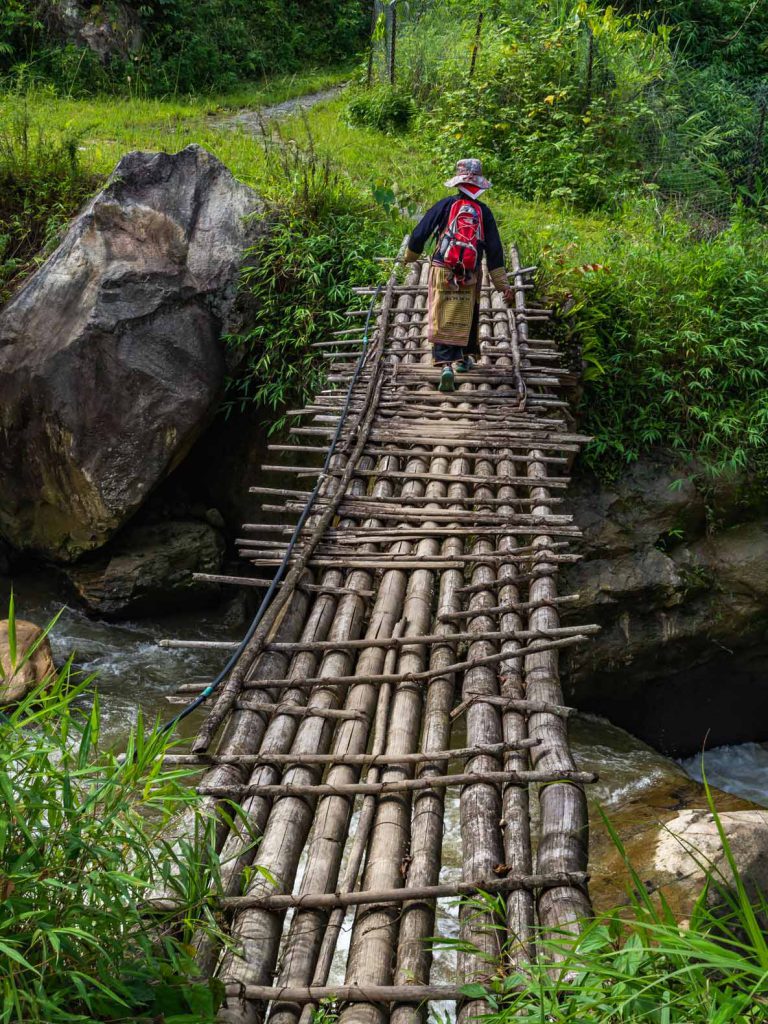 The final stretch uphill into the village where we would be spending the night was tough. I spent it mostly in silence, focusing on putting one foot in front of another as we climbed and climbed.
At last we arrived at our homestay, where we were greeted by a welcoming Red Dzao family and a much needed shower. Dinner with the family was a feast of traditional Vietnamese dishes, including the best spring rolls we've ever had and plenty of "happy water" to wash it down with. Tired from the day's activities and impressions, we went to bed early and slept like babies.
Day 2 of our Sapa Trekking
The following morning started with a hearty breakfast. We'd be trekking for 14 km today; a bit less than the day before, but our legs were already tired.
To be honest, the second day of our Sapa trekking left less of an impression than the first day. We still had some amazing views of the rice fields, but we felt that we'd already passed the most beautiful parts.
By the second half of the morning we reached a road leading to a few larger villages. Being back on the asphalt was a relief to our feet, but the surroundings were less beautiful as well. The long, steep descend into the valley towards the villages was tough and seemed to last forever. I was happy to finally reach the end of our hike.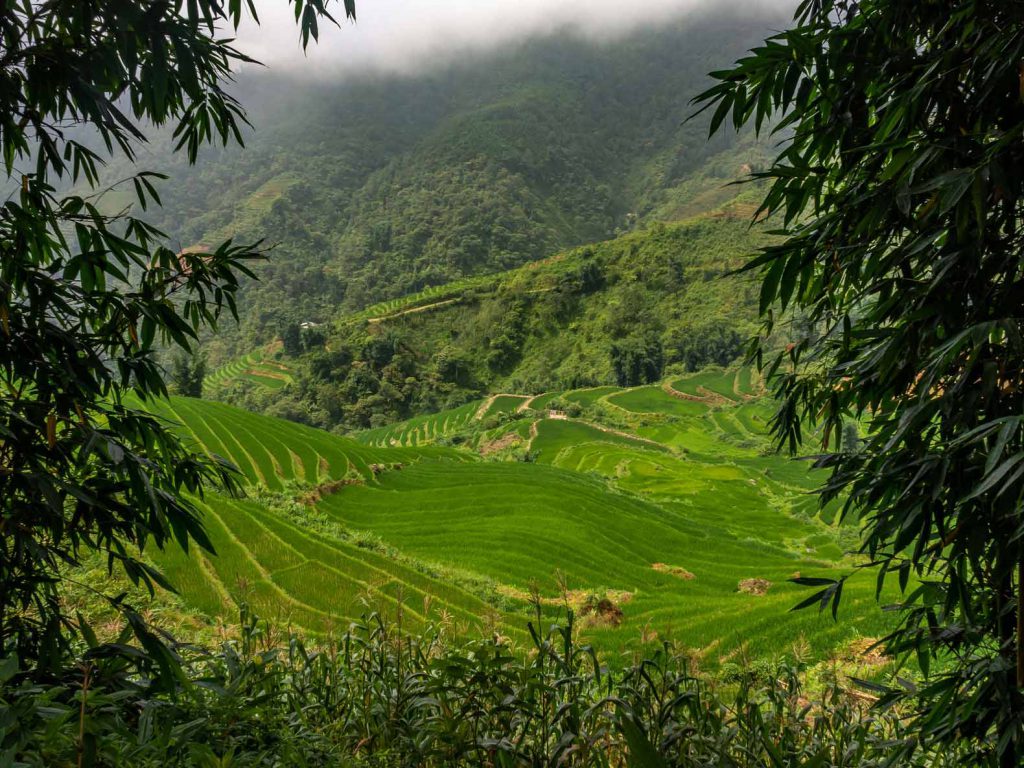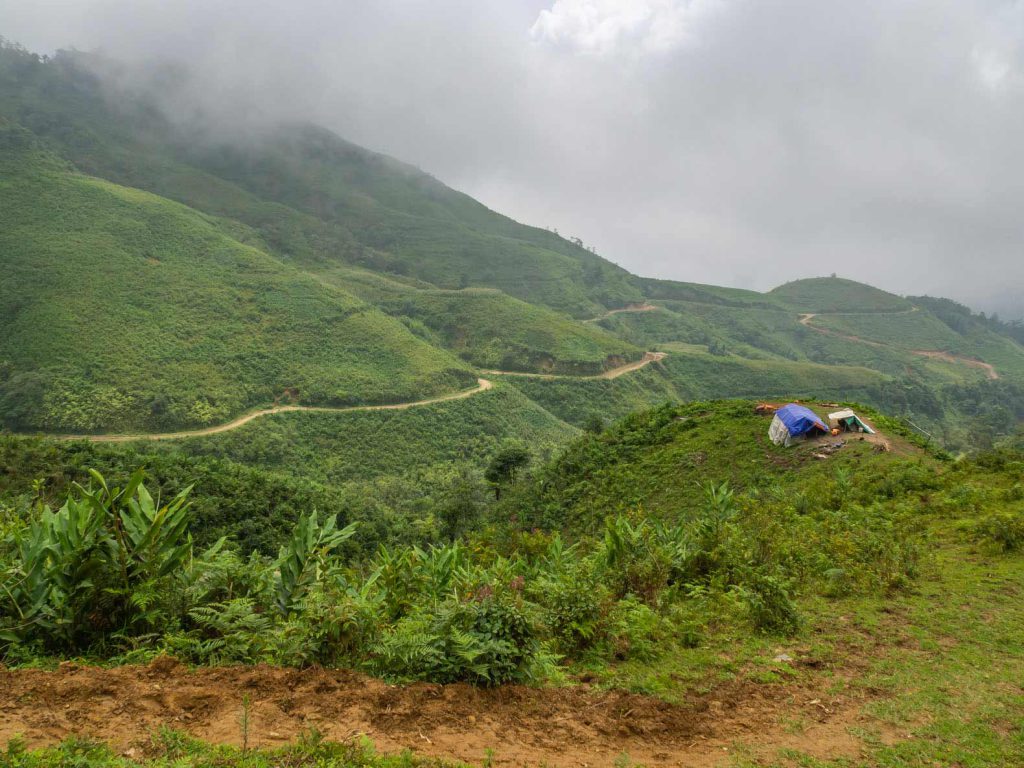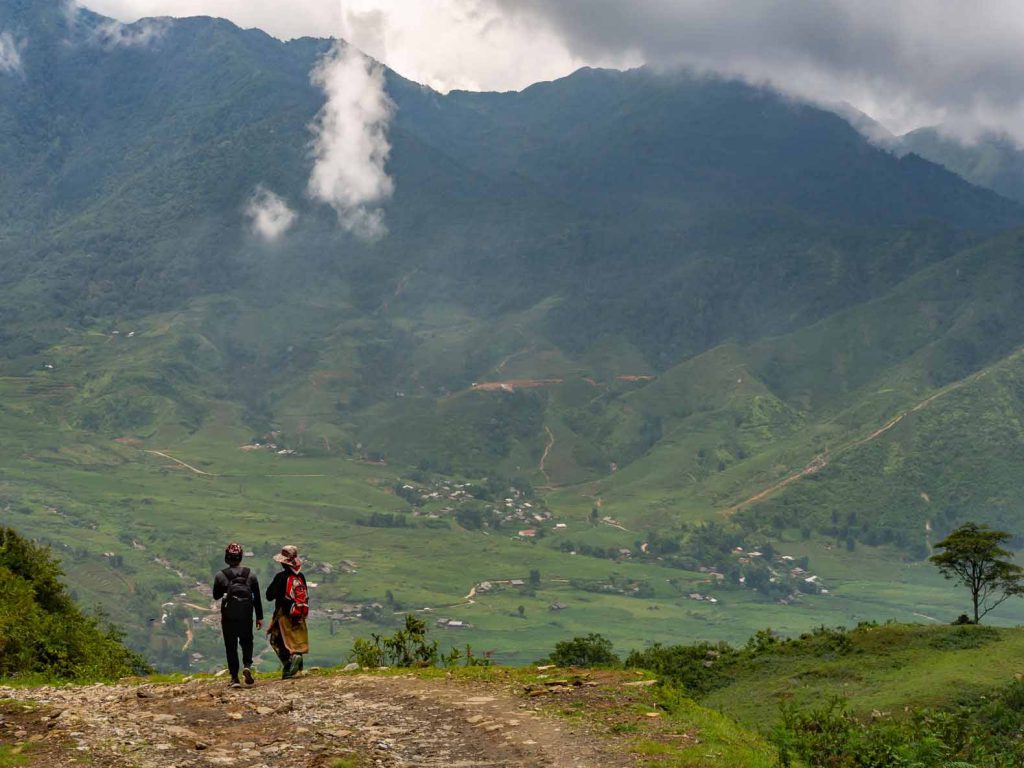 We were in a Hmong village and saw several people in traditional Hmong clothing passing by. It was very interesting to see the difference between their dress and that of the Red Dzao. We saw both Black Hmong and Blue Hmong, the two most prevalent tribes in this area.
After yet another delicious lunch, we were picked up by our driver and driven back to Sapa. And that is how our two day trekking in Sapa came to an end. We were tired, but happy that we were able to have this once in a lifetime experience.
How to arrange your own trekking in Sapa
There are an innumerable amount of options for booking a trekking in Sapa. If you prefer to book ahead, there are many agencies in Hanoi that can arrange your trekking, including transportation to Sapa and back to Hanoi, as well as accommodation. This is the way to go if you don't want to bother with figuring everything out yourself. However, you should be prepared to pay a higher price for your Sapa trekking. Also, make sure you shop around as the prices and the services offered vary a lot between the agencies.
However, we recommend you arrange everything on your own. It is easy and will save you a lot of money.
How to get to Sapa
Let's start with how to get to Sapa. We went to Sapa directly after our Lan Ha Bay cruise, but you will most likely be traveling from Hanoi. You can either take a train or a bus to get to Sapa.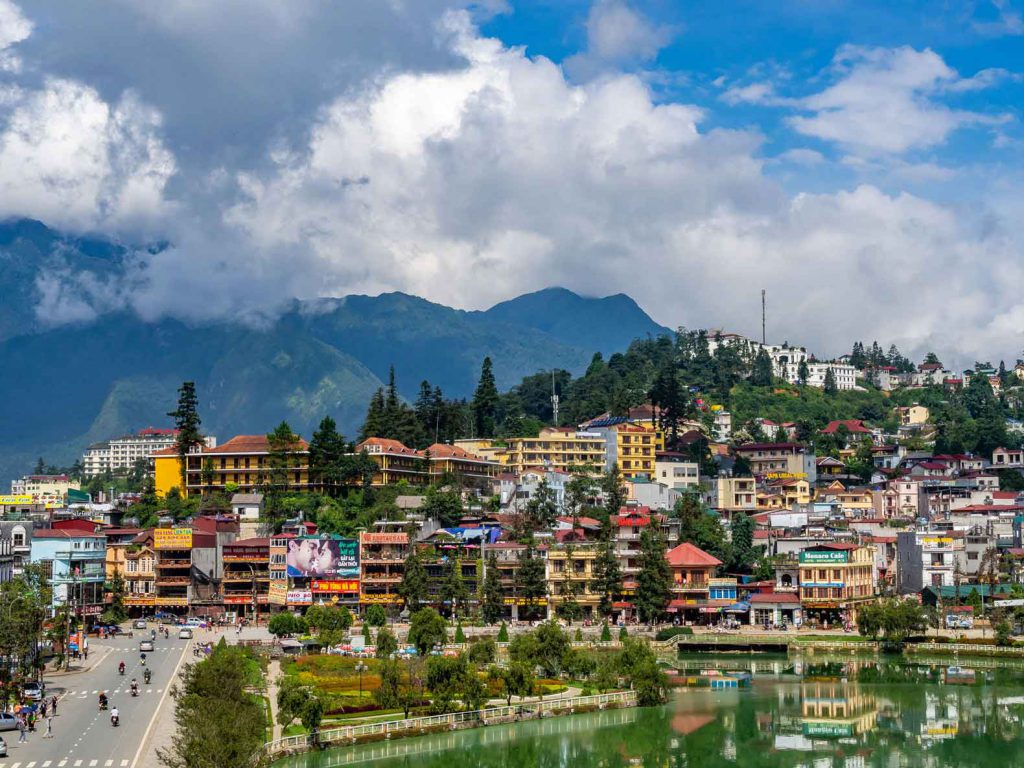 Though taking the train in Vietnam is an experience many people are looking forward to, we recommend you to take the bus. First of all, the train is MUCH more expensive than the bus. Expect to pay anywhere between 30 and 150 EUR per person for a train ride, depending on the level of luxury you're looking for. This is a lot of money in Vietnam! In comparison, a bus ticket will only cost you about 10 EUR.
Secondly, taking the bus will be faster than taking the train. The train ride from Hanoi to Sapa takes eight hours, while the buses do it in six.
Another thing to consider is that Sapa itself doesn't actually have a train station. The trains will bring you to Lao Cai, from where you will need to take a (shuttle)bus or taxi to Sapa. If you go by bus, you'll get dropped off right in Sapa town, saving you a transfer.
If you're worried about comfort, let us reassure you. Practically all buses in Vietnam are sleeper buses. This means you get an almost completely reclining seat. Most bus companies also offer WiFi, blankets, drinking water and refreshing towels for free. We traveled with Green Bus and had a very comfortable journey. If we haven't convinced you by now, well then we give up…
Accommodation in Sapa
Finding accommodation in Sapa is very easy. Because it's such a popular tourist destination, there are many hotels and hostels to choose from. We always like to use Booking.com, as we feel it offers the most options. For budget travelers, we can recommend The Link Homestay. It offers basic, but charming rooms for a great price.
Sapa trekking companies
Choosing which company to do your Sapa trekking with might actually be the hardest part of organizing your own tour. TripAdvisor will come in handy here, as you'll find reviews on many trekking companies. There are also plenty of independent guides, who organize trekkings to their own villages and will accommodate you in their own homes.
We decided to go with Sapa O'Chau and can highly recommend them. We had a great time on our tour and everything was well organised. What we also love about Sapa O'Chau is that they are not only a trekking company, but also a social enterprise. They invest a lot of money in the local communities, providing free English classes for their tour guides and boarding facilities, meals and government school fees for children who would otherwise not be able to complete their education. What's also great is that students from all tribes are welcome, unlike some other companies that only invest back into their own tribes.
Whichever you choose, try to make sure it's a local company, so the money you spend will stay within the local community. Also, make sure your know exactly what you're buying to avoid any disappointment: where will you be trekking to, what will you see, will it be a private trekking or will others join your group, where will you sleep, and what is and is not included in the price?
Hopefully our tips will help you to plan your own trekking in Sapa. It was one of the highlights of our visit to Vietnam, and we're sure it'll be the same for you!
Other Vietnam Highlights
Are you still planning your trip to Vietnam? Besides Sapa, we highly recommend you to visit Lan Ha Bay, Ninh Binh, Phong Nha and Hue. Or go completely off the beaten track and ride a motorbike along the Ha Giang loop!
Pin it for later!
Hi, my name is Sandra and I'm half of the traveling couple that makes up Bus stops & Flip-flops. I'm finally living the dream by traveling the world with my husband Geert. My other hobbies are eating good food, dancing and sleeping in. Did you enjoy reading my blog post? I'd love it if you leave a comment!
---
---