Riding the Mae Hong Son Loop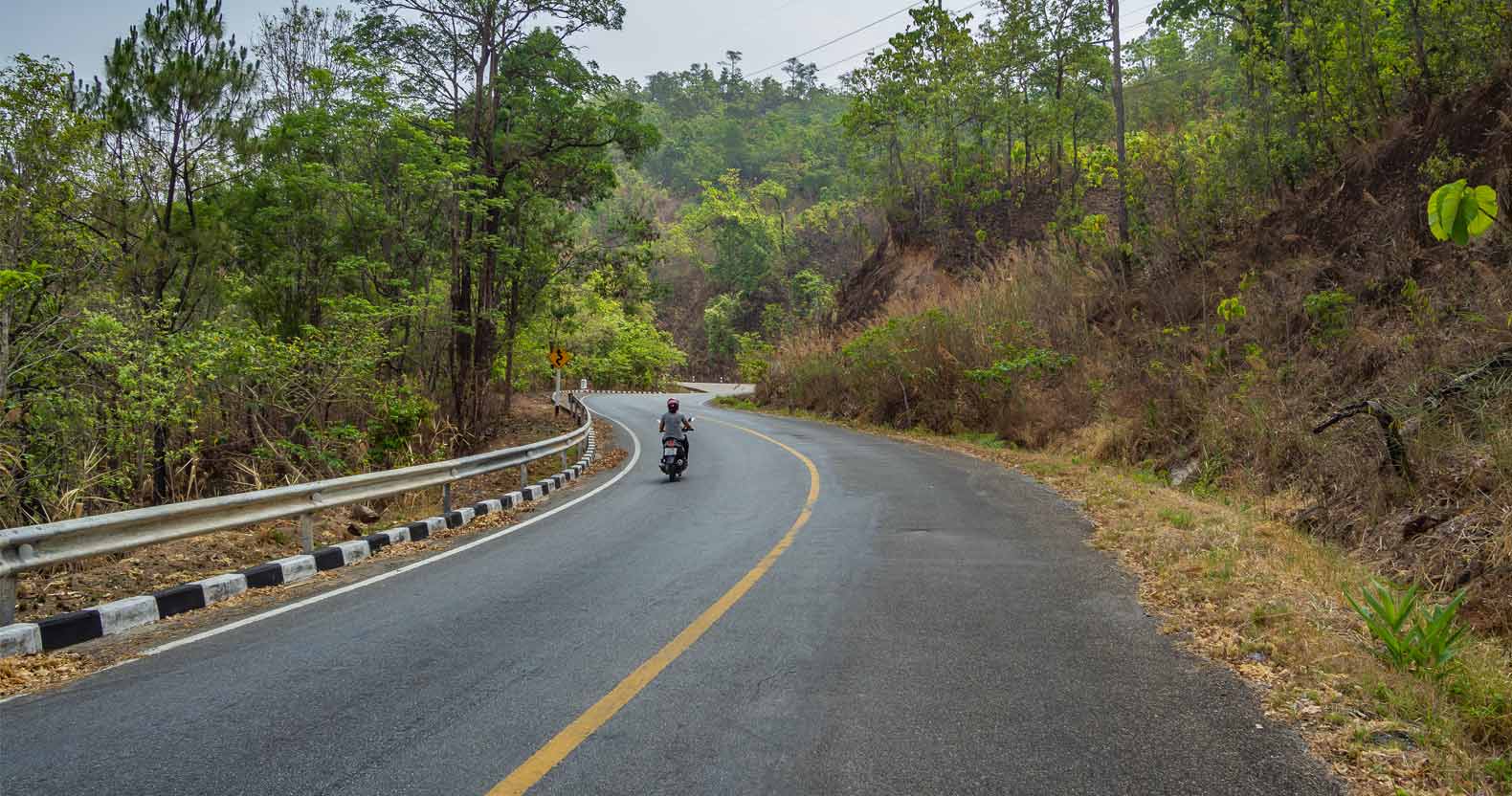 This post might contain affiliate links, which means we may receive a small commission on purchases made through these links, at no additional cost to you.
We've already left Thailand three weeks ago, but we still have some catching up to do with our blog posts… But we're taking it a bit more slowly now, so we've got some more lazy afternoons on our hands to do some writing and photo-editing. So hopefully, we'll soon get to the point where you'll be reading about our more recent adventures. But first: the Mae Hong Son loop!
You might have heard of the Mae Hong Son loop. It's a motorbike loop that starts and finishes in Chiang Mai, the main tourist town in the north of Thailand. The Mae Hong Son loop is one of the most popular motorbike loops in Thailand. Though that doesn't mean very much, as it is still quite off the tourist trail. We saw only a handful of westerners while we were on the loop.
This makes the Mae Hong Son loop a great way to experience a less touristy Thailand, while having the freedom of your own transportation (no public transport, yay!)
There are a few variations of the loop, but they each take you to the loop's main town of Mae Hong Son and back to Chiang Mai. You need at least four days to complete the entire loop. However, we would recommend spending at least a week on it.
If you've only got four days, you'll mostly be driving all day and have very little time to make stops on the way. And that's a large part of the charm! We drove the loop in 7 days, but could've easily added a day or three, making more stops on the way and driving shorter distances per day.
Our variation on the loop is a total of 900 km long, including some detours. Though you can drive the loop both ways, we followed the advise we found online to drive clockwise. This way, you save the best for last and don't start your first day of driving with the "infamous road to Pai".
What's also good to note is that we drove the Mae Hong Son loop at the peak of dry season. This meant nature was not at its best and we made some adjustments because of it.
But even so, we had a blast. So no matter what time of year, just get yourself a motorbike, get on the road and enjoy! Here's our day to day Mae Hong Son loop:
Day 1: Doi Inthanon
Excited to start our week-long exploration of the Mae Hong Son loop, we were eager to get on our bikes. Today we would be visiting Doi Inthanon, the highest mountain of Thailand, situated about two hours south of Chiang Mai. So we got up early, took our day packs plus whatever we could fit in the small compartments of our motorbikes and we were off!
The first stretch of road was not very interesting. It takes a surprisingly long time to get out of Chiang Mai! We were driving down a highway for about an hour and a half before finally reaching the exit for Doi Inthanon.
Mae Ya Waterfall
Our first stop was the Mae Ya waterfall. This very nice waterfall is situated in the Doi Inthanon National Park, but you have to take a detour of about 10 km from the main road to get there.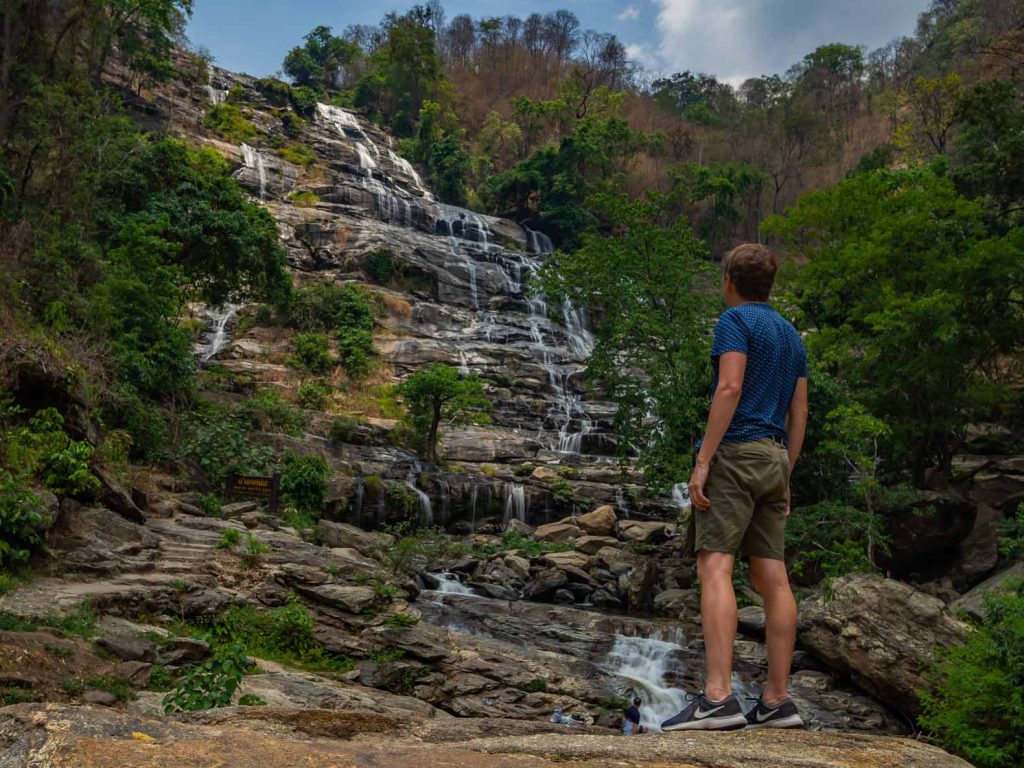 Pay the ridiculous 320 baht entrance fee and don't forget to keep your ticket. You'll need it later, when passing through the main entrance to the park.
The Mae Ya waterfall is a really nice waterfall to take a swim. When we were there, there were a few locals doing just that. So I took a dip as well and the water was lovely and cool after the heat the road.
Wachirathan Waterfall
After spending about an hour here, we headed back to the main road and on to the next waterfall. The Wachirathan waterfall is for viewing only. Even though it was dry season, it was still quite impressive.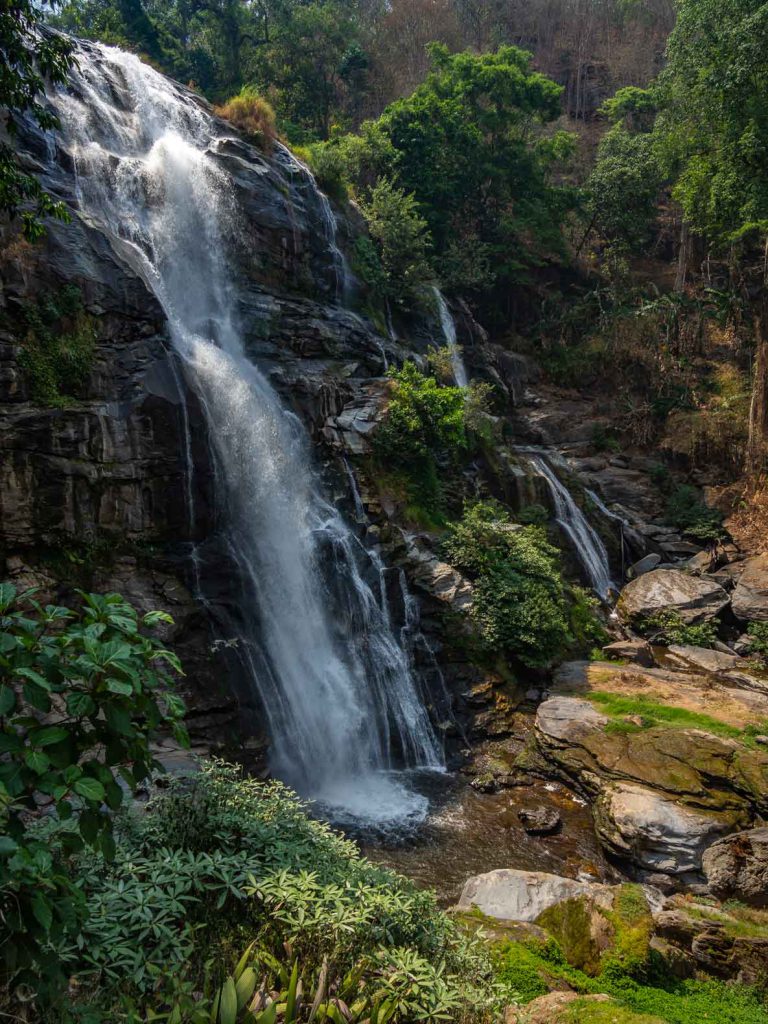 As we drove further up the mountain, the road got increasingly curvy. But nothing our motorbikes couldn't handle. It also started to get cooler, as we were climbing quite high by now.
We'd read on many blogs that you should bring a sweater for the cold, so that's what we did. Only all these people had obviously not driven the Mae Hong Son loop in the dry season, because "cold" in our case meant around 25℃. We wished we hadn't wasted so much of our precious cargo space on two sweaters we didn't wear once!
Doi Inthanon Temples
Way up the mountain we reached the two famous temples of Doi Inthanon. After paying another 40 baht entrance fee, we strolled around the grounds for a bit and enjoyed the fresh air and serene surroundings.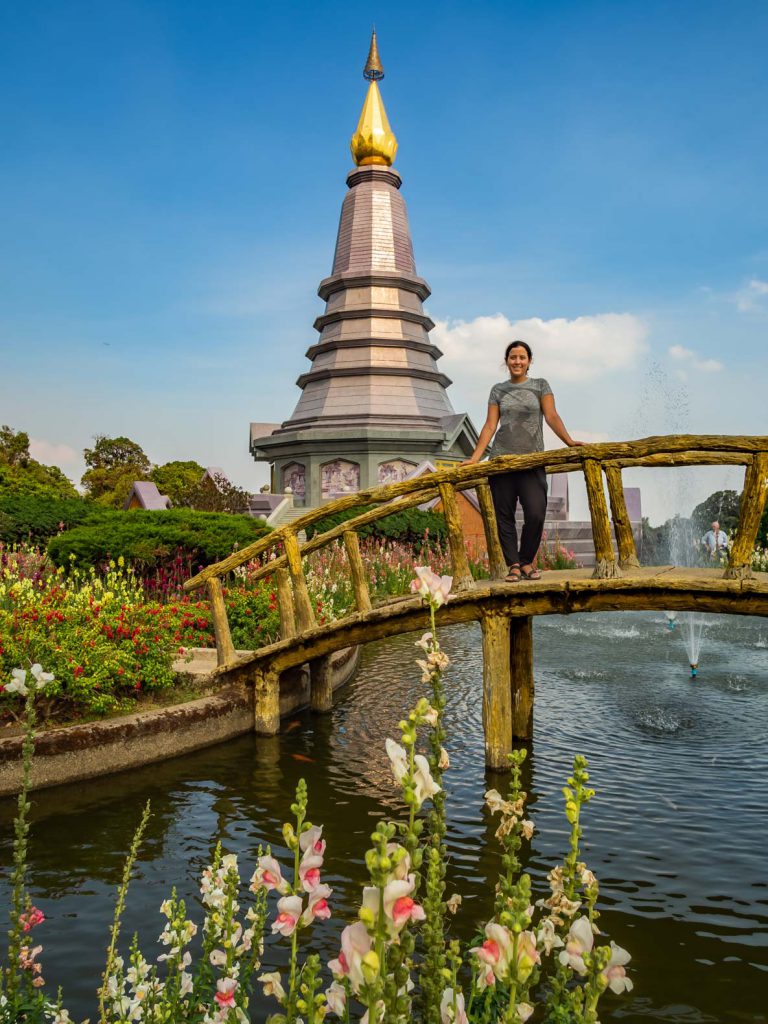 Like we would experience many more times on the Mae Hong Son loop, the views from the mountain were unfortunately clouded by the smoky haze that fills the north of Thailand during dry season.
We didn't go all the way to the top of Doi Inthanon, as it was quite a bit further than the temples and the views wouldn't get any better anyway.
Down to Mae Chaem
So we started our way back down the hill. By this time it was already past 5 'o clock, and we still had some driving to do. Unfortunately we had to double back for 7 km because I was running out of gas and wouldn't make it to the next gas station… Oops!
The road down to Mae Chaem, where we would be sleeping tonight, was very steep and very curvy. This was a real challenge after a long and tiring day. But after what felt like an eternity, we finally made it to the village.
It was Thursday, so there was a small evening market in Mae Chaem. We strolled around for a bit, but quickly found that there was nowhere where we could dit down for a meal, so we moved on. Most places were closed for the evening, but we eventually found a roadside stall with some tables and had a lovely meal of pork with some sort of red sauce.
Total driving distance: 178 KM
Day 2: Mae Sariang
Upon leaving Mae Chaem you've got to decide which way to go. The "classic" Mae Hong Son loop takes you to Mae Sariang. This is quite the detour, but the road is good and an easy drive. The alternative is to go straight to Mae Hon Son today. This will save you a day if you're short on time, but it will take you via a very curvy road.
We decided to head for Mae Sariang, because it would take us past Op Luang National Park.
Op Luang National Park
Unlike the entrance fee to Doi Inthanon, which we felt was quite high for what we got, we were more than happy to pay the 200 baht entrance fee for Op Luang. It was more than worth it!
Op Luang National Park has a really nice 2 hour walk, which takes you across a wooden brigde over a river gorge, past some prehistoric rock paintings and other points of interest.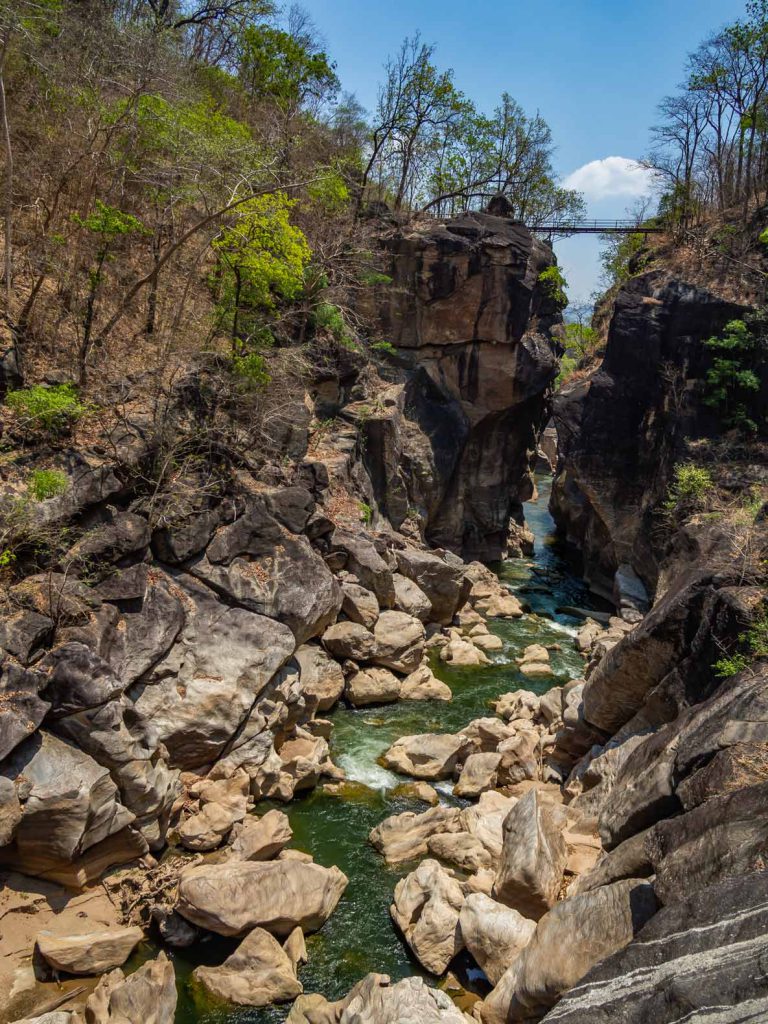 The path was difficult to follow sometimes, because the signs contradicted each other, but we managed to find our way.
Afterwards, we had a refreshing swim in the river and watched two local men catching fish.
We could've easily spent the entire day here, but we had driving to do. So after an overpriced lunch outside of the park, we were back on the bikes and on our way to Mae Sariang.
Sukiyaki in the dark
In Mae Sariang, we stayed at a cottage just outside of town, which was really nice. Unfortunately, a tree had fallen over on a power line earlier that day, so the entire village was without power.
The owner of the cottages pointed us towards a nearby restaurant where we had a really nice Sukiyaki dinner. You basically get a pot of broth on your table, which you use to cook your own meal of fish, vegetables and herbs. A Thai favorite!
Back at the cottage, we got an electric lamp from the owner, but luckily the power was turned back on only a short while after. We slept like angels in the blissful airconditioning.
Total driving distance: 147 KM
Day 3: Mae Hong Son
We started our third day on the Mae Hong Son loop with a visit to Salawin National Park, a 10 minute ride outside of Mae Sariang.
Salawin National Park
There was supposed to be a 100 baht fee according to the sign at the entrance, but the park ranger let us through without paying. We're not sure why, but we did read about others having the same experience.
There's basically only one thing to do in this park and that's walk the 2 km loop walk, which is supposed to take you one hour. It took us over two hours and we were overheated and exhausted by the time we finished.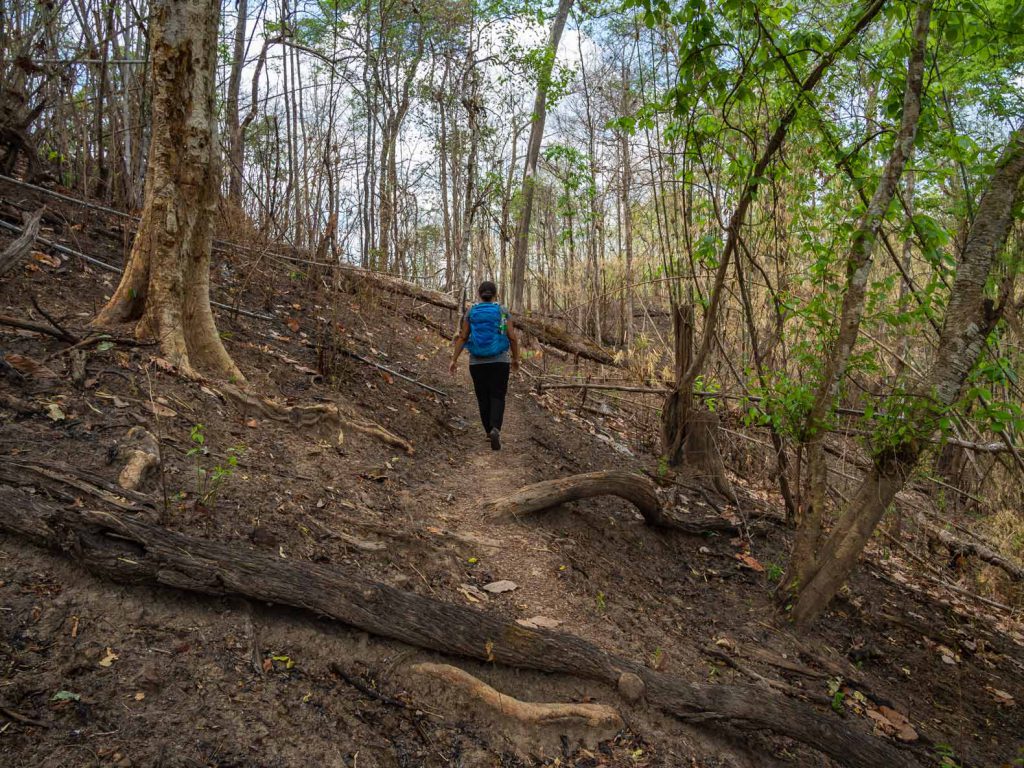 To top it off, the walk was not what we expected of it. Most of the forest we walked through was heavily damaged from wildfires and the abundant wildlife we were promised was nowhere to be found. Let's just say we were happy we didn't pay 100 baht for it.
Noodles & Burgers
Afterwards, we set off for Mae Hong Son. On the way we stopped for lunch at a simple roadside stall, where we had the best noodle soup of our six weeks in Thailand. We love how in Thailand the best food comes from the places where you least expect it!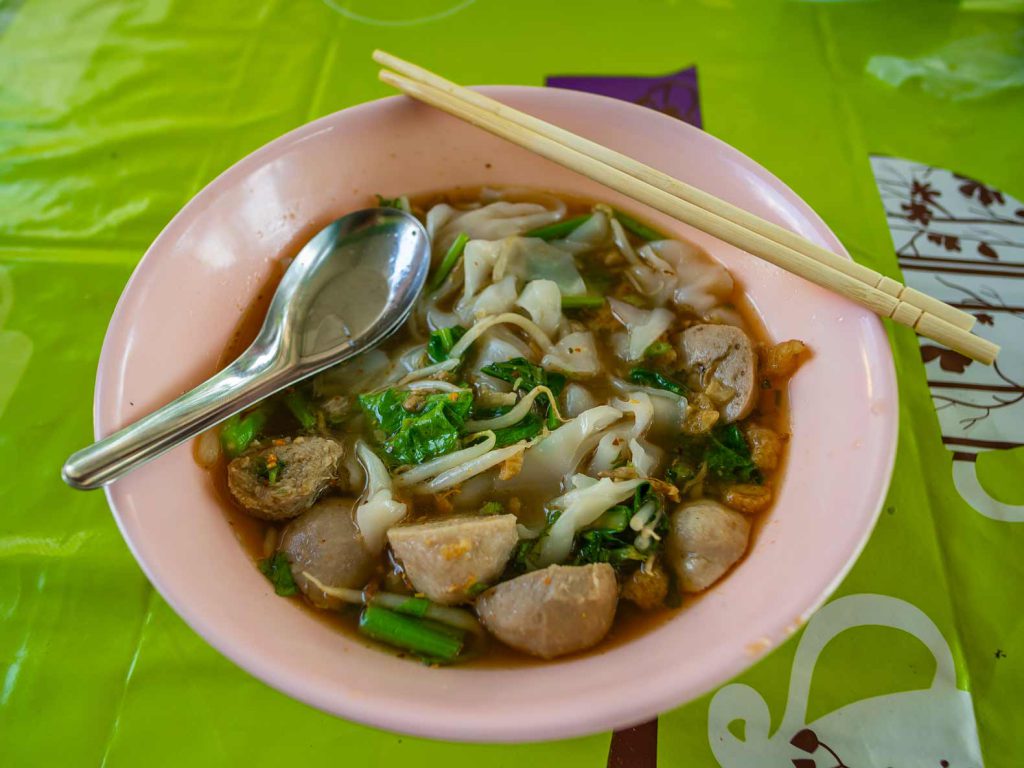 Our guesthouse in Mae Hong Son was right in the center of town. Mae Hong Son was the first town we were in that was somewhat lively and we spotted a few other tourists here.
We took some nighttime pictures of the temple by the lake and had a cheap, but delicious burger at Salween River restaurant.
Total driving distance: 167 KM
Day 4: A Day Trip Up North
Today was the first day that we wouldn't be doing a whole lot of driving. We'd be staying another night in Mae Hon Son and doing a day trip up north.
Our first stop for the day was at an interesting temple with a lovely bamboo bridge leading up to it.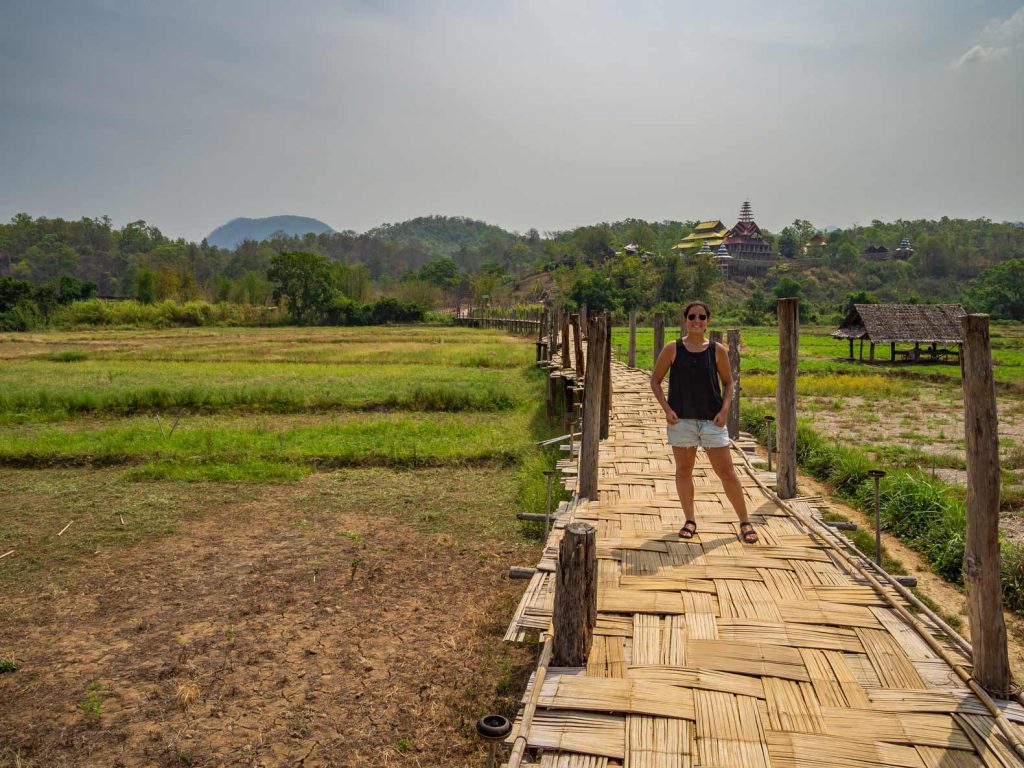 Next, we continued our way op the beautiful, but very steep and curvy road to Ban Rak Thai.
Ban Rak Thai
Ban Rak Thai is a small village right next to the Myanmar border. It's known for being a Chinese settlement. They've taken this image and run with it, as the main resort in town is completely styled in in Chinese theme. It's a bit fake, but still nice for some pictures.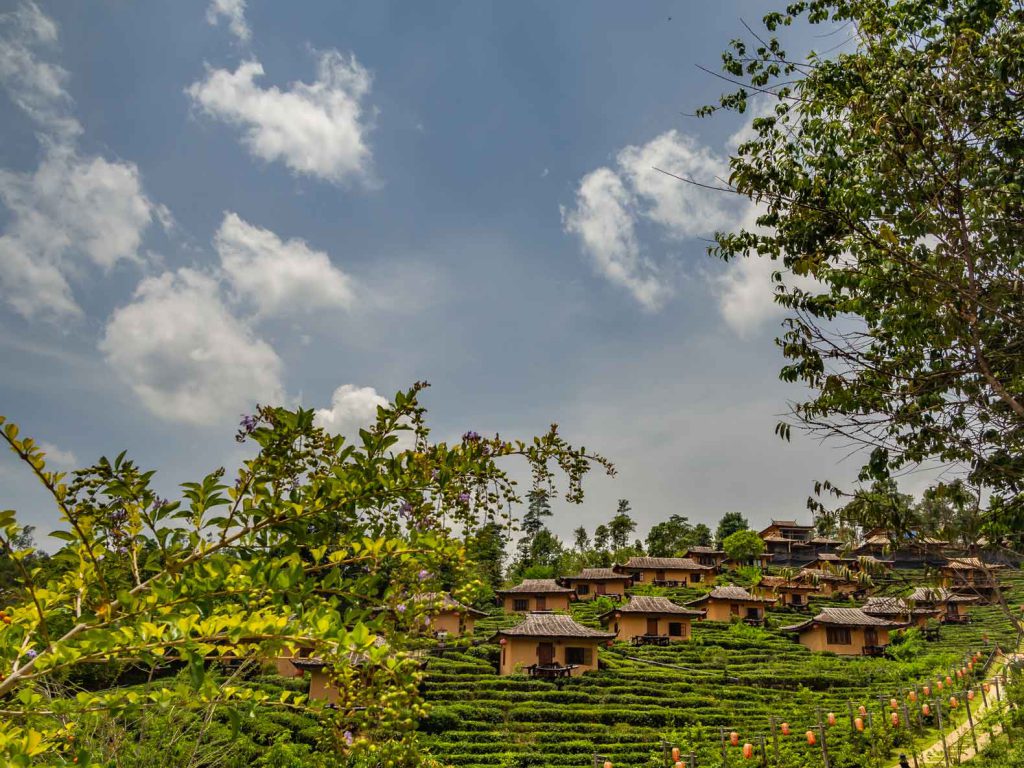 Because of low season, most other restaurants were closed, so there wasn't really much else to do in the village.
A Short Visit to Myanmar
The highlight for us was crossing the Myanmar border, just outside of the village. Somehow you're allowed to leave your motorbike at the guard post and just walk over, without any registration or showing your passport.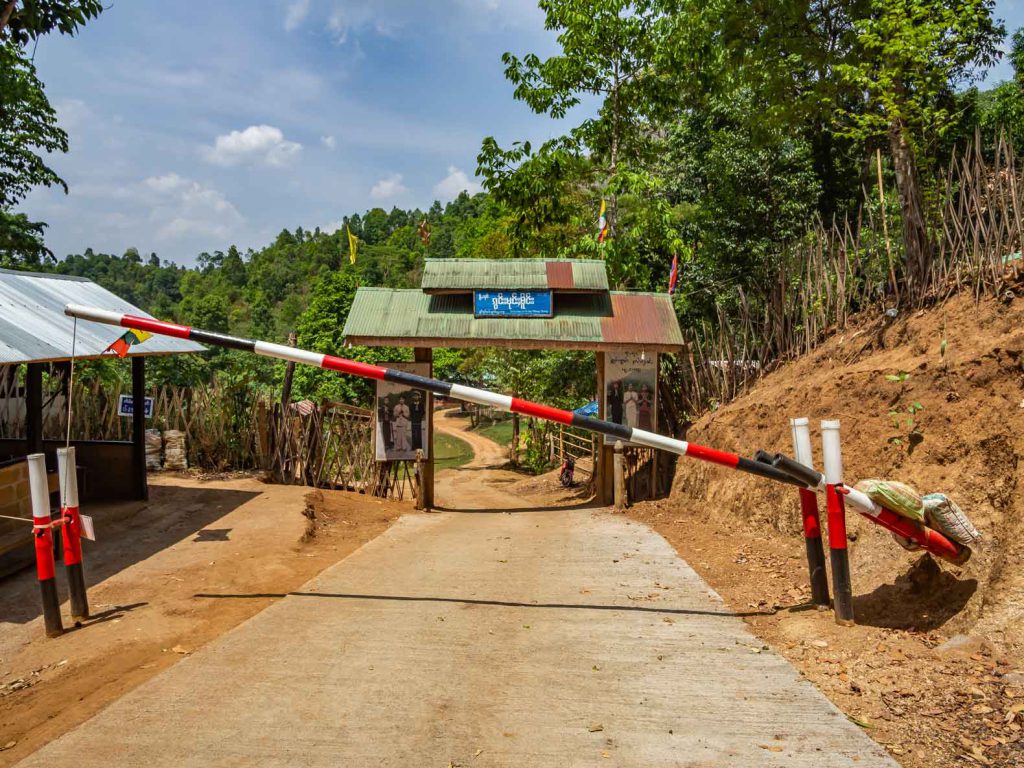 It's a very strange feeling to cross a border like this. I guess the guards know that there's nowhere for you to go on the other side, besides walking around the small unpaved village. Or maybe it has something to do with the area being controlled by Shan militia…
The Fish Cave
On the way back towards Mae Hong Son we made a stop to take a swim at a waterfall. Like we were getting used to by now, there was a 100 baht entrance fee for foreigners.
Our last stop was the "Fish Cave". You can supposedly go in on the same ticket as the waterfall, but we don't know for sure since the guard just waves us through without asking for tickets. Maybe because we were there just 45 minutes before closing time.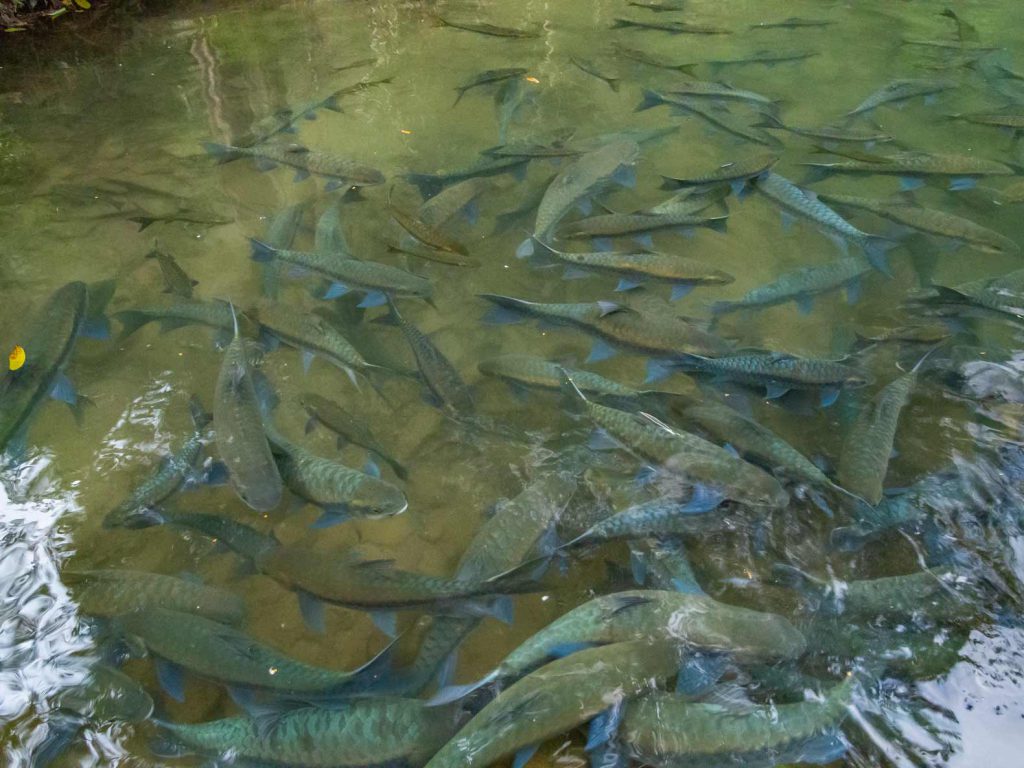 The fish cave is nice, but not worth it if you have to pay the 100 baht entrance fee just for going there. It's basically a park for Thais to spend a relaxing day with their kids. You can buy fish food for 20 baht.
Total driving distance: 90 KM
Day 5: Tham Lod Cave
On day five, we're heading back into a more touristic area on our way to the hippie village of Pai.
The viewpoints that were recommended on this road were not really nice this time of year, but luckily there was another attraction: Tham Lod Cave.
At the ticket booth you hire a boat and guide for 450 baht for max 3 persons. They advertise it as a tour of three caves, but it's actually three rooms within the same cave.
The column cave features large stalagmite and stalactite structures, the doll cave gets its name from the odd shaped rock formations, and the coffin cave is where you can see a few ancient coffins made from teak trees.
The guides mostly points out where to watch your head and what the rocks look like, but they do have more knowledge if you ask them questions.
The bamboo raft ride through the dark is very nice and leads to a stunning opening on the other side of the cave. Do keep in mind though, that there are many bats. One of them even pooped on me 🙁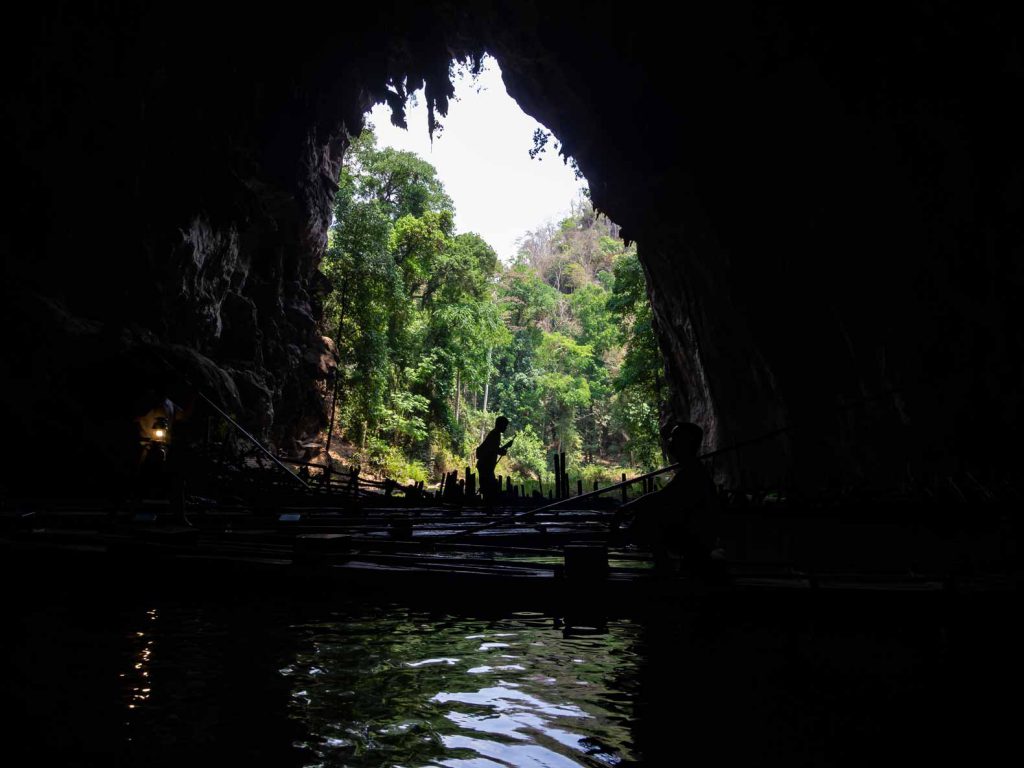 Total driving distance: 124 KM
Day 6: Pai
We'd read so many positive things about Pai, that we had high expectations. But Pai left us with mixed feelings.
After hardly seeing any tourists on the Mae Hong Son loop, we found the village to be very touristy. Also, the "hippie vibe" that everybody was so enthusiastic about, did not charm us at all. We just saw a lot of unwashed hippies walking barefoot down the streets…
Unfortunately we did not get to see the waterfalls or bamboo bridge, which are supposed to be highlights of Pai. We were advised by the owner of our guesthouse it's not worth the drive there in the dry season (the waterfalls are dry and there is no rice in the fields). We also had high expectations of the night market, but there were very few stalls (probably because of low season).
But not all was bad. We decided to spend a relaxing dat at the public pool. There was nice music, tasty food and a good atmosphere.
We went to Pay canyon for sunset, which was also quite nice. The name Pay canyon is a reference to the Grand Canyon, though it's of course not nearly as grand.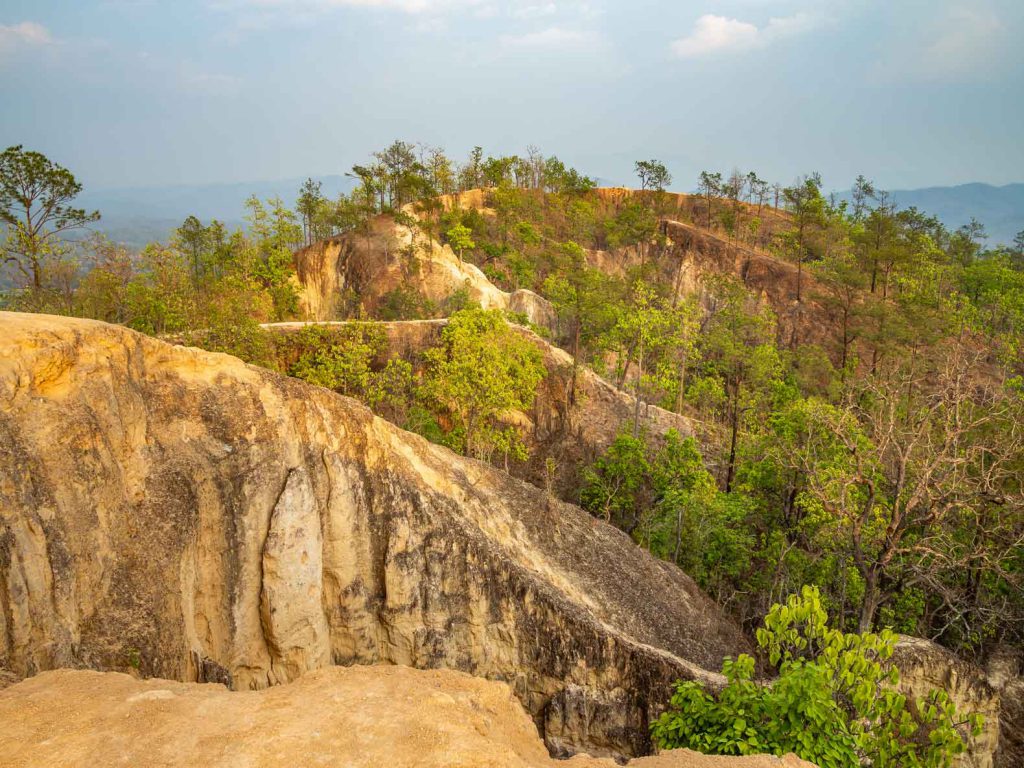 We walked a bit further over the ridges than most people and found a nice spot to watch the sunset. If you're planning on doing the same, don't forget to take a blanket / towel to sit on, some drinks and snacks.
So, all in all, we had a nice day, but we didn't get the Pai "vibes" that everyone raves about.
Total driving distance: +/- 20 KM
Day 7: Chiang Mai
It's already our last day on the Mae Hong Son Loop! The loop actually takes you straight back to Chiang Mai today, but we decided to make a detour so we could visit the "Sticky Waterfall".
Because the rocks of this waterfall are not slippery, you can walk up and down the waterfall barefoot. They've hung some ropes from the trees to help you get up and down the steeper parts. We had a blast!
The locals also really enjoy visiting this waterfall. People were having picnics, children and adults were having fun in the water, and there was just a really great atmosphere in general.
The last stretch of the Mae Hong Son loop back to Chiang Mai is a long, straight road into town. This was quite tiring after such a long time on the bike, so we were happy to be back in town.
What's also nice is that we made it back into the city without getting our second fine for driving a motorbike without the appropriate driving license 😉
Total driving distance: 177 KM
Some advise for the Mae Hong Son Loop:
You'll be driving on steep and curvy roads. Make sure you get a motorbike that has enough power to get you up the hills. You'll need at least 125cc. We rented a Honda Click for Geert and a Yamaha Mio from CAT motors. The Mio was a little cheaper, but we would recommend you get the Click if you can. It's very popular, has quite some storage space under the seat and also a much larger fuel tank than the Mio.
Bring only the essentials, as you'll be carrying your bag around with you all the time. You can usually leave your big bag at your guesthouse or motorbike rental place.
Leave Chiang Mai early and return late to avoid getting a fine from the tourist police. We've heard that they usually set up their checkpoints between 9 AM and 10 AM, and are gone by 4 PM.
If you do the loop counter-clockwise you probably don't have to pay the 300 baht entrance fee to Doi Inthanon. It's probably because most tourists visit the park coming from Chiang Mai, but there is no ticket checkpoint on the Mae Chaem side. The only downside is that you would have to miss the Mae Ya waterfall.
The road to Pai was actually not the most curvy one we drove on. Even when you do te Mae Hong Son Loop clockwise, you'll still get steep and curvy roads on day one. So it doesn't really matter which way around you go.
Dry season might not be the best time to drive the Mae Hong Son Loop, but don't skip the loop because of it. There's plenty to see and do, even though the views are not as spectacular as they can be in high season. We had an amazing time!
Pin it for later!
Hi, my name is Sandra and I'm half of the traveling couple that makes up Bus stops & Flip-flops. I'm finally living the dream by traveling the world with my husband Geert. My other hobbies are eating good food, dancing and sleeping in. Did you enjoy reading my blog post? I'd love it if you leave a comment!
---
---