Sightseeing around Dalat with an Easyrider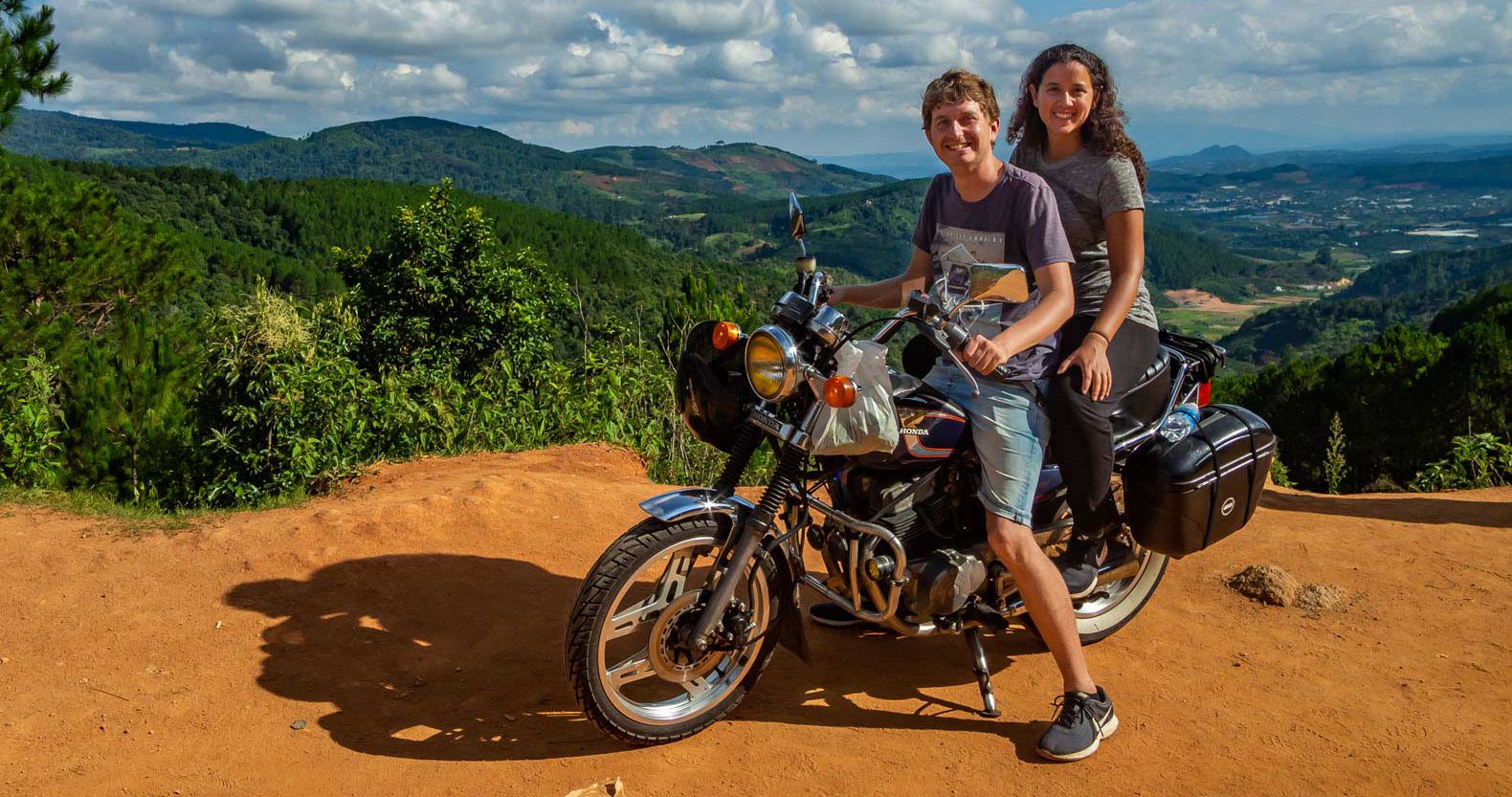 This post might contain affiliate links, which means we may receive a small commission on purchases made through these links, at no additional cost to you.
Dalat was one of the first stops we made in our six weeks of traveling through Vietnam. We'd been in Southeast Asia for about two and a half months and were looking forward to cooling down for a couple of days.
Because of its high altitude, the temperatures in Dalat are a very pleasant 20-25°C throughout the year. Something that sounded very appealing to us after the 35-40°C we were used to!
Not many Western tourists visit Dalat. Still, the French hill station is a bustling tourist city. The crowd? Mostly Vietnamese youngsters and couples looking to escape the heat of their hometowns.
This focus on domestic tourism has both positive and negative implications for us Westerners. On the upside, the prices of accommodation are ridiculously low. We got ourselves a very nice and big room, including breakfast, for only 243.000 VND. It was also a nice opportunity to get acquainted with the Vietnam cultural do's & dont's. On the downside, the attractions tend to be on the tacky side, as that's what the Vietnamese are into. We didn't really fancy a ride in a swan-shaped boat across the artificial lake in the center of town…
In stead, we combined two of our favorite activities: sightseeing and exploring the countryside on a motorbike. However, this time we decided to take a slightly different approach, and contracted the services of two Dalat "Easyriders".
These guides with bikes drive you around, meaning you get to enjoy your surroundings from the back of the bike and get some nice background info on the sights you see on the way. It's a really popular way to go sightseeing in Vietnam, so we had to try it as well!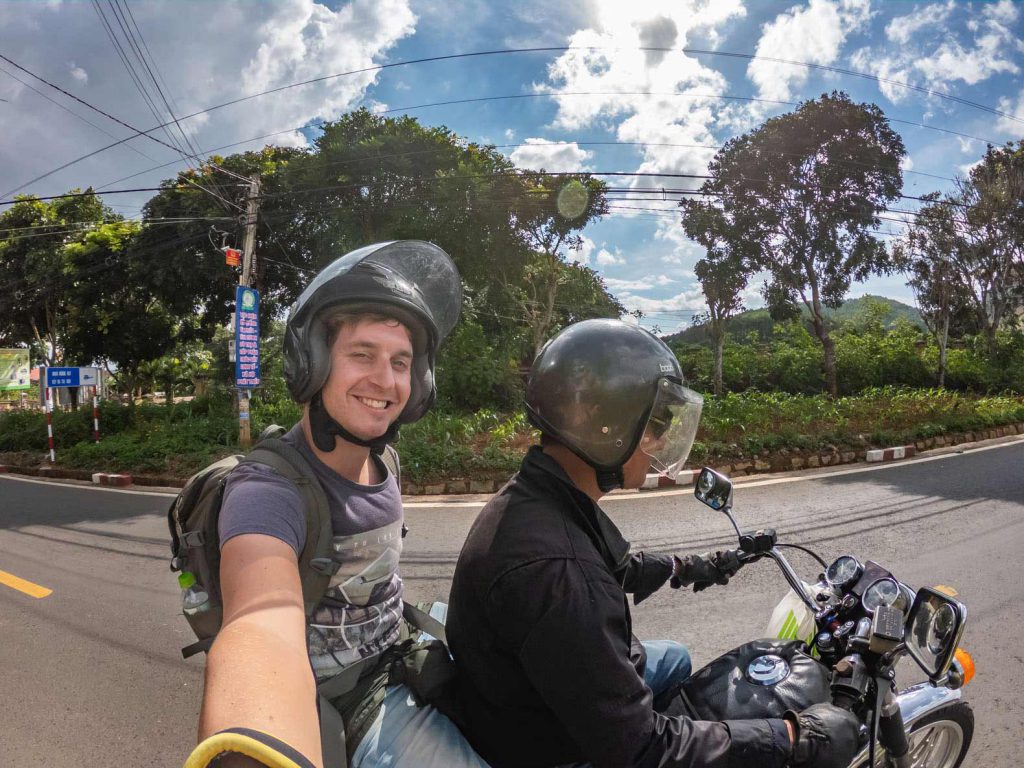 We were offered the choice between the "small loop" and the "big loop", which included an extra waterfall further away from town. We decided to do the small loop, with a few adjustments. We added in a pagoda and waterfall that we had read about, and left out the flower greenhouses (enough of those back home) and the coffee plantation (we've seen those before).
Our Dalat Easyriders picked us up from our guesthouse bright and early. Their bikes were large and comfortable, and they provided us with proper helmets (something that can't be taken for granted in Asia).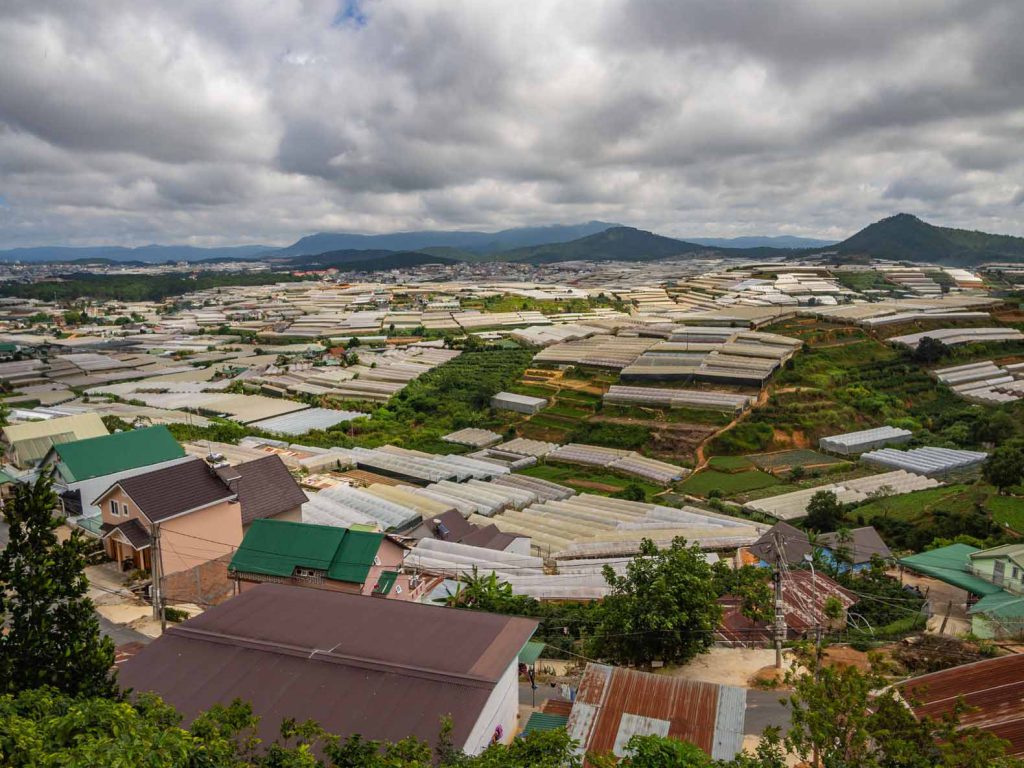 After making a quick stop at a nice viewpoint high above town, we headed over to Linh Phuoc Pagoda. This was the first pagoda we'd visited in Vietnam and we were really impressed by its unique architecture. Our Dalat Easyrider gave us some interesting background information about the differences between Thai and Vietnamese Buddhism, which also explained why their temples look so different from one another!
Back on the bikes, we made several more stops. They included a lake where Vietnamese couples come to take their wedding photo's, a mushroom farm, two waterfalls and a minority village with a huge concrete chicken statue.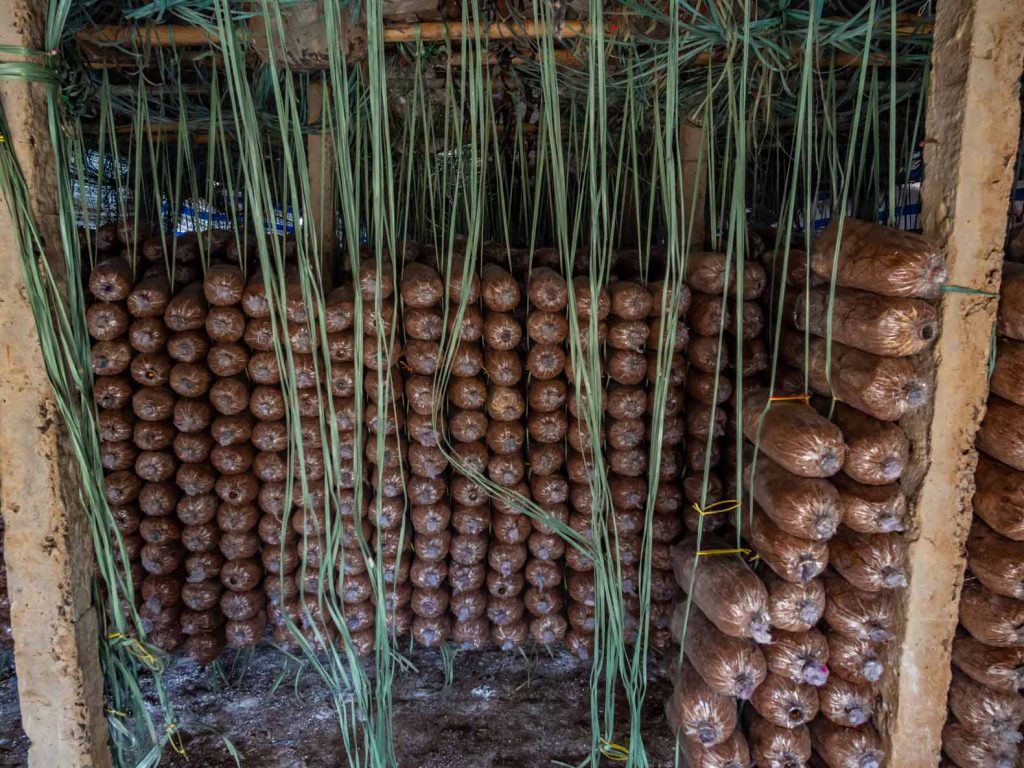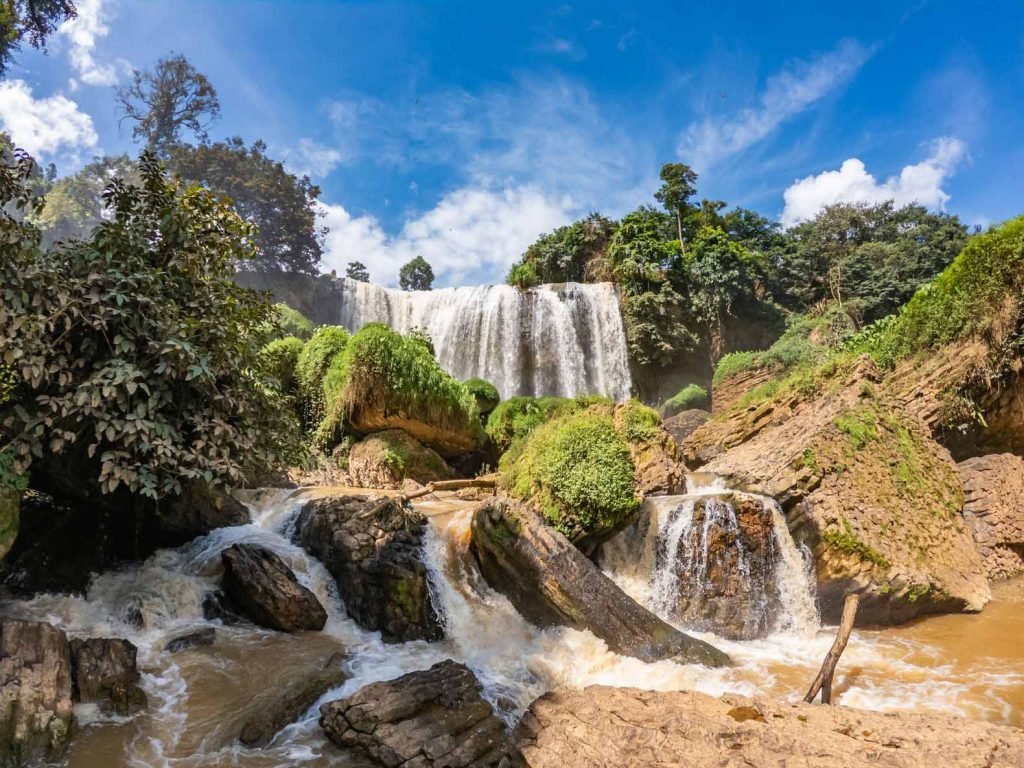 The highlight in the afternoon was a visit to a silk factory. This was actually far more interesting than we'd anticipated. We got to see the complete process of making a silk cloth, including touching a live silkworm!
Though most other stops were nice, we didn't feel like they were really anything to write home about. However, we did have a lovely day being driven around, chatting with our Dalat Easyriders (well, mine at least; Geert's wasn't much of a talker) and watching the scenery from the back of the bikes.
Pin it for later!
Hi, my name is Sandra and I'm half of the traveling couple that makes up Bus stops & Flip-flops. I'm finally living the dream by traveling the world with my husband Geert. My other hobbies are eating good food, dancing and sleeping in. Did you enjoy reading my blog post? I'd love it if you leave a comment!
---
---