Our 3 Week Southern Thailand itinerary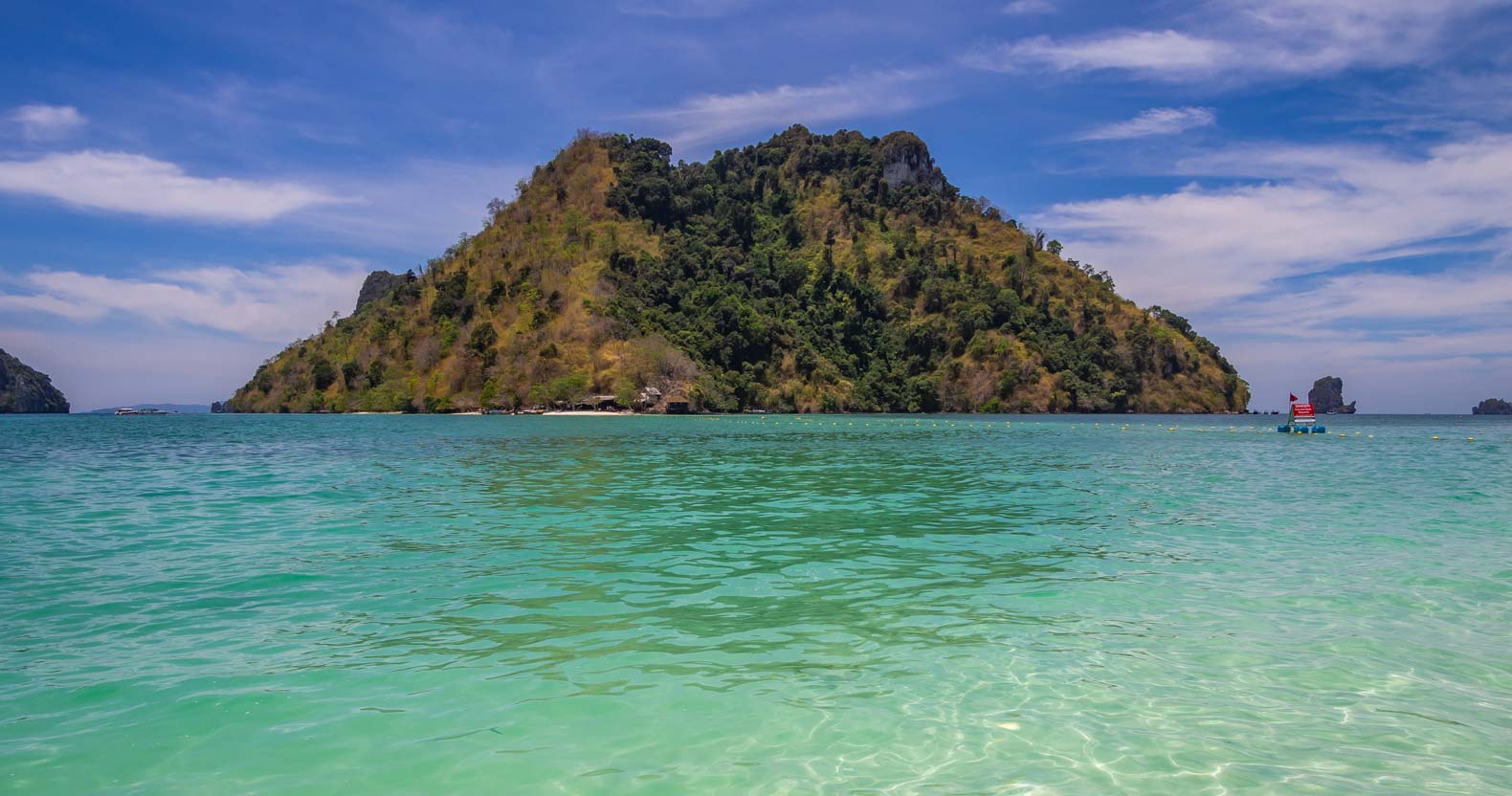 This post might contain affiliate links, which means we may receive a small commission on purchases made through these links, at no additional cost to you.
In april of this year, we spent three weeks in Southern Thailand. We didn't actually intend to spend so much time here initially, as we planned to focus mostly on the famed north of the country. But our friend Dorien would be joining us for three weeks, and doing a loop of the south of Thailand was the perfect way to combine her vacation with our travels.
This Southern Thailand itinerary for 3 weeks is how we did it, and to be honest, there aren't many things we would change looking back. We've stayed pretty much on the tourist trail, allowing us to see all the highlights, while avoiding the excesses of the most extremely touristy places like Phuket, Koh Phi Phi and Koh Phangan.
Our Southern Thailand itinerary is the perfect combination of culture, adventure and relaxation for first time visitors to Southeast Asia!
Day 1: Arrive in Bangkok
Like us, you'll probably start your Southern Thailand itinerary at Bangkok Suvarnabhumi Airport. After a long flight, take the rest of the day to get settled in, relax and recover from your jetlag.
If you're staying in the Khao San Road area (which we would definitely recommend!), you can take a bus into the city. The S1 bus was introduced just a couple of years ago and is a great alternative to an expensive taxi or the complicated train option. A bus ticket only costs 60 THB, which is incredibly cheap, and the bus is easy to find at the airport exit. Depending on traffic, the ride to Khao San Road will take you anywhere from 40 minutes to 2 hours.
Haven't booked your first night's stay yet? Check out some of these deals on Booking.com:
Day 2-3: Discover Thailand's Capital
Spend your first two full days in Thailand discovering its bustling capital. You'll either love it or hate it, but it's a must either way.
Sights you can't miss are The Grand Palace, Wat Pho (Temple of the Reclining Buddha) and Wat Arun (Temple of Dawn). You can easily spend a day marveling at the grandeur of these Thai temples, which are quite different from the architecture you'll be used to from home!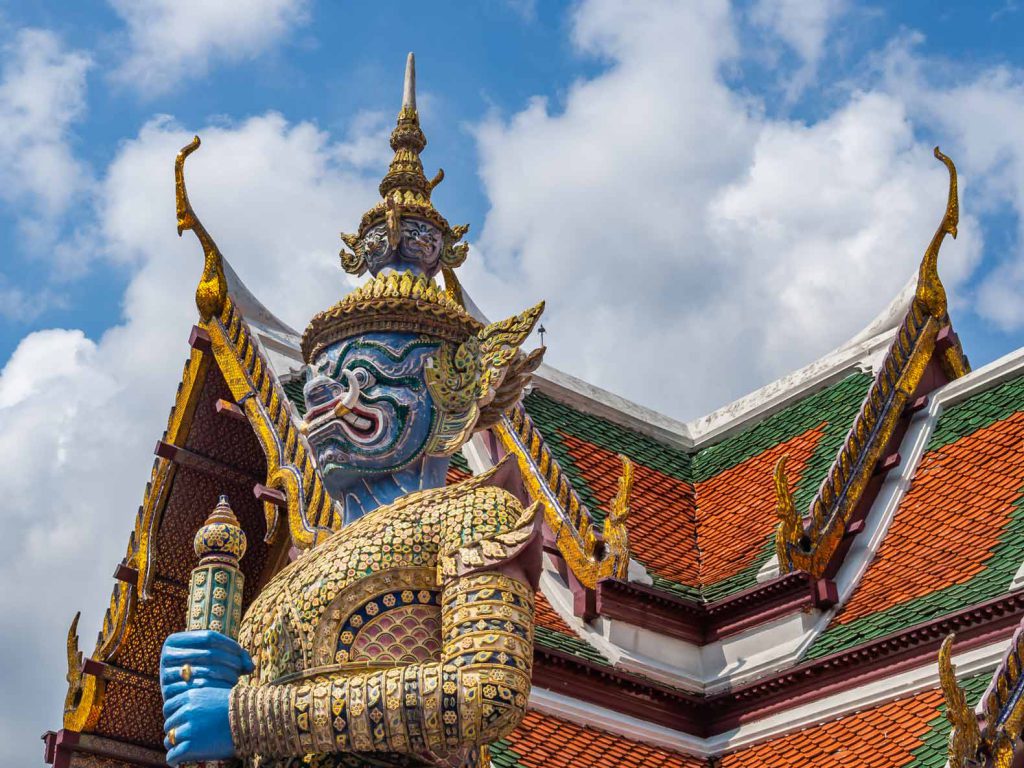 Use the ferry to get around the old city center and spend your evenings shopping, eating and drinking in the Khao San Road area. Also don't forget to check out the Siam area of Bangkok, for a glimpse of modern Thailand with its many malls and skyscrapers.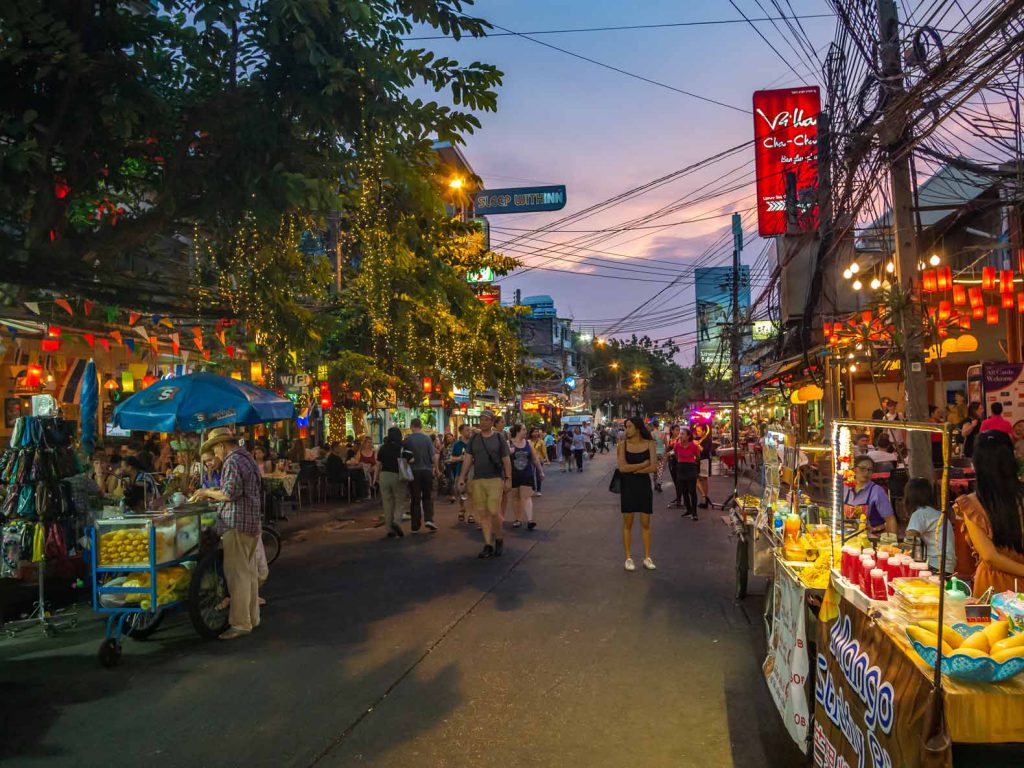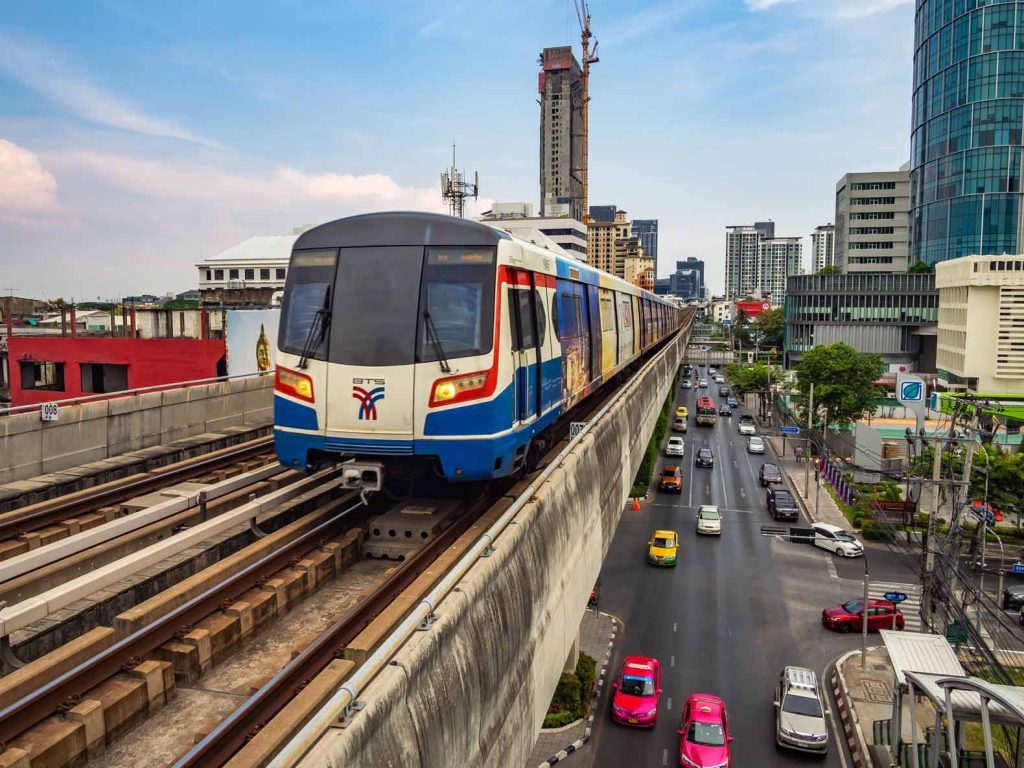 Check out our blog on Bangkok attractions for a more detailed description on what to with a 48-hour stay in Bangkok.
If you have the time, you can spend an extra day in Bangkok to visit a floating market and/or take a boat tour of the Khlongs (canals) that have given Bangkok its nickname of "Venice of the East".
Day 4: Fly to Krabi
Time to head south! A cheap flight is the quickest way to get you to Krabi so you can make the most of your 3 week Southern Thailand itinerary.
Tip: Your flight will probably depart from Don Mueang Airport, Bangkok's second airport which is mostly used for domestic flights by budget airlines. Check your ticket and don't make the mistake of showing up at the wrong airport 😉
While Krabi is the name of the province and its capital, you'll most likely be staying at a beach-side destination. We chose to stay in Ao Nang, as it's centrally located and has cheap accommodation options. The town itself is quite touristy and a bit tacky though, so we're not sure whether we would recommend it.
If you like a more laid back vibe (and your budged allows it), we would recommend you to stay on Railay beach. If you want to stay on one of the islands, we've heard good things about Koh Lanta, which is a lot less busy than touristy Koh Phi Phi.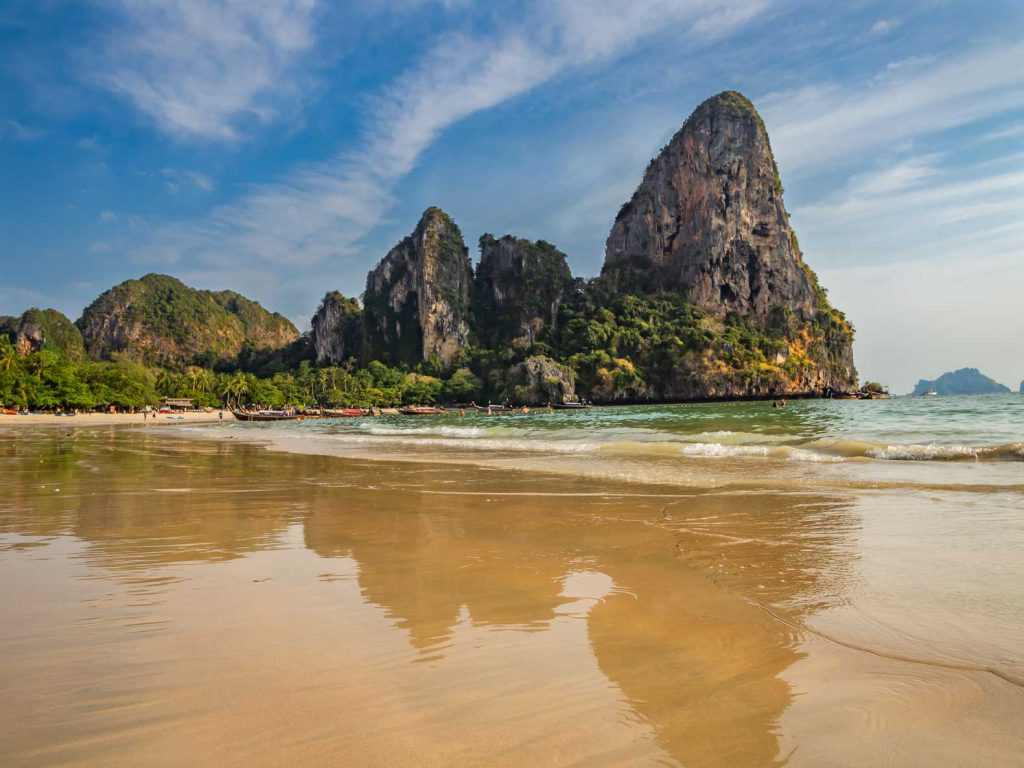 From Krabi airport, it's a quick and easy minivan or Grabcar ride to Ao Nang. If you're staying on Railay Beach or one of the Islands, you'll have to take a boat so make sure your flight arrives in Krabi well on time.
Day 5-7: Beach Bum in Krabi
The south of Thailand is all about beautiful beaches and islands. Spend a couple of days here swimming, snorkeling and relaxing. The beaches in Ao Nang itself are not very special, but there are many options for visiting other beaches by boat.
We decided to join the very popular "4 islands tour", which actually takes you to three islands and one mainland beach by longtail boat. The beaches were beautiful and there was some nice snorkeling at one of the islands. Everything was well organised by our tour company and we had a delicious lunch.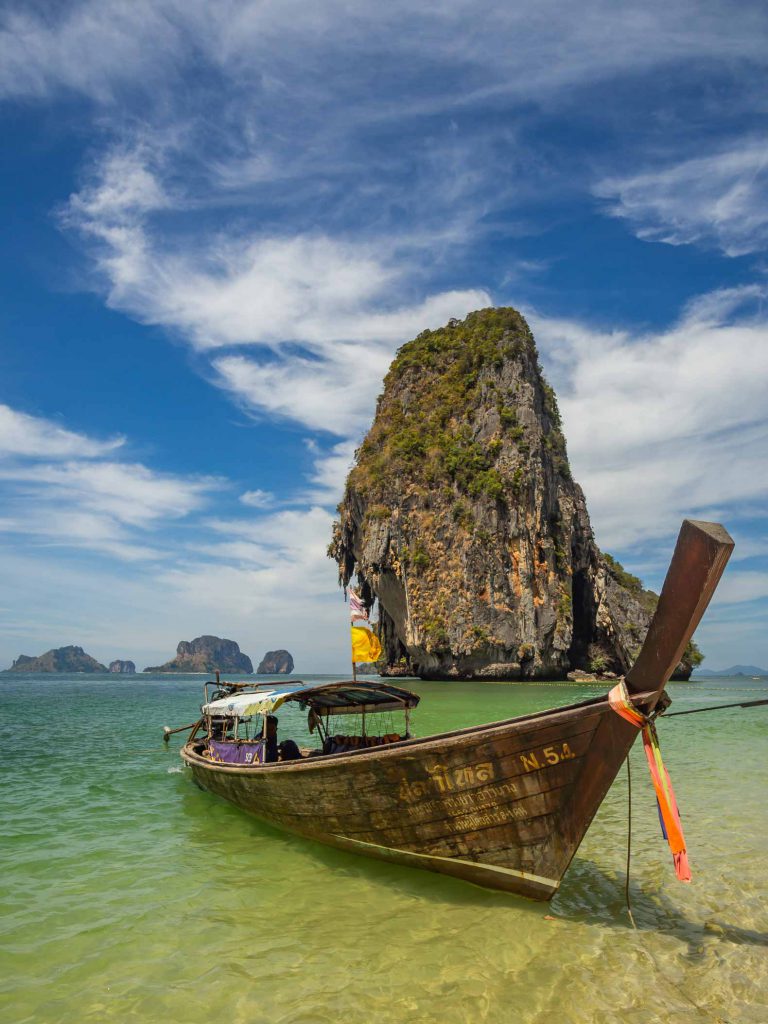 We were, however, not prepared for how busy it would be. The beaches are quite small and there are many longtail boats, which all follow the same itinerary. This meant that the beaches were VERY crowded, making it hard to find a nice spot to relax.
To avoid this, we would recommend choosing a less popular tour (perhaps the Hong Island tour) or even better, chartering your own longtail boat. This allows you to visit the islands at different times of the day, when the tours are not there. If you can gather up a group of 4 people, than the costs of a private longtail boat are about the same as the costs of a tour.
Other activities in Krabi include visiting the Tiger Cave Temple, doing a kayaking trip, drinking a sunset cocktail at a beach bar, sampling delicious Thai foods at the night market and watching a ladyboy show. Check out some options below:
Day 8: Transfer to Khao Sok
After lazing about for a couple of days, it's time to get back in the action! Arrange for a minivan to take you to Khao Sok National Park. You can book this online at 12go.asia or ask at your hotel.
It's about a 3 hour drive to Khao Sok from Krabi, but expect the journey to take a couple of hours longer if you calculate in your hotel transfer and the lunch stop on the way. Make sure to check whether you get dropped off at your hotel or at the Khao Sok bus stop, which is actually about 1KM outside of the village.
After a tiring travel day, we suggest you treat yourself to a nice dinner at Rafflesia Café, which is easily the best restaurant in town and has very reasonable prices. You should also arrange your Khao Sok Lake tour today, as you'll be leaving early tomorrow morning. Just ask your hotel, and they'll hook you up. Prices are the same wherever you book, so no need to shop around.
Day 9-10: Explore Khao Sok National Park
Khao Sok is an amazing national park in the south of Thailand and our personal favorite. The park is huge and contains some of the oldest rain forest in the world. There's all sorts of rare flora and fauna, caves, waterfalls , viewpoints and surprisingly few tourists!
A tour of Cheow Lan lake is by far the most popular activity here, and for good reasons. Think stunning karst cliffs, an enormous lake, wild animals and dense jungle. You just can't go to Khao Sok National Park without doing the Khao Sok Lake tour!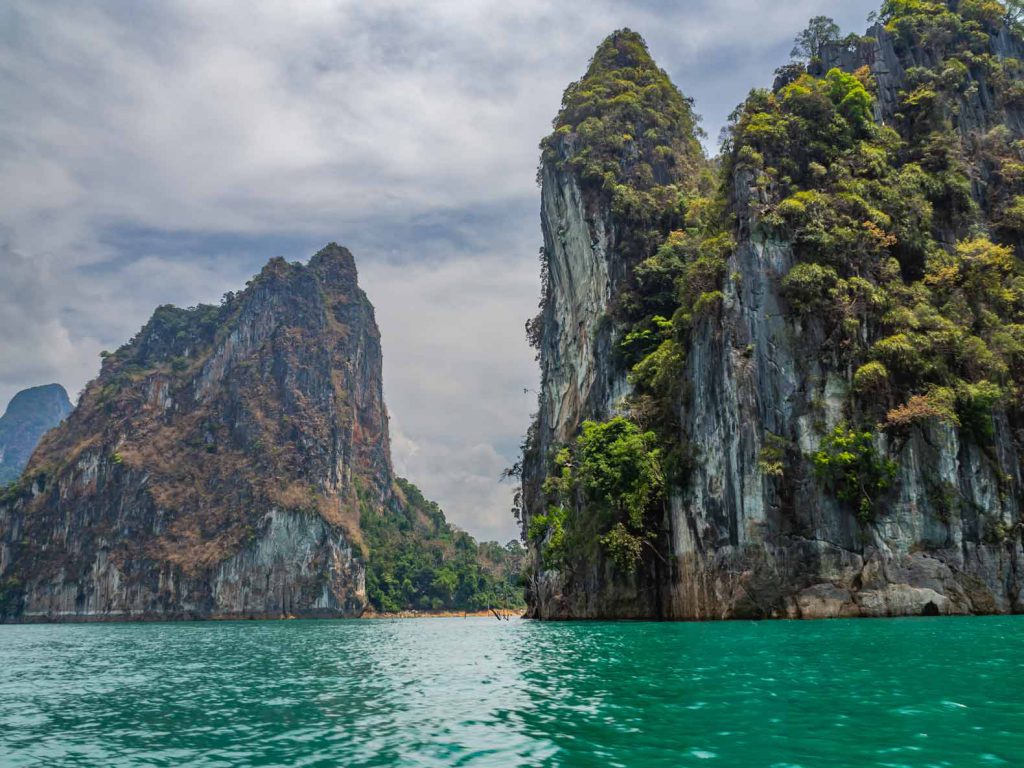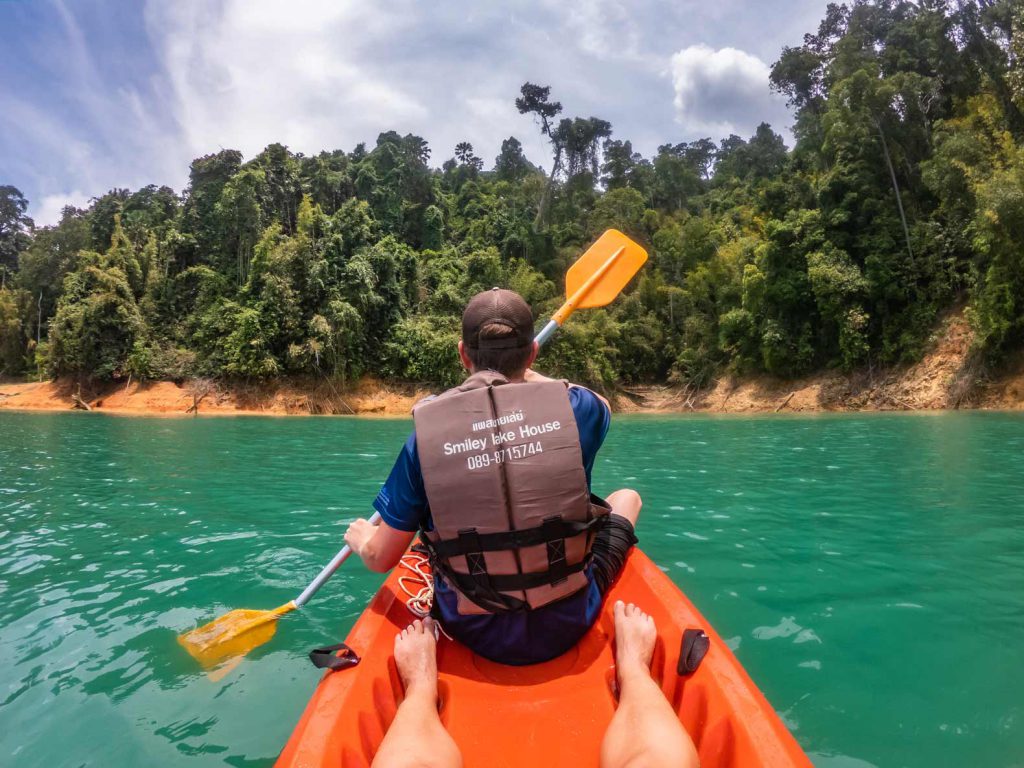 Keep in mind: Khao Sok National Park has two entrances. Though Kao Sok village is located directly next to Khao Sok National Park, the entrance that you'll find at the end of the village is NOT the entrance that is used for the lake tours. You can enter the park from the village to do some hikes and wildlife spotting. However, visiting the lake ALWAYS requires a 1 to 1.5 hour transfer.
Day 11: Travel to Koh Tao
Getting to Koh Tao requires a minivan transfer to the harbor of Surat Thani, followed by a ferry ride through the Gulf of Thailand. We also arranged this via our hotel.
There's only one ferry departure per day, and it's in the morning, so you'll have to leave Khao Sok very early. Our minivan picked us up at around 6.30 AM, made a few stops in the village to pick up other travelers and we were off to Surat Thani.
The ferry journey is a long one, as the boat first goes to Koh Samui and then to Koh Phangan. At Koh Phangan, you get off the ferry, wait for an hour, and then get onto your second ferry to Koh Tao. We arrived on Koh Tao at 2.15 PM.
The boats were comfortable and fairly spacious, and you could buy food and drinks on board at a reasonable price. If you ever need to take a ferry to the Thai islands, we highly recommend travelling with Lomprayah!

Day 12-15: Diving and Beaches on Koh Tao
Of the three islands in the Koh Samui Archipelago, we decided to stay on Koh Tao because we wanted to do a diving course. Koh Tao is known as one of the best places in the world to get your diving certificate, because it's cheap and there are quite a few interesting dive sites.
Geert and I took a 3-day PADI Open Water Diver course at Scuba Shack, while our friend Dorien had a massage, went sunbathing and did some souvenir shopping. The folks at Scuba Shack were also friendly enough to let her join on the boat on our second day and let her use their snorkeling equipment for free!
The diving was awesome and we were in a group with only two other "students". Of course we passed our final exam with flying colors 😉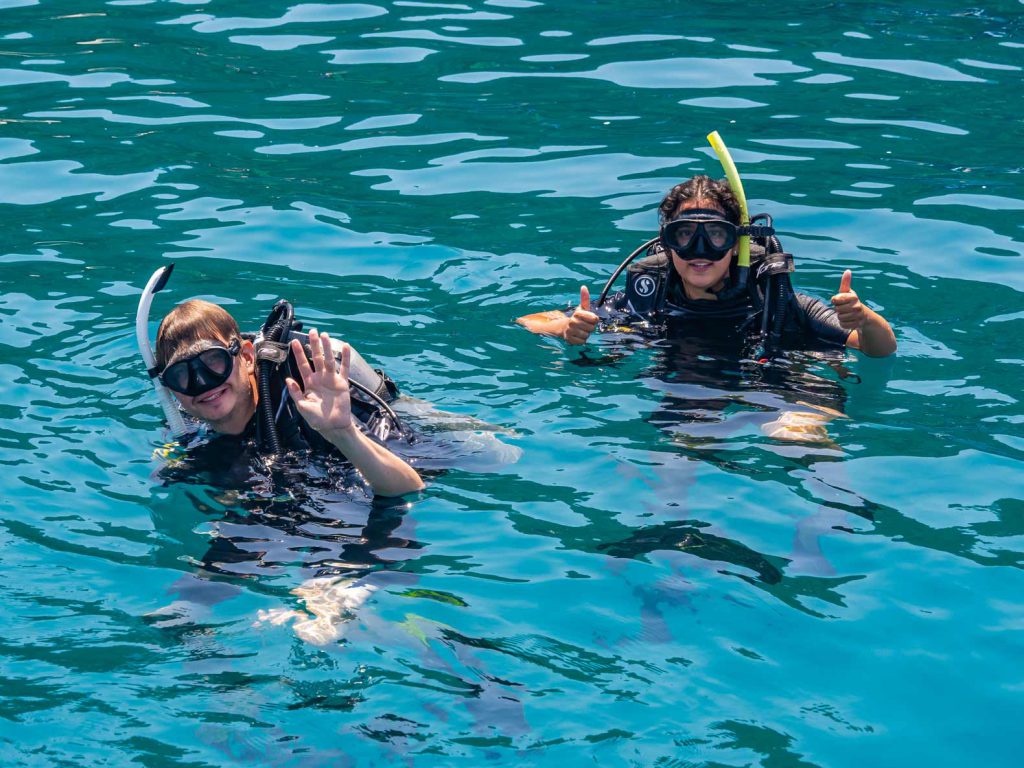 If diving is not your thing, Koh Tao still makes for a nice stay. You can rent a scooter and easily spend a few leisurely days exploring the island's many beautiful beaches and viewpoints.
In the late afternoon, go for a sunset cocktail on Sairee beach and then take your pick from the many excellent Thai and Western restaurants. Afterwards you can watch the fire show that's performed on the beach every night and grab a few more drinks. Doesn't sound to bad, right?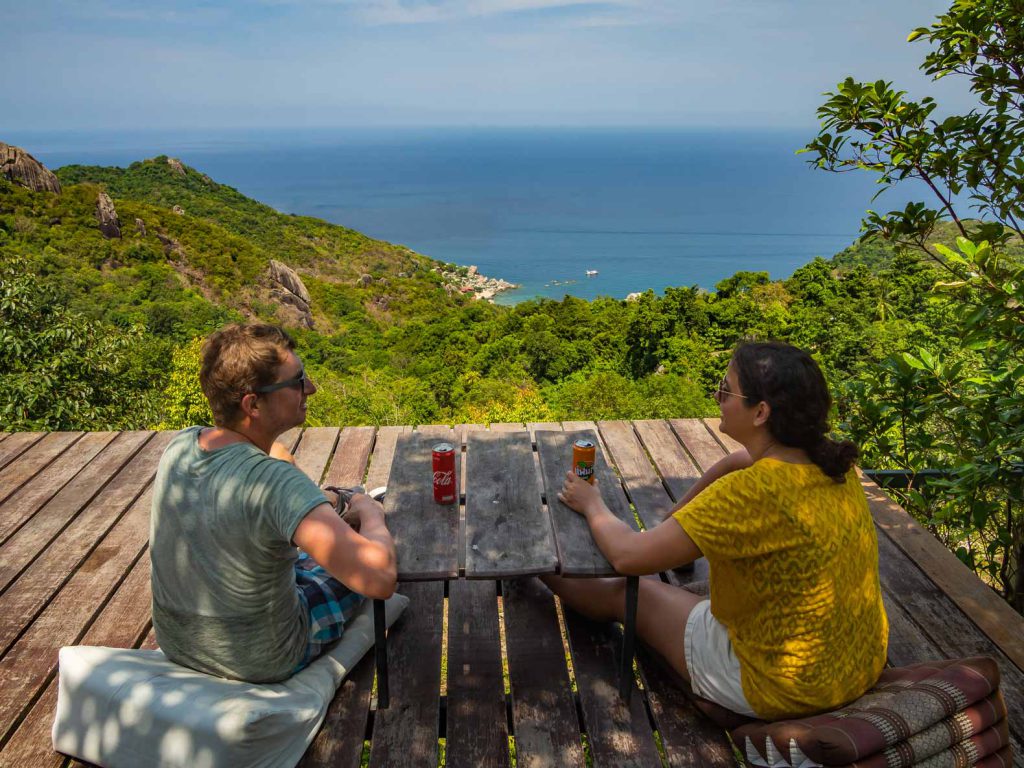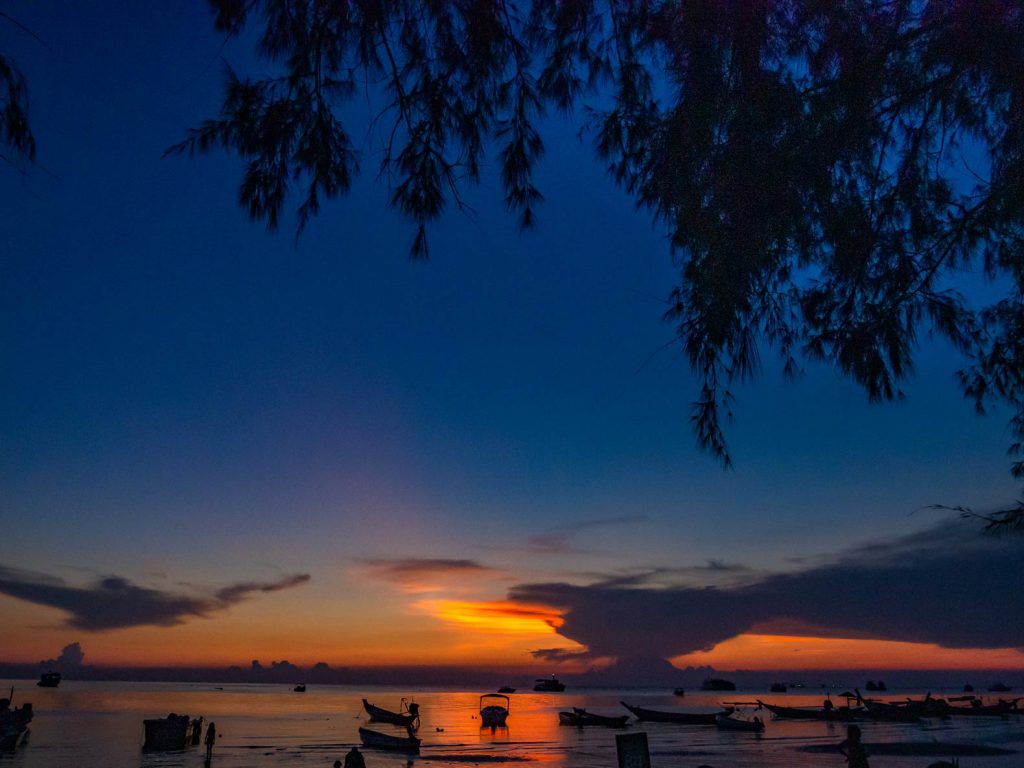 Koh Tao is a pretty small island and its laid-back island vibe make it ideal to spend a few relaxing days. If you're looking for more "entertainment", whether it's in the form of temple visits, activities on the water or (full moon) parties, you might want to consider spending a few days of your Southern Thailand itinerary on Koh Phangan or Koh Samui instead.

Day 16: Transfer to Hua Hin
By now you've probably fallen in love with Koh Tao and it'll be difficult for you to leave. But as you've only got three weeks on your Southern Thailand itinerary, it's time to move on!
If you take the Lomprayah ferry back to the mainland, you can book a combined ferry + bus ticket straight to Hua Hin (or even on to Bangkok, if you want). The ferry ride will be a lot shorter this time (about 2 hours), as you'll go directly to the pier of Chumpon without passing any other islands.
The Lomprayah buses are spacious and comfortable, and everybody gets an assigned seat number. It's about a 5 hour drive to Hua Hin and there's an excellent food and toilet stop about halfway. When you get to the Hua Hin bus stop, there'll be taxi and tuk tuk drivers waiting to take you to your hotel.
Day 17-19: Vacation like a Thai in Hua Hin
Hua Hin is a beach-side resort town, which is not very popular among backpackers and Western tourists. It is however very popular as a weekend getaway for wealthy Bangkok residents. Kind of like the Hamptons of Thailand.
We'd read mixed stories about Hua Hin, so weren't sure what to expect. We were a bit surprised though by the vast amount middle-aged white men, who were obviously there to visit the many "hostess bars" and questionable massage parlors.
But nonetheless we had a surprisingly good time in Hua Hin and would recommend it as a part of any Southern Thailand itinerary. It felt to us a bit like a mini-Bangkok, where you're actually surrounded by Thai people in stead of just Western tourists!
The main reason we went to Hua Hin was to visit the nearby Wildlife Friends Foundation, which turned out to be one of the most awesome day trips that we did in Thailand. This sanctuary actually started out as a rescue center for macaques and, as it grew, kept taking in more and more different species. We saw bears, gibbons and hornbills among others. The elephants are the main reason most tourists visit, but we really enjoyed meeting their other animals too.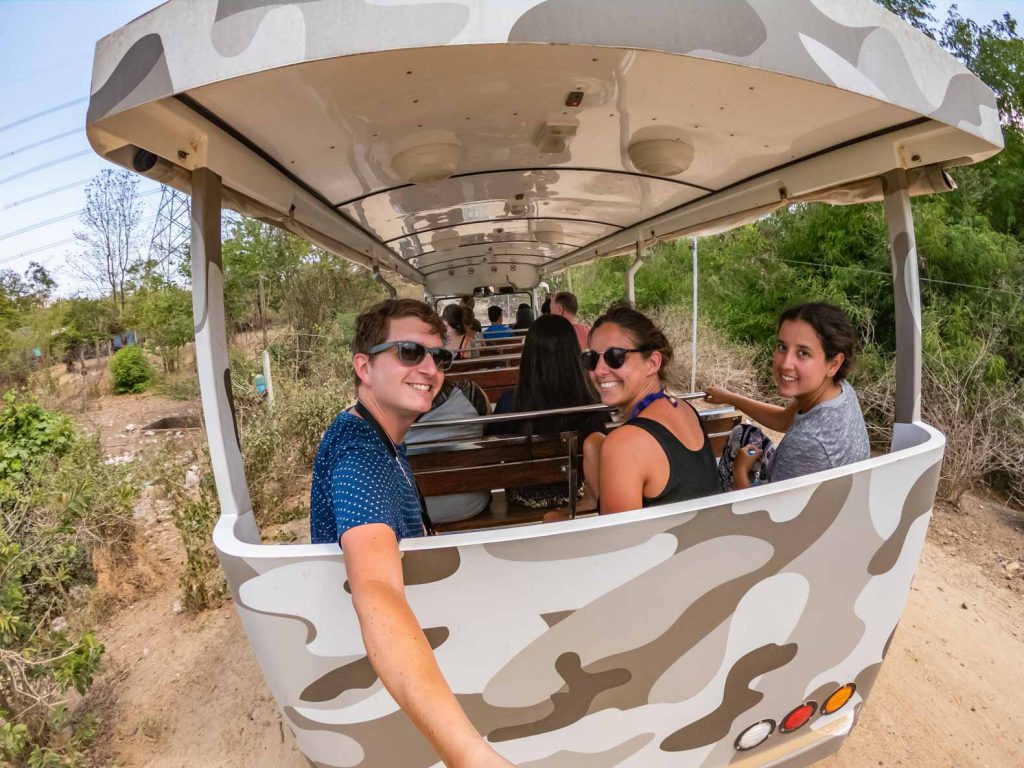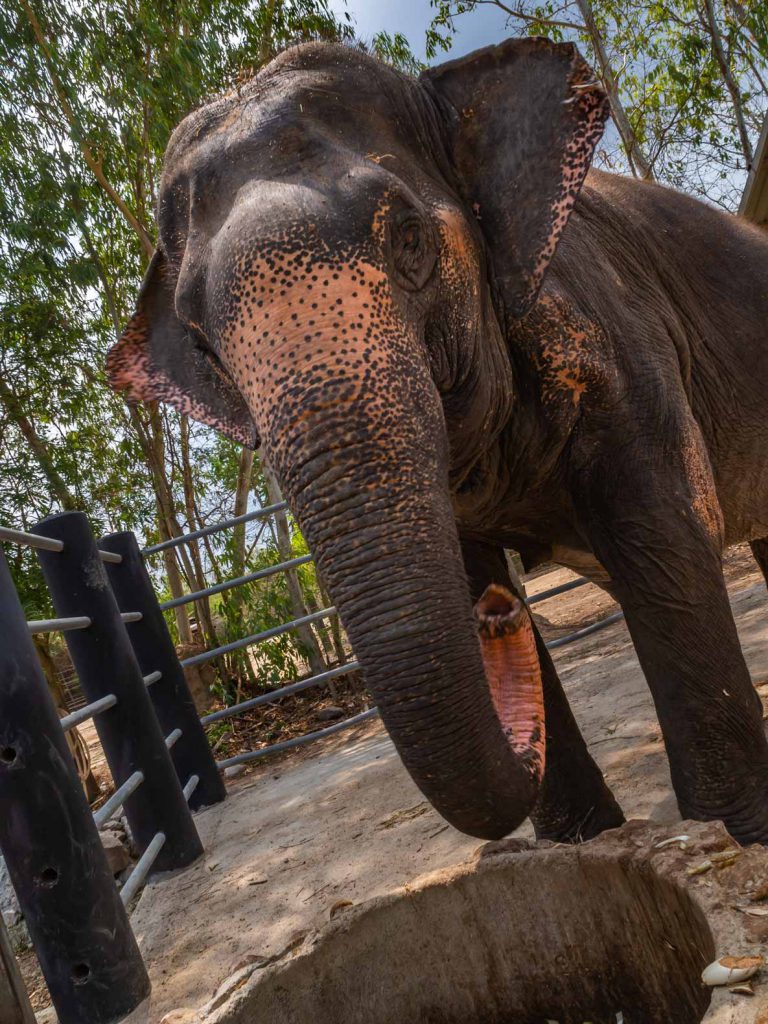 Another highlight was our visit to the Cave Temple. We splurged on a private taxi for the day, since getting there by public transport seemed too much of a hassle and I wasn't comfortable (yet) with driving a scooter down a busy highway. This turned out to be a great decision, as we were able to make a few extra stops on the way and could do everything in our own time.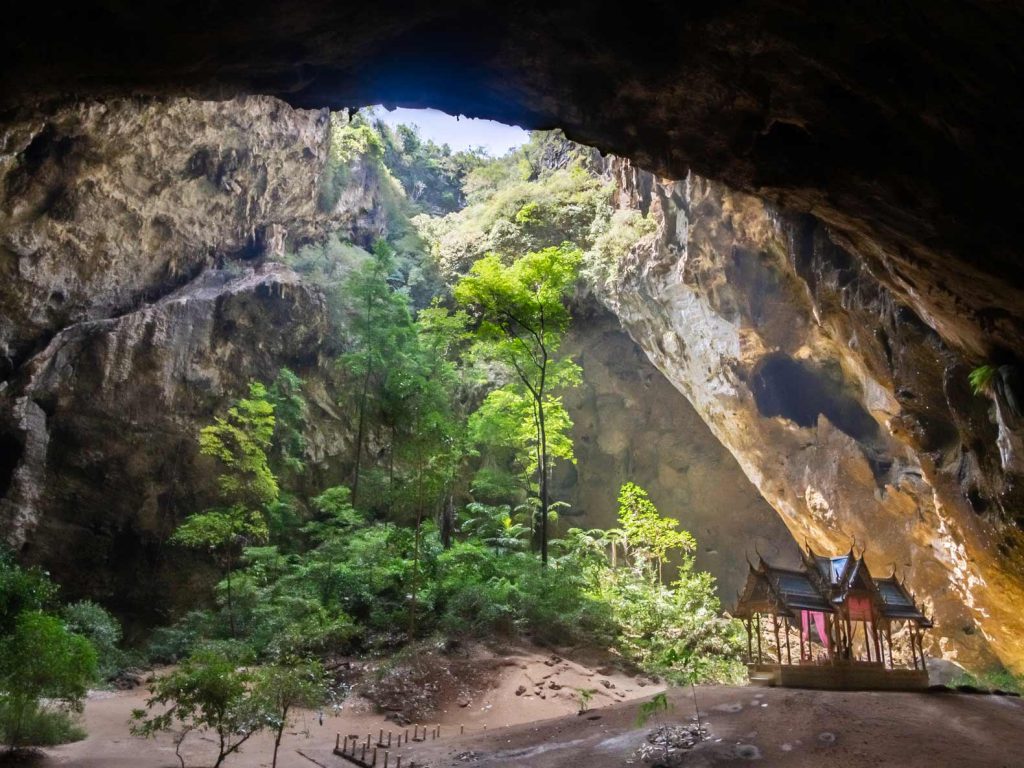 At night we strolled along Hua Hin's outstanding night market (one of our favorites in entire Thailand!) for food and souvenirs. We also found an excellent Italian restaurant (run by an actual Italian) and had the most amazing pizza's, which are very hard to get in Thailand.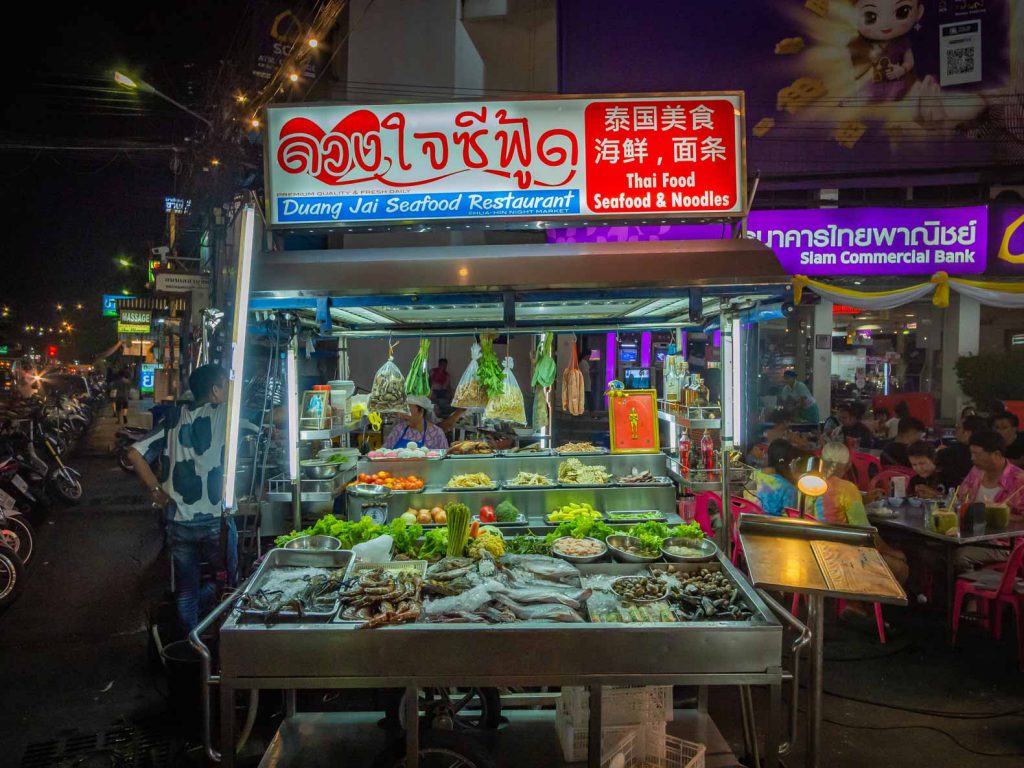 The only downside to Hua Hin would be that the beach is not that nice. So if you want to go swimming, you'll probably be better off spending a few extra bucks on a hotel with a swimming pool.
Day 20: Back to Bangkok
What?! Your three weeks in Southern Thailand are already over? Yes, we know, time flies when you're having fun! So today it's back to Bangkok for your last night in Thailand before you fly home.
You could technically depart for Bangkok on the day of your flight, as it's only a 2-3 hour ride from Hua Hin. But, since you never know what could go wrong, we strongly suggest you get yourself to Bangkok the day before and don't risk missing your flight.
Or… continue your travels after completing this Southern Thailand itinerary and head up north like we did. Ayutthaya, Sukhothai or even as far up north as Chiang Rai; what's going to be your next destination?
Pin it for later!
Hi, my name is Sandra and I'm half of the traveling couple that makes up Bus stops & Flip-flops. I'm finally living the dream by traveling the world with my husband Geert. My other hobbies are eating good food, dancing and sleeping in. Did you enjoy reading my blog post? I'd love it if you leave a comment!
---
---