The Thakhek Loop: a motorbike adventure that can't be missed!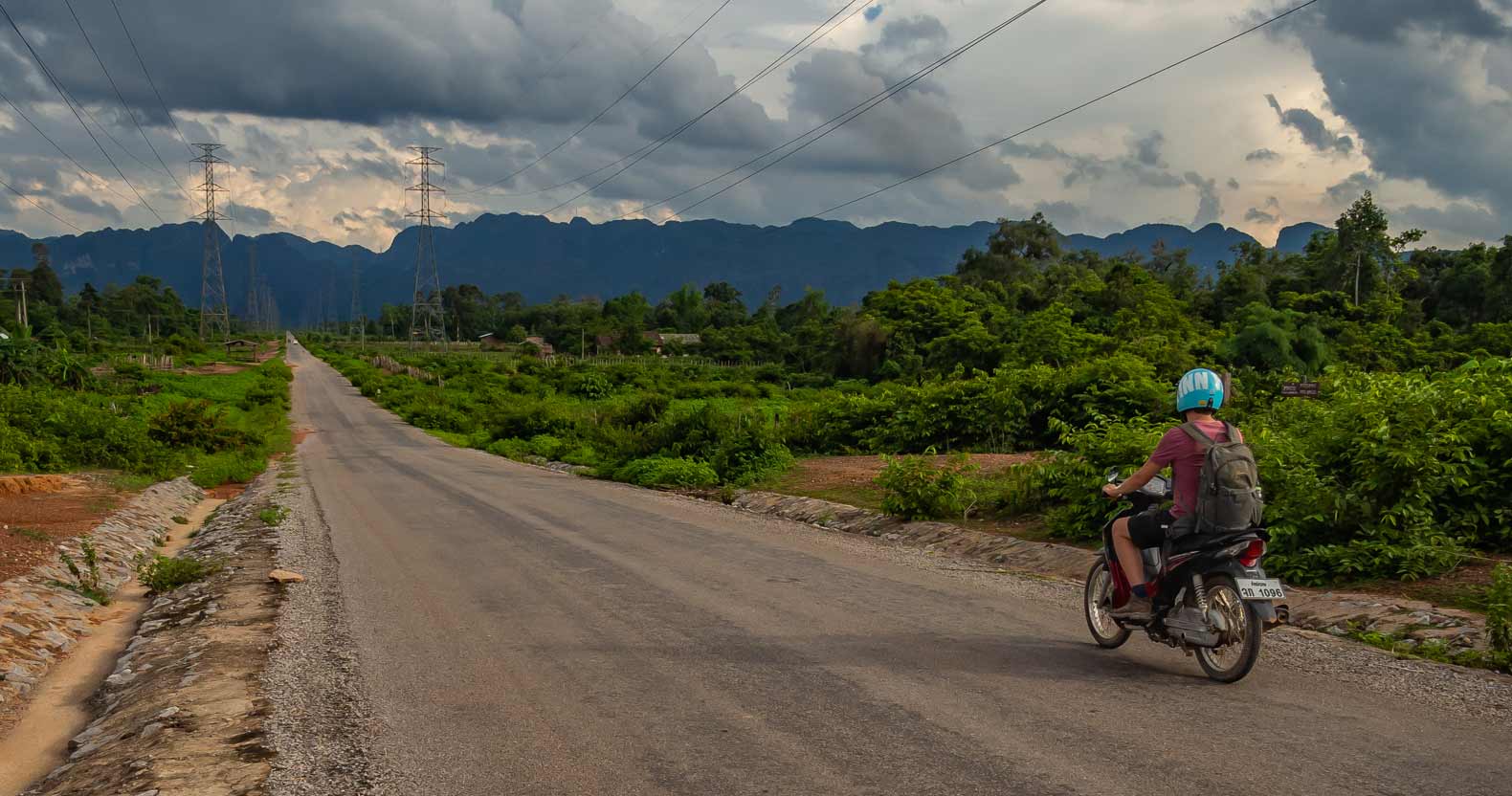 This post might contain affiliate links, which means we may receive a small commission on purchases made through these links, at no additional cost to you.
Riding the Thakhek loop in Laos has been one of our favorite experiences in Laos and even Southeast Asia! And that's saying something, when it has the Gibbon Experience and Khao Sok National Park as competition! This fantastic 450 km motorbike loop features towering karst cliffs, stunning mountain views and, most notably, magnificent cave systems.
About the Thakhek Loop
The loop can be completed in 3 days, but we suggest a minimum of 4 days. If you have more time or don't want to spend a lot of time riding each day, you could easily entertain yourself for 5 of even 6 days on the loop.
The Thakhek loop starts and finishes in the quiet provincial town of Thakhek. Besides riding the loop, there's really not anything else to do there, so most people don't linger around too long. We arrived in the middle of the night and started the loop the following morning. After returning to Thakhek we took another night bus that same evening.
Though it's called the Thakhek loop, many people (including us) decide to not complete the loop, but turn around after visiting Kong Lor cave and drive back to Thakhek the way they came. The reason for this is that the way between Kong Lor cave and Thakhek is mostly a 100 km stretch of highway. Heading back the way we came allowed us to see more of the beautiful landscapes we had passed and make some stops that we didn't have time for on the first two days.
Are you curious yet? Read on for a detailed description on how we spent 4 days on the Thakhek loop!
Day 1: Thakhek to Thalang
Having arrived at 3 AM the night before, we were a bit lazy in the morning. We took our time for breakfast, storing our big bags at our hostel and arranging our motorbikes from Wang Wang rentals. It was 12.30 PM by the time we were on our way out of Thakhek.
Geert got a cheaper semi-automatic Honda Wave (his first time riding a semi-automatic) and I got an automatic Yamaha Q-bix. It was a bit more expensive, but had a lot of storage space below the seat. This was quite useful, since we'd be carrying all our stuff for 4 days with us.
Because we don't have motorcycle licences, we're actually not allowed to ride motorbikes in Laos… But since this is the case for most tourists, the people at Wang Wang have been so clever as to create a map of the town highlighting the police checkpoints.
We followed the map and were out of the town in no time. We were surprised at how quickly we were riding through the beautiful countryside. Within 15 km of driving we had already reached what they call "cave alley".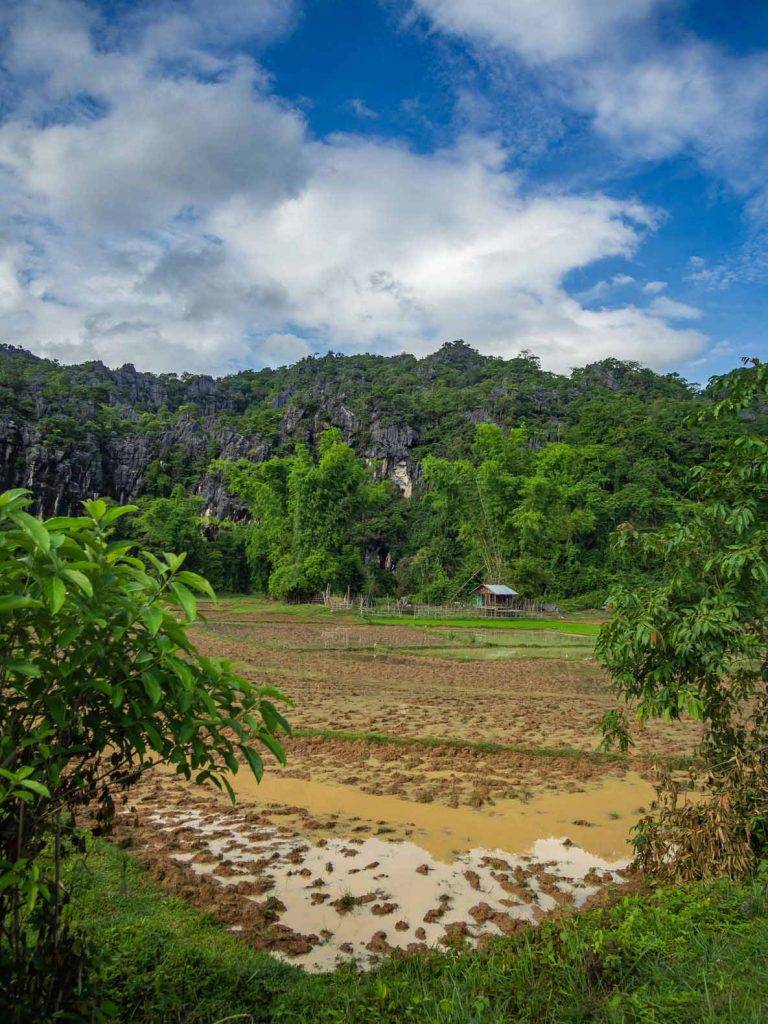 Tham Xieng Liab
This 5 km stretch of road is surrounded by many caves, all very close to each other. We visited our first cave here, called Tham Xieng Liab.
We parked our bikes on the side of the road. The cave entrance was only a short walk away. We couldn't walk very far inside the cave, because the water level was too high. There's also supposed to be a side entrance, but we couldn't find it. I think we were probably on the wrong side of the river. Still, the view from the entrance of the cave was very nice.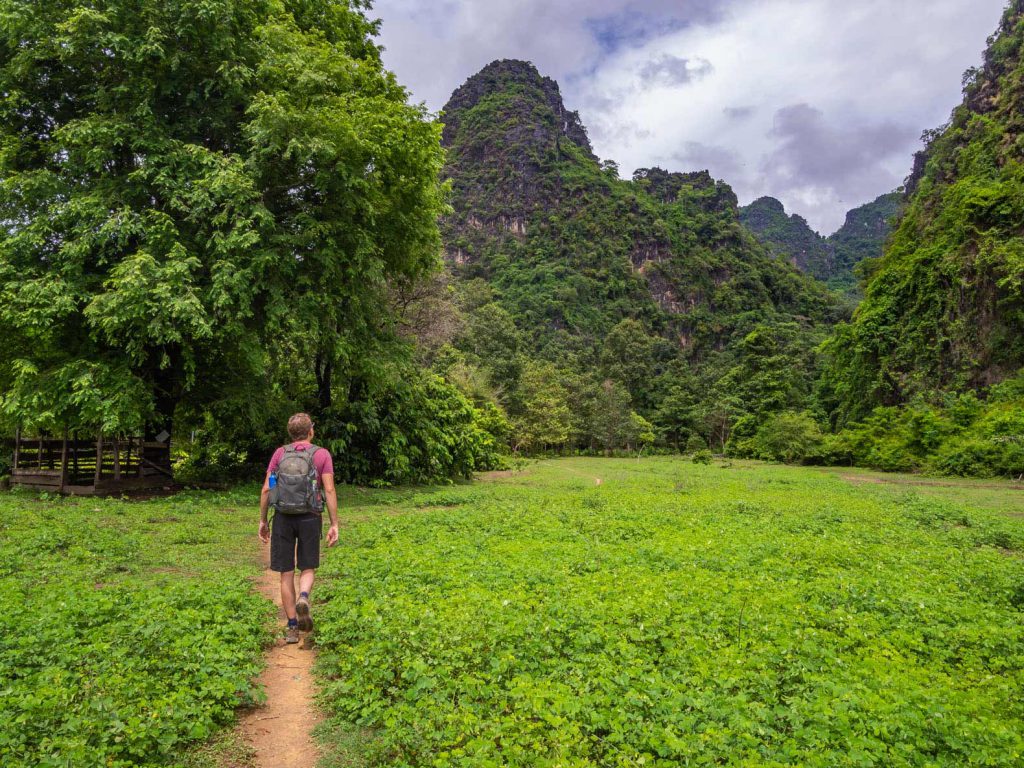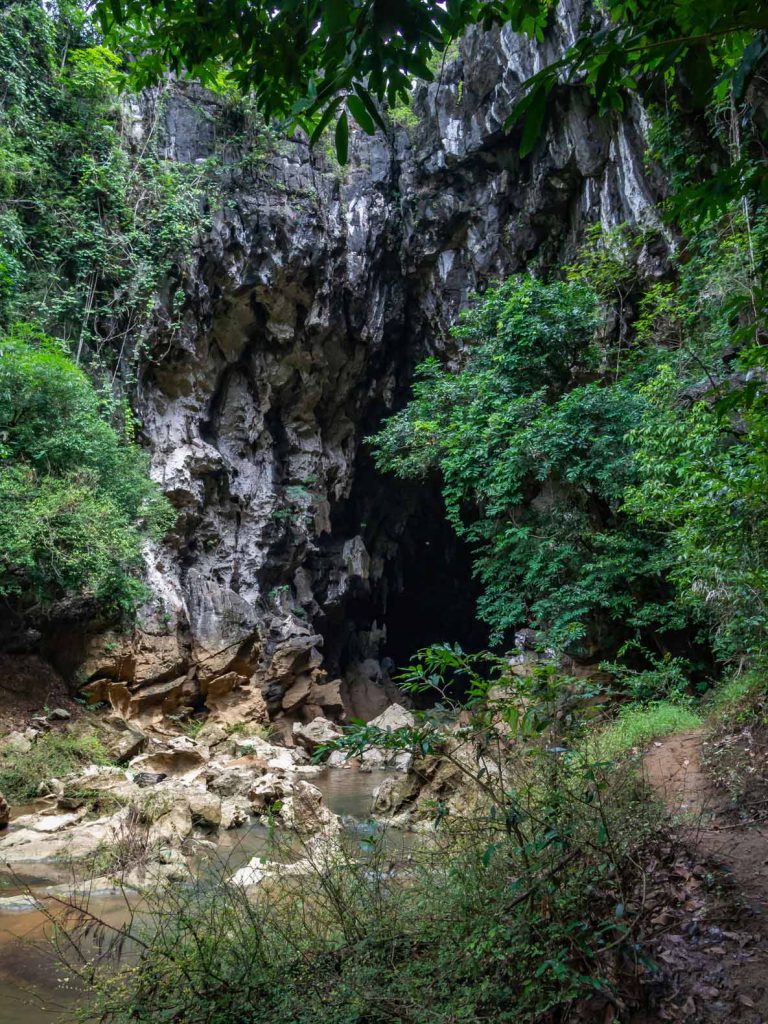 On to Thalang
Because we'd left Thakhek late, we didn't make any other stops. Instead, we drove straight to Thalang, where we'd be spending the night. The drive there was amazing. Definitely the best scenery we've ever seen from a motorbike so far!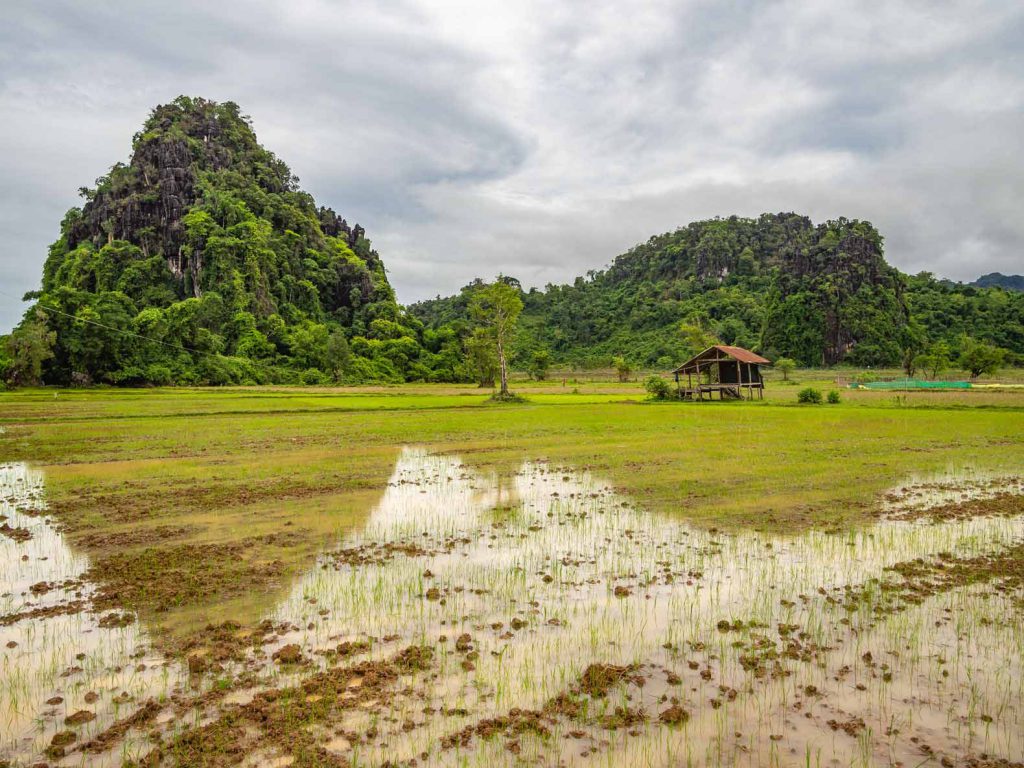 Soon we left the karst mountains for the hilly jungle. We passed the dam that is responsible for the surreal landscape that was to follow.
Placing a dam in the river has caused a very large part of the jungle to be flooded with water in the rainy season. The trees that were once there can't handle being submerged in water for months on end and have died as a result. Though not exactly beautiful, it is a fascinating sight.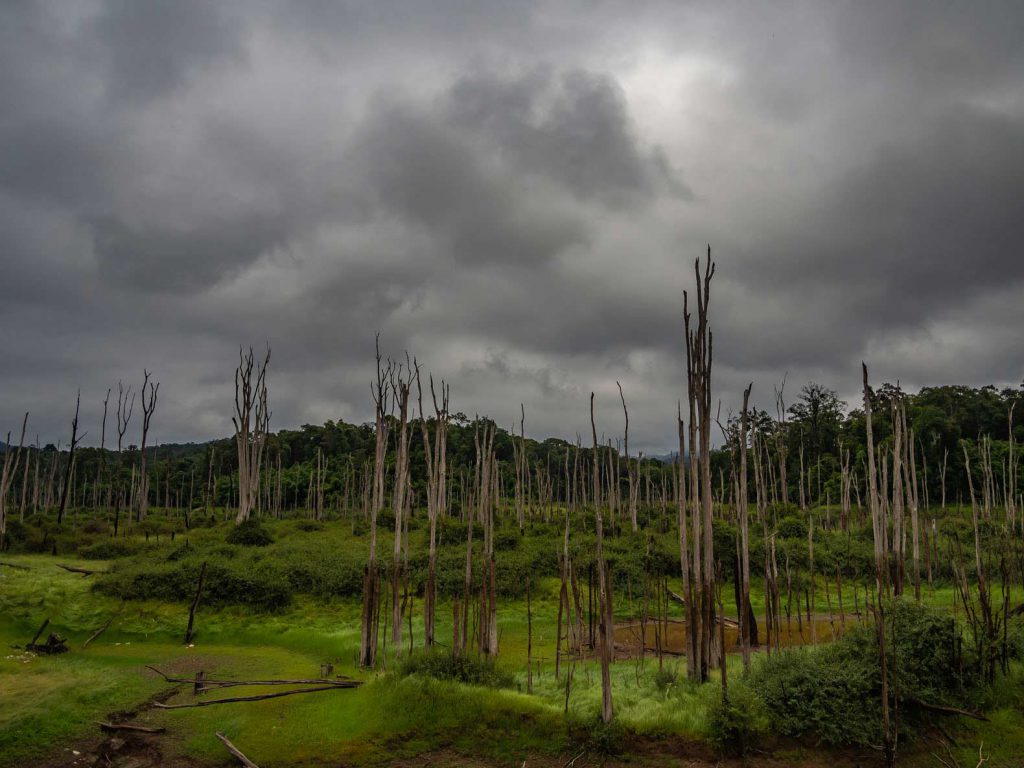 We arrived in Thalang exhilarated from an awesome first day on the Thakhek loop and excited for the days to come.
The village of Thalang is very small and there's basically only two places to stay. We opted for Phosy Guesthouse and got a cut little cabin which we liked a lot. Phosy also has a restaurant which serves quite good food, some hammocks to relax and a campfire to sit around in the evening.
Day 2: Thalang to Kong Lor
Our second day on the Thakhek Loop would be a long one. We had a 150 km drive ahead of us to reach the village of Kong Lor.
The day started of with a few more kilometers of the dead tree landscape. We soon reached some Buddha carvings that mark the end of the flood area. The carvings were nice, but nothing very special. If it weren't for some other "loopers" stoppimg by the side of the road, we would've missed them because we were too busy looking at the nature around us!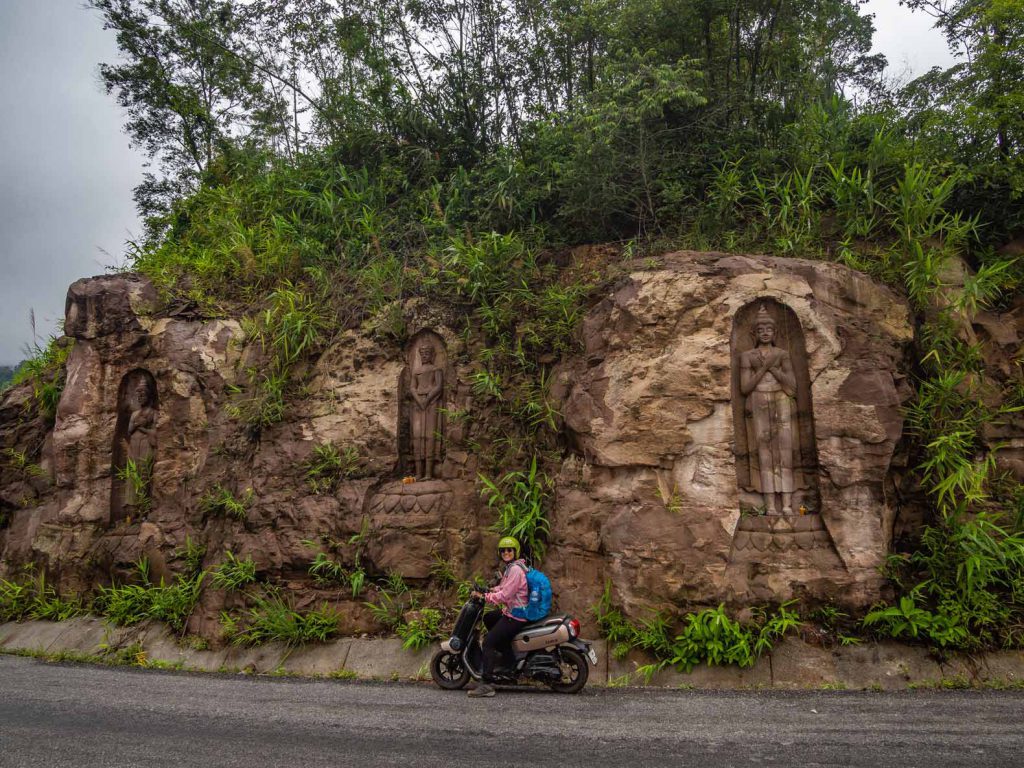 Dragon Cave
By midday we had reached our second stop for the day: Dragon Cave. After entering the cave through a small hole in the rocks, we first walked a bit past an underground river. The ceiling kept getting lower and lower until the cave opened up into a large chamber, lit up by colored lights.
The Dragon Cave wasn't very big, but it was a nice stop on the way. Afterwards we had a surprisingly nice and affordable lunch at the cafe near the cave's entrance.
Kong Lor Valley
Leaving the jungle behing us, we descended into the valley at Nahin. From here we would start the last 40 km of the drive to Kong Lor, which was actually the nicest part of the day.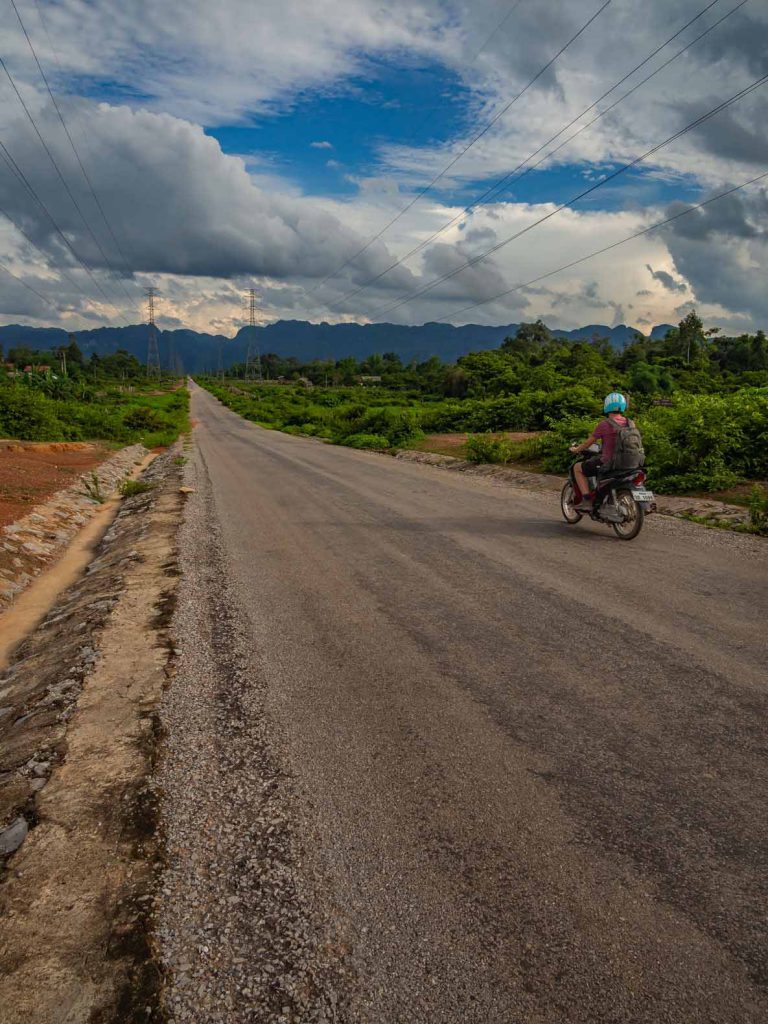 We drove through the valley, surrounded by large karst mountains. The views were amazing and we had to zig zag our way around many cows, goats, dogs and villagers on the road.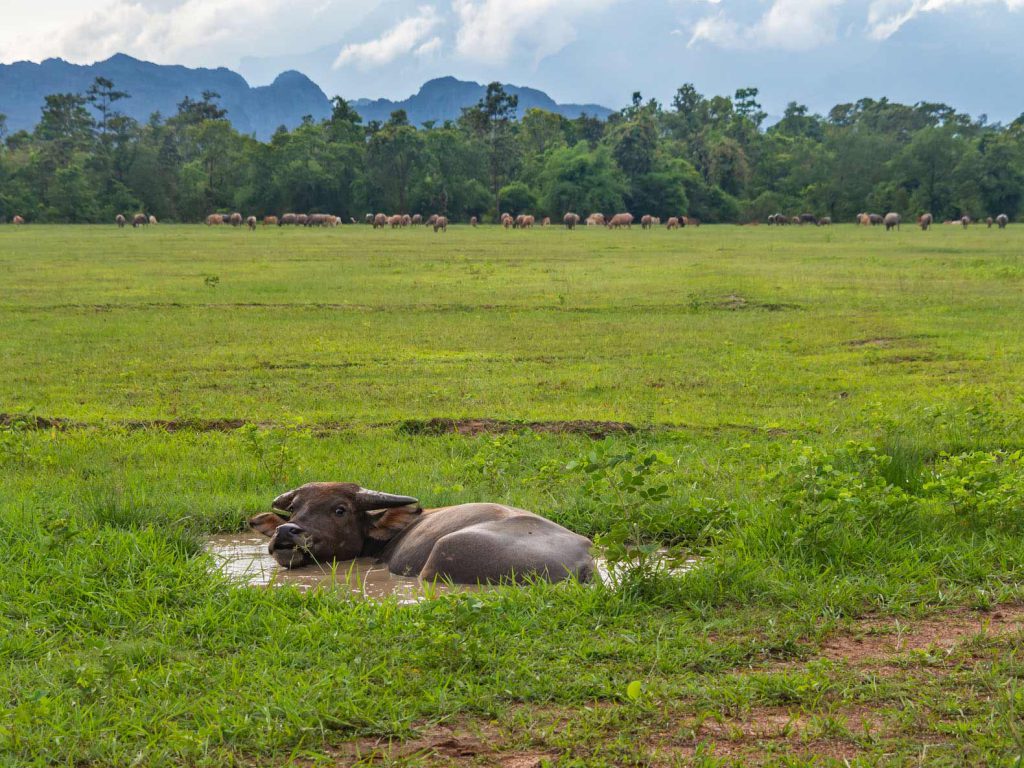 We arrived at Kong Lor Cave Guesthouse just before dark. Our room was basic, but clean and comfortable. At just 60.000 LAK (just over 6 EUR) and only a 2 minute walk from the entrance to Kong Lor Cave, we were very happy to stay here!
Day 3: Visit Kong Lor cave
We got up early today, for our visit to Kong Lor cave. After purchasing our tickets we were assigned a boatman and walked to the entrance of the cave.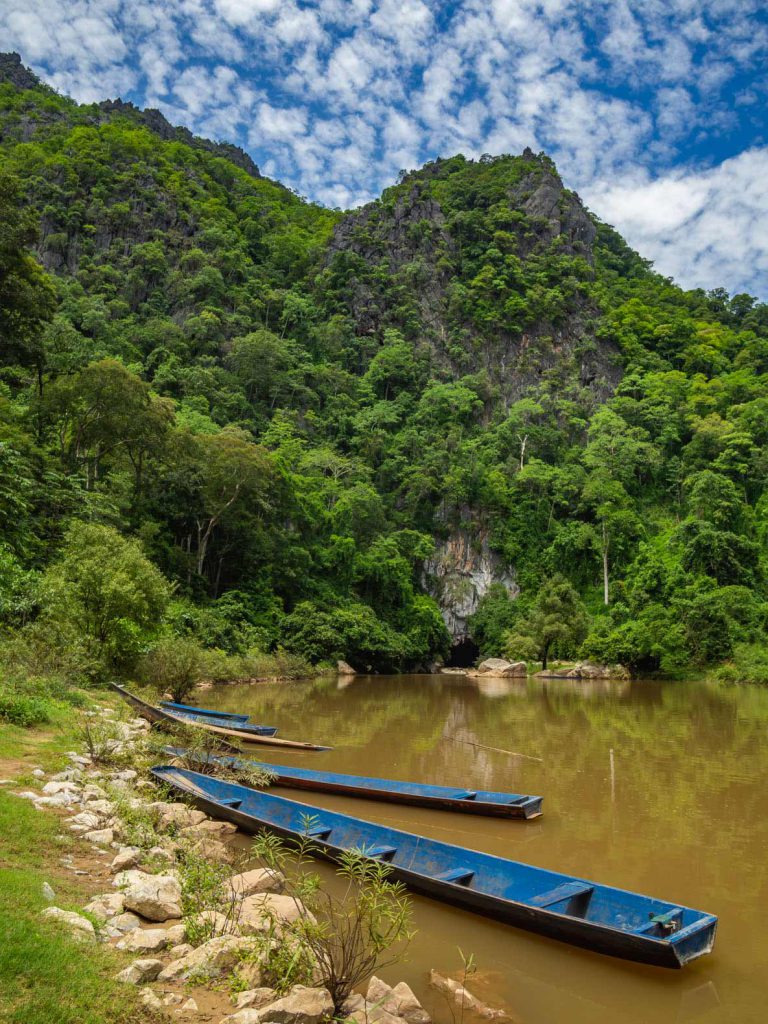 Here we would start our hour long boat ride in the dark. Very soon after setting off the only light we saw was that of our headlamps.
After about 5 minutes we got out of the boat to walk through a cave chamber with beautifully lit formations. This is the only part of the cave that is lit up.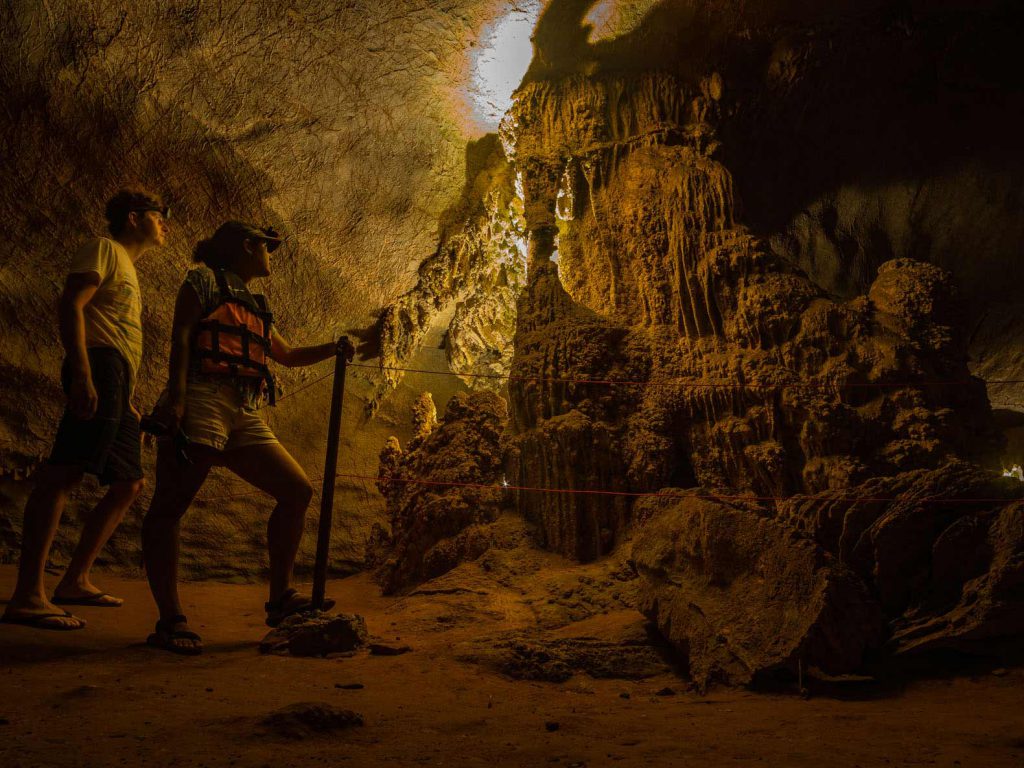 After getting back in the boat again, we had another 45 minutes of blackness in the cave. Our small boat sped up the river in the dark, taking us through very (!) large chambers.
Unfortunately, we couldn't take any pictures because of the darkness. But trust us when we say that this cave is one of the absolute highlights of Southeast Asia and can't be missed if you're visiting Laos.
What a strange feeling it was to arrive at the cave's exit, finally seeing daylight again.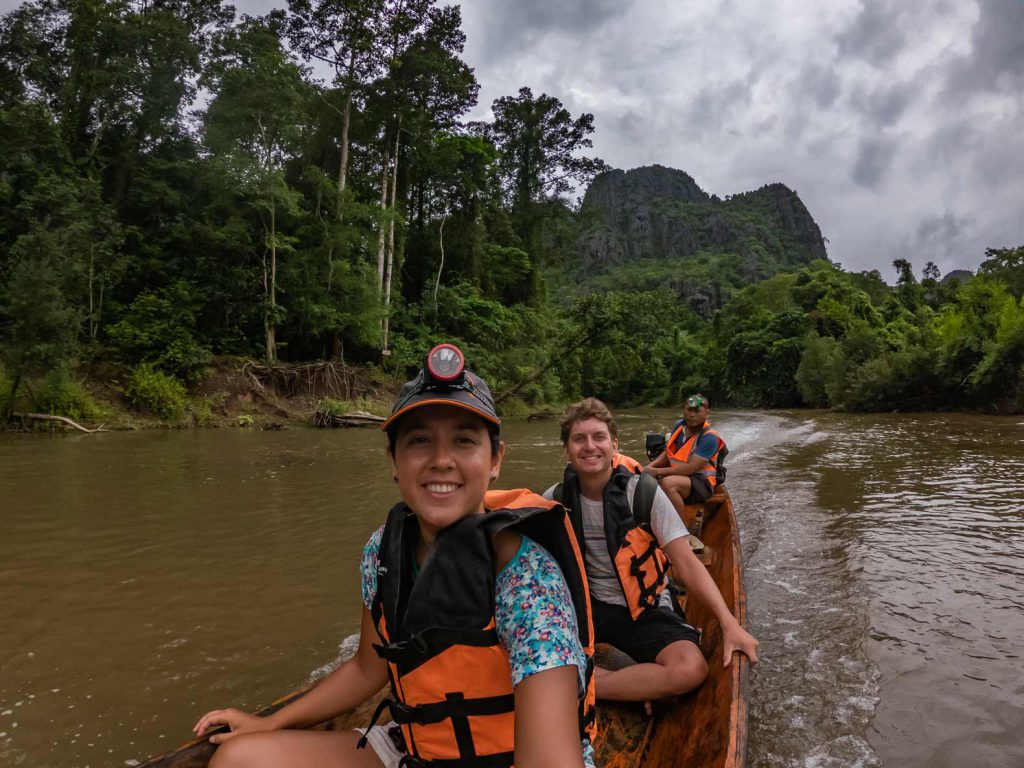 At the boat landing there were only a few tourist stalls. But we'd read that you could visit the remote village of Natane and decided to walk there. About halfway we got a ride from one of the villagers on his cart.
The stroll through the village was lovely. We got the feeling of experiencing true Lao country life.
There were many children calling out to us and waving. My guess is that they don't see that many foreigners here, so it must be quite an interesting sight for them.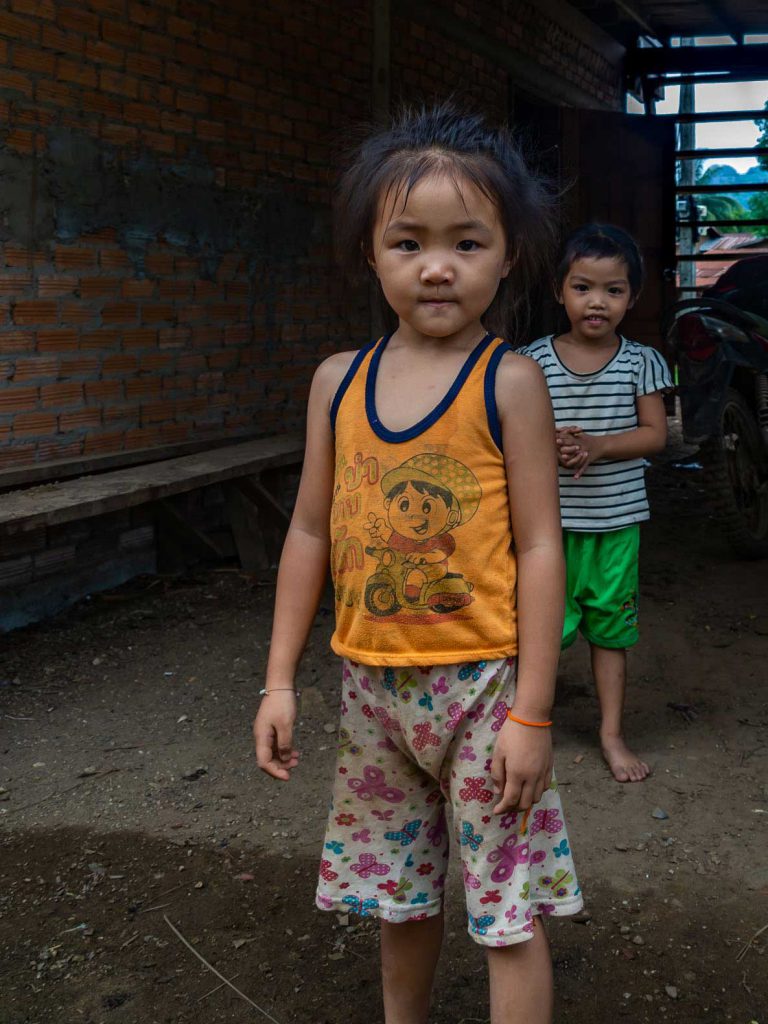 In the boat once more, we made our way back through the darkness of the cave. At one point we had to get out of the boat so that our boatman could help another boat get up the rapids. He tripped while doing this and was almost carried away by the fast-flowing river. But in the end both boats were on their way again.
We'd spent a lot longer at the cave than we planned and it was well into the afternoon before we were back at our guesthouse to retrieve our motorbikes.
We wanted to get back to Thalang before dark so we needed to hurry up! It was a long drive, but we hit the gas and we made it just in time.
Day 4: Thalang to Thakhek
On our fourth and last day we would be driving back to Thakhek. Since we had more time than on our first day, we were able to stop more often to take pictures.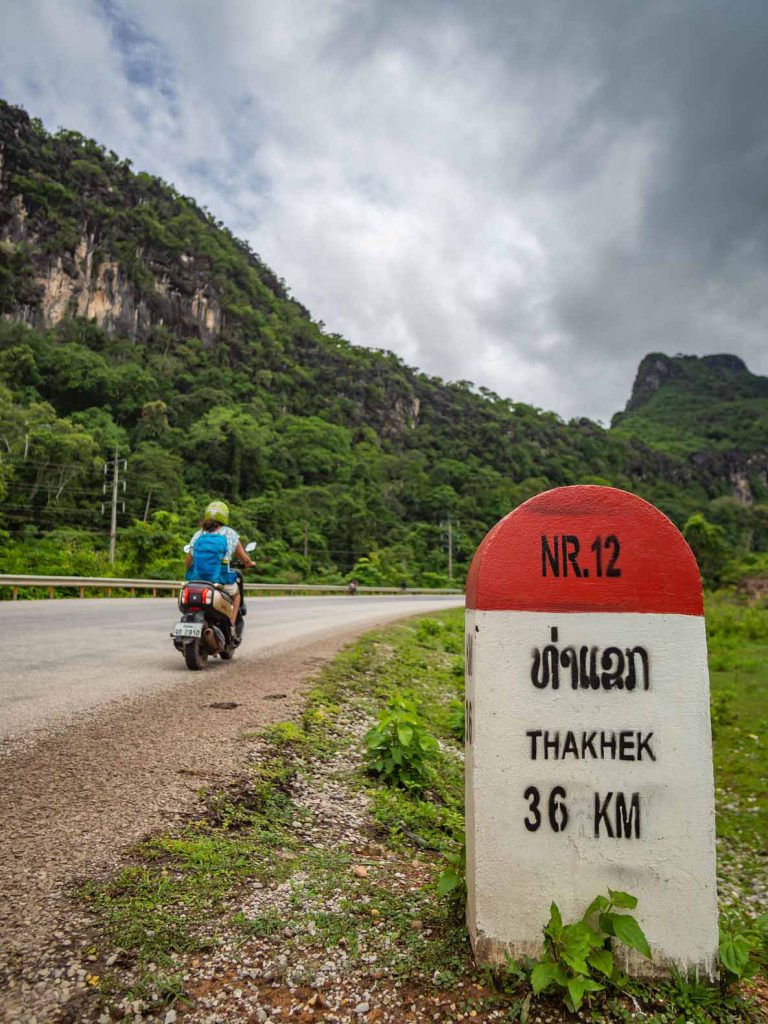 We doubted a bit whether we should visit another cave today. After all, any cave would surely pale in comparison to Kong Lor! In the end we decided to visit Tham Nang Aen cave and we were happy we did.
Tham Nang Aen cave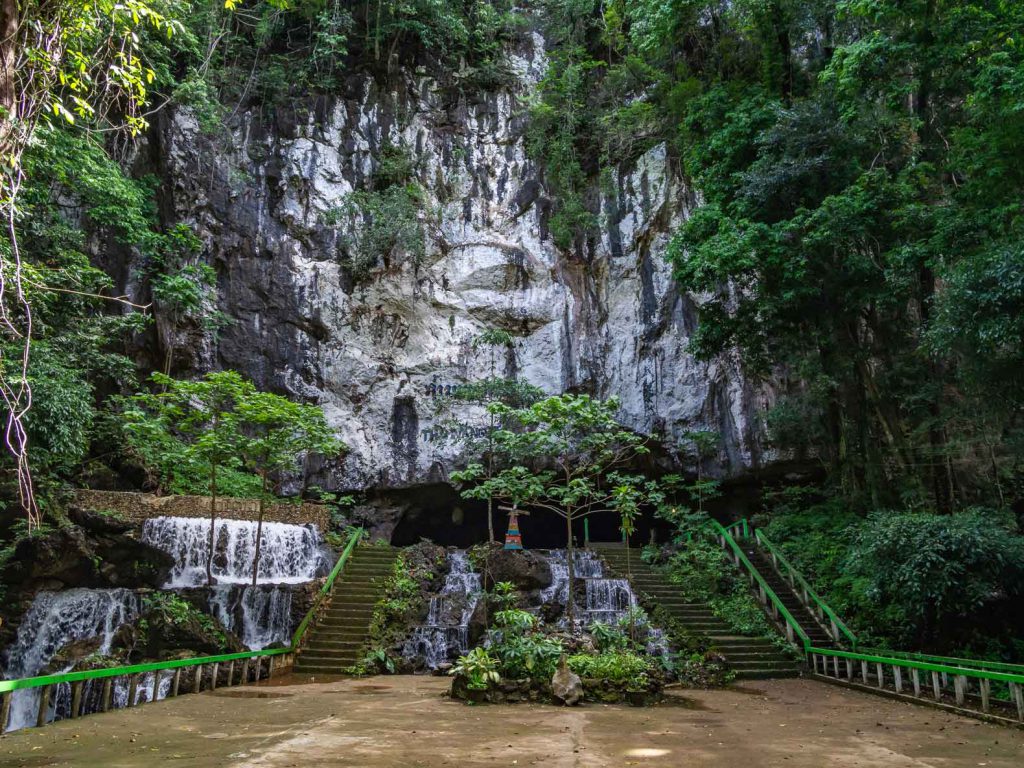 When buying your ticket, you get the option of adding a boat tour through the cave. Definitely do this as it's the only way to get beyond the first chamber and see the cave in its full glory!
The first chamber of the cave has a bit of a "fake" feeling to it. There's a concrete path and lights in all the colors of the rainbow. However, once you get into the boat, there's no more of this and you get a much nicer experience.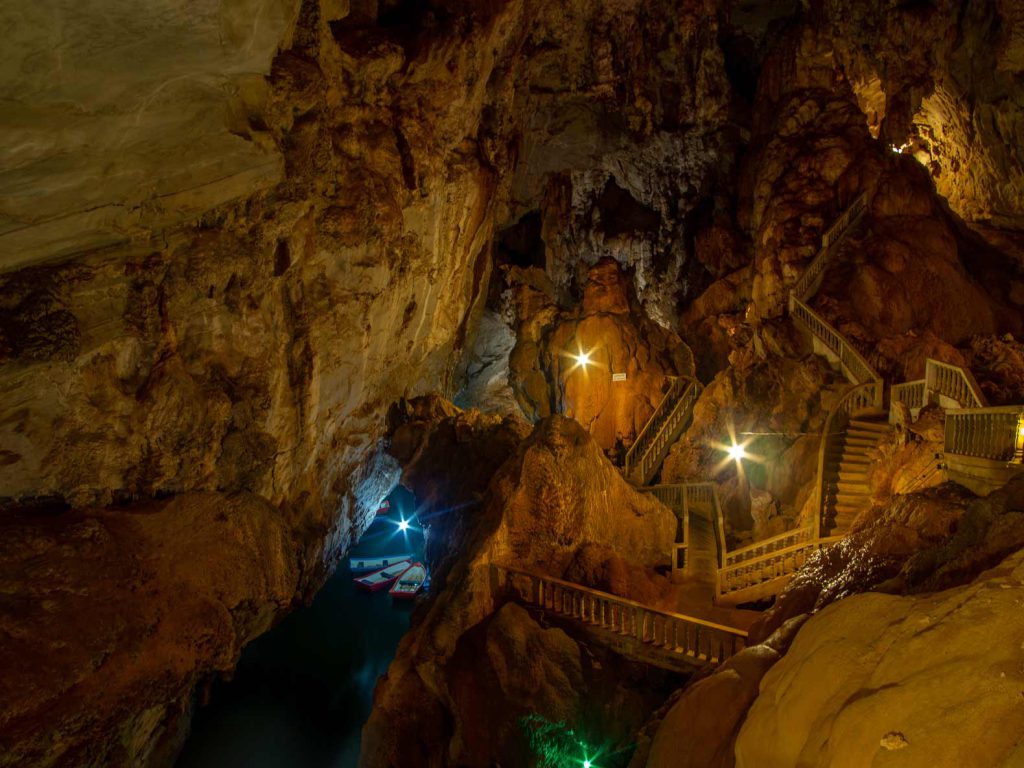 The boat was tiny. It just barely fit the two of us, with our small Laotian guide sitting on the front edge. He used a small wooden paddle to maneuver the boat up the river. This was a very peaceful experience, with many beautiful views.
After about 15 minutes we reached the other exit of the cave. Here our guide took us on a walking route of about an hour through a few of the cave's marvelous chambers.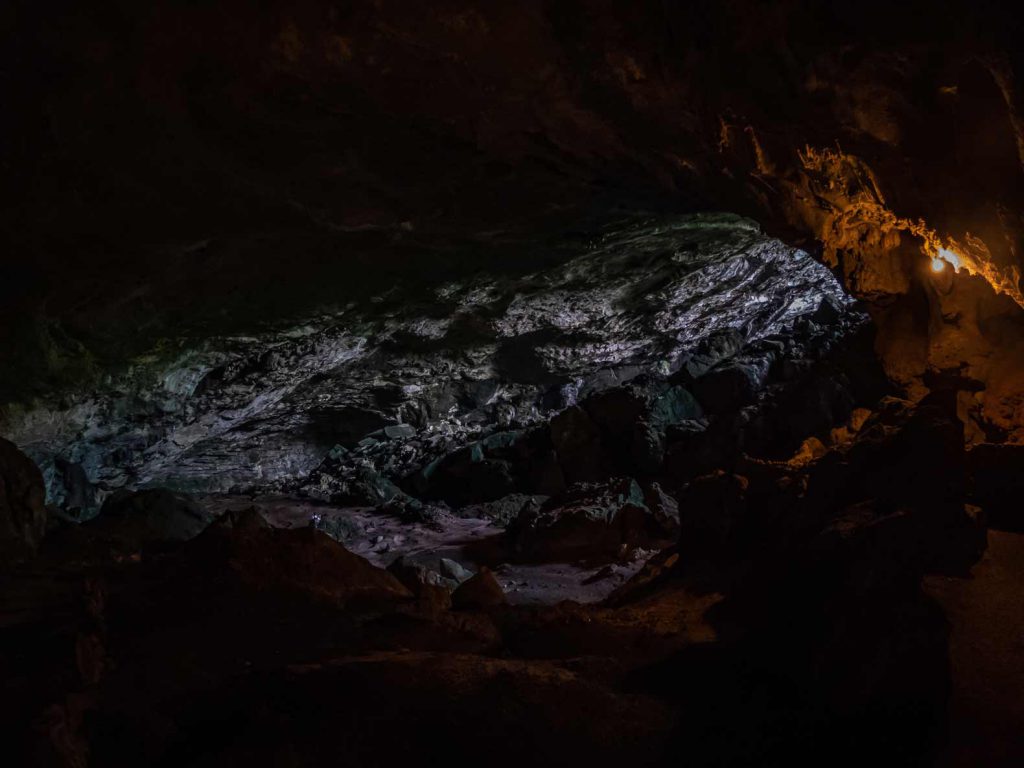 Though it was not quite as a unique experience as Kong Lor cave, Tham Nang Aen was still very nice in its own way.
Back to Thakhek
After this cave exploration, we got back on our bikes to complete the last few kilometres to Thakhek. We arrived back in Thakhek tired but satisfied. We'd had four amazing days in Laotian nature, met some great fellow "loopers" and friendly locals on the way, and visited the most amazing caves of our lifetime.
We look back at an awesome experience that we definitely wouldn't have missed for the world. The Thakhek Loop has been one of the highlights of our Southeast Asia trip so far and we would recommend it to anyone visiting Laos!
Pin it for later!
Hi, my name is Sandra and I'm half of the traveling couple that makes up Bus stops & Flip-flops. I'm finally living the dream by traveling the world with my husband Geert. My other hobbies are eating good food, dancing and sleeping in. Did you enjoy reading my blog post? I'd love it if you leave a comment!
---
---