Hi! Let us introduce ourselves; we are Geert and Sandra. We're in our thirties, from the Netherlands and a happily married couple. We met each other in 2008, fell in love head over heels (well, Geert first and Sandra pretty soon after) and have been together ever since. Classical tear-jerking love story, right? Right.
Like most people we followed the path that was expected of us since the beginning of our adult lives. We finished our university degrees (Marketing for Geert, Corporate Communication & Digital Media for Sandra), got our own apartment and worked for a steady income at our corporate jobs.
After having our fairy tale wedding, we looked at each other and wondered what would be next. We had spent two years planning that wedding and now we needed a new dot on the horizon. At this point in our lives, we decided to take a different path.
We've always loved travelling and exploring different countries, cultures and food. However, until now we've mostly travelled within Europe with detours to Cuba (where we got engaged) and Indonesia (our honeymoon). Our travels have always been limited to our holidays…
Until now!
We've decided to go backpacking for a full year and explore the world. A big project? Yes. Is it sometimes a scary idea to leave everything behind? You bet. Are we looking forward to it? More than anything!!!
Meet Geert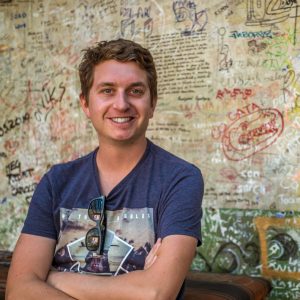 Geert's name turns out to be hard to pronounce for non-Dutch speaking people. When they try, most of them look like they are having a stroke. For this reason he also listens to 'Curt', to make life for everyone a little bit easier!
He grew up in a small village in the south of The Netherlands and moved to the 'big city' to go to university.
He loves good food, regardless if it's coming from a food stall on the side of the road, a gourmet restaurant or prepared at 'Chez Geert & Sandra'.
Geert finds himself happiest when he's in the outdoors, whether it's climbing a volcano, surfing (or at least attempting to) or spotting wild animals. His other passion is photography and videography. Besides Sandra, his great loves are his mirrorless camera and his gopro.
To embark on this adventure Geert is leaving behind his 9 to 5 desk job as a risk analyst at a big national bank in the Netherlands. What he will be doing when we return from our year of travelling? Who knows (he certainly doesn't!). He'll cross that bridge when he gets to it.
Meet Sandra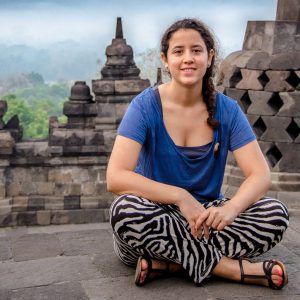 Sandra was born in Aruba (hence the curls), but grew up in a provincial city in The Netherlands, where she lived with her mother and older brother until she set off to university where she met Geert.
Unlike Geert, Sandra is more of an indoor person, who likes to keep the curtains shut and hang out in her pyjama's all day, rather than going outside where the bugs are. However, she's more than willing to make an exception when it comes to traveling the world!
Before embarking on her big adventure, Sandra worked as an online marketing and e-commerce professional. Her favorite things to do are sleeping, eating and drinking (she's a girl of simple pleasures). Other hobbies include cooking, playing board games, dancing and singing (though only when no-one else is around to hear it). She also loves learning new languages and has always had a fascination for one specific language: Spanish.