Is Bogotá worth visiting?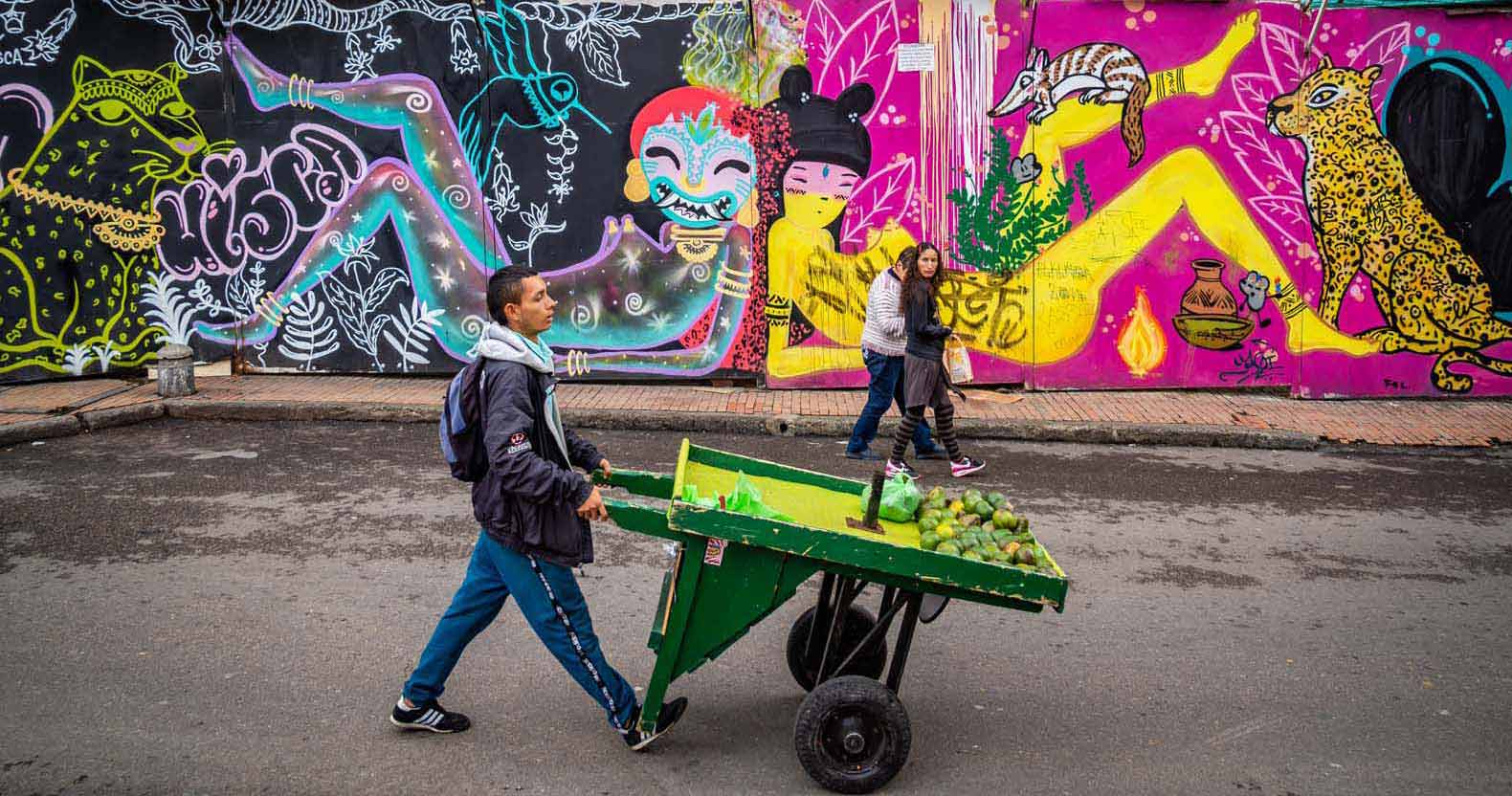 This post might contain affiliate links, which means we may receive a small commission on purchases made through these links, at no additional cost to you.
It seems like lately everybody is traveling to Colombia. The country is certainly much safer then it used to be a couple of years ago; especially since the FARC peace deal. (And we're sure that the filming of an immensely popular Dutch TV show in Colombia must be one of the major reasons that the country is crawling with fellow Dutchies at the moment.)
However, unlike us, most people don't arrive in Colombia via the teeny-tiny airport of Barranquilla, but via the nation's capital: Bogotá. Which leads to the question: is Bogotá worth visiting when you only have a couple of weeks vacation?
In this blog we'll address this question and a few other questions about Bogotá:
What To Do in Bogotá?
In a big, bustling city like Bogotá, there's always plenty to do. You could easily entertain yourself here for at least three days. Here's some ideas on what to do in Bogotá that'll convince you Bogotá is worth visiting:
Bogotá Walking Tour
A Bogotá walking tour is a great way to spend your first day in the city. It'll help you get your bearings and get some sightseeing done. The main area for your walking tour will be La Candelaria, the old quarter of the city. You'll definitely enjoy the pretty cobblestoned streets, colonial architecture and many churches.
But the highlight will definitely be the amazing street art that decorates many buildings throughout the city. We loved it so much that we've even dedicated a whole separate blog post to graffiti in Colombia.
The city is easy enough to navigate, so you could definitely make your Bogotá walking a self guided one. If you prefer to do a guided tour however, there are Free Walking Tours available, or you could check out one of these tours:
Sunset from Cerro Monserrate
The city of Bogotá was built at the foot of Cerro Monserrate. At an elevation of around 400 meters higher than the city itself, the mountain gives you spectacular views, especially at sunset.
You can hike to the top of the mountain, but we don't recommend this as it's not very safe. However, why would you want to hike when you can also take the funicular (railway) or teleférico (cable car), or both! The opening hours of these two awesome means of transport differ, but your ticket will be valid for both options.
When we visited in August 2019 they were taking people up in the funicular and down in the teleférico. This worked out great, since there is a short walking route you can follow from the exit of the funicular to the entrance of the teleférico. On the way you'll walk along a pilgrimage trail to the Monserrate church, where there is a mirador showing amazing views of the city below.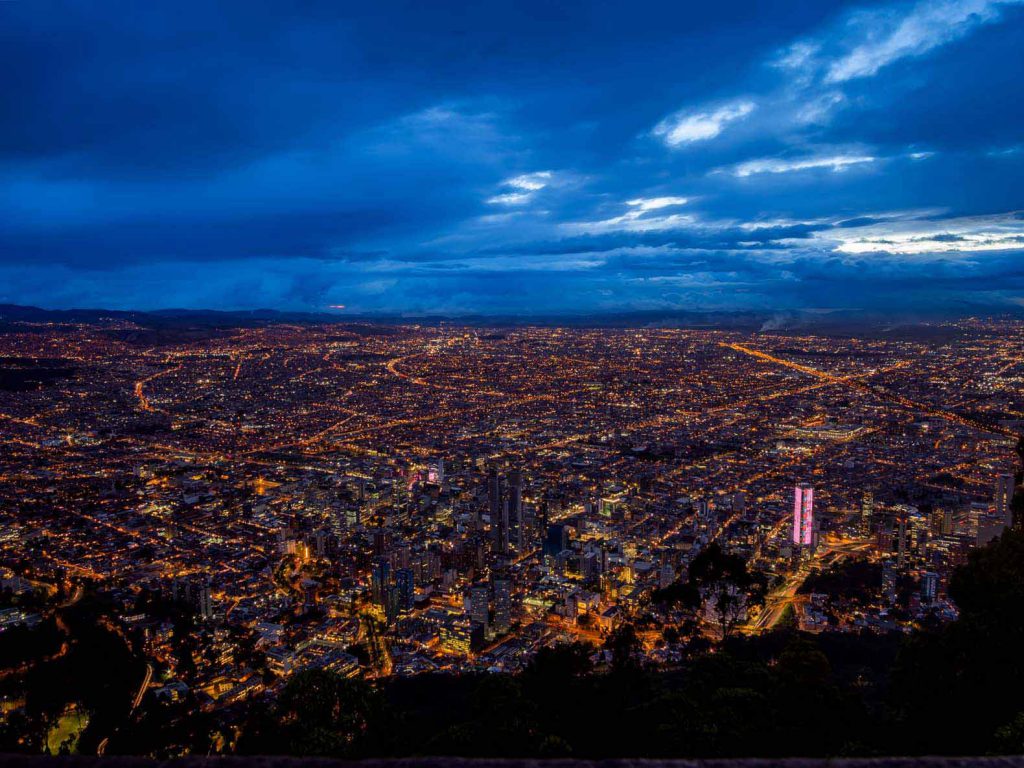 Bogotá Museums
There are so many museums in Bogotá, it's impossible to visit them all in one trip. The good news is that most of them are situated in La Candelaria, which makes them easy to visit. Even if you're not an avid museum visitor, there's bound to be at least one museum in Bogotá that sparks your interest! Our top picks are:
Museo del Oro: Bogotá's most famous museum, containing over 55.000 pieces of gold.
Casa de Moneda: a chronological journey through the history of Colombian money.
Museo Histórico Policial: what's cooler than to be guided around the former headquarters of Bogotá's police force by an 18-year-old local on his compulsory one year service?
Museo Botero: dedicated to Colombia's most famous living artist, known for his paintings and sculptures of chubby characters.
Day Trip to the Salt Cathedral of Zipaquirá
Though not actually ín Bogotá, taking a day trip to the Salt Cathedral of Zipaquirá is one of the reasons that Bogotá is worth visiting. This is an actual, in use, cathedral which was built inside salt mines at 200 metres below the surface.
The entire structure consists of 14 small chapels representing the stations of the cross, and the huge main cathedral with a dome and three naves, all connected by tunnels. The lighting is very well done, highlighting the rock carvings and giving the whole place an atmospheric feel (not at all claustrophobic!). It is truly an amazing site to behold.
Where To Stay In Bogotá?
Bogota is such a big and diverse city, that everyone should be able to find a neighborhood that suits their travel style and preferences. This is one of the things that makes Bogotá worth visiting for everybody. Below, you'll find our three favorite neighborhoods to stay in Bogotá:
La Candelaria
The old colonial quarter of Bogotá is the most popular area to stay in. It has historical charm, an abundance of street art and the highest concentration of museums. This is where you go for sightseeing and strolling around the streets. You'll find plenty of budget accommodation in this neighborhood as well.
Chapinero
The wealthy area of Chapinero lies to the north of the city center. It spans a huge part of Bogotá and is therefore often referred to by it's sub-parts.
The southernmost neighbourhoods are what people are usually referring to when they're talking about Chapinero. This is a bohemian neighborhood with lots of (LGBT friendly) cafés and bars. It's also where you'll find the "Zona G", the gourmet area of Bogota with many high end restaurants.
Heading further north, there's Bogotá's Zona Rosa (also called Zona T). This is the most cosmopolitan part of Bogotá, where you'll find lots of nightclubs, restaurants and shopping malls. This is the place to stay if you're looking for entertainment and want to be right in the middle of all the action.
The most northern part of Chapinero, around Chicó and Parque 93 can be considered a mix between the other two parts. This upmarket area combines nightlife and designer boutiques with safe and walkable streets.
No matter which part of Chapinero most tickles your fancy, you'll have a hard time finding budget accommodation. Your best bet would be in the Zona Rosa, which has some very good hostels. Otherwise, it's mostly mid-range to luxury hotels here, catering to the tourist willing and able to spend more in order to stay in the fanciest part of town.
Usaquen
Usaquen is located in the very north of Bogotá. It's known for its pleasant atmosphere, colonial architecture, street food stalls and excellent restaurants. There's also a great flea market on Sundays. Accommodation-wise, there's something for everybody; from budget-friendly hostels to fancy upmarket hotels. The downside is that it's quite a commute to get to other parts of the city.
This is probably where you'll stay if you've visited Bogotá before and have already seen the major sites, if you're planning to explore outside of the city, or if you're planning to stay in the city for a longer period of time.
Find the best deals
Is Bogotá Safe For Tourists?
Though safety is always relative, in general you can say that "Yes, Bogotá is safe for tourists".
When first arriving in Bogotá, we immediately noticed how much police there was. It seemed like there were armed soldiers with police dogs on every street corner. Don't be alarmed by this; they're there to keep you safe and are part of the reason that you can walk around without getting into trouble. We found them to be very friendly and helpful.
Bogotá's days of violent crimes and drug wars are (mostly) a thing of the past. However, it's still a large city which comes with its risks. Just like in any other big city around the world, you can fall victim to pick pocketing, muggings, etc. So you should definitely follow general safety advice, like don't walk the streets at night and don't flash around expensive stuff (phones, cameras, etc.).
However, there's also some Bogotá-specific safety risks that you should be aware about. Here's some tips to keep safe in Bogotá.
1. Safe areas
Stick to the popular tourist area's (like La Candelaria, Zona Rosa and Zona G) and don't wander off into sketchy neighborhoods. Avoid the residential neighborhoods of Kennedy, Ciudad Bolivar, Usme, San Cristóbal and Bosa. The general rule is that the neighborhoods in the north of the city are better than in the south.
2. Cerro Monserrate
Take extra care when visiting Cerro Monserrate. The streets between the teleférico station and La Candelaria are notorious for violent robberies. Always(!) take a taxi (or Uber) from the lower teleférico station to your next destination after watching the sunset on the mountain.
3. Use Uber
While we're on that topic, we always prefer to use Uber in stead of a regular taxi. Like in many major South American cities, (fake) taxi drivers are known to do "express kidnappings" or "millionaire rides" where they let robbers into the car or even take tourists to an ATM and force them to empty their bank accounts. Because Uber tracks your GPS location and has a panic button this is far less likely to happen. Plus, you'll also avoid being overcharged for your ride because you're a tourist. Just keep in mind that Uber is officially illegal in Colombia, so you should sit in the front seat of the car to avoid police attention. (But don't worry; only the driver will get a fine if you're caught.)
4. Fake police
Never hand over you money or ID to "police officers" asking to "check your money for counterfeits". This is a scam where they'll either "confiscate" your money or plant drugs and have you pay a fine. Asking to see a badge will get rid of any impostors, but if they do manage to produce one you're probably dealing with a corrupt official. Ask to be taken to the nearest police station and they'll most likely back off.
5. Spiked drinks
Don't take any drinks (or cigarettes) from strangers. Of course you shouldn't do this anywhere, but being given a spiked drink is quite common in Bogotá. And not just for women; men are also targeted. The drug used is called scopolamine (or Devil's Breath) and will render you helpless to robbery or rape. Watch your drink closely at all times!
Is Bogotá worth visiting?
So, now we've finally arrived at the million dollar question: is Bogotá worth visiting? We hope that by now we've convinced you that it definitely is! There's a ton of great things to do, a great neighborhood to stay in for all different travel styles and it's a safe city for tourists. So, if you're planning a trip to Colombia, we highly recommend you to spend some time in Bogotá!
Pin it for later!
Hi, my name is Sandra and I'm half of the traveling couple that makes up Bus stops & Flip-flops. I'm finally living the dream by traveling the world with my husband Geert. My other hobbies are eating good food, dancing and sleeping in. Did you enjoy reading my blog post? I'd love it if you leave a comment!
---
---