Khao Sok National Park: the hidden gem of Southern Thailand
This post might contain affiliate links, which means we may receive a small commission on purchases made through these links, at no additional cost to you.
Most tourists are drawn to the south of Thailand for its golden beaches, laid-back island vibes or full moon parties. Not many people know that there's an impressive, unspoiled jungle with an enormous lake, karst cliffs and wild animals waiting to be explored in Khao Sok National Park.
We were lucky enough to have discovered this hidden gem in the south of Thailand and visited it for a couple of days on our way from Krabi to Koh Tao. It does take a bit of effort to reach Khao Sok, but it's definitely worth it!
What to do in Khao Sok National Park
Khao Sok National Park one of the oldest rain forests in the world, with many waterfalls, caves and rare plants. It is home to a lot of different species of wildlife, including snakes, monkeys and even wild elephants.
Its location in the Surat Thani region in the south of Thailand, make it a perfect adventurous destination for when you need a brake from lulling around on the beaches of Krabi or one of the Thai islands.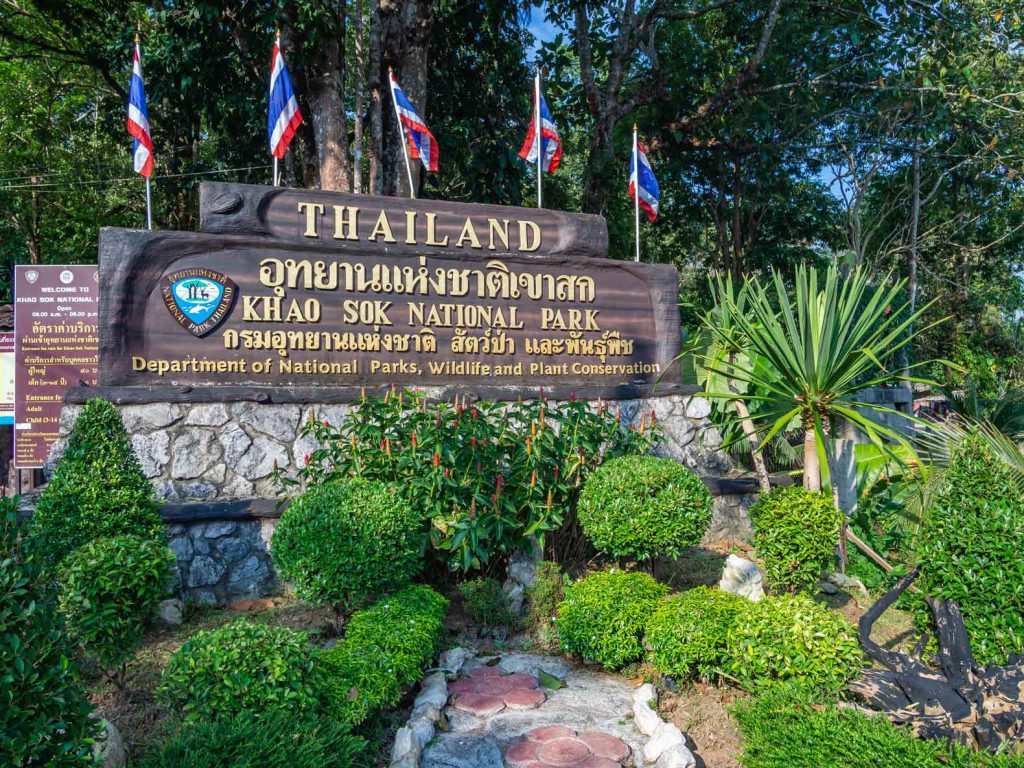 Options include hiking, wildlife spotting, tubing down the river, kayaking and even guided nighttime exploration of the park. And if you have enough time, we suggest you do as many of those as possible. However, if you've only got a couple of days, we recommend you opt for the most popular activity: a visit to Cheow Lan lake, also known as Khao Sok lake.
It's possible to take the Khao Sok lake trip as a one-day or two-day excursion. By choosing the two-day Khao Sok lake trip, you get more time in the park. Unfortunately, our itinerary didn't allow for that, so we went on the one-day trip. We still highly recommend it though!
Check out some of the different tour options here:
Khao Sok Lake One Day Tour
The Khao Sok lake tour starts with a transfer from your hotel to the entrance of Khao Sok National park. If you're staying in Khao Sok village, this will take about 1 and a half hour. Like with most minivan transfers in Thailand, there's a 20 minute stop at local market so you can buy some drinks and snacks.
Once you've arrived at Khao Sok National Park, you'll have to register and buy your entrance ticket (300 THB). You have to do this yourself, so keep in mind that the ticket price is not included in your tour costs.
Next, you'll board a traditional Thai longtail boat for a one hour scenic boat tour across the lake. The views you get from the boat are absolutely stunning and made the boat tour the highlight of our visit to Khao Sok National Park. Take a look for yourself…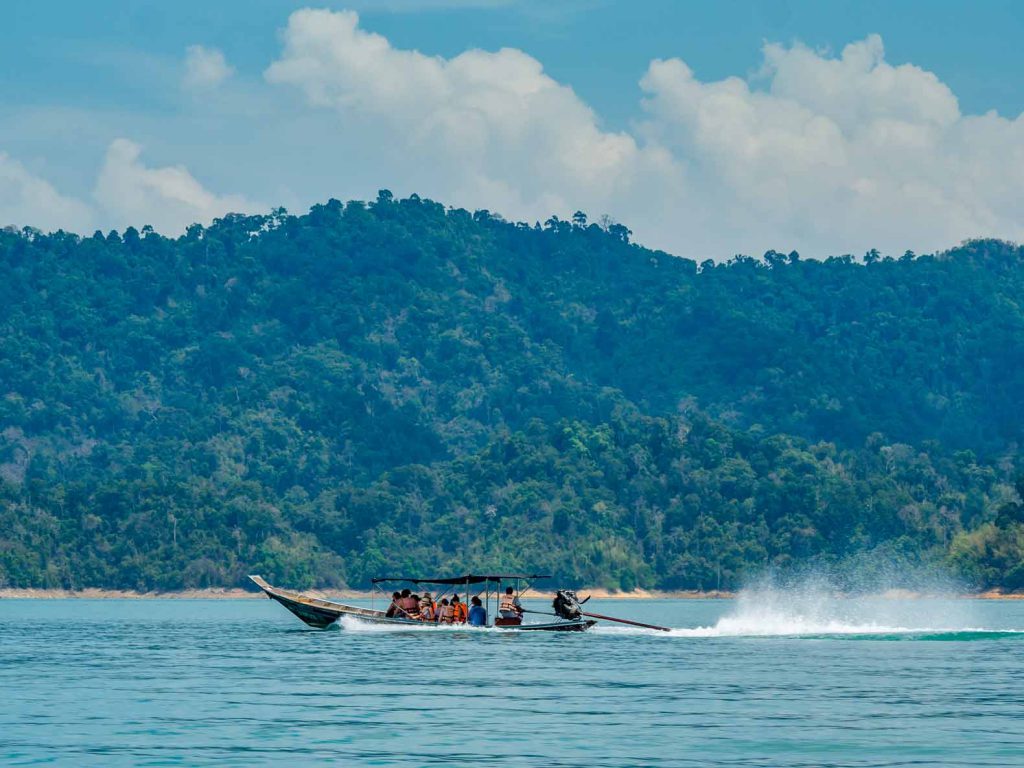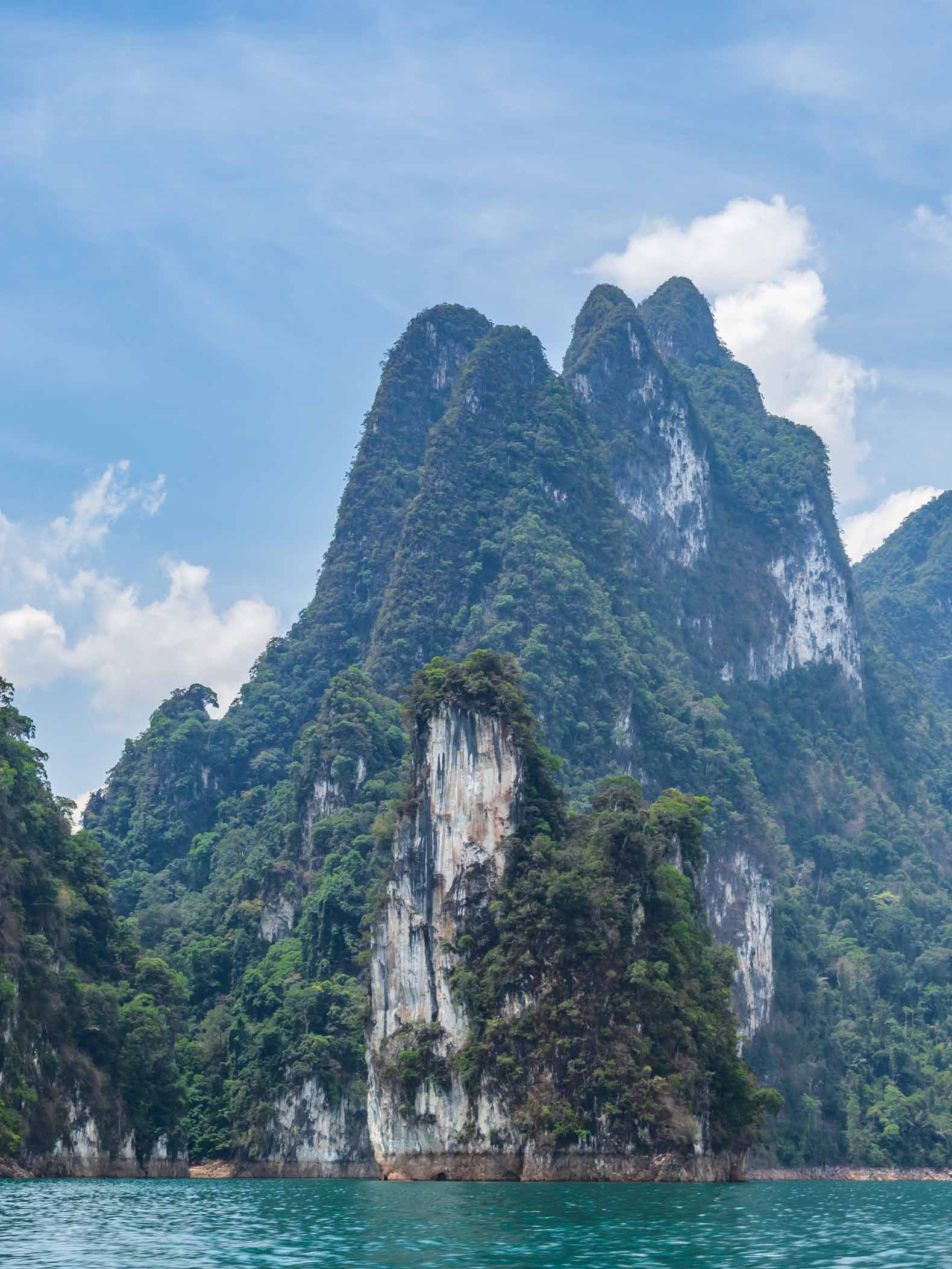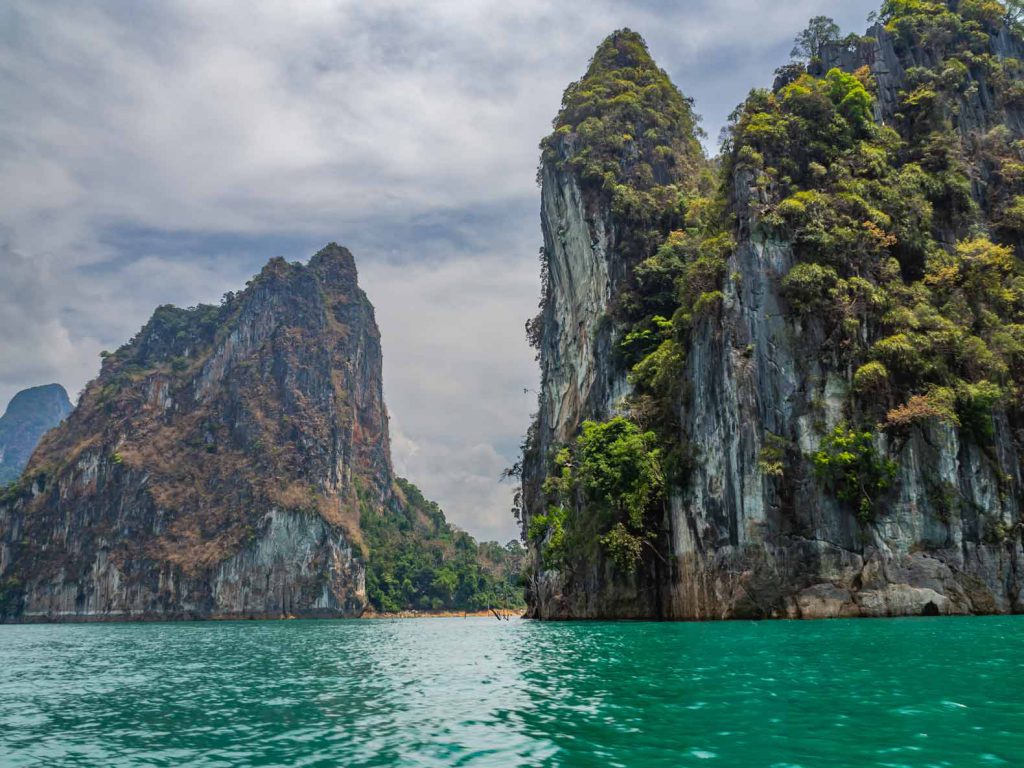 The boat tour takes you to some floating bungalows with a restaurant where you'll have your lunch. If you're on the two-day trip, this is also where you'll spend the night.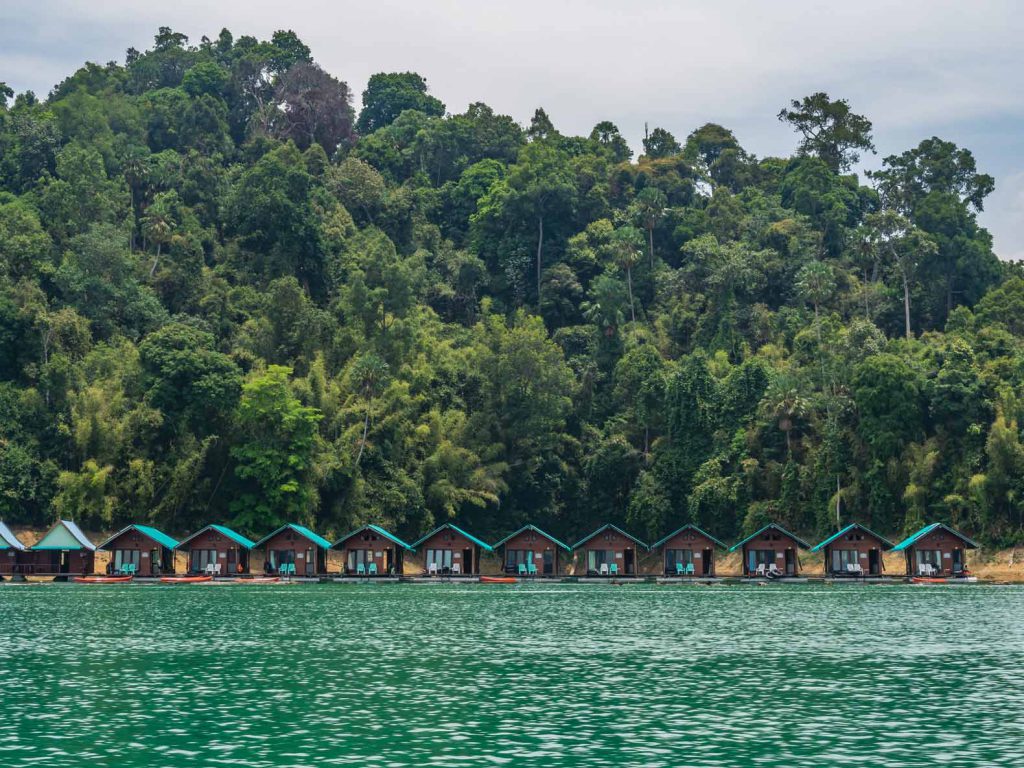 We had about one hour to ourselves before lunch. You can simply enjoy the views from the floating restaurant, take a swim or, like us, borrow one of the kayaks for a paddle around the lake. If you're lucky, you might see some animals coming to the lake shore to drink. We spotted a monkey in the trees, and heard many more animal sounds close by.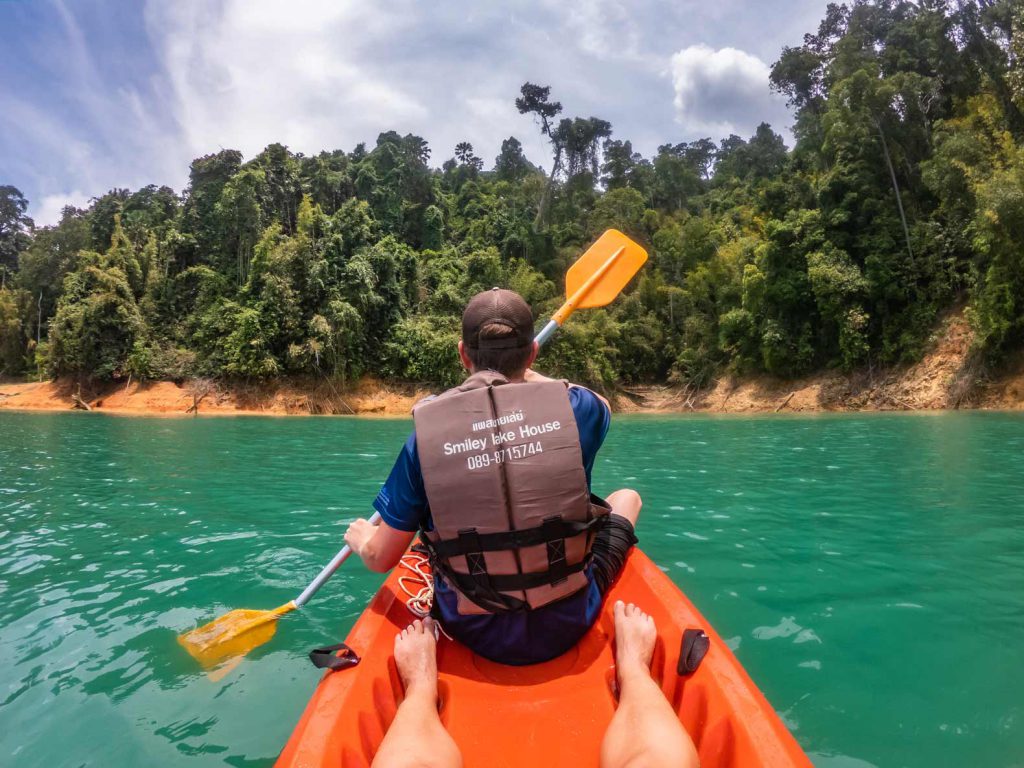 After a delicious and filling lunch, it's on to the next activity of the day: the jungle hike. Depending on the season you'll hike either to a waterfall, viewpoint or one of the park's caves. If you don't feel like doing the hike, you can also choose to remain at the restaurant to relax, swim and kayak some more. You'll meet up with the rest of the group at the end of the day.
On our trip, the destination of the hike was a cave with a river flowing through it. We walked through the beautiful jungle, following the river for about 45 minutes before we reached the entrance of the cave.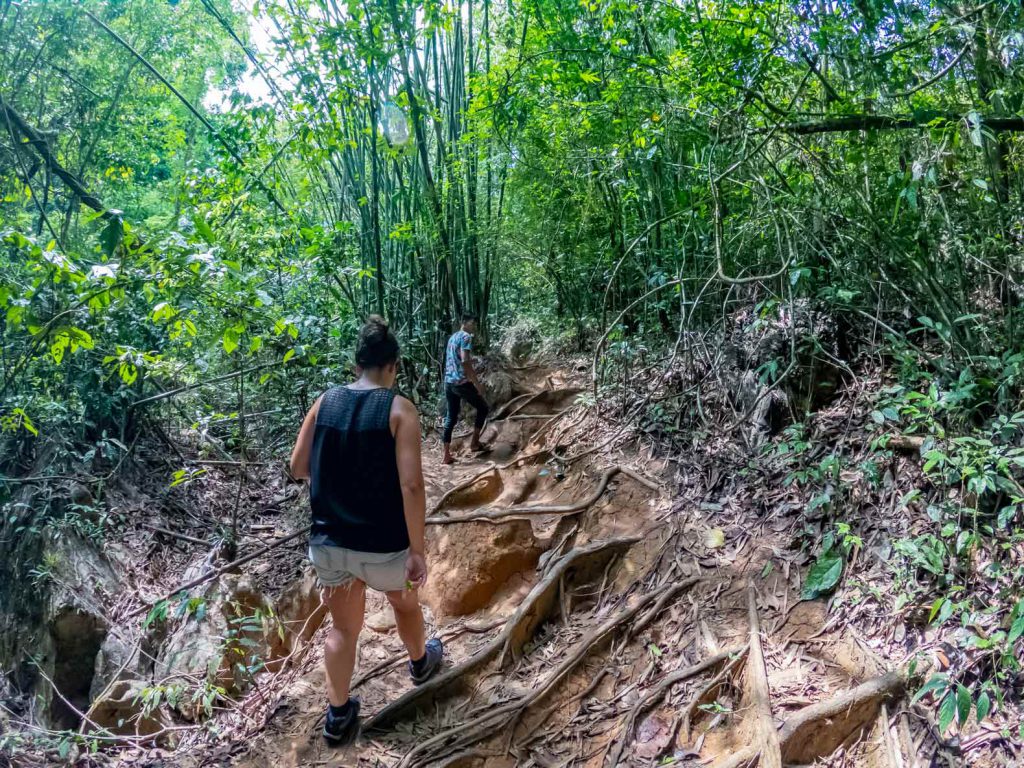 The entrance is quite narrow, it's dark inside and you'll have to wade/swim in chest-high water. Your tour guide will provide you with a headlight before entering the cave, but you can bring your own just to be sure. Again, if you don't feel like going inside the cave, you can wait outside for the rest of the group to return.
We really loved our cave adventure. The water is very refreshing, and it's an adventurous climb in and out of the cave. Our guide showed us some frogs and a snake that live inside the cave. Apparently, there are also spiders, but luckily we didn't see any of those!
After returning from the hike, it's back on the boat for the ride out of the park and on to the minivan transfer. We were back in our hotel at around 18.30 after an amazing day!
How to get to Khao Sok National Park
There aren't many options for getting to Khao Sok National Park. There are a few buses coming from Surat Thani and Bangkok, but most tourists get there by minivan. Departure points include Koh Lanta, Krabi and Koh Tao.
Keep in mind that the buses and minivan transfers drop you off at the bus stop, which is about 1 km outside of Khao Sok village. From there you can either walk to your hotel or make a deal with one of the touts waiting for you.
Tourist trap: Before boarding our minivan, we were offered to be taken directly to our hotel for an extra 50 baht per person. We decided not to make use of this service, and were glad we didn't. It turned out our hotel offered a free pick-up from the bus stop. Besides, the 50 baht is a rip off, as the hotels are all very close together and if one person decides to pay, then the van has to go into town either way. This is just a way for them to get extra money from the tourists. We recommend you check with your hotel first, before paying the minivan company.
Where to stay in Khao Sok National Park
Because tourism in Khao Sok is still up and coming, there aren't a whole lot of accommodation options. Most are either in or close to Khao Sok village. The village is tiny (basically a one kilometer long street, with buildings on either side) but charming. Most buildings you see are either hotels or restaurants and the atmosphere is friendly.
Keep in mind: Khao Sok National Park has two entrances. Though Kao Sok village is located directly next to Khao Sok National Park, the entrance that you'll find at the end of the village is NOT the entrance that is used for the lake tours. You can enter the park from the village to do some hikes and wildlife spotting. However, visiting the lake ALWAYS requires a 1 to 1.5 hour transfer.
You'll find accommodation options for every budget. Most are charming bungalows or huts set in a garden with views of the jungle or the river.
We stayed in a lovely bungalow at Khao Sok Riverfront Resort and would highly recommend it. The staff was very friendly, the restaurant was the best in town and we even got free breakfast because we booked our Khao Sok lake trip via the hotel!
Getting excited already? Why wait? Go ahead and plan yourself a holiday to Thailand so you can also discover the hidden gem that is Khao Sok National Park!
Pin it for later!
Hi, my name is Sandra and I'm half of the traveling couple that makes up Bus stops & Flip-flops. I'm finally living the dream by traveling the world with my husband Geert. My other hobbies are eating good food, dancing and sleeping in. Did you enjoy reading my blog post? I'd love it if you leave a comment!
---
---