Lan Ha Bay: how to visit the less touristy alternative to Ha Long Bay from Cat Ba island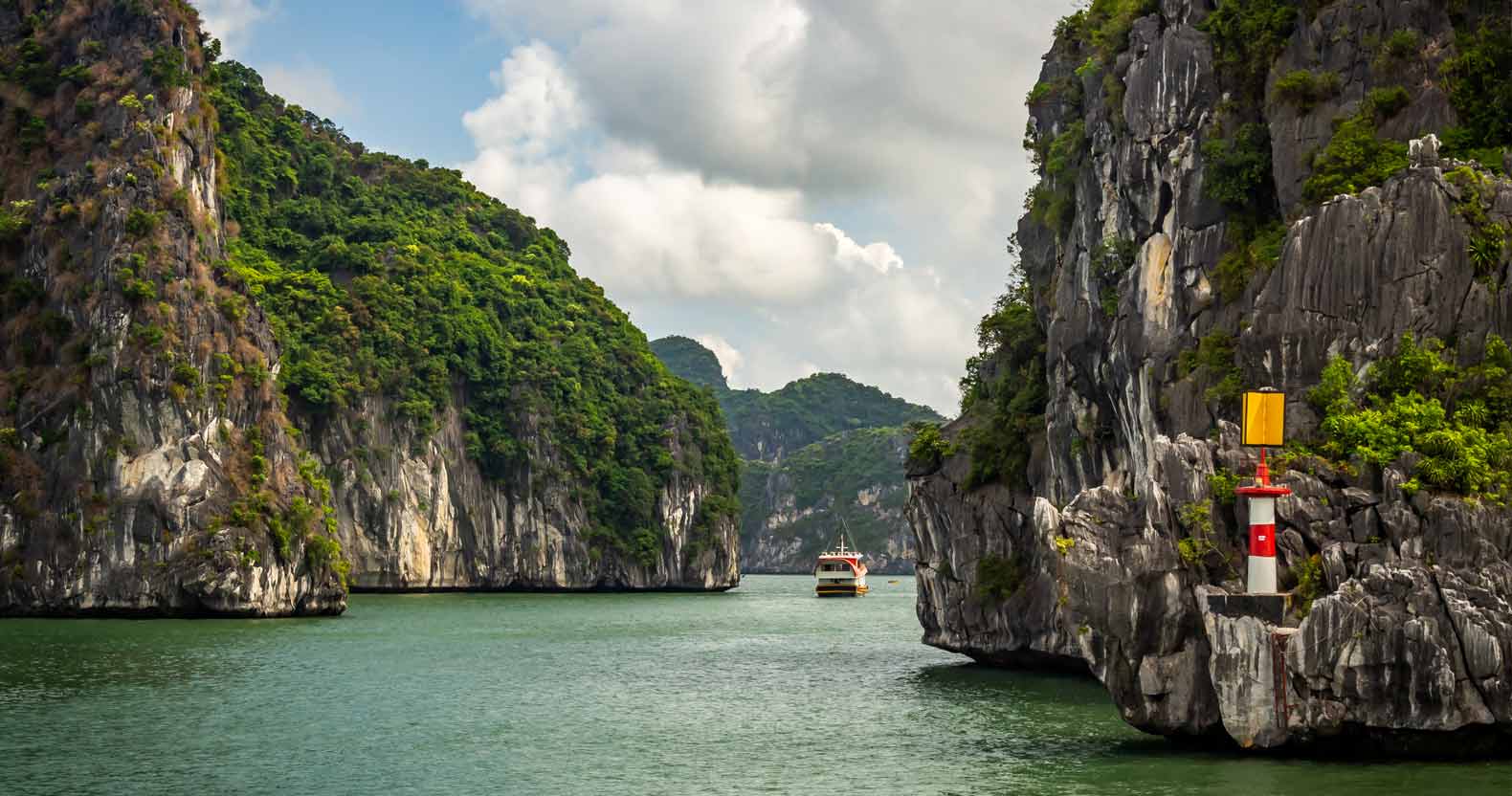 This post might contain affiliate links, which means we may receive a small commission on purchases made through these links, at no additional cost to you.
We've all heard of Ha Long Bay, the unique UNESCO site in the North of Vietnam where you can cruise between stunning karst mountains. But have you also heard of Lan Ha Bay? Probably not!
For those of you planning a trip to Ha Long Bay, we're here to tell you that you should visit Lan Ha Bay in stead. Why? Read on to find out!
What is Lan Ha Bay?
Lan Ha Bay is an area in Northern Vietnam with hundreds of karst islands and islets. The bay is over 70 square kilometers big and for the largest part situated within Cat Ba National Park. It's part of a larger region of karst mountains that comprises Lan Ha Bay as well as Ha Long Bay and Bai Tu Long Bay.
The scenery in Lan Ha Bay is truly mind blowing. We guarantee that it's a sight you've never seen before. The bay consist of about 400 islands of various sizes. Some are merely small rocks sticking out of the ocean, others are large enough to have beaches or lagoons. What they all have in common though, is that they are made of steep karst rocks.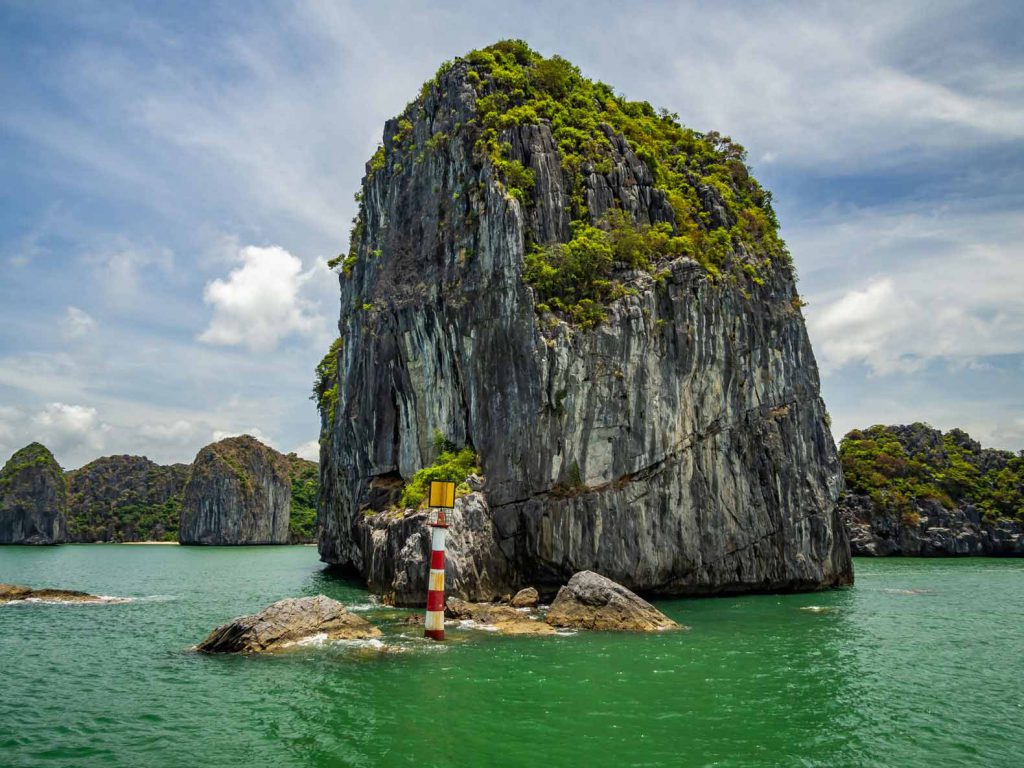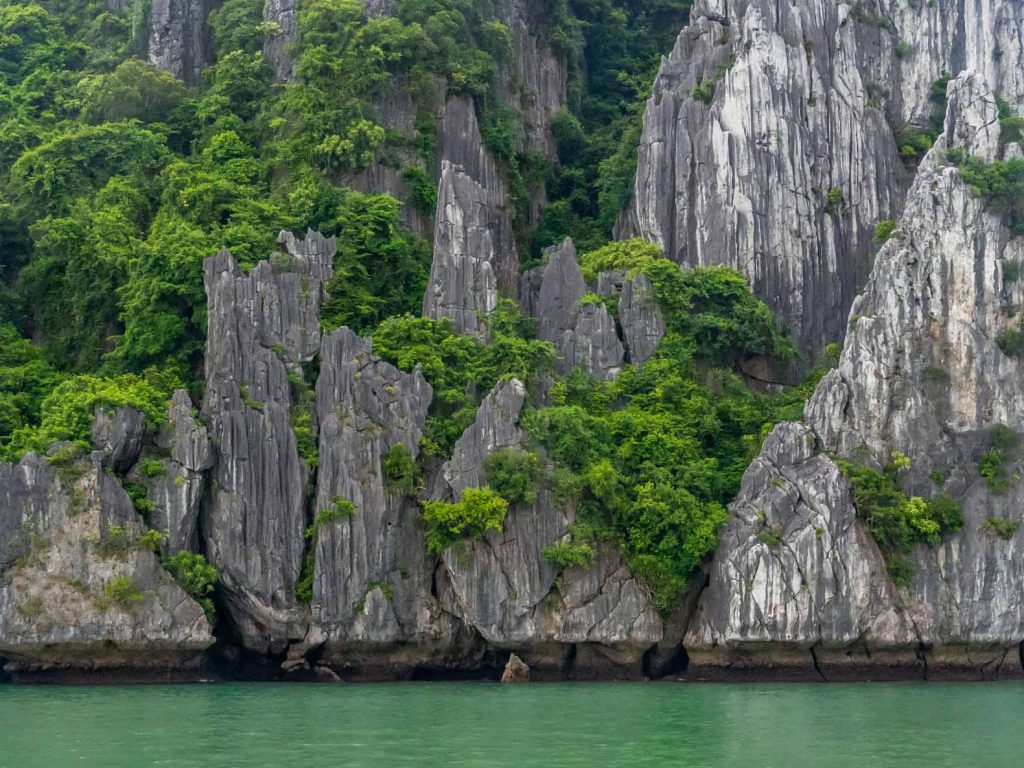 Though the bay is not a prime location for wildlife spotting, you might get lucky and see some nice fish, seals and dolphins.
Lan Ha Bay is far less touristy than Ha Long Bay. There are hundreds and hundreds of boats in Ha Long Bay every day. According to our guide, about 300 to 400 boats overnight in the bay. In comparison, on our Lan Ha Bay tour, there were only three other boats docked where we spent the night. During the day, we saw maybe a total of 10 other boats. This is probably the most important reason for people to visit Lan Ha Bay in stead of Ha Long Bay.
Another difference with Ha Long Bay is that Lan Ha Bay is smaller. The islands are closer to each other and higher than in Ha Long Bay.
Where is Lan Ha Bay?
Lan Ha Bay is located in the north of Vietnam, right next to Ha Long Bay, just a bit more to the south. Even though it's close to Ha Long Bay, and the bays geologically belong together, it does not belong to the same province. While Ha Long Bay belongs to Quang Ninh province, La Ha Bay belongs to Hai Phong province. Hai Phong is also the name of the nearest mainland city. Between Hai Phong city and Lan Ha Bay you'll find Cat Ba Island, which is the largest island in the Cat Ba Archipelago.
Lan Ha Bay activities
There are plenty of things to do in Lan Ha Bay to keep you busy for a couple of days. Most Lan Ha Bay activities are, obviously, on or near the water. For example, you can swim, kayak, snorkel and even dive. Land based activities include hiking, cycling and rock climbing. For a dose of culture you can visit Viet Hai village on Cat Ba Island or one of the floating villages in the bay.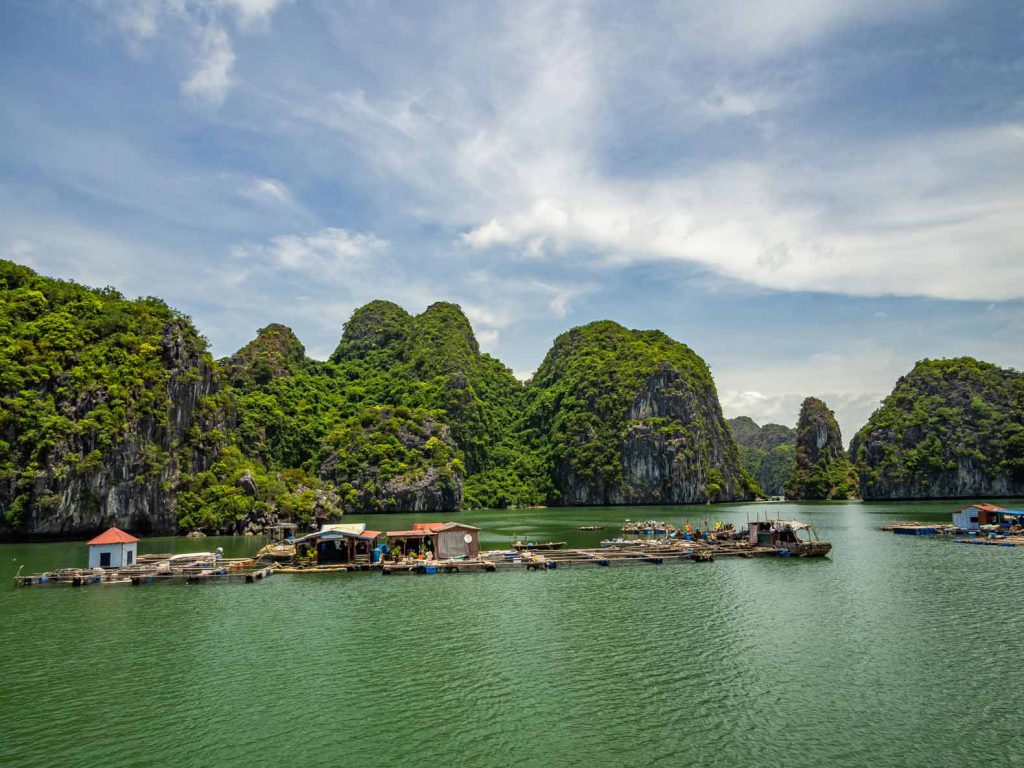 As for where to sleep, you can camp or sleep in a bungalow on the water. The most popular place to spend the night, however, is on a boat cruising the bay.
Lan Ha Bay cruise
The most popular (and recommended!) way to visit the bay is on a cruise. There are many different options available, though of course not as much as for Ha Long Bay. Most Lan Ha Bay cruises depart from Cat Ba town.
We recommend you do your research and choose your Lan Ha Bay cruise wisely. There are many differences between the cruise companies and even between the different boats of the same company. Things to look out for are:
Wich activities will you do? Will you mostly be sightseeing from the boat or does the tour also include activities such as swimming, kayaking and snorkeling.
How many people will be on your boat? In general, the cheaper the cruise, the more people on the boat. If you're looking for a quieter, more relaxing experience, make sure you find a boat that is less crowded.
What is the quality of the boat, crew and food? Luxury comes at a price. If you're looking for a fancy room and elaborate meals, you'll have to pay for it. Reading TripAdvisor reviews of the cruise will help you a lot here.
What is included? Does your cruise package include all of your drinks and activities? Or will you have to pay extra for those? This can quickly add up, so be sure you know what you're buying.
We recommend you to do (at least) a 2 day, 1 night cruise, where you will sleep on the boat. Sleeping in the bay is an awesome experience, that you don't want to miss.
We opted for a 3 day, 2 night package with Cat Ba Ventures and would highly recommend it. The first day consisted of a biking/hiking tour of Cat Ba Island and we spent the first night in a bungalow on one of the smaller islands.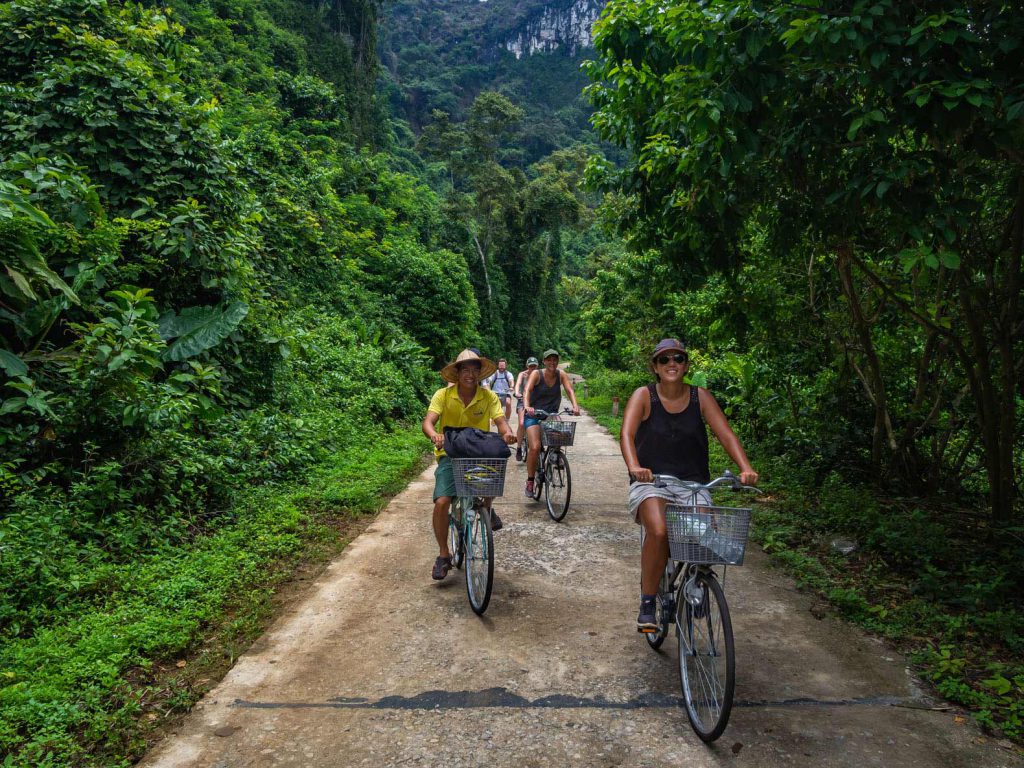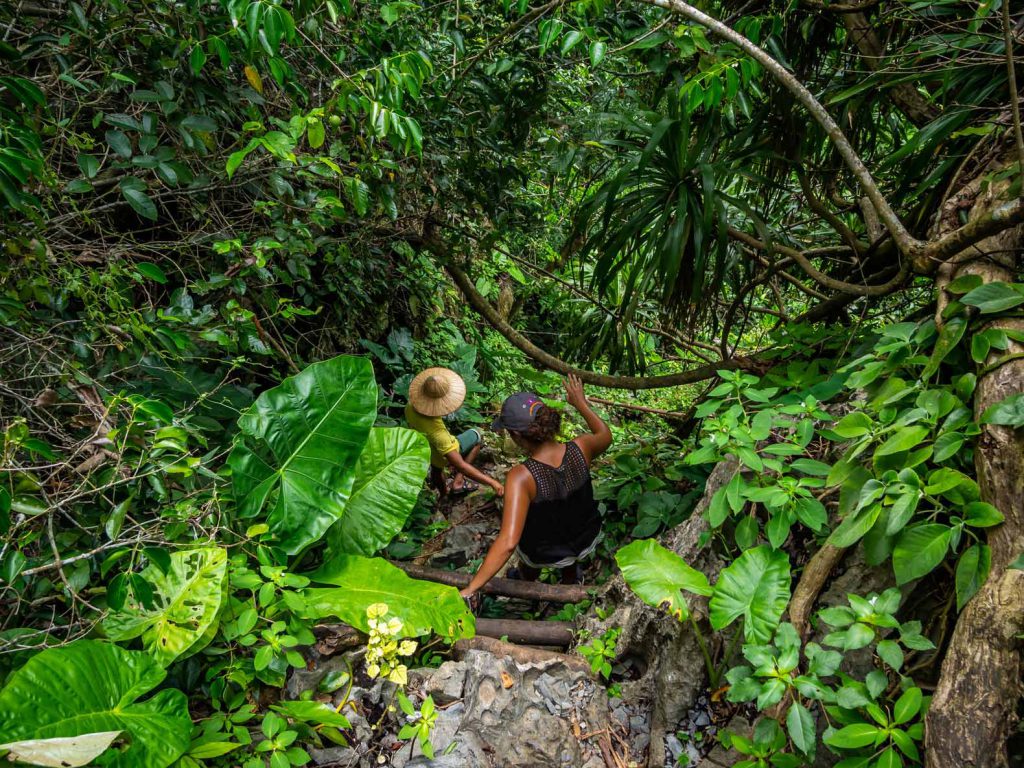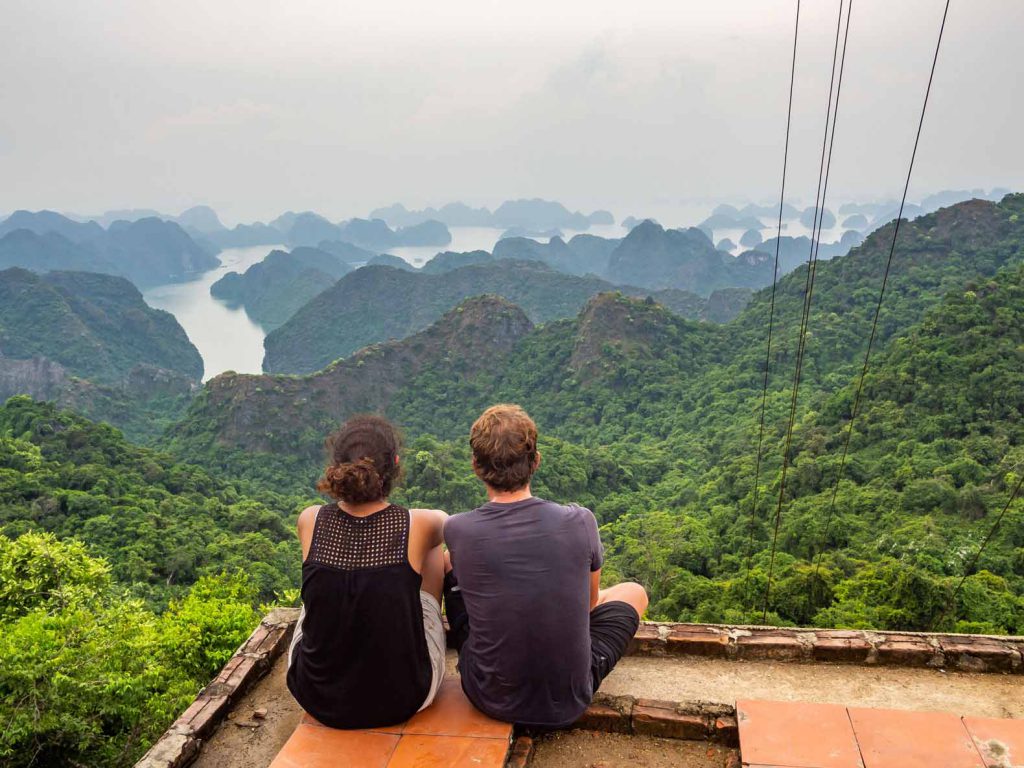 During the second day we cruised the bay on a small boat that is able to visit shallower parts of the bay and get closer to the islands. In the evening, we switched to a bigger boat and spent the night in the bay. On the third day, we stayed on the bigger boat and visited the wider parts of Lan Ha Bay as well as Ha Long Bay.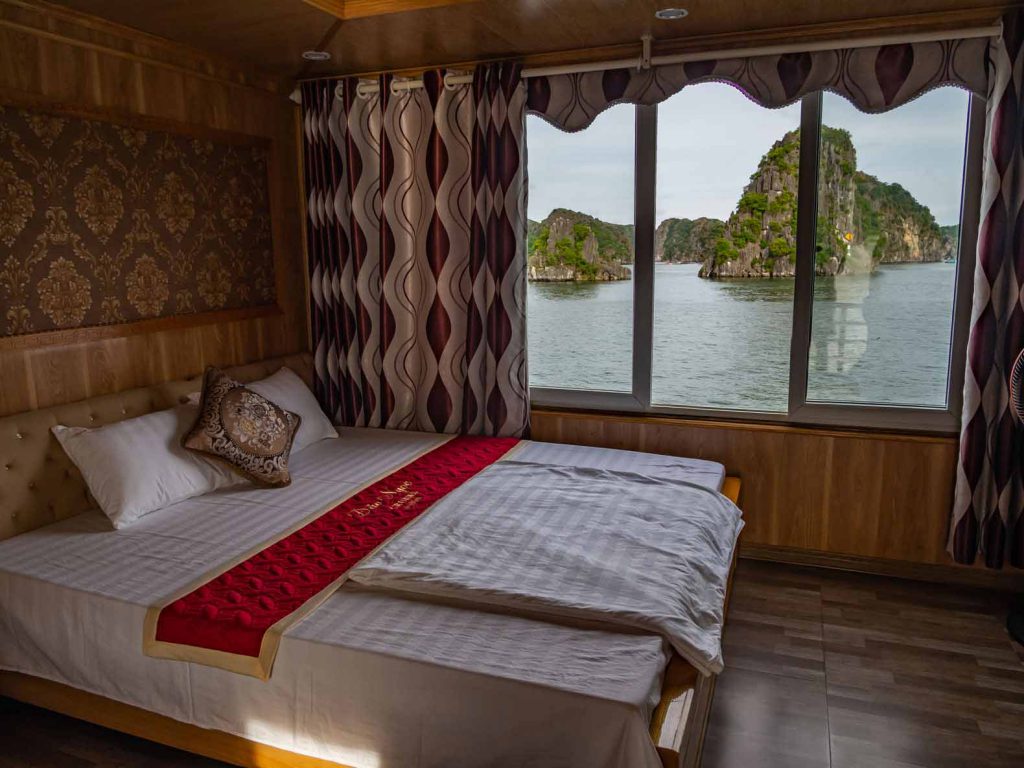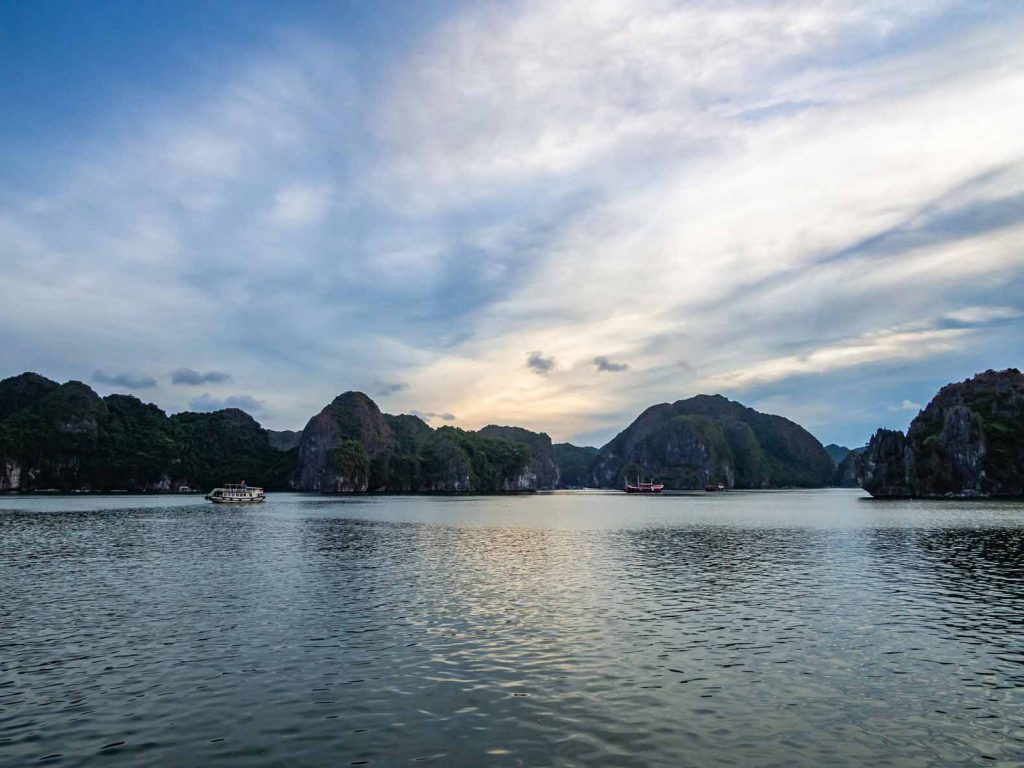 Our cruise included kayaking through caves an hidden lagoons, swimming and a visit to a fish farm. The website also listed snorkeling as one of the activities, but apparently they haven't done that for several years because there's nothing so see anymore due to over-fishing.
Besides the minor disappointment of not being able to snorkel, we were very happy with our Lan Ha Bay cruise. The activities were awesome, our guide and boat crew very open and friendly, the rooms were huge and luxurious and the food was delicious. We also like that Cat Ba Ventures is run by Cat Ba locals, so the money you spend stays in the local economy and benefits the community.
How to get to Lan Ha Bay
First of all, you need to get to Cat Ba Island as your tour will most likely depart from there. Most people arrive here from Hanoi, but we came from Ninh Binh. From both places you can get a direct bus. For most other destinations, you'll probably have to transfer in Hanoi. You can check out your options on 12go.asia, our favorite site for transportation in Asia.
We advise you to buy a combo ticket, which includes the boat. Depending on which bus company you take, your trip will be slightly different. Some bus companies will drop you off at the harbor, where you will take a speedboat. There will be another bus waiting on Cat Ba Island to take you to your accommodation. Other bus companies will drive the bus onto the public ferry, which means you won't have to change buses. Either way, expect to take about 3 to 3.5 hours to get to Cat Ba Island from Hanoi.
Once on Cat Ba Island, you'll probably need to spend a night there before the start of your tour. You'll find plenty of accommodation on Booking.com. Keep in mind that the island gets quite busy during the weekend with Vietnamese tourists, so prices of accommodation go up quite a bit.
After your tour, you can take the afternoon bus back to Hanoi or spend another night on Cat Ba Island and take the morning bus. We recommend the second option, if you plan to continue your travels to a more distant destination, such as Sapa or Phong Nha.
Happy travels!
Pin it for later!
Hi, my name is Sandra and I'm half of the traveling couple that makes up Bus stops & Flip-flops. I'm finally living the dream by traveling the world with my husband Geert. My other hobbies are eating good food, dancing and sleeping in. Did you enjoy reading my blog post? I'd love it if you leave a comment!
---
---