Trang An or Tam Coc: which Ninh Binh boat tour is best?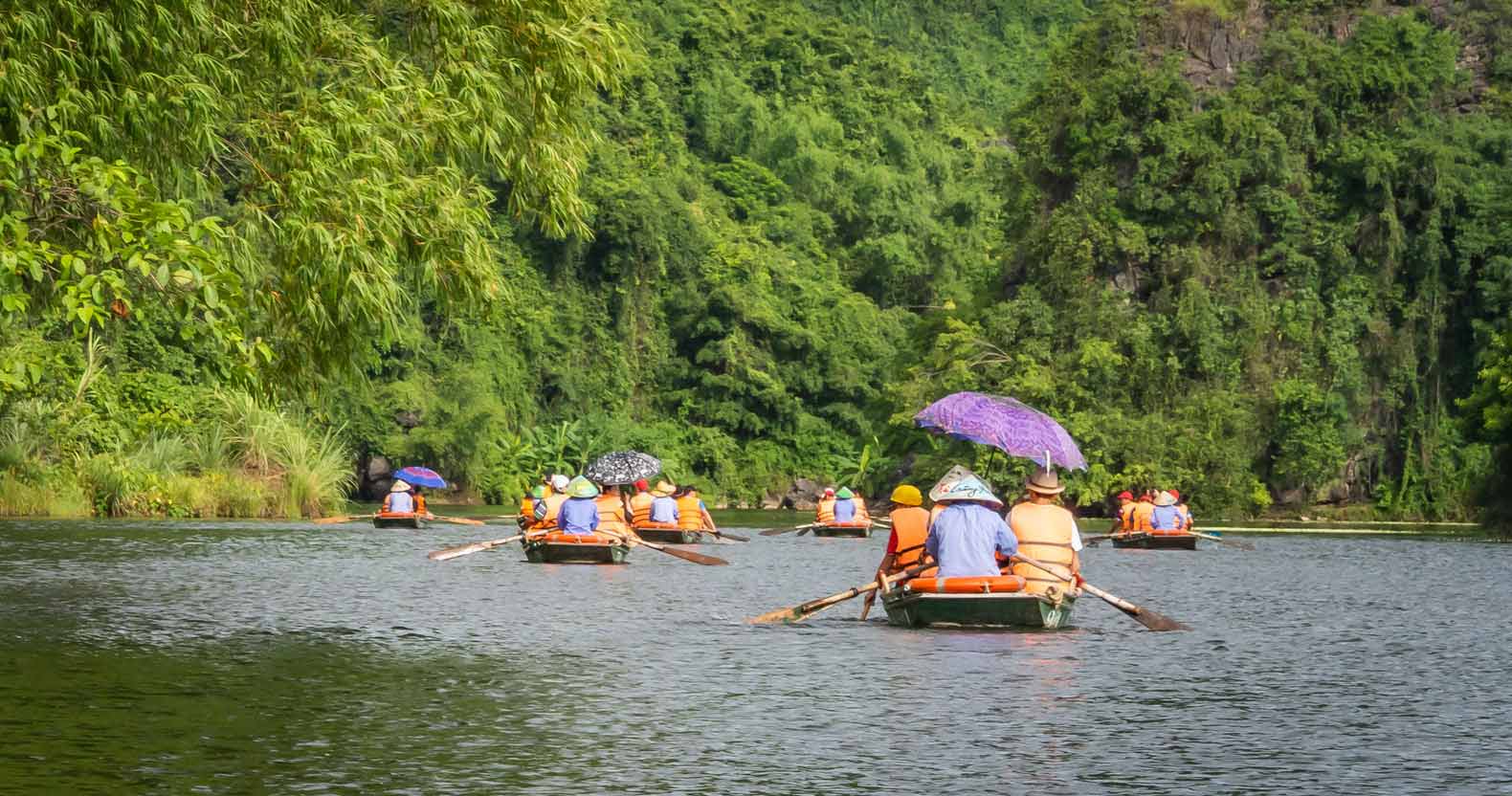 This post might contain affiliate links, which means we may receive a small commission on purchases made through these links, at no additional cost to you.
Trang An or Tam Coc? It's a dilemma many travelers are faced with when visiting Ninh Binh. Both places offer boat tours between the huge karst mountains of the Ninh Binh region; a landscape which is often referred to as "Ha Long Bay on land".
So how do you choose between Trang An or Tam Coc? And which site is the best to visit? In this post we'll give you our view on the matter.
As a small disclaimer, I do have to mention that we did not visit both Trang An and Tam Coc. Since the boat tours aren't cheap, we did our research and selected the one that came out on top. With this blog, we hope to spare you a few hours of searching the Internet by summarizing what we found about Trang An and Tam Coc.
We'll discuss how both places score on five aspects that we think are most important when deciding which Ninh Binh boat tour to take: surroundings, route, price, cleanliness and rowers.
So, let's get right to it!
1. Surroundings
The surroundings are what you've come for, right? Therefore, it was an easy decision to review this aspect of the Ninh Binh boat tours first. It is (probably) the most important aspect when choosing between Trang An or Tam Coc.
Like I wrote earlier, both Trang An and Tam Coc boat tours will take you through a breathtaking landscape of enormous karst mountains. So, you really can't go wrong, no matter which one you choose.
There are, however, some differences to the views you'll get, as the tours take you through two different areas of the Ninh Binh region.
The Tam Coc boat tours will take you through an area which is used for agriculture. More specifically, you will see a lot of rice fields. Now, this has its pro's and its cons. If you're visiting the area in May or June, the rice fields have an amazing yellow-green colour. This is a truly unique sight, which is why most pictures of Tam Coc you'll find online are taken at this time of year.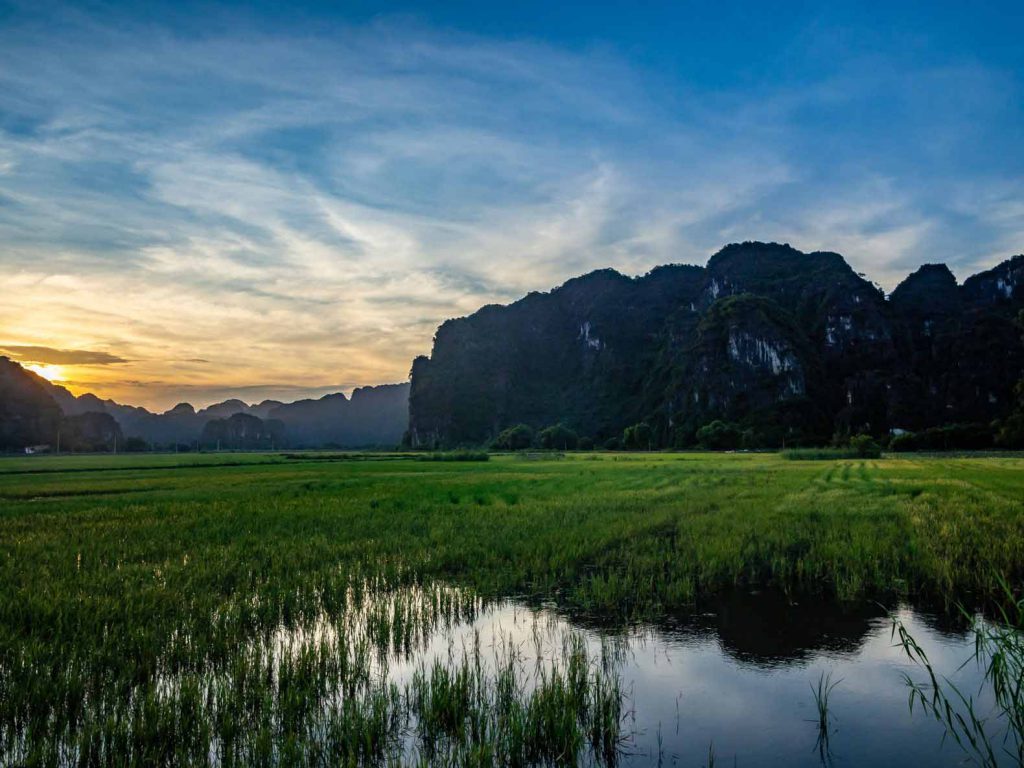 However, if you're visiting after the rice harvest, you'll find a completely different sight. The empty rice fields will be all brown and muddy, which is why we recommend you avoid Tam Coc during that time. You can check with your hotel what the state of the rice fields is when you're there.
At Trang An, you'll find a completely different landscape. Here, the boat tours will take you through a more natural landscape. You'll see jungle and trees in between the karst mountains, which is absolutely gorgeous any time of year. You will also visit a few temples during your Trang An boat tour.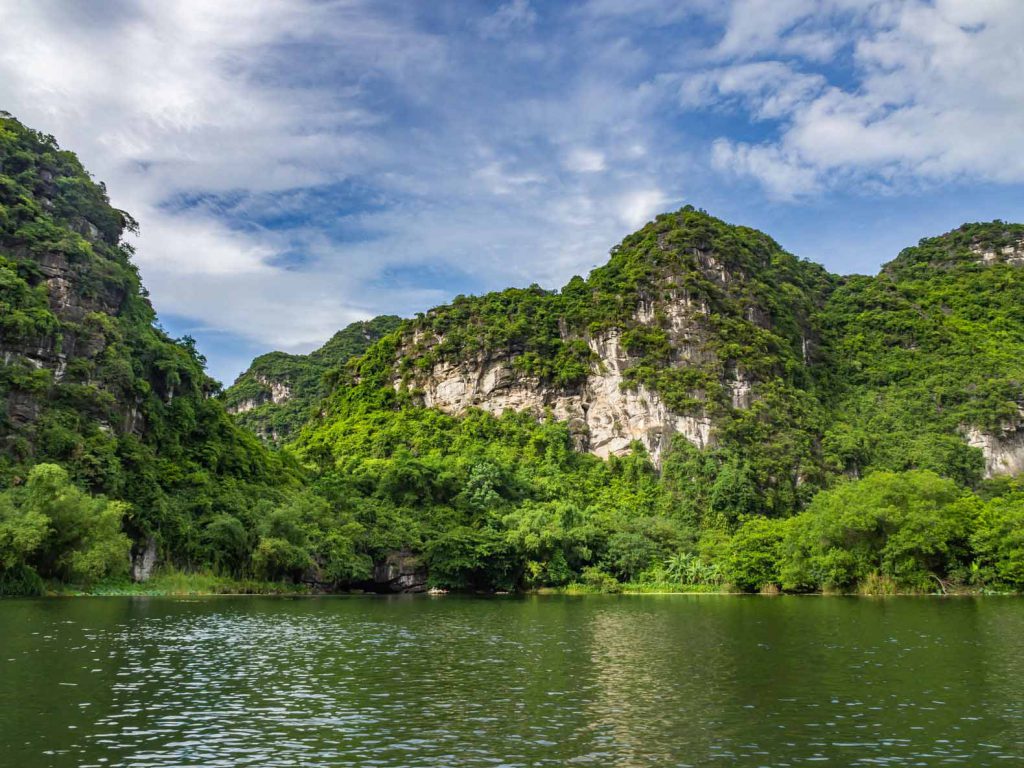 So, which boat tour offers better surroundings? Trang An or Tam Coc? It's really hard to say and really depends on your own personal preference and the time of year that you are visiting. We're calling this one a tie.
2. Route
The Tam Coc boat tours run along the Ngo Dong river, which snakes between the karst mountains. As Tam Coc litteraly means "three caves" in Vietnamese, it's no surprise that the Tam Coc route takes you through these three caves. The caves are respectively 127 meters, 60 meters and 50 meters long and have many stalactites. The tour lasts for about 1.5 to 2 hours and you return the same way you came.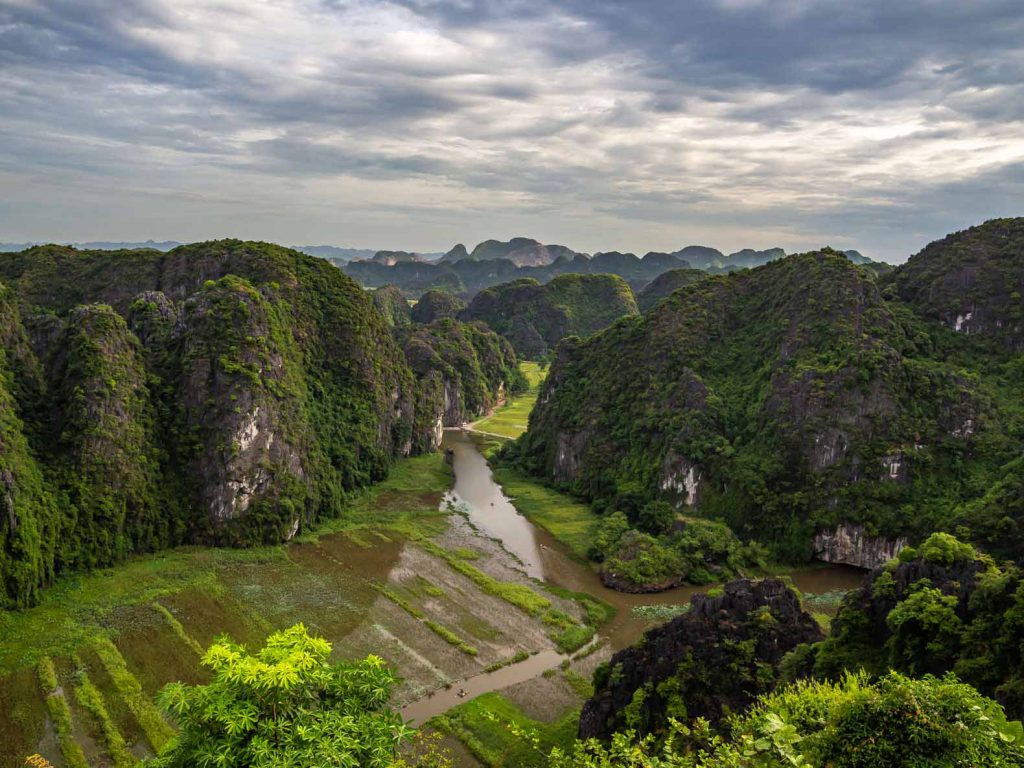 At Trang An, you can choose between three different routes, which last between 2.5 and 3.5 hours. All three routes are circles, so you don't return the same way you came. The routes all have their own emphasis, though you'll be taken to several temples and caves on each one. Route 1 takes you through the most caves (9 in total) and is also the longest route. The second route is the shortest (better for families with kids) and features a stop at the Kong: Skull Island movie set site. Route 3 is best for viewing the karst mountains and also brings you to the movie set.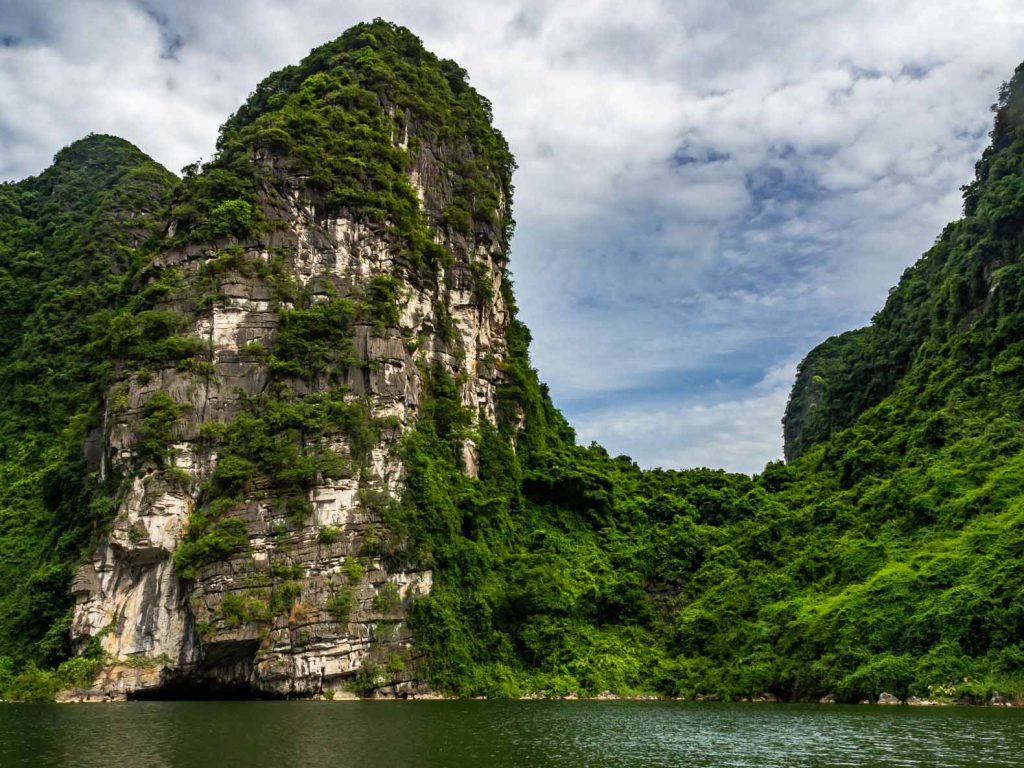 In our view, Trang An is the clear winner when it comes to the routes. Not only do you have the option to choose between three different routes, to suit your preferences, they've also designed the routes in such a way that you don't have to backtrack. Also, the river at Tam Coc is quite wide and, from the pictures we've seen, looks a bit like a canal. The Trang An waterways seem more natural, are narrower and have little "lakes" at parts where the mountains are further away from each other.
3. Price
To compare the pricing of Trang An and Tam Coc, we'll assume you're traveling with two persons.
The price you pay at Tam Coc consists of a fee per boat plus a fee per person. The boat will cost you a fixed fee of 150.000 VND. On top of this, you'll pay 120.000 VND per person.
The Tam Coc boats fit four persons, BUT they only allow two persons on a boat if you are a foreigner. For Vietnamese people, they do allow 4 persons per boat. The official reason for this is that foreigners are a lot bigger (and thus heavier for the rower), but it does seem a bit like this is a way to make more money off of foreign tourists.
Anyway, a Tam Coc boat ride will set you back 390.000 VND for two persons (150K + 2 x 120K).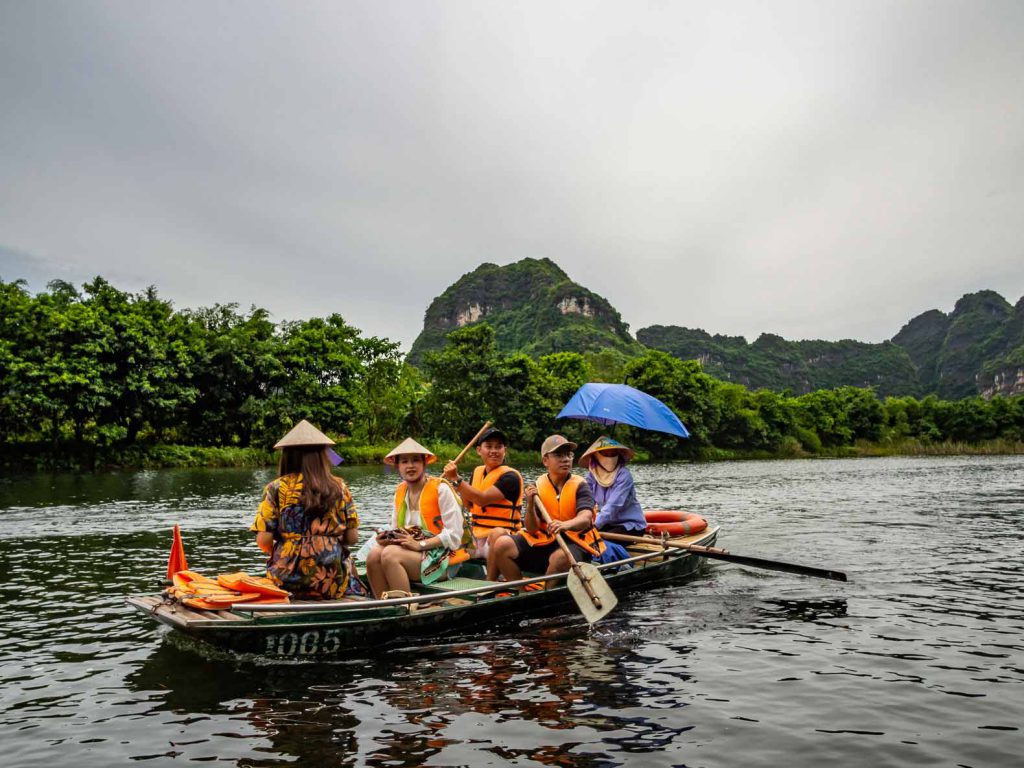 The pricing at Trang An is a lot more straightforward. You pay 200.000 VND per person. However, they do try to fill the boats to capacity. This means that if you're with two persons, you'll probably have to share your boat with two others.
In total, a Trang An boat ride will cost you 400.000 VND for two persons. This is only 10.000 VND more than at Tam Coc. You might have to share your boat, but remember that the Trang An tour does last at least an hour longer. For this reason, we're going to call it a tie on the prices.
4. Cleanliness
As you might know, pollution is a huge problem in Southeast Asia and can seriously ruin your experience. We were therefore pleasantly surprised that the water at Trang An was quite clear and there was no trash floating around. We learned that there is even a cleaning crew around, which is responsible for keeping the water trash-free.
As for Tam Coc, we've read several reviews stating that the river water is brown and dirty. This might be caused by the many boats stirring up the soil or simply by rainfall as is the case with many rivers. However, trash in the water also doesn't seem to be a problem here. So, again we seem to have a tie.
5. Rowers
As you'll be spending several hours in a small boat with your rower, how you get along with him or her can really change your experience. And it is on this aspect that we find the biggest difference which will have the largest impact on your decision between Trang An or Tam Coc.
Let's first take a look at Tam Coc. This is a government run operation and all the rowers are "independent contractors". Basically, they get paid a (small) amount for each boat ride they make. Because it's very difficult for them to get by on their boat fee, they try to find other ways to make more money.
This, unfortunately, leads to many tourists having a negative experience. There have been many reports of tourists being "forced" to buy overpriced drinks and/or handicrafts, and cutting trips short (so they can pick up more rides that day). Rowers also basically demand a tip of 100.000 VND and blatantly express their dissatisfaction if you tip them anything less.
The set-up at Trang An is quite different. The Trang An boat tours are organised by a private company, which employs the rowers. This means that the rowers get paid a fixed monthly salary, no matter how many tours they do. This is a much better arrangement for the rowers, as they do not have to scramble for cash.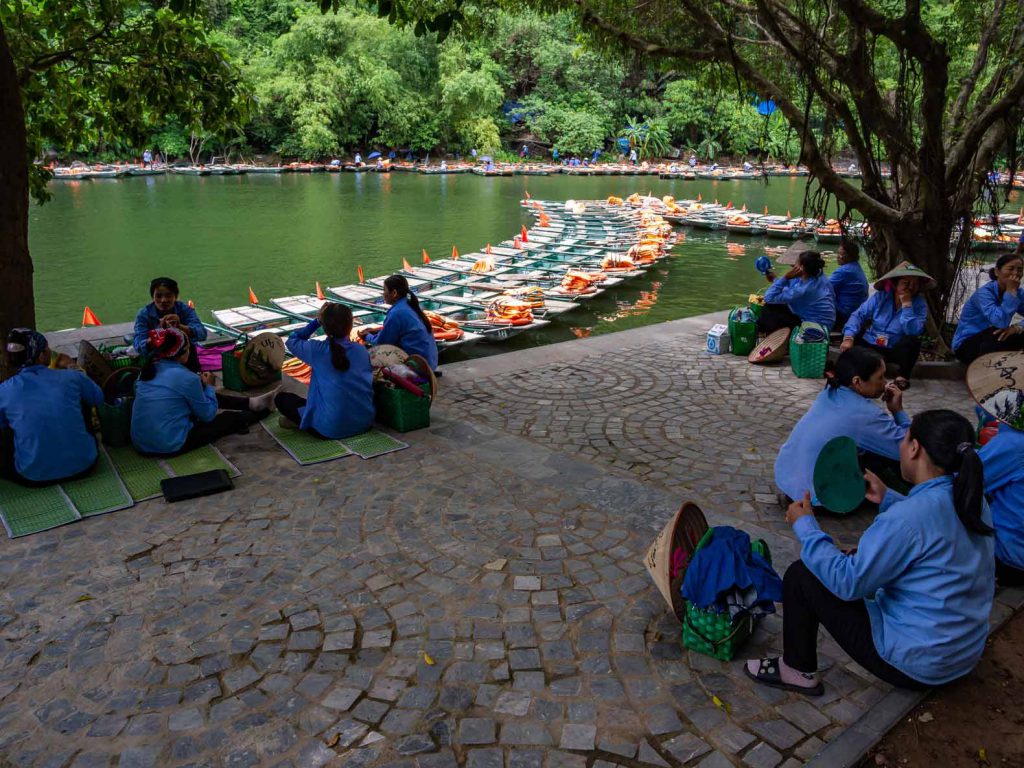 Also, the company keeps a strict eye on how the rowers interact with the tourists. We were even given a questionnaire at the end of our Trang An tour. It asked us to evaluate different aspects of the tour, including our rower.
Though our rower did ask us to help her out with the paddling, she was very friendly, did not try to sell us anything and did not ask for a tip. We were very happy with the overall experience.
So when it comes to the rowers, it is a clear win for Trang An.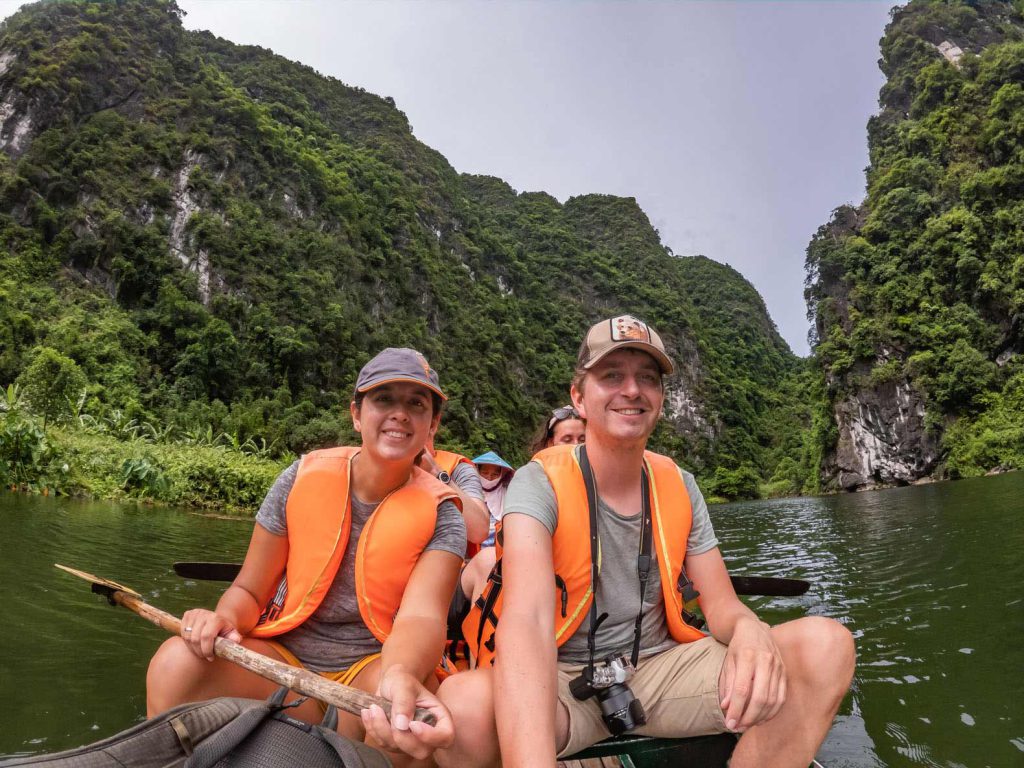 Overall winner: Trang An or Tam Coc?
When counting the scores, we see that it's a tie between Trang An and Tam Coc on three of the five aspects that we reviewed: Surroundings, Price and Cleanliness.
But in our opinion, Trang An is the obvious winner in the comparison between Trang An and Tam Coc. We feel that the three different circular routes and especially the friendliness of the rowers give Trang An a big advantage over Tam Coc.
So, if you have too choose between the two, we would recommend you go to Trang An for your Ninh Binh boat tour!
More Vietnam adventures? Why don't you check out the amazing Phong Nha-Ke Bang National Park or go exploring in the abandoned water park of Hue?
Pin it for later!
Hi, my name is Sandra and I'm half of the traveling couple that makes up Bus stops & Flip-flops. I'm finally living the dream by traveling the world with my husband Geert. My other hobbies are eating good food, dancing and sleeping in. Did you enjoy reading my blog post? I'd love it if you leave a comment!
---
---