How to spend 2 days in Phong Nha-Ke Bang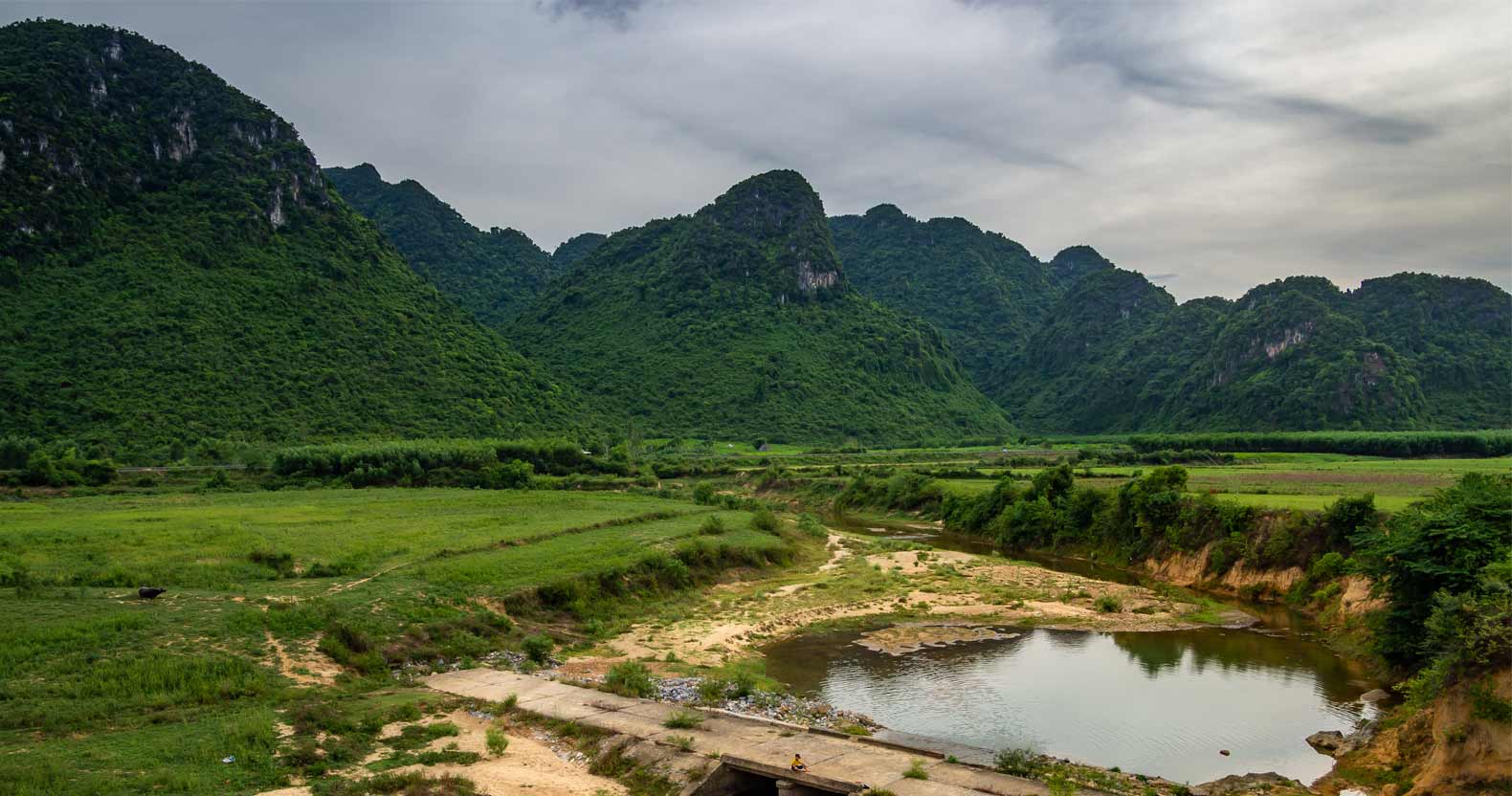 This post might contain affiliate links, which means we may receive a small commission on purchases made through these links, at no additional cost to you.
Phong Nha-Ke Bang National Park is a stunning region of karst mountains and impressive caves in Northern Vietnam. Here you'll find around 300 caves, including the largest cave in the world. This makes it a great destination to get active and marvel at the spectacular creations of nature.
Surprisingly few Vietnam itineraries include Phong Nha-Ke Bang. Most head directly from Hanoi to Hue or Hoi An, skipping (what we believe to be) one of the most impressive regions of Vietnam.
You should, however, not make the mistake of thinking that this means you'll have the caves all to yourself. The Vietnamese themselves do have Phong Nha on their radar, and it's a very popular destination for domestic tourism. Especially the weekends can be very busy, so try to schedule your visit during the week if possible.
We recommend you to plan at least two days for your visit to the Phong-Nha region, though you could easily spend more. Base yourself in Phong Nha town (which is actually called Son Trach, but nobody calls it that…), for easy access to the park and plenty of restaurants and accommodation options.
We stayed in Hugo Homestay and would highly recommend it to anyone. The rooms are very spacious, it has a swimming pool and the owner will come pick you up from the bus stop on his motorbike.
So, how to spend your 2 days in Phong-Nha? Well give you our best advise below!
Day 1 in Phong Nha
Of course you're going to spend your first day in Phong Nha exploring the caves. How exactly you're going to do this really depends on what kind of caves you like and how far your budget stretches.
Many of the caves in Phong Nha-Ke Bang can only be visited by booking a tour through one of the operators in town. These tours are very expensive ($100+ per day). So if you're a budget traveler like us, these probably won't be an option for you. This really is a shame, as some of these caves are really special and worth a visit.
However, this does not mean that you can't have an amazing, cave filled and budget-friendly day in Phong Nha. Some caves, such as the Phong Nha cave, the Paradise cave and the Dark cave are open to the general public, meaning you can visit these caves independently. However, you'll still need to be prepared for steep entrance fees.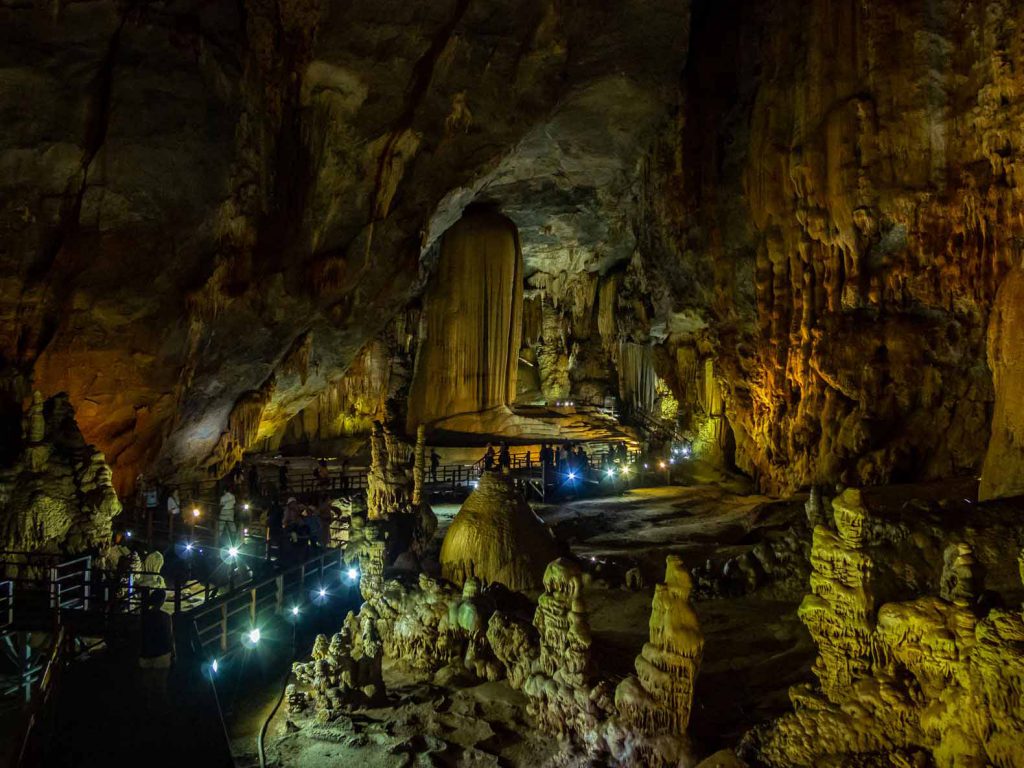 The rock formations in Paradise Cave are sure to be some of the largest you've ever seen!

A visit to the Dark Cave comes with a mud bath!
You can use Google to check out the best times to visit the caves. We did not do this and were unlucky to be at the Paradise at the same time as the Asian tour groups (from 10.00 to 12.00). It was really very busy with probably a few hundred people inside the cave at once. Other travelers we spoke to, who visited late in the afternoon, had the cave almost to themselves.
The best way to get to the caves is by renting a motor bike in Phong Nha town. You can drive a loop through the national park, which will take you past all the highlights. Besides the three caves mentioned above, there's also a botanical garden with a nice waterfall.
The road itself can also be considered a highlight as the views along the way are absolutely stunning. For most part, you'll be driving on small roads without much traffic. The roads are in good condition, so you'll get a nice and comfortable ride.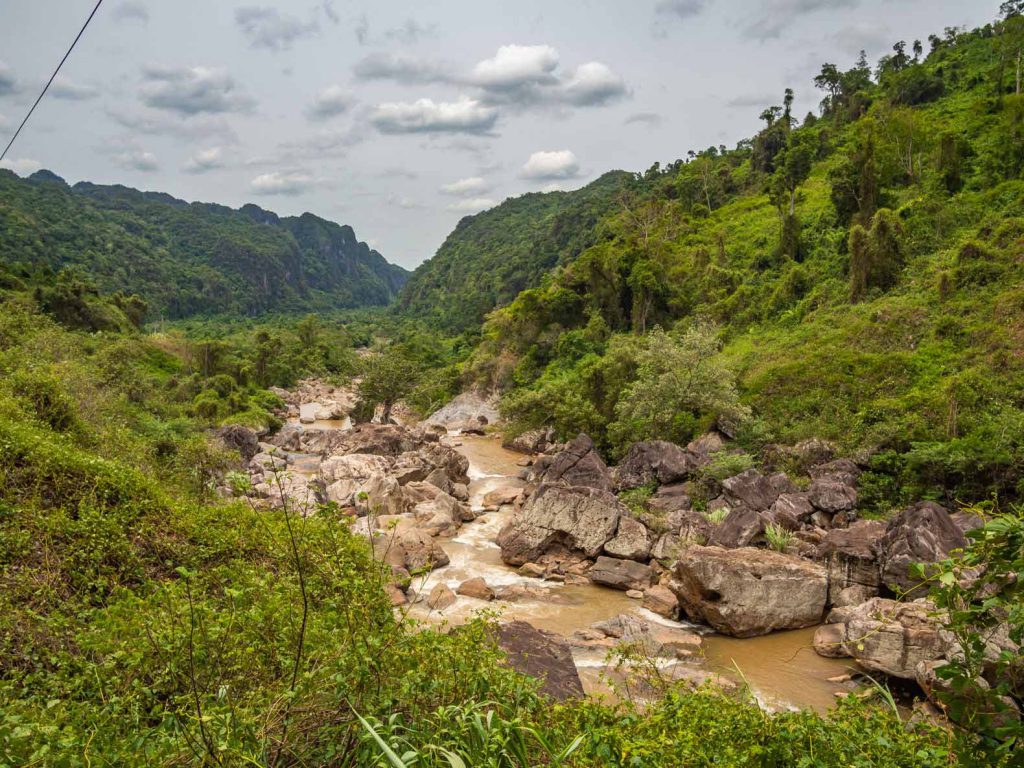 Phong Nha has its own Hollywood sign!

Children playing in the river at Phong Nha
Finding a lunch spot in the national park can be a bit tricky. Most restaurants are quite expensive and catered to the large tour groups of Asian tourists. You could grab some takeaway lunch in town before you set off, or try your luck at one of the small restaurants just outside the park.
Day 2 in Phong Nha
Your second day in Phong Nha is best spent in Bong Lai valley. Unless of course, you want to spend another day exploring even more caves. We could personally use a relaxing day after our cave adventures. So we grabbed our rented motorbike and headed out towards the valley,
Though the entrance to the valley is only about 8 KM from Phong Nha town, it's a world of difference from the steep karst mountains and jungle of Phong Nha-Ke Bang. Here you'll find rolling hills, grasslands, rice fields and tiny villages hugging a small river. Mountainbikes and horse-drawn carriages ride along the unpaved roads and villagers herd their buffaloes along the river banks.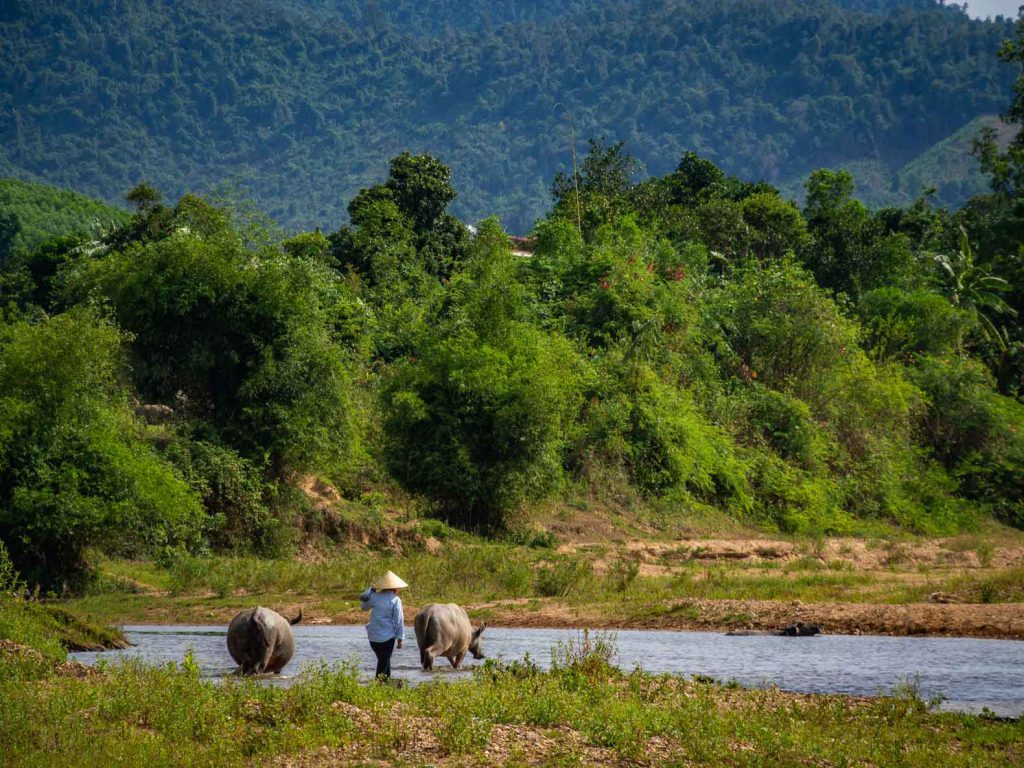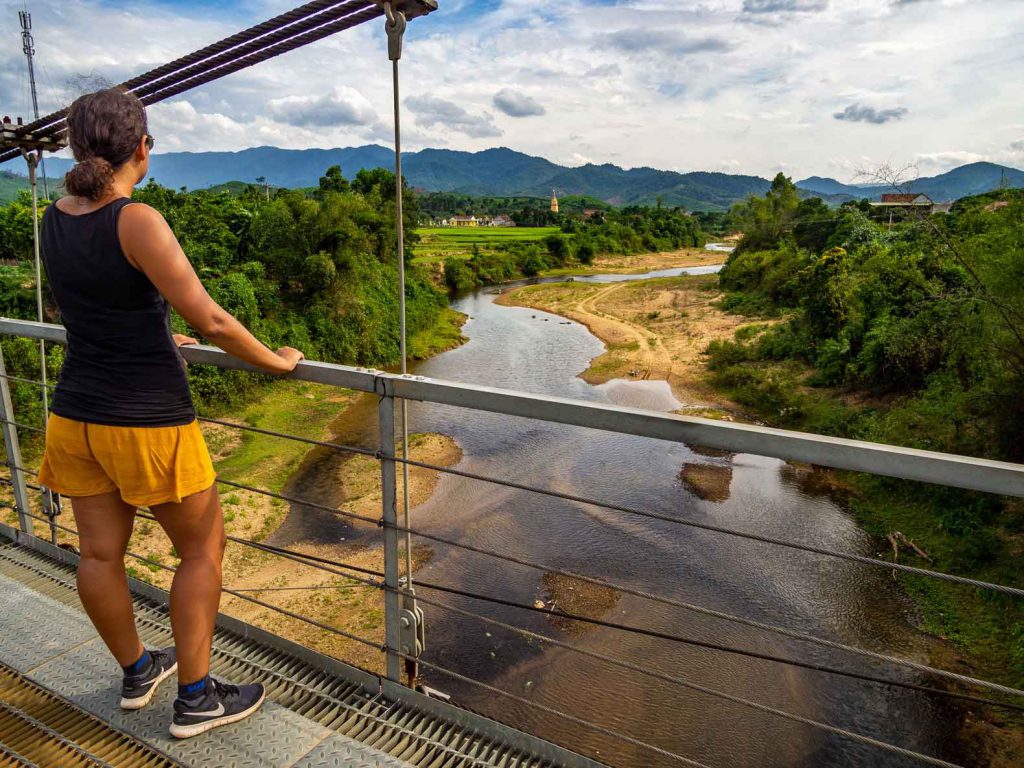 Though there aren't a whole lot of activities in Bong Lai valley, you'll have no trouble spending an entire day exploring the countryside here. The most well-known stops on the way are the Pub with Cold Beer, the Duck Stop and Bong Lai Swing Nature Farm (previously known as the Wild Boar Eco Farm). If you're up for it, some of the places let you catch, kill and help prepare your own chicken for lunch.
We spent our day relaxing in hammocks, walking through the vibrant green rice fields, waving at the curious children from the local villages, chasing tiny frogs on the river banks and relaxing in the hammocks some more. It was the perfect chill-out day!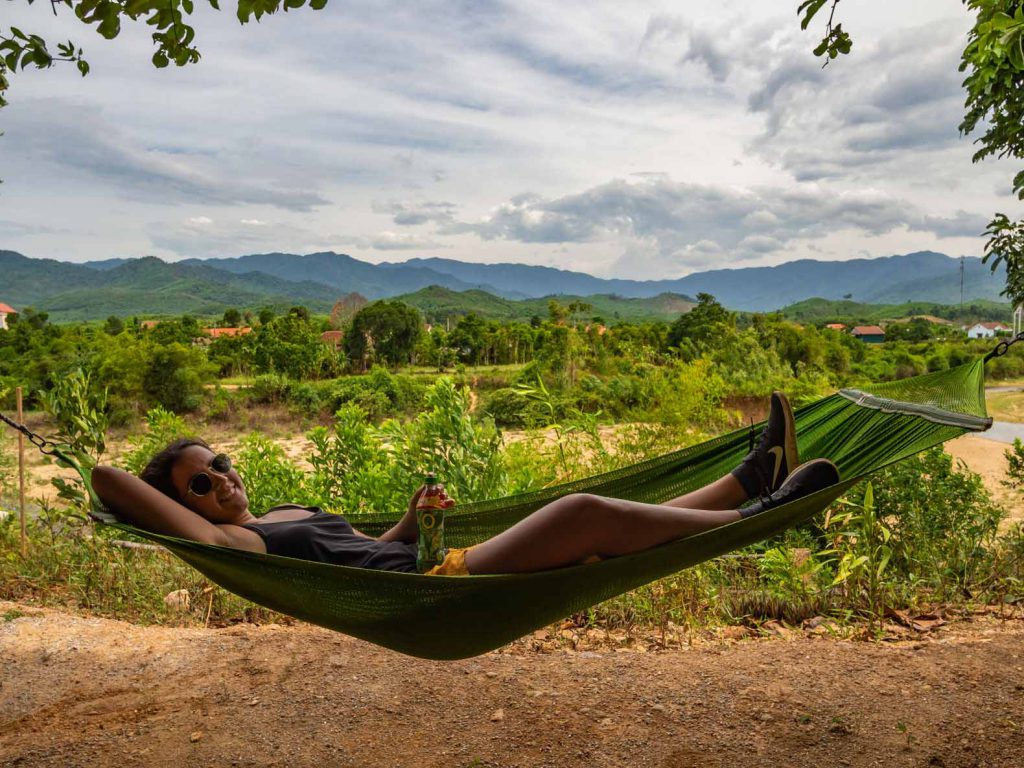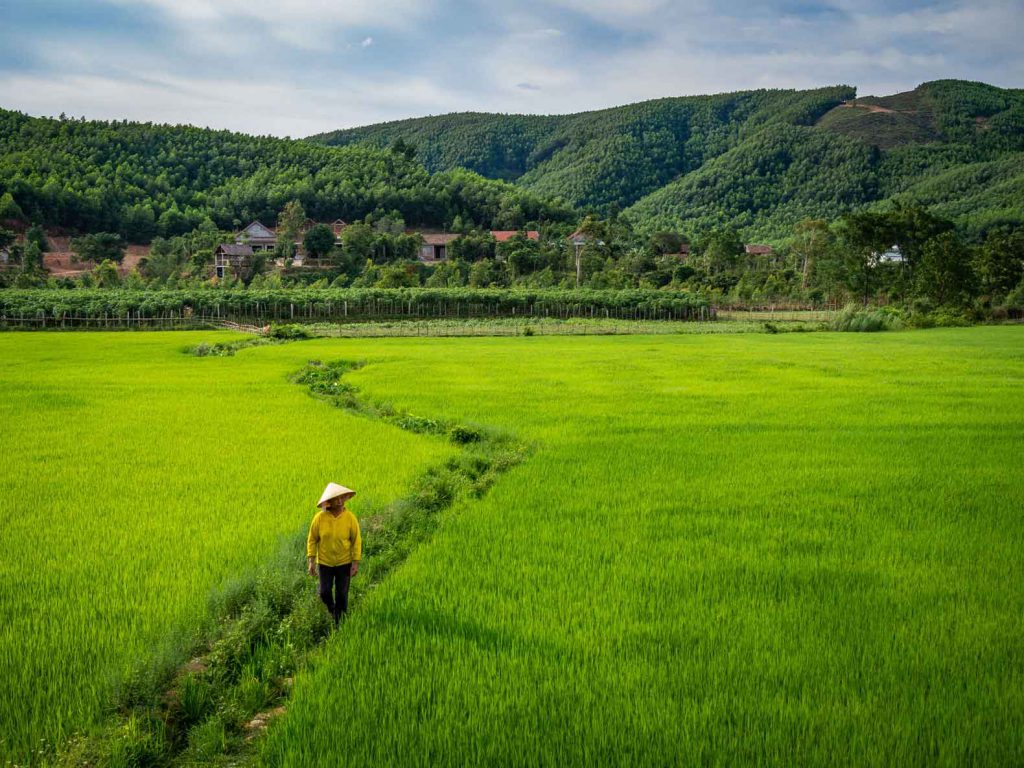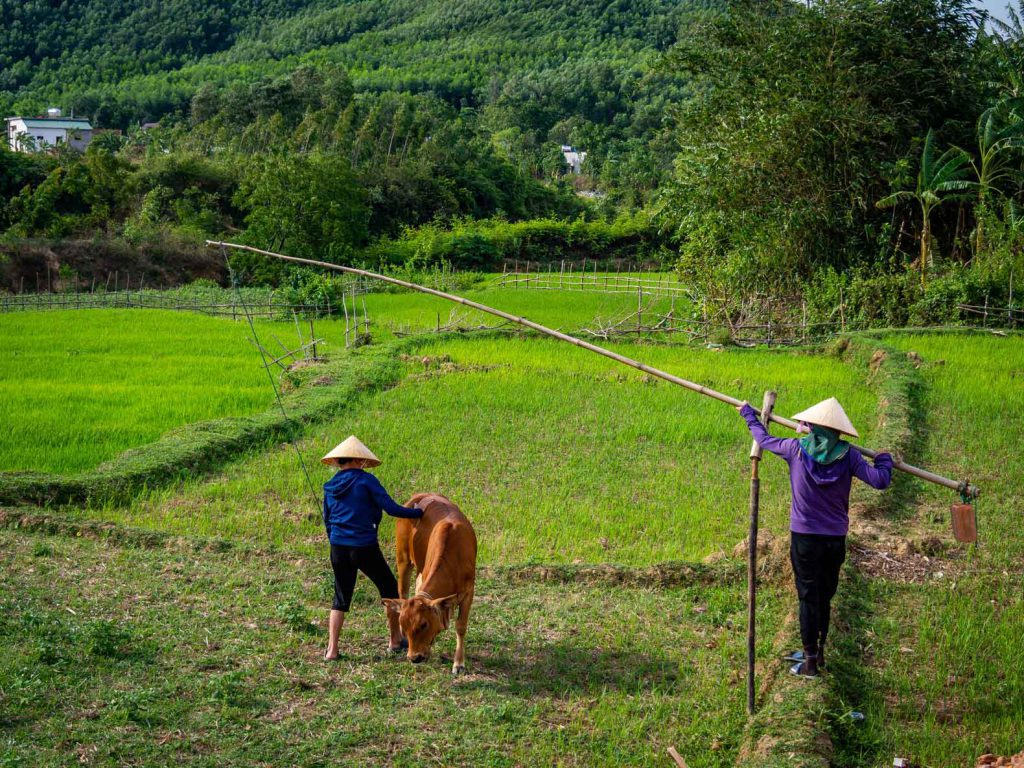 To get the most out of your visit to Bong Lai valley, we recommend you to enter the valley via the small road before you cross the river. There's a huge sign there letting you know you've got the right exit. Continue following this road for as long as you like. There are a few places where you can cross the river, so you don't have to backtrack to return to the main road on your way back to town.
Moving On
After your 2 days in Phong Nha, it's quite easy to get to your next destination in Vietnam. If you're heading north, there are direct buses to Ninh Binh (Tam Coc), Hanoi, Cat Ba and even as far as Sapa. Southbound buses can take you to Hue, Danang, Hoi An and beyond, all the way to Ho Chi Minh City.
What will be your next destination?
Pin it for later!
Hi, my name is Sandra and I'm half of the traveling couple that makes up Bus stops & Flip-flops. I'm finally living the dream by traveling the world with my husband Geert. My other hobbies are eating good food, dancing and sleeping in. Did you enjoy reading my blog post? I'd love it if you leave a comment!
---
---