A roadtrip through Northland: our 5 day itinerary
This post might contain affiliate links, which means we may receive a small commission on purchases made through these links, at no additional cost to you.
Our great adventure has started! We're kicking off our one year round the world trip in New Zealand. More specifically, we spent our first 5 days touring New Zealand's most northern region, aptly named Northland. In this blog post we'll talk about our Northland itinerary which includes amazing activities, such as a dolphin watching cruise and walks with stunning views. Here we go!
We arrived in New Zealand via Auckland International Airport after a whopping 33 our flight from Amsterdam. To make sure we got a good night's sleep, so we could recover from the inevitable jetlag, we'd booked a night in a hostel near the airport. We stayed in a small, but cute private cabin in the garden of the main house.
The Campervan
The next morning, it was time to pick up our campervan! This trusty old Mazda van will not only be our transportation, but also our home for the next five weeks. It's a lot smaller than all the other camper(van)s we see driving around New Zealand, but it has everything we need: a two-person bed, two gas cookers, a small fridge, a table and chairs, and an awning for when it rains (which we luckily haven't needed to use yet).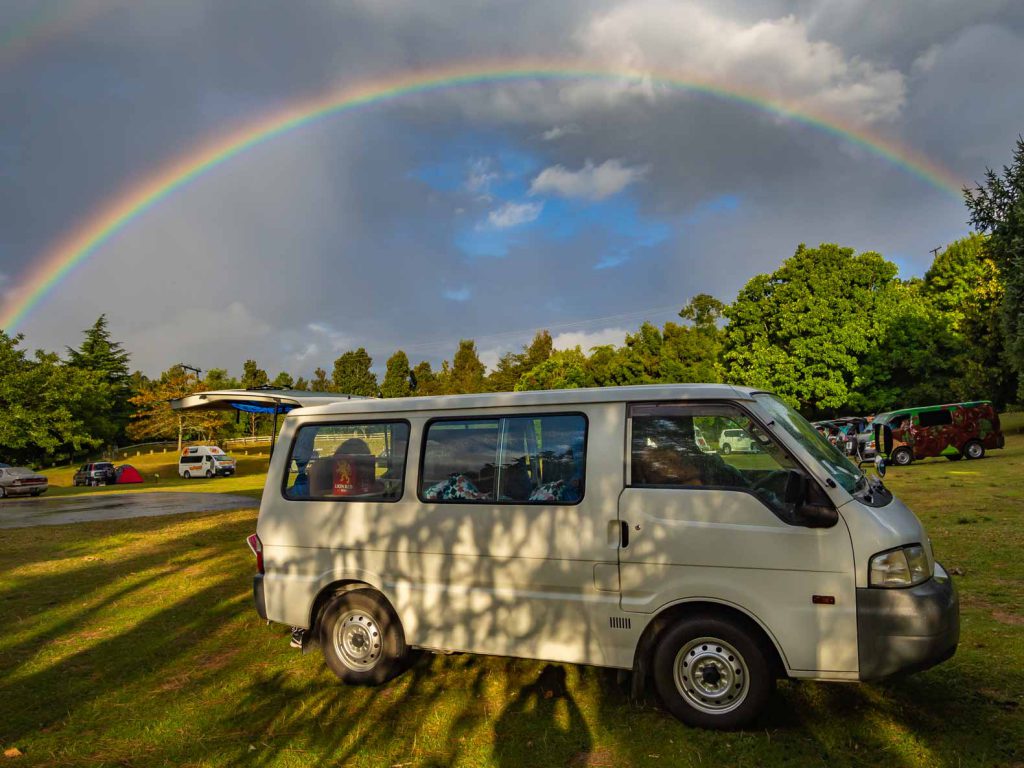 Mangawhai Cliff Top Walkway
Because we only (haha) have five weeks to roadtrip around New Zealand, we decided to skip Auckland and head straight out into the nature of Northland. A 2.5 hour drive through beautiful and quickly changing landscapes took us to Mangawhai Heads, our first stop on Northland's coast. We were on the beach!
There were people sunbathing and children surfing, but that's not what we were there for. We chose this specific beach for the Mangawhai Cliff Top Walkway, a superb 3 hour walking track over the cliffs high above the beach, with amazing views of the ocean.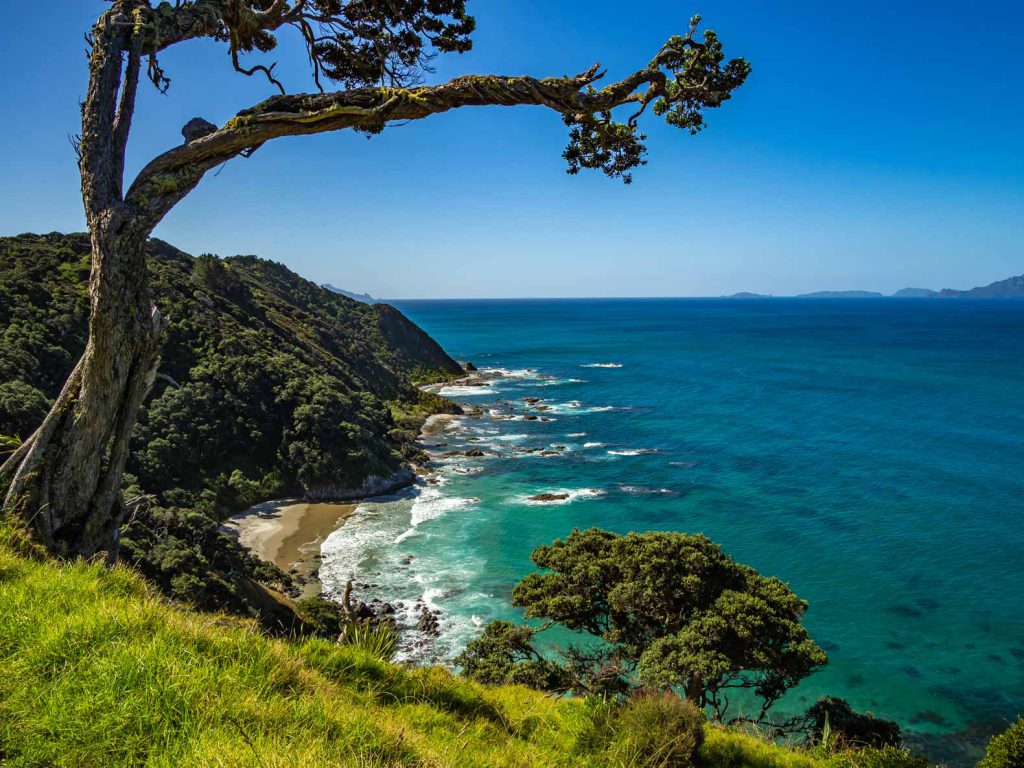 Unfortunately, we weren't there during low tide, because then we could've returned via the beach. We just walked untill we were tired and then turned back the way we came. Still highly recommended though!

There's a small café at the start of the track, but being on a budget, we made our own sandwiches for lunch.
Waipu Caves
Next, we were off to our first camping spot, a free car park / campground at the Waipu caves. We intended to visit the caves that same day, but our jetlags got the better of us. So it was an early dinner and off to bed.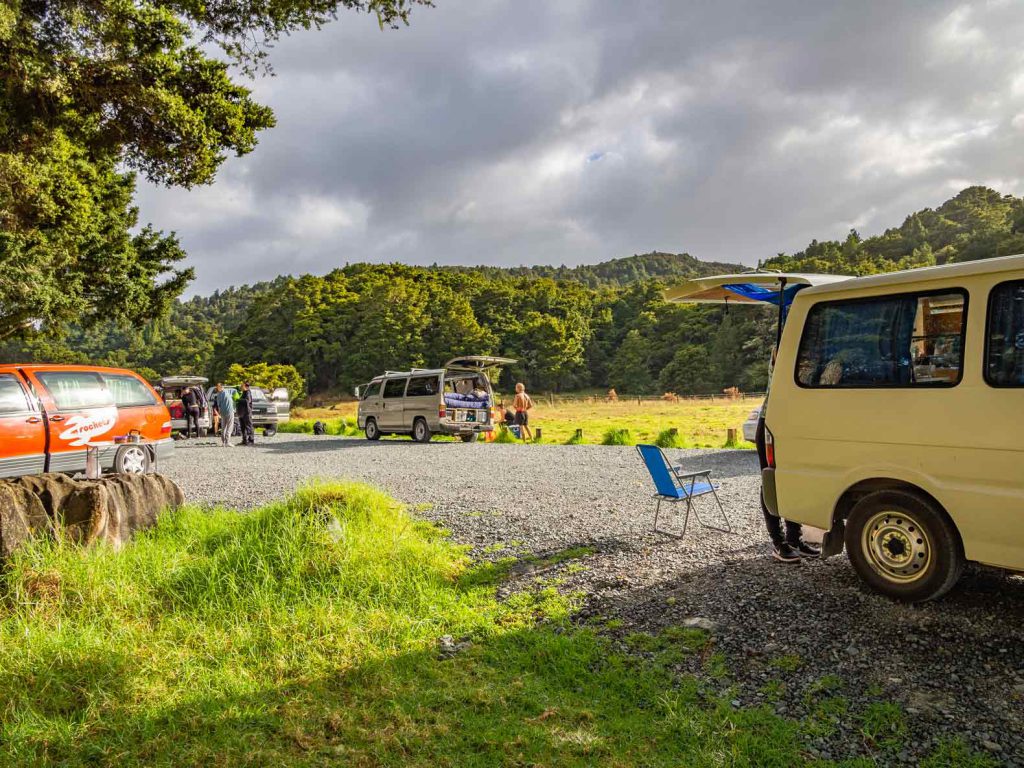 We ventured into the caves the next morning. Waipu caves are the only caves in New Zealand where you can see the famous glow worms for free. It's a bit of a clammer into the caves, and the path gets slippery at some points, but it's well worth it. About 50 meters into the caves we were rewarded with the beautiful shimmer of the glow worms.
The Bay of Islands
After this little morning adventure, we were back in the van and off to our next destination: The Bay of Islands. This popular holiday destination is loved by tourists and locals alike. And we can see why! The lovely beaches, beautiful islands and many activities on the water make it a great place to spend a couple of sun-filled days.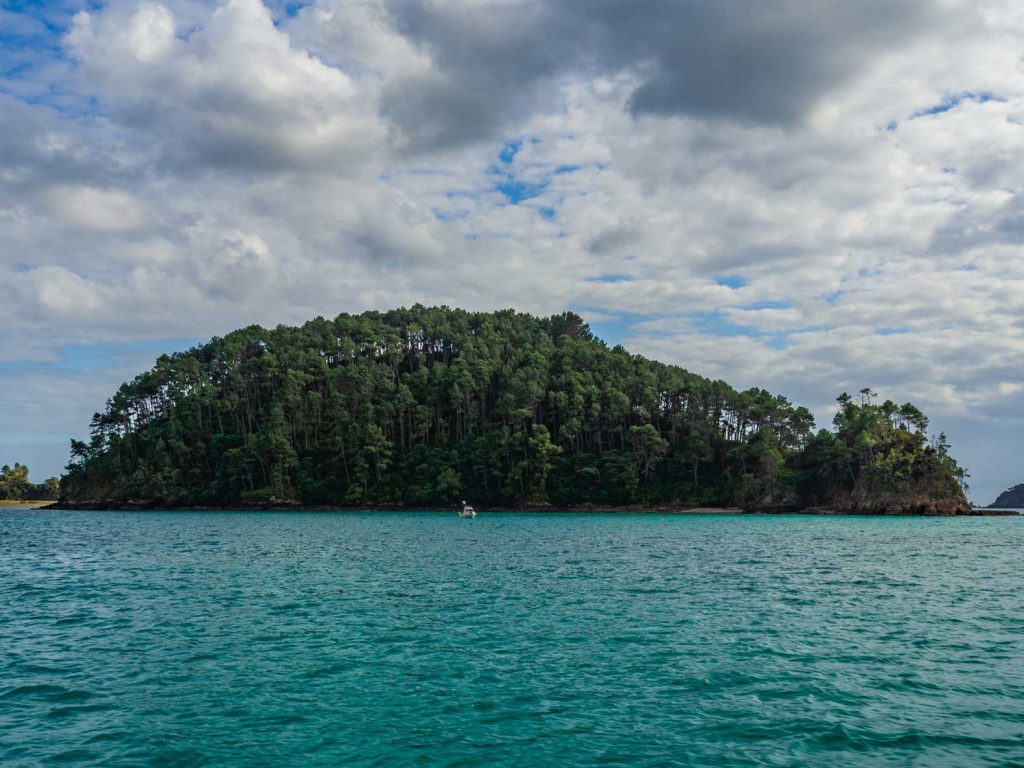 We stayed near Paihia, the bay's main town, for two nights.
The highlight of our visit to the Bay of Islands was the dolphin cruise we booked with Carino Sailing & Dolphin Adventures. We spent the day sailing on a beautiful catamaran and got up close with a pod of dolphins.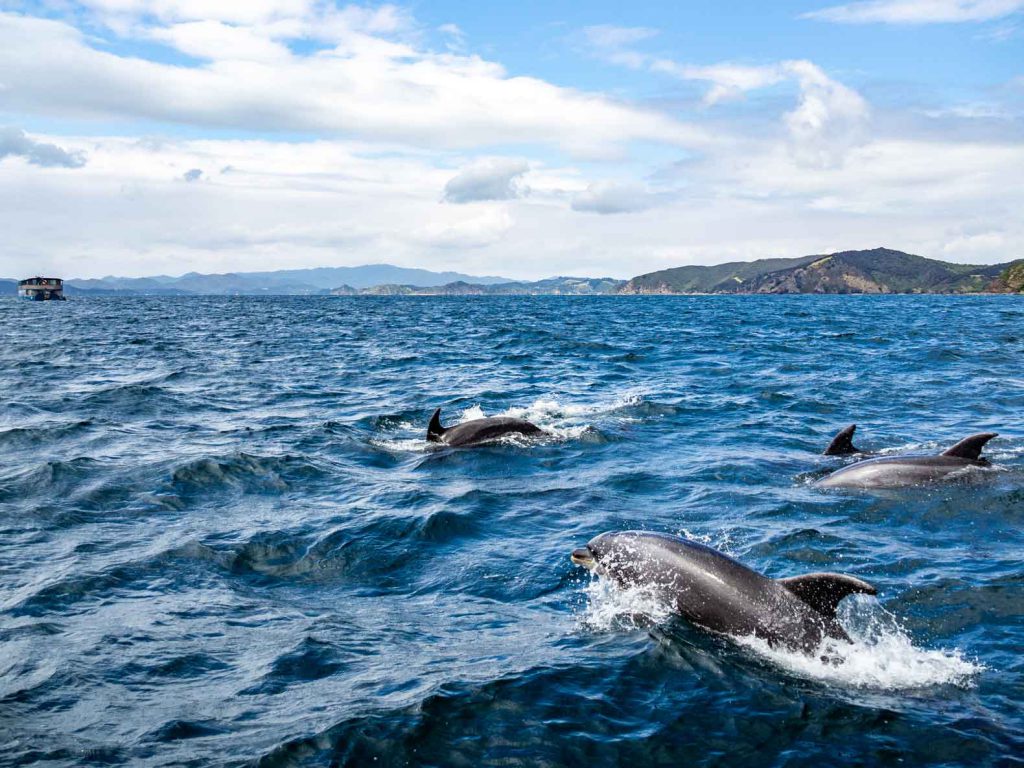 While in Paihia, you can also experience the Haruru Falls Walk (lovely mangroves), take the ferry accross the bay to Russel and learn about Maori history at the nearby Waitangi Treaty Grounds.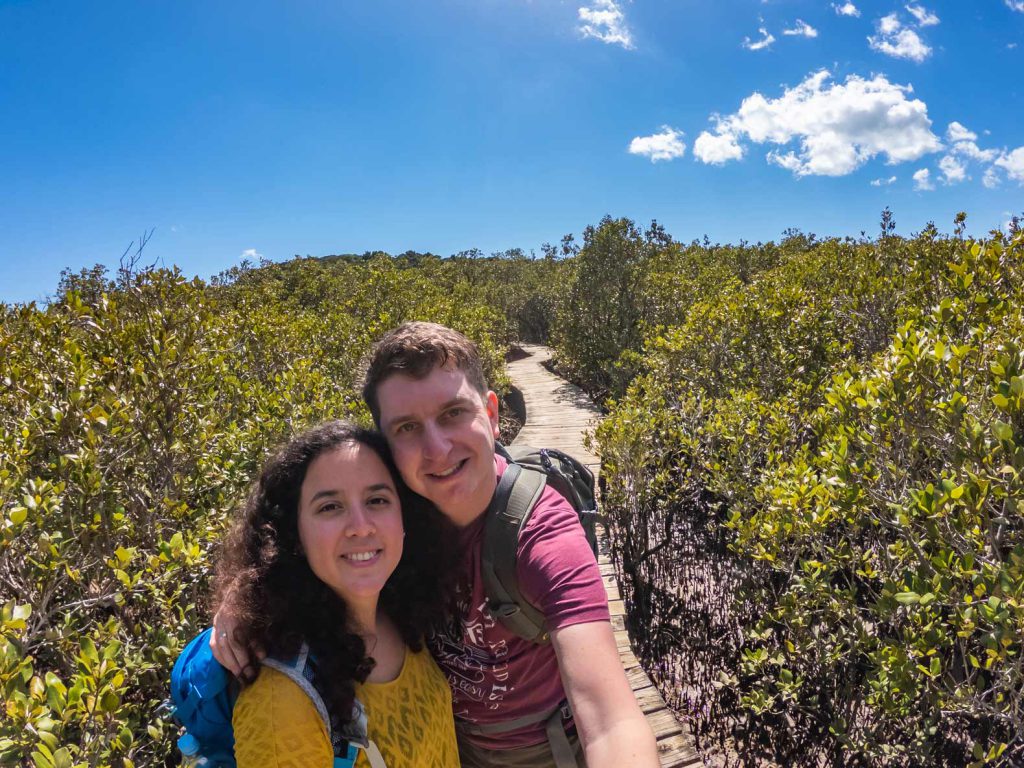 Waipoua Kauri Forest
Though the classic "Twin Coast Discovery" route takes you further up north, all the way to Cape Reinga (where the Tasman Sea and Pacific Ocean meet), we turned West and crossed the peninsula to the Waipoua Kauri Forest.
Here we marveled at the giant Tane Mahuta, the largest kauri tree alive. It's estimated to be almost 2000 years old! Unfortunately, there's a disease spreading through New Zealand's forests, which is killing the magnificent kauri's, so the New Zealanders put up shoe desinfecting stations.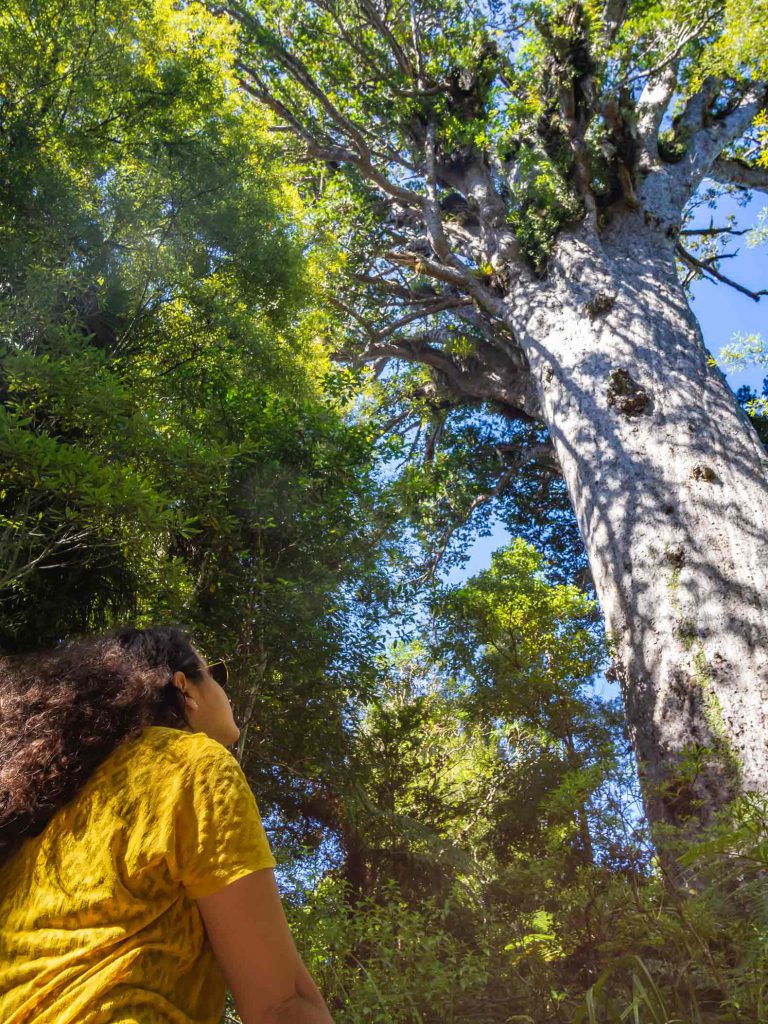 Down and out
Our last night in Northland, we camped on the coast of the inland sea. Tired from a long day of driving (it took us about 7 hours to get here from Paihia), we were happy to find a nice spot by the water.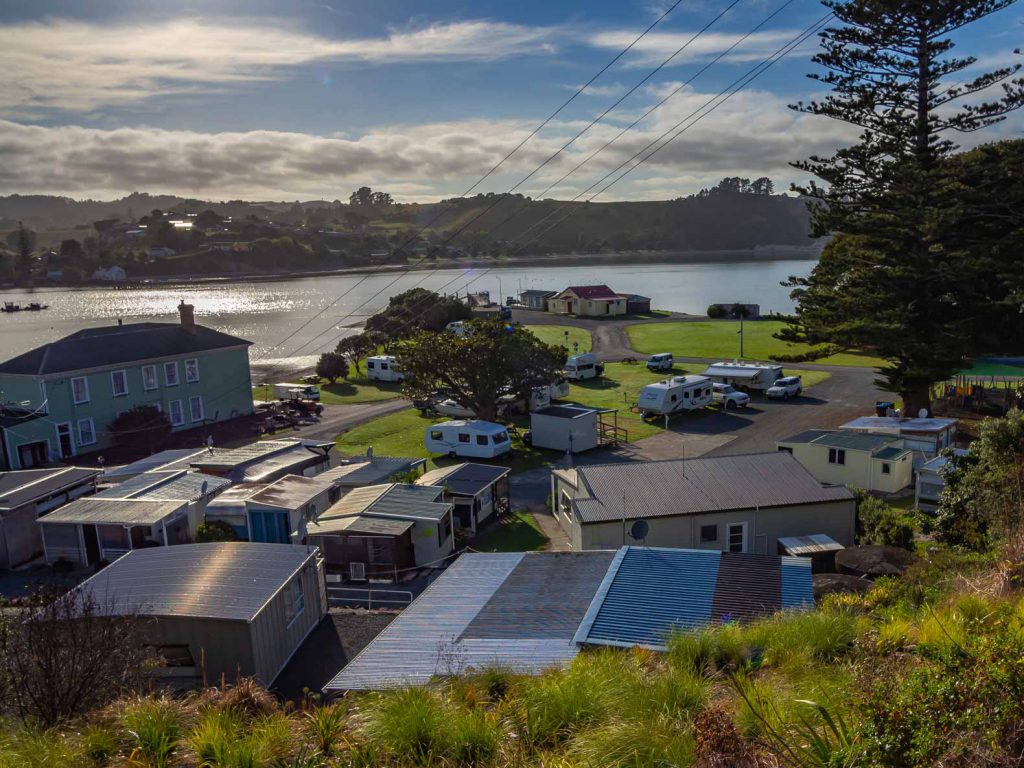 The next day was another long drive, as we headed back past Auckland and then East to the Coromandel peninsula. But we'll save that for another post!
All in all, we absolutely loved Northland! The beautiful and diverse nature, great walks and quiet beaches made it the perfect start of our trip to New Zealand. Even though it might be a bit out of the way of other New Zealand highlights, we would definitely recommend anyone who visits New Zealand not to skip Northland and make the journey up north for at least a couple of days!
Pin it for later!
Hi, my name is Sandra and I'm half of the traveling couple that makes up Bus stops & Flip-flops. I'm finally living the dream by traveling the world with my husband Geert. My other hobbies are eating good food, dancing and sleeping in. Did you enjoy reading my blog post? I'd love it if you leave a comment!
---
---