Our Bay of Islands Dolphin Cruise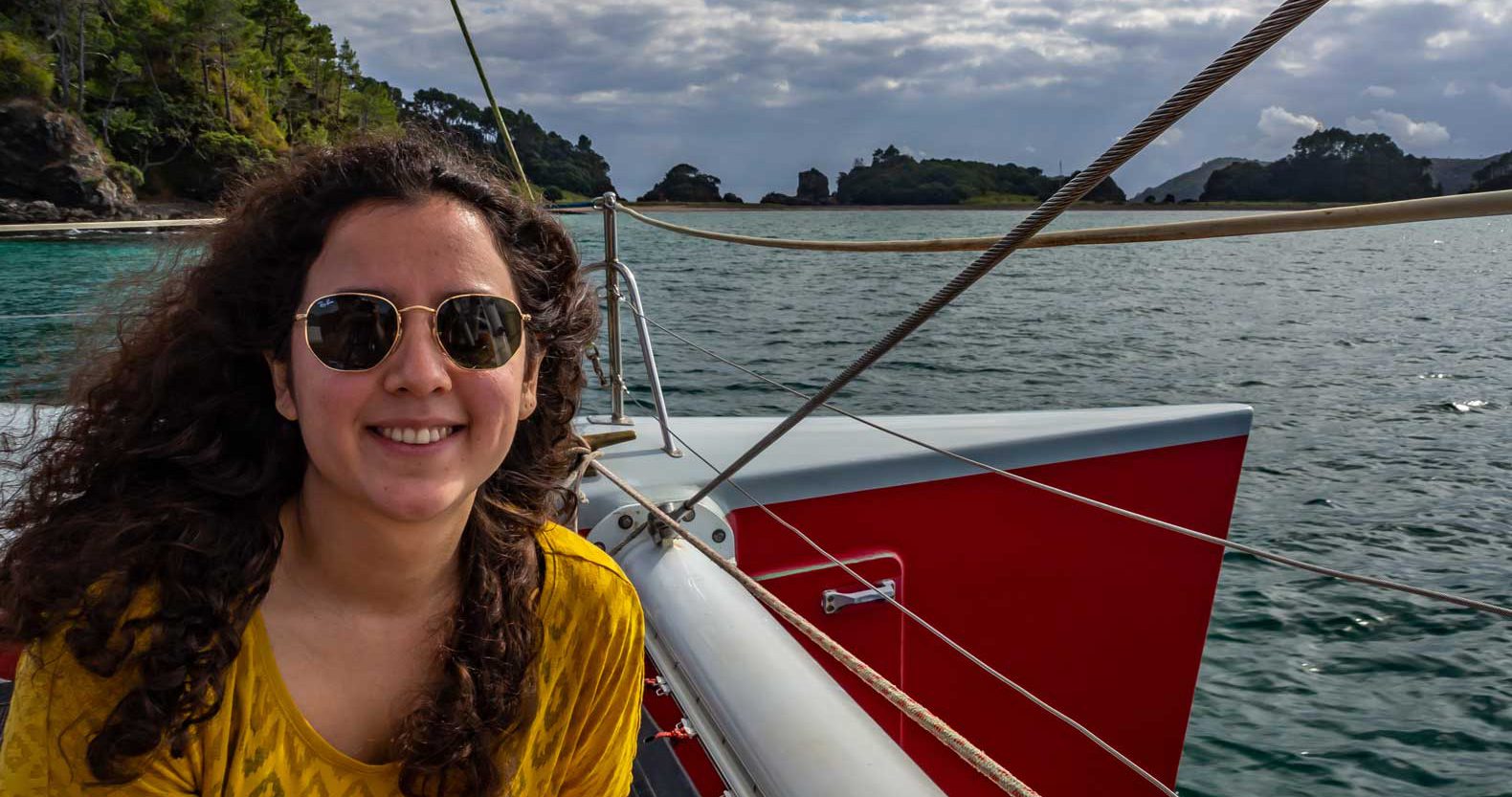 This post might contain affiliate links, which means we may receive a small commission on purchases made through these links, at no additional cost to you.
After recovering from our jetlag in Auckland (Amsterdam – Auckland in 33 hours is no stroll in the park…) one of the first stops of our Northland itinerary was The Bay of Islands. This area, which is about a three hours drive north from Auckland is known for its, you guessed it, beautiful bay and 144 islands!
The Bay of Islands has a subtropical climate so we made sure we packed our sunglasses and flipflops! Although warm weather was a nice bonus for us after coming from winter in Europe, our reason for visiting the Bay of Islands wasn't to get a tan. We wanted to see, and possibly swim with, wild dolphins!
So we did our online homework (well, actually Sandra did, but who's counting…) and booked a Bay of Islands dolphin cruise with a nice family owned company, called Carino Sailing & Dolphins. They own a beautiful catamaran which only takes 15 tourists per cruise; way more personal and relaxed than the big cruising companies with their huge boats.
Wondering if we got to swim with dolphins? Read on to find out how we spent the day sailing the Bay of Islands!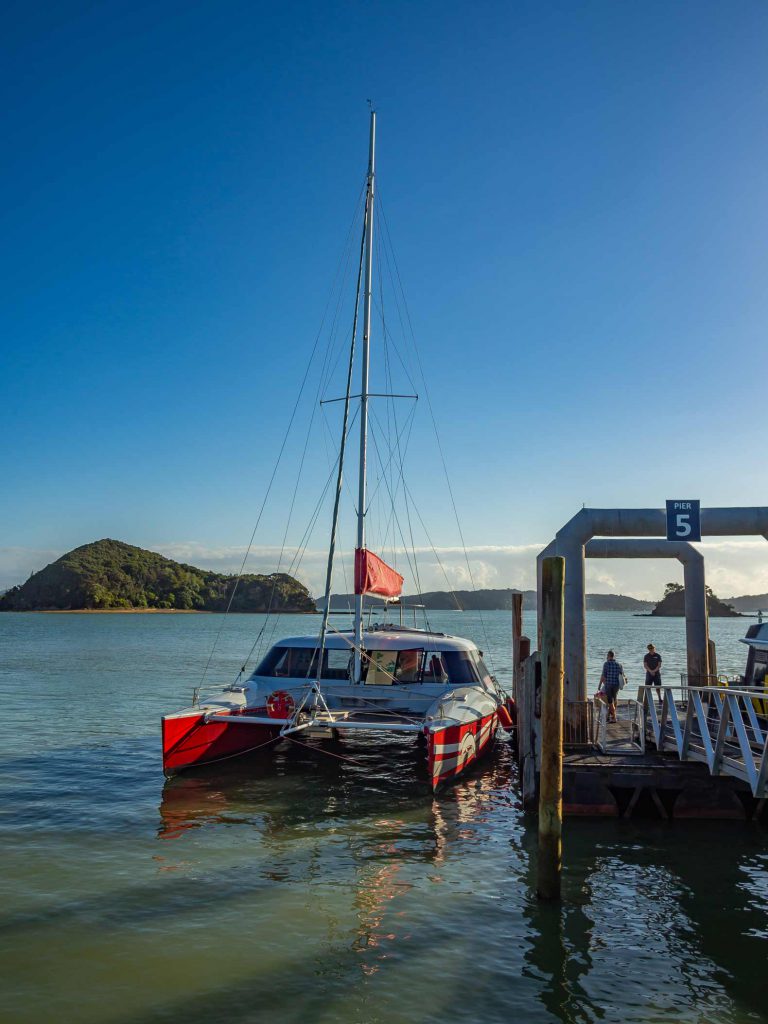 Sailing out
After arriving at the harbour of Paihia just before 9 in the morning (the boat departs at 9 AM) and settling ourselves on the sundeck at the front of the catamaran, we sailed out of the harbour in search of some highly anticipated dolphins. Ship ahoy!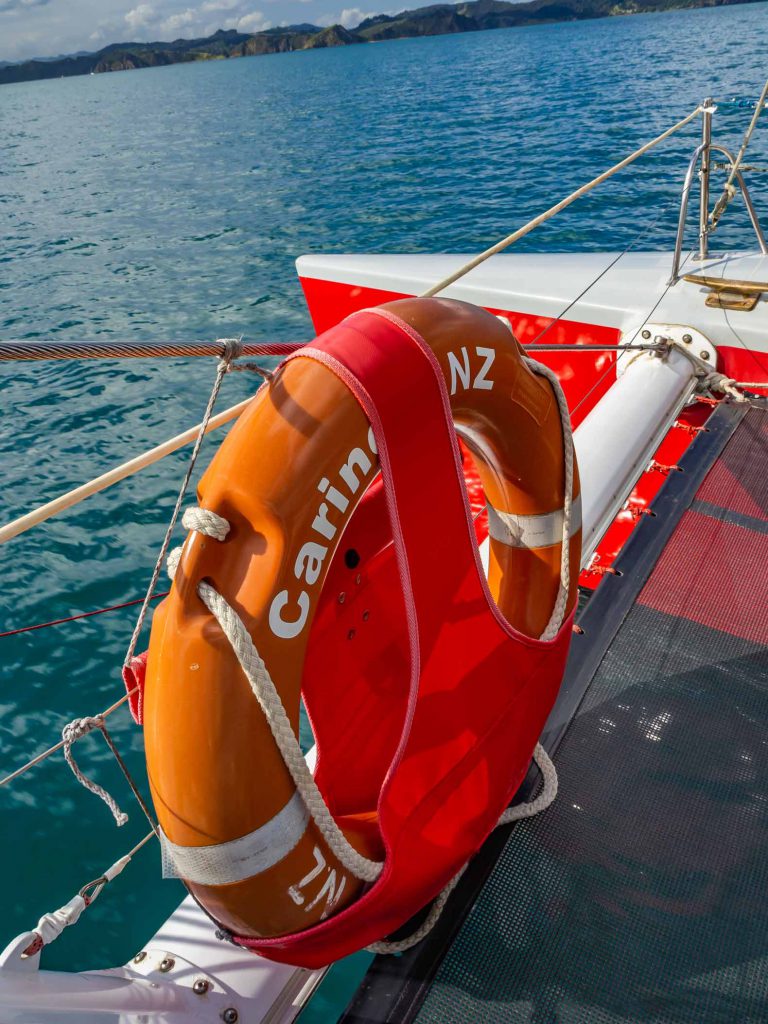 Once underway, the crew told us about the layout of the bay, the sailing route of that day and the dolphins we were after. The dolphins we were "hunting" were Bottlenose dolphins, the most commonly seen dolphin species in the Bay of Islands.
The boat we were on has a specific license to follow pods of dolphins and let its passengers snorkel with them. Therefore, we were very excited and scanned the ocean surface for any sign of them.
Dolphins, hello?
The entire morning we sailed through the bay while the crew kept in close radio contact with the other dolphin cruise boats. This way they could alert each other if one of them found a pod. Unfortunately, we didn't see any and neither did the other boats.
To make matters worse; just before lunch we heard that another boat spotted a pod of dolphins but that they were swimming in a certain area in the bay where the boats are not allowed to follow. Kind of a time-out zone for dolphins, I guess? We were all hoping that they would swim out of the protected area again.
Lunch break at a deserted island
While hoping for the best we went ashore at one of the many beautiful uninhabited islands in the bay. We snorkeled a bit and climbed up to a high vantage point to get a great view of the bay. Although everyone was hoping for a dolphin encounter, the stopover at the island was already a treat! Those lush green islands spread out over the blue waters were just magnificent to behold!
After our little island discovery the crew brought us back to the catamaran by motorboat. During a delicious lunch (sausages from the BBQ) the crew told us that there were still no dolphin sightings.
By now, everyone was getting a bit nervous. It wouldn't happen to us that we'd miss out on dolphins on a friggin' dolphin cruise in the Bay of Islands?!? They had told us before that they give no guarantees; the animals are wild after all…
Fingers crossed for some dolphins
So after lunch we sailed out again. The crew continued scanning the seas while keeping in contact with the other boats. We couldn't do anything else than keep our fingers crossed and enjoy the beautiful views!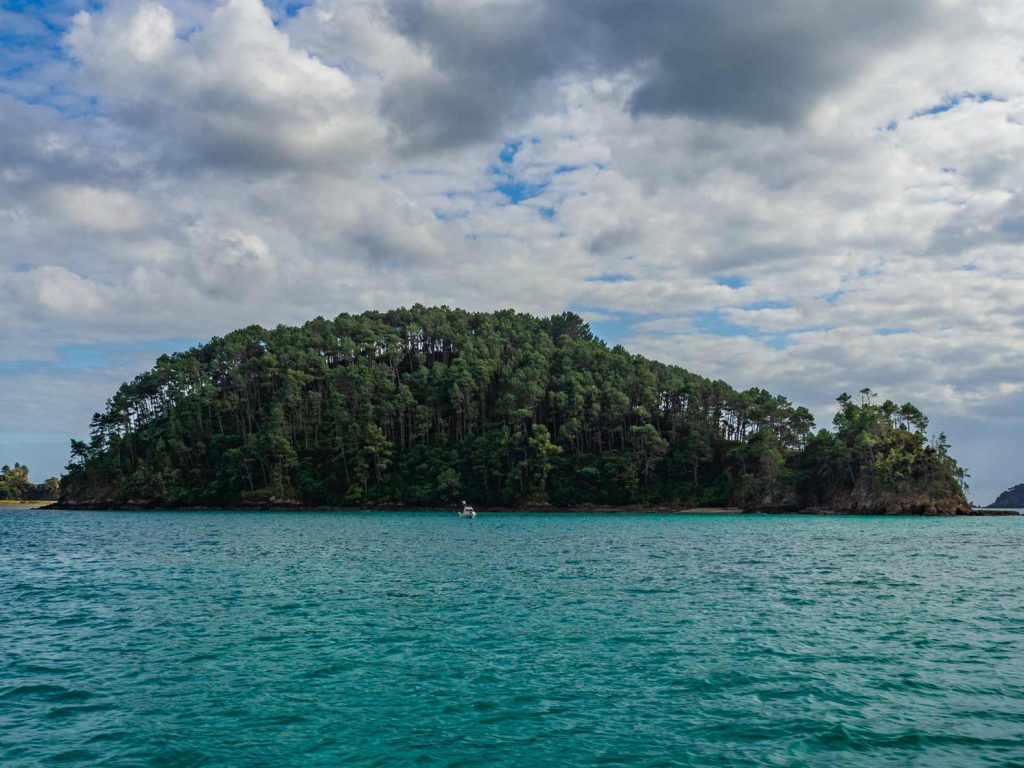 The minutes were creeping by and everyone was getting more and more anxious. As we were getting closer to the end of the tour, the crew received some very good news. Finally another boat had spotted a pod of Bottlenose dolphins! So immediately the catamaran changed its course and made a beeline to the specific site.
Bottlenose dolphins!
After a lot of frantic gazing at the sea (at least for my part) we finally got what we came for. Bottlenose dolphins started popping up around the boat out of nowhere. And damn, those animals are huge; they can get up to four meters!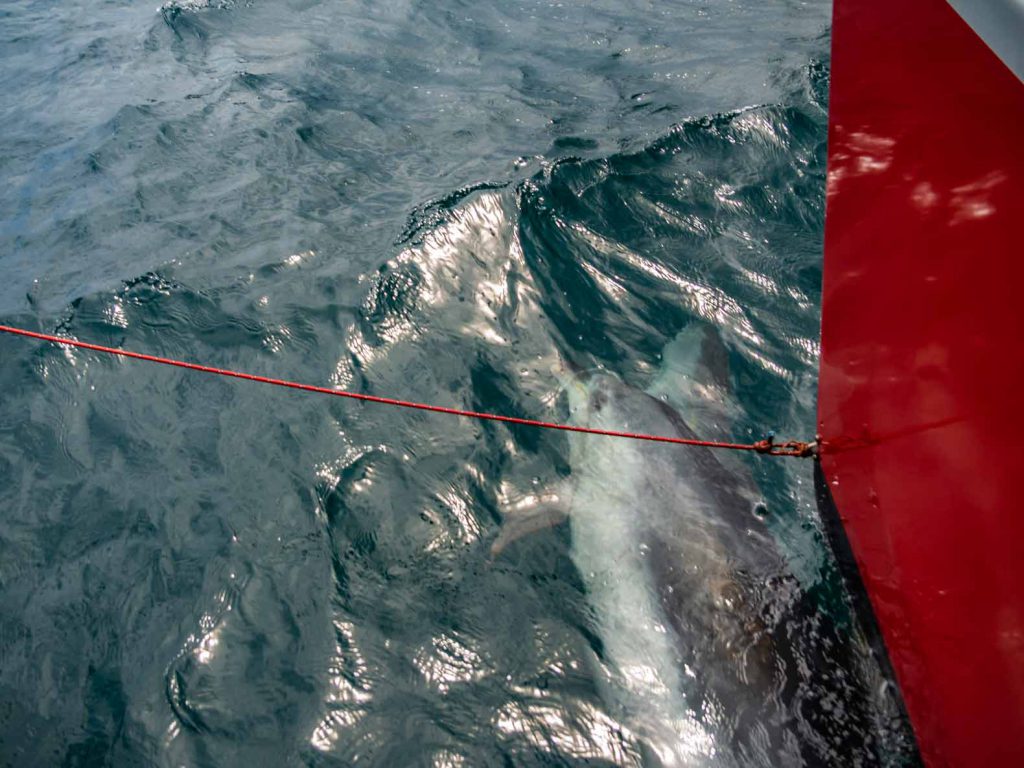 The fun thing about these animals is that they are not shy at all. They actually seem very curious about boats and human beings. So before long they were doing their acrobatics around the boat. They were jumping out of the water and swimming around and under the catamaran.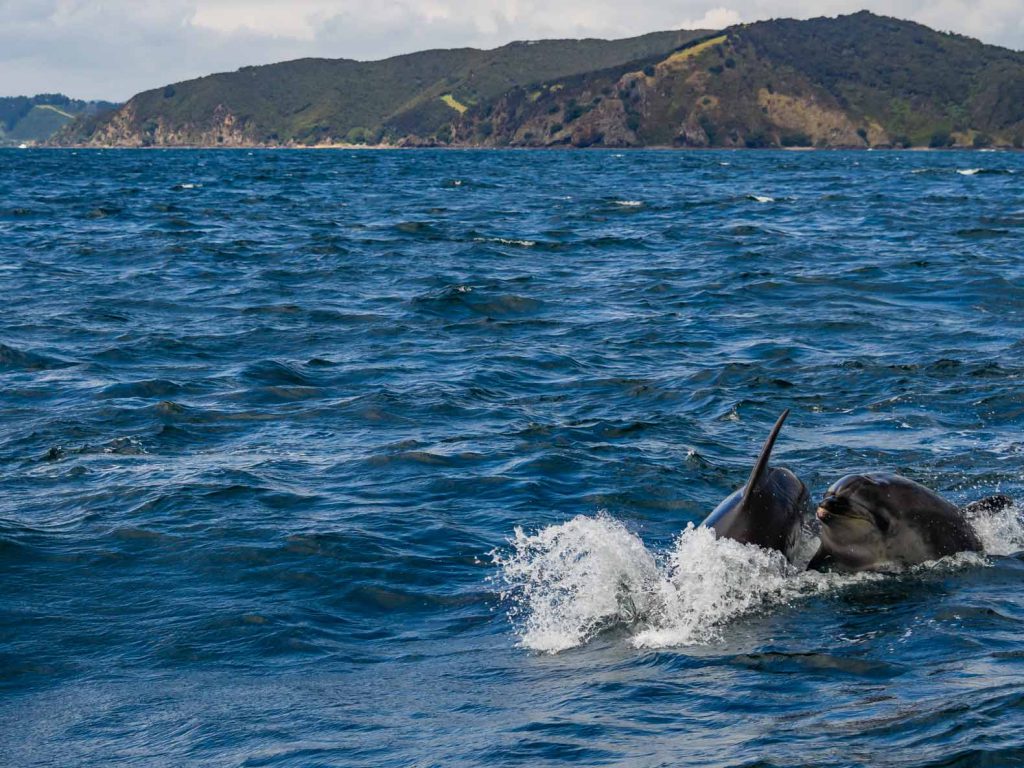 All people on the tour were scrambling from port to starboard (yes, I'm already talking in sailors' lingo) to get a good view and pictures of the dolphins. There was a buzz of excitement in the air which we all felt. Every time a dolphin surfaced near the boat or jumped out of the water, all you heard was 'oooh' and 'aaah'.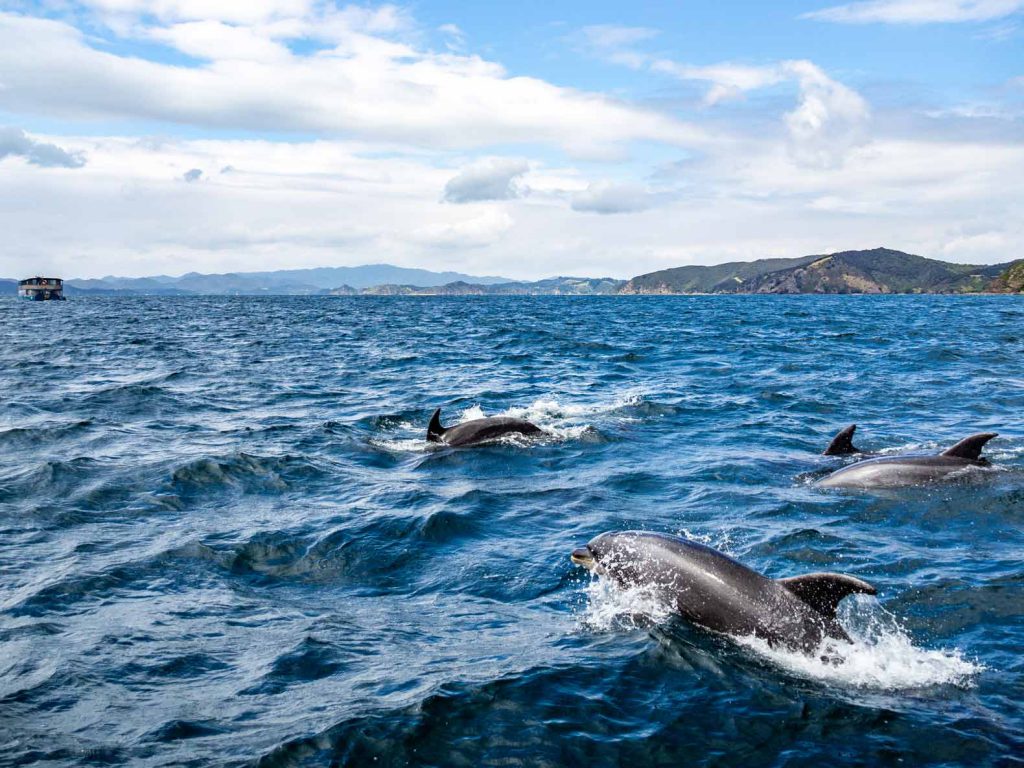 Unfortunately, because the pod had a baby dolphin (super cute) we weren't allowed to swim with them. That really would've been the cherry on the pie. But you can't have it all, I guess.
After about 30 minutes we had to head back to the harbour and leave our playful friends behind. Sailing back, I noticed that everyone on the boat had a huge smile on his or her face. I wonder why!
Overall experience of our Bay of Islands dolphin cruise
First of all, any day on the water is a good day, in my book. Cruising around on a catamaran cleaving through clear blue waters, surrounded by beautiful scenery, is already a great experience in itself. The kind and knowledgeable crew of Carino Sailing & Dolphins added greatly to the experience.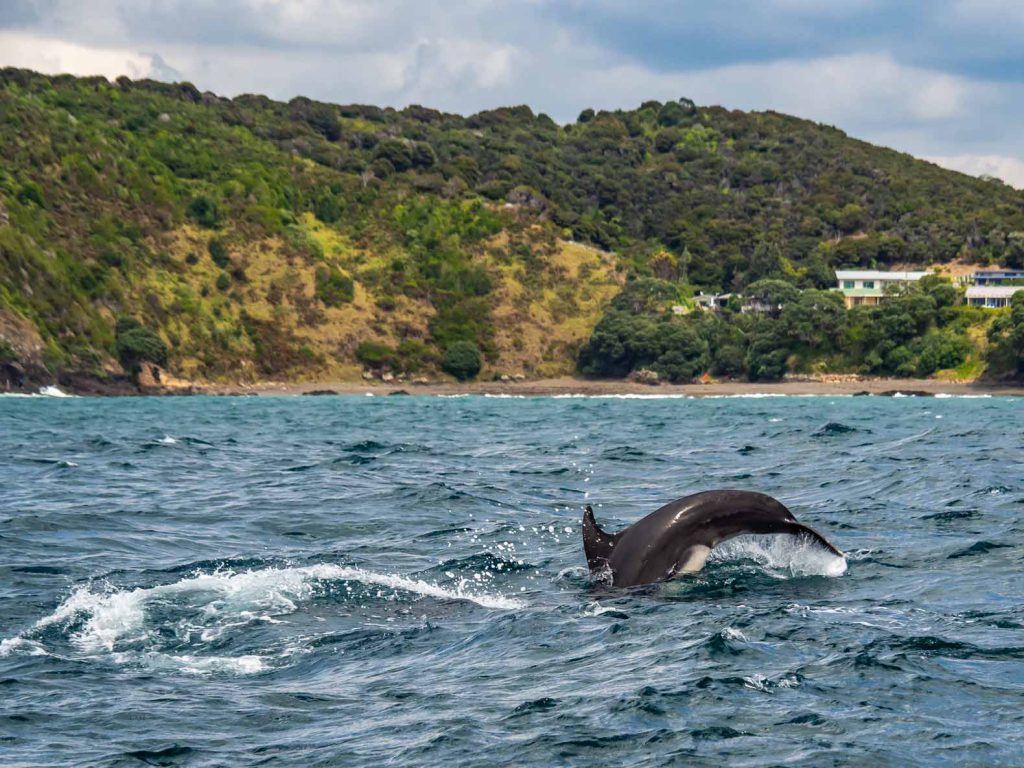 The weather could have been better, though. With some rain and wind and choppy seas it wasn't your average sunny substropical day. But in the end we were glad that we got what we came for; some awesome dolphin acrobtics and a lot of great pictures. We would recommend this dolphin cruise to anyone!
Pin it for later!
Hi, my name is Geert and I'm traveling the world together with my wife Sandra. I like photography, cooking and eating good food, and exploring the outdoors.
---
---