Why you should NOT visit Hot Water Beach!
This post might contain affiliate links, which means we may receive a small commission on purchases made through these links, at no additional cost to you.
(and spend the entire day at Cathedral Cove instead)
It was in our Lonely Planet, it was in all New Zealand itineraries we saw, and it was supposed to be awesome. But to us, Hot Water Beach was an amazing disappointment. Why? Read on and we'll tell you exactly why you should skip Hot Water Beach and spend the entire day at Cathedral Cove instead.
What is Hot Water Beach?
Let's start at the beginning, in case you don't yet know what Hot Water Beach is. Hot Water Beach is a beach (what a surprise, right?) on the Coromandel Peninsula in northern New Zealand. What makes this beach different from other beaches is that hot water flows up from underneath the surface.
A volcanic eruption many million years ago has left a slab of hot stone deep underground, which heats the ground water and sends it up to the surface as hot as 64 degrees Celsius.
These hot springs are only accessible two hours either side of low tide. During high tide, they are covered by sea water. The idea is that you bring a spade, dig a hole, and create your own spa pool on the beach. Sounds good, right?
How we experienced Hot Water Beach
When we were on the Coromandel Peninsula, low tide was at a convenient 1.30 PM. This meant that we could visit Cathedral Cove in the morning (more on that later) and Hot Water Beach in the afternoon.
The spades for Hot Water Beach
We'd read that you could rent spades from a shop at the beach for $5. Being the cheapskates that we are, and hoping we could make use of an abandoned pool that was dug by someone else earlier in the day, we decided to first go to the beach and take a look.
The parking at Hot Water Beach
As you drive up to Hot Water Beach, you need to be on the lookout for the car park. This is because there are two car parks: one is free and the other is pay-and-display. All signs and tourist information try to guide you to the paid car park.
Strange thing is, the free car park is only a five minute walk over the beach to reach the hot springs. It already makes it feel a bit like a tourist trap that nobody tells you about this…
The pools at Hot Water Beach
Anyway, we were lucky we did our research and found the free car park. As we walked onto the beach, it was immediately clear where the hot springs were. There were about a hundred people crammed together on a very small patch of the otherwise deserted beach.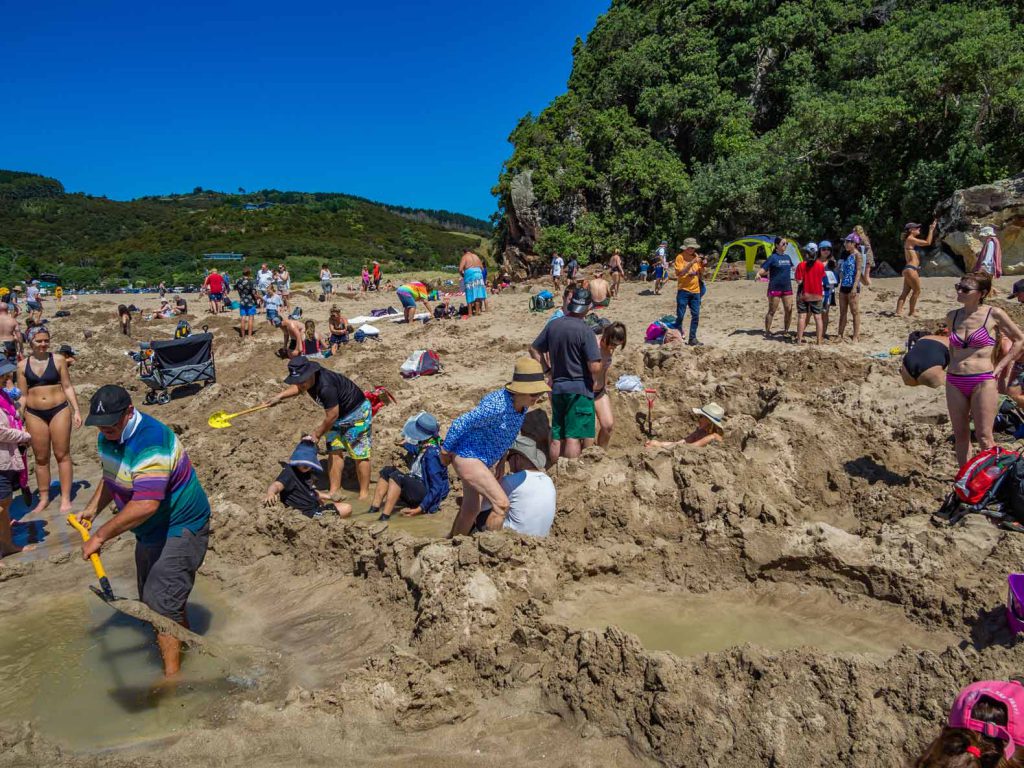 We did not feel like we were at the relaxing spa pools that we were promised at all. People were scrambling all over each other, trying to find a spot to dig a hole.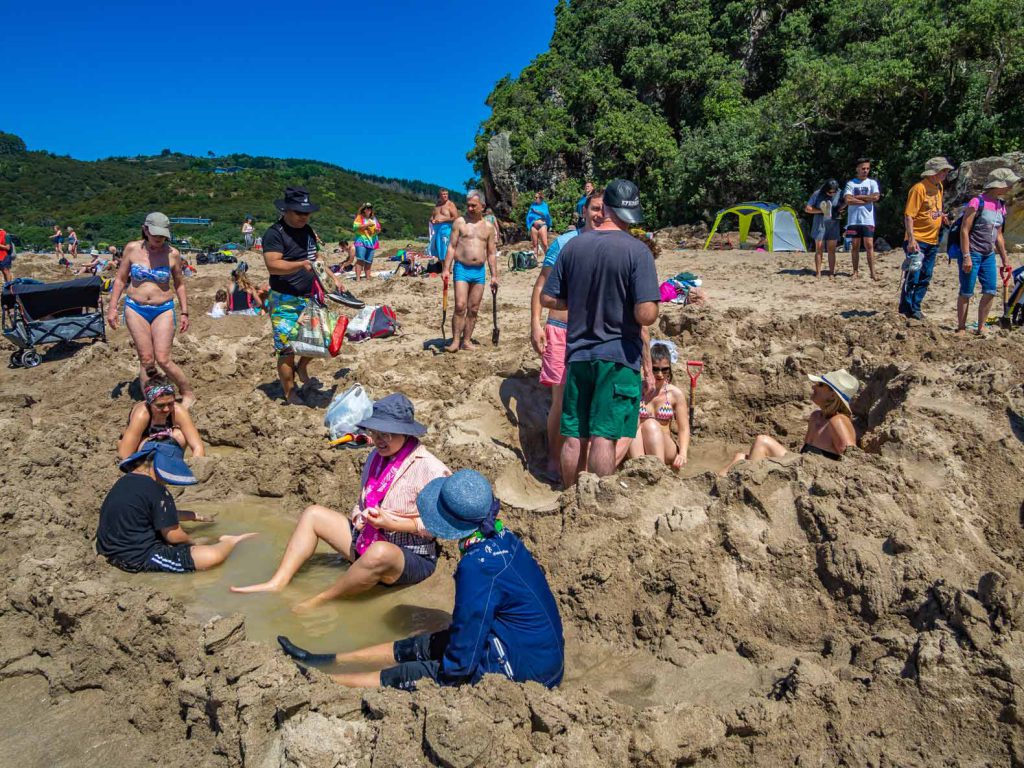 Meanwhile, there were other holes that were empty, but people had set their spade in with a T-shirt over the top to mark their territory as they were away (probably to swim in the ocean). It felt a bit like leaving your towel on a pool bed at your all inclusive resort.
There were also a lot of people that seemed to have dug a hole without any result. The hot water area is very limited, and being just a couple of meters to the side, meant that only cold water came up into your pool.
Our overall impression of Hot Water Beach
After dipping our toes in a couple of pools, and confirming that indeed some had hot water coming up, we decided that we'd had enough of this madness.
We congratulated ourselves that we'd not spent any money on parking and spade rental and opted instead to find a nice spot a bit further up the beach to soak up some sun in peace and quiet. After all, the beach was quite beautiful and the sea water was lovely as well.
Sidenote: if low tide had been at a less favourable time (e.g. very early in the morning), or the weather would have been worse, it probably would have been a lot less busy. So if this is the case when you're around, by all means take your chance and go for it. Who knows, you might get a nice and relaxing spa pool all to yourself.
However, we secretly did wish that we'd skipped Hot Water Beach and had stayed at Cathedral Cove a bit longer. Below, we'll explain why.
What is Cathedral Cove?
A visit to Hot Water Beach is often combined with a visit to Cathedral Cove. The two attractions are only a short ten-minute drive apart, and both are located on the beach. This makes them a perfect, sunny, beach day trip (in theory).
Cathedral Cove is a pristine stretch of golden sand, framed by a gigantic stone arch and huge chunks of rock protruding from the ocean. It's about as photogenic as a beach can get.
You reach the cove either by a walk over the cliffs with stunning ocean views, or by coming in over water (join a kayaking trip or take the water taxi).
How we experienced Cathedral Cove
Cathedral Cove was just a 25-minute drive away from our camp ground that night, so we arrived there nice and early (and we recommend you do the same).
The parking at Cathedral Cove
We parked our car at the big and well-marked car park at the beginning of Hahei and decided to walk up to the start of the track on the other side of town.
There is also a shuttle bus available (I believe the cost was $5 for a return trip), that will take you to the start of the track. This will save you a 25-minute up hill walk (and back down as well), so could be worth it if you're not on a tight budget.
If you're visiting Cathedral Cove in winter, it's also possible to park at the start of the track, but there is a fee. However, in summer the upper car park is closed and your only options are walking up or taking the shuttle bus.
The walk to Cathedral Cove
The track starts with a bang as you immediately get a beautiful view of the ocean and some small islands just off the coast. There are some panels, which give you more information about Cathedral Cove and the walk there.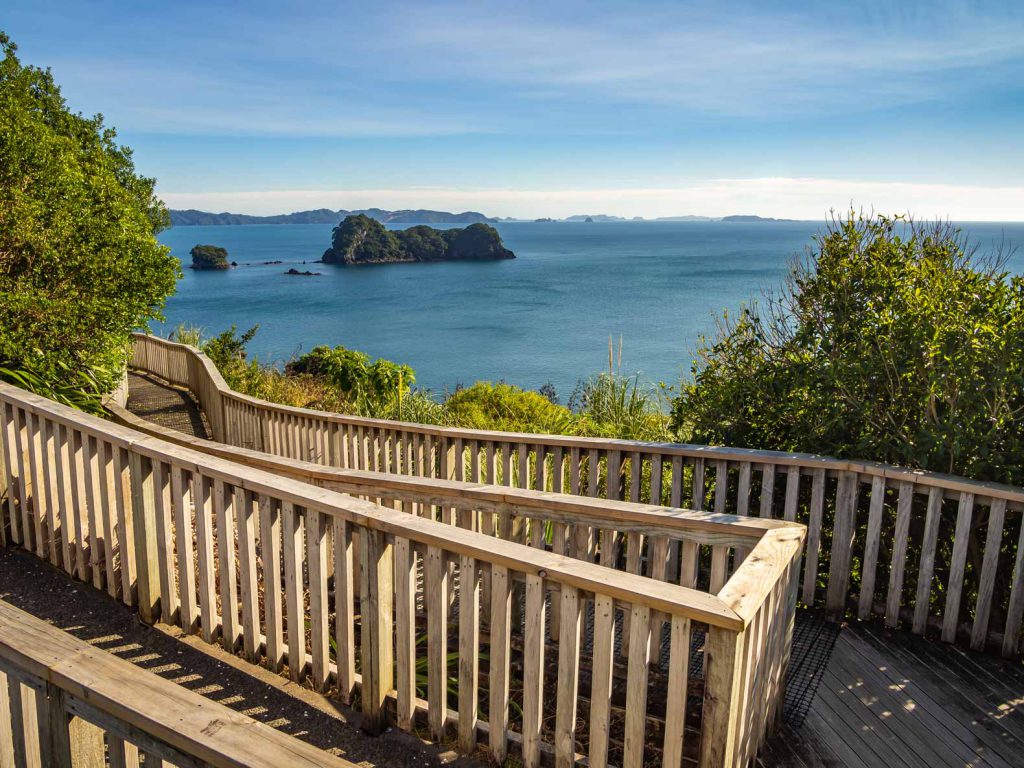 The walk from the upper car park to Cathedral Cove took us about 45 minutes. It's a very nice walk up and down the cliffs through bushes, trees and meadows and we enjoyed it very much.
The path can be quite steep at some points, but it's nicely paved so it shouldn't be too much of a challenge. Just take a rest every now and then and enjoy your beautiful surroundings!
The beach at Catheral Cove
After descending some final stairs, we arrived at the beach feeling a bit tired. However, it was definitely worth it. Cathedral Cove was as beautiful as our guide book promised. The archway was quite big and connected two beautiful beaches.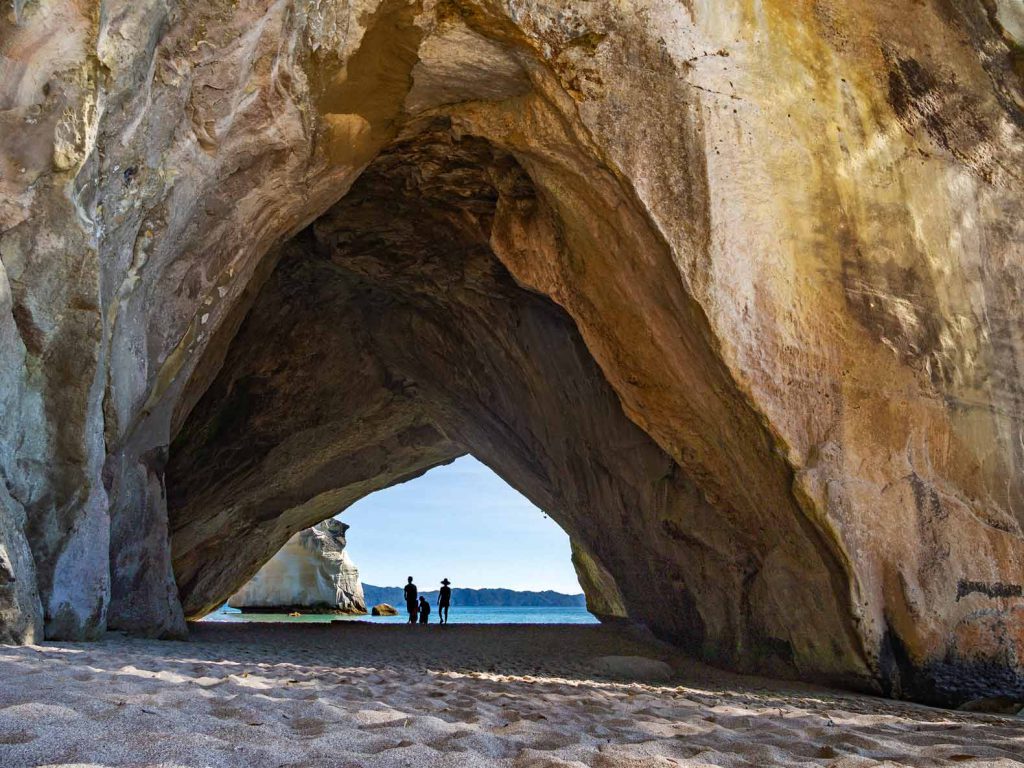 We spent about 45 minutes on the beach, resting, taking photos and admiring the amazing scenery. There's kayaking groups and water taxi's coming and going, so you can watch all the people pass by.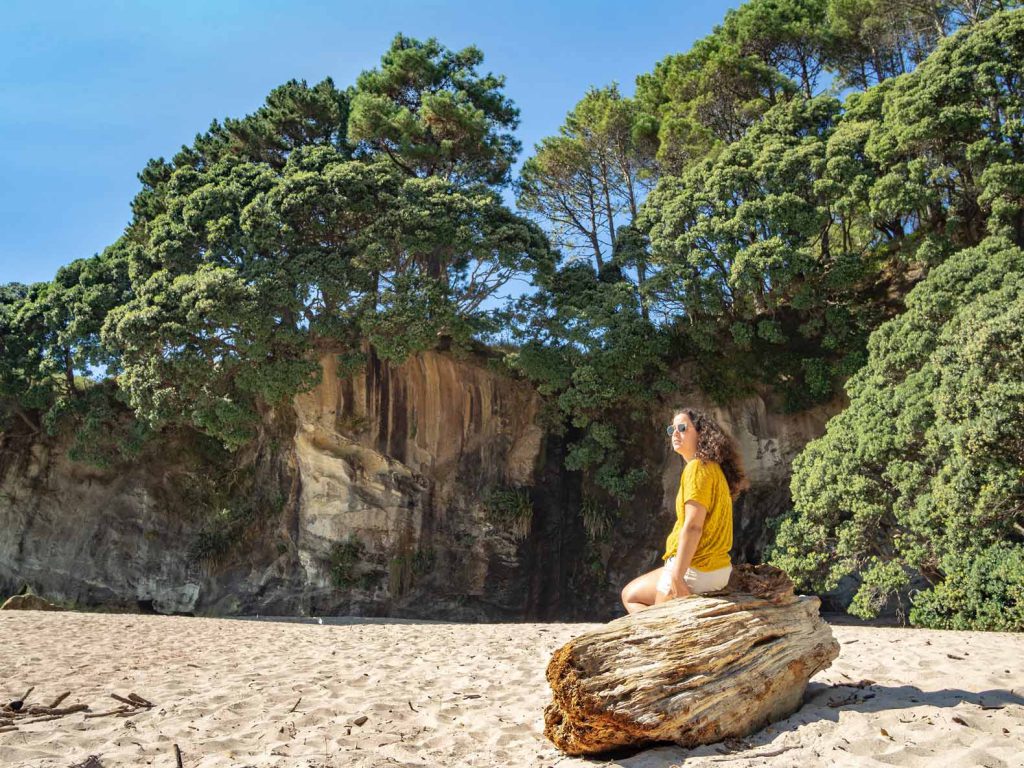 As we started walking relatively early in the morning, it wasn't very busy yet and there was plenty of space to lay down a towel. If you're not going to Hot Water Beach afterwards, you can take a bit more time to lie on the beach and take a dip in the water.
The "secret" bays at Cathedral Cove
As you walk on the track towards Cathedral Cove, you'll pass two side trails off the main path. These lead to Stingray Bay and Gemstone Bay and should be your next destination, once Cathedral Cove get's too busy for your liking or you're just ready for a change of scenery.
As almost everybody comes to look at the main attraction, these bay's are actually very quiet. Just head back up the track the way you came untill you reach one of the side trails and follow it down to the bay. We opted for Gemstone Bay, but once again, if you have more time you could visit them both.
Gemstone Bay is quite the sight. The stairs that lead you to them almost look like they'll end right in the water. The bay is quite small and there's no beach. Instead, there's about 10 meters of rocks before the ocean starts. The rocks are quite big and rounded, so you'll have no trouble walking over them.
Gemstone Bay is a nice place to go snorkeling. You could see snapper, crayfish and even stingrays (we weren't so lucky to see a stingray though). You can also walk past the cliffs to a cave, a bit further down.
When we were there, we only had to share Gemstone Bay with a group of New Zealand kids that came there to swim and snorkel as well. So if you're lucky, you might even get the bay to yourself!
After Gemstone Bay, you've only got about a 10 minute walk back up to the start of the track at the upper car park. This makes it a great final stop at the end of your day at the ocean.
Our overall impression of Cathedral Cove
We utterly enjoyed our visit to Cathedral Cove and Gemstone Bay and would recommend it to anyone. As it does get busy with tourists at the Cove, we suggest you get there early so you can enjoy it without too much crowds. Once it get's too busy, you simply take off to one of the other bays. Perfect!
Where to next?
Why not check out some of the other destinations we loved in New Zealand, such as the Bay of Islands or Rotorua? And for those who love hiking, we've put together two lists of our favorite hikes on the North Island and South Island!
Pin it for later!
Hi, my name is Sandra and I'm half of the traveling couple that makes up Bus stops & Flip-flops. I'm finally living the dream by traveling the world with my husband Geert. My other hobbies are eating good food, dancing and sleeping in. Did you enjoy reading my blog post? I'd love it if you leave a comment!
---
---