Bangkok attractions: a 48-hour guide!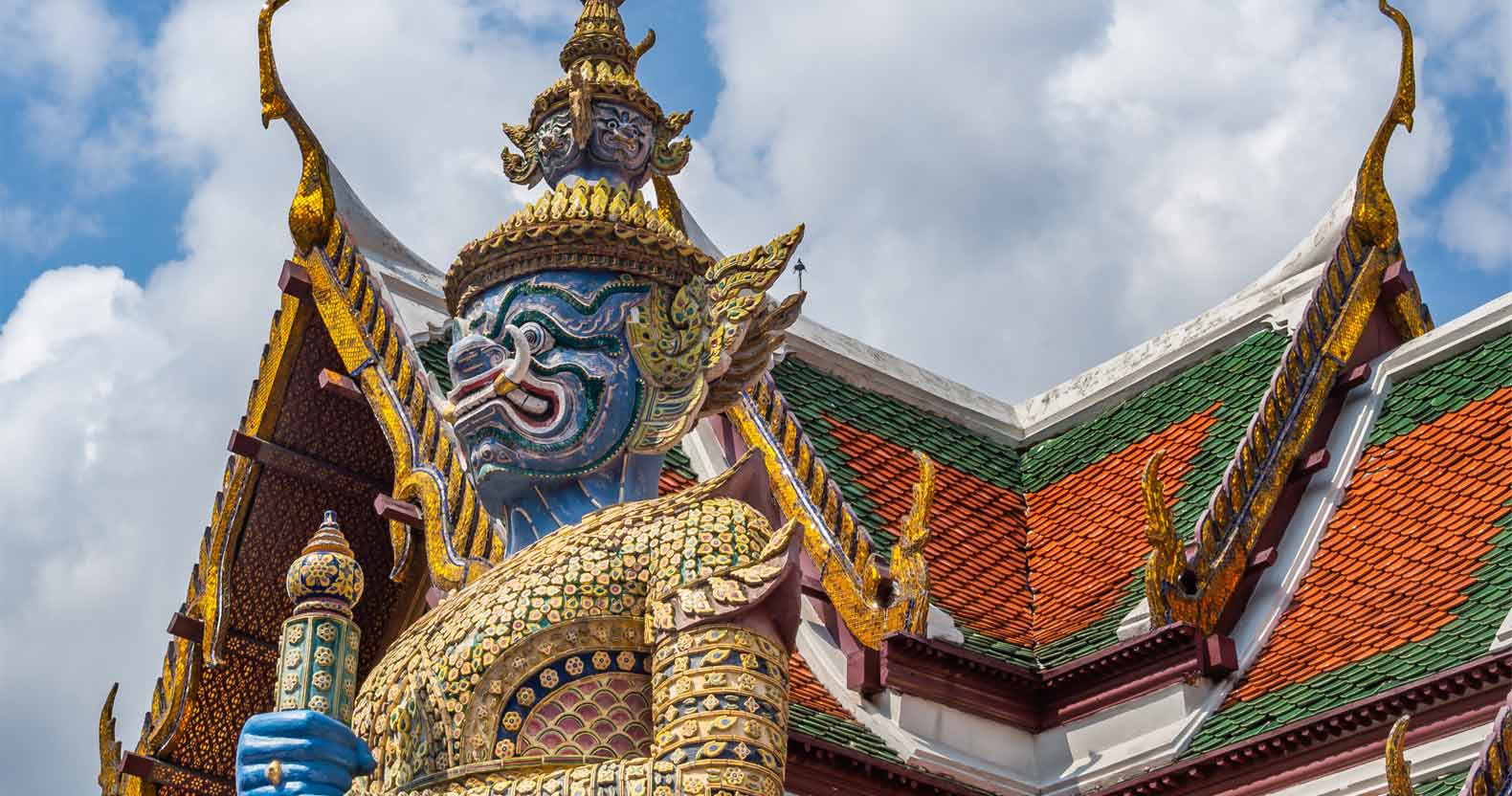 This post might contain affiliate links, which means we may receive a small commission on purchases made through these links, at no additional cost to you.
"What's the capital of Thailand?" a friend asked me once. And before I had my answer ready he punched me in the nuts… Did you get the joke? Apparently I have those kind of friends… 😉
So although my first "experience" with Bangkok wasn't a pleasant one at all, I was definitely looking forward to the real deal: a 48-hour stay in Bangkok as our first stop in Asia during our year of travelling the world. Bangkok was also the place where we met up with our friend Dorien, who joined us for three weeks of traveling through the south of Thailand. It's always nice to have friends over! 🙂
Bangkok is a city of millions and a travel hub for many travelers who are exploring Southeast Asia. Visitors to Bangkok usually fall into one of two categories: either you love the bustling city with all its food stalls and beautiful temples, or you hate the traffic clogged city and travel on as soon as possible.
After visiting Bangkok I can say we defenitely fall into the first category; we quickly grew very fond of this busy metropolis. Although we weren't off to a great start in Bangkok (2 hours, instead of 40 minutes, in a bus from the airport to the old city center in rush hour) the rest of our stay more than made up for it.
Why did we love Bangkok so much? Well, below are some very good reasons why! Read all about the Bangkok attractions we visited during our 48 hour visit.
The Grand Palace
When you're in Bangkok, the Grand Palace is one of the things you shouldn't miss. It's by far the most popular of all Bangkok attractions! The complex boasts a great deal of beautiful architecture, including Wat Phra Kaew. This temple is the most important Buddhist temple of Thailand and contains the very famous Emerald Buddha. Unfortunately, you're not allowed to take pictures inside!
The Emerald Buddha attracts millions of Buddhists and tourists alike from all over the world! The Buddha has four different robes according to the seasons, which are only changed by the King of Thailand himself.
To enter the Grand Palace complex you're asked to dress modestly, so no tanktops, shorts, bare feet, and so forth. I actually had to buy long pants at the entrance (for about 70 Baht) before being allowed in (at other temples in Thailand they seem to be less strict).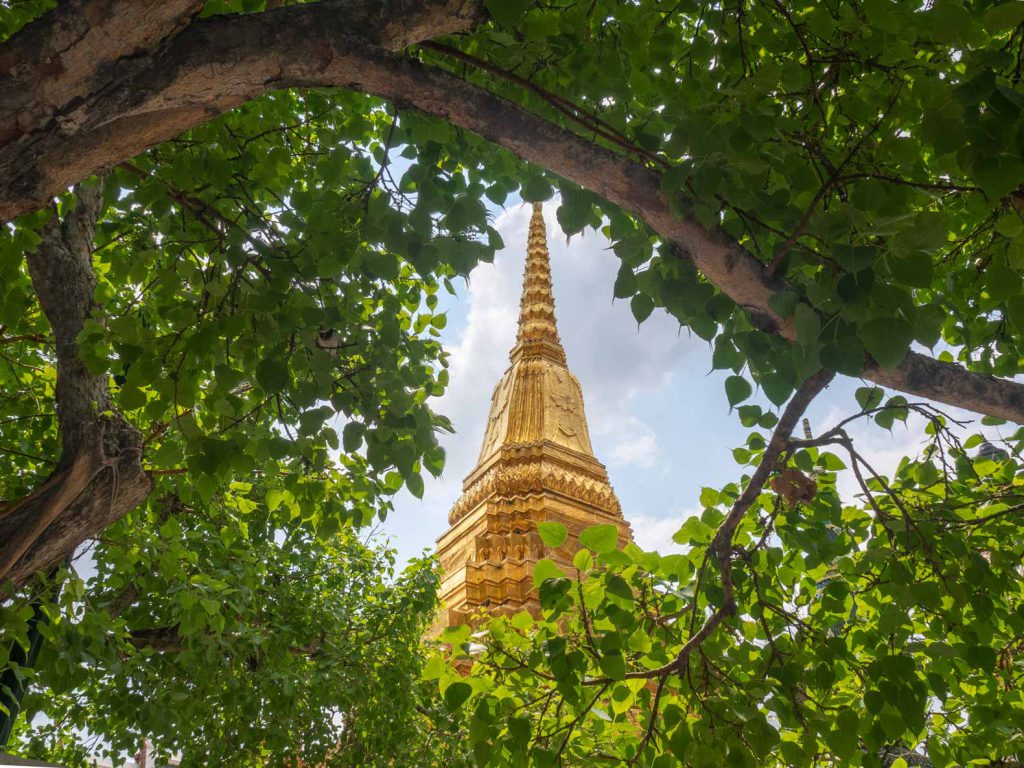 By the way, did you know that, while in a Buddhist temple, you're not allowed to sit with your feet pointing towards Buddha? This shows disrespect. Apparently the guards at the temple of the Emerald Buddha have a full time job reprimanding oblivious tourists (and even some Buddhists).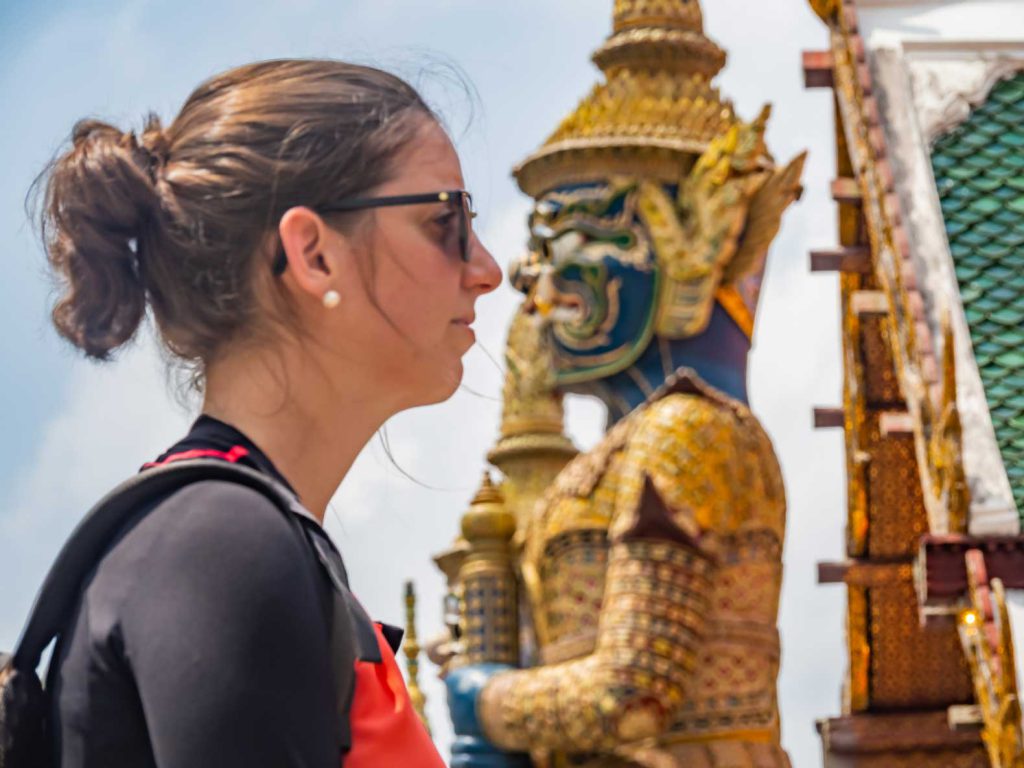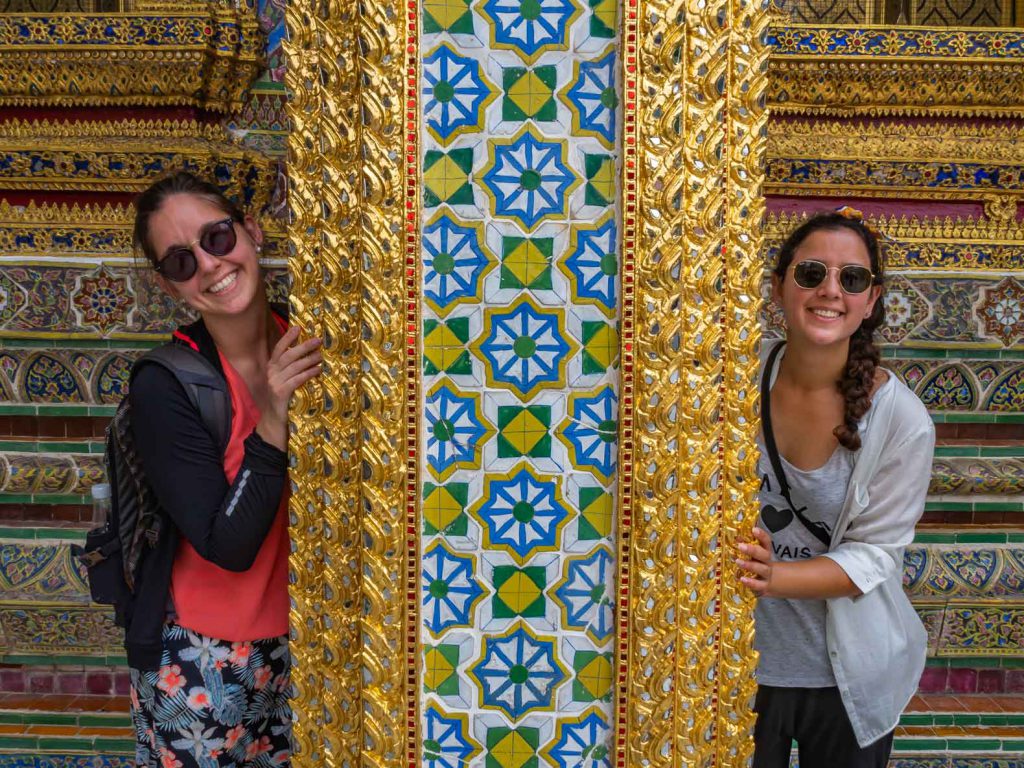 Reclining Buddha
The Temple of the Reclining Buddha (Wat Pho) is my personal favorite! This temple hosts a 15 meters high and 46 meters long Buddha that is lying down. While the Buddha statue is very impressive, this temple is also very busy (we probably shouldn't have come in the middle of the day…).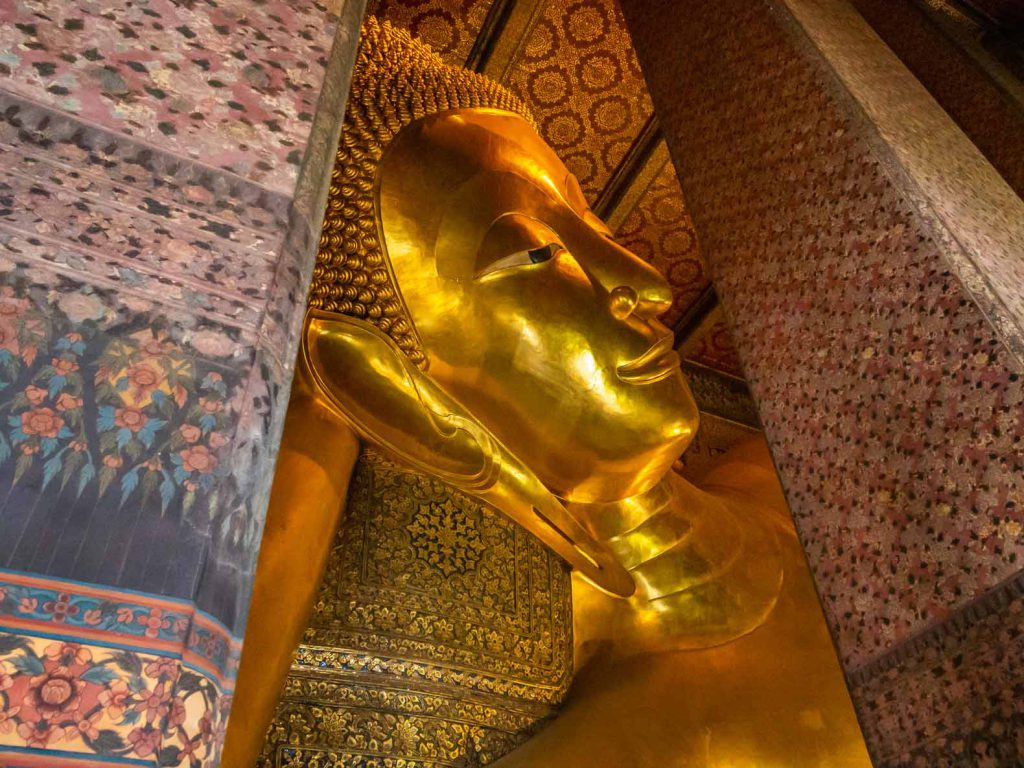 The nice thing about this temple complex though, is that many tourists don't take the time to visit the rest of the complex (Reclining Buddha; check!). This means that the majority of the complex is a lot less crowded than the Temple of the Reclining Buddha. And although the Reclining Buddha is the main attraction, there are also a lot of nice architectural structures and smaller Buddhas to see while roaming around the huge complex. Do as we did and definitely take your time for the rest of the complex.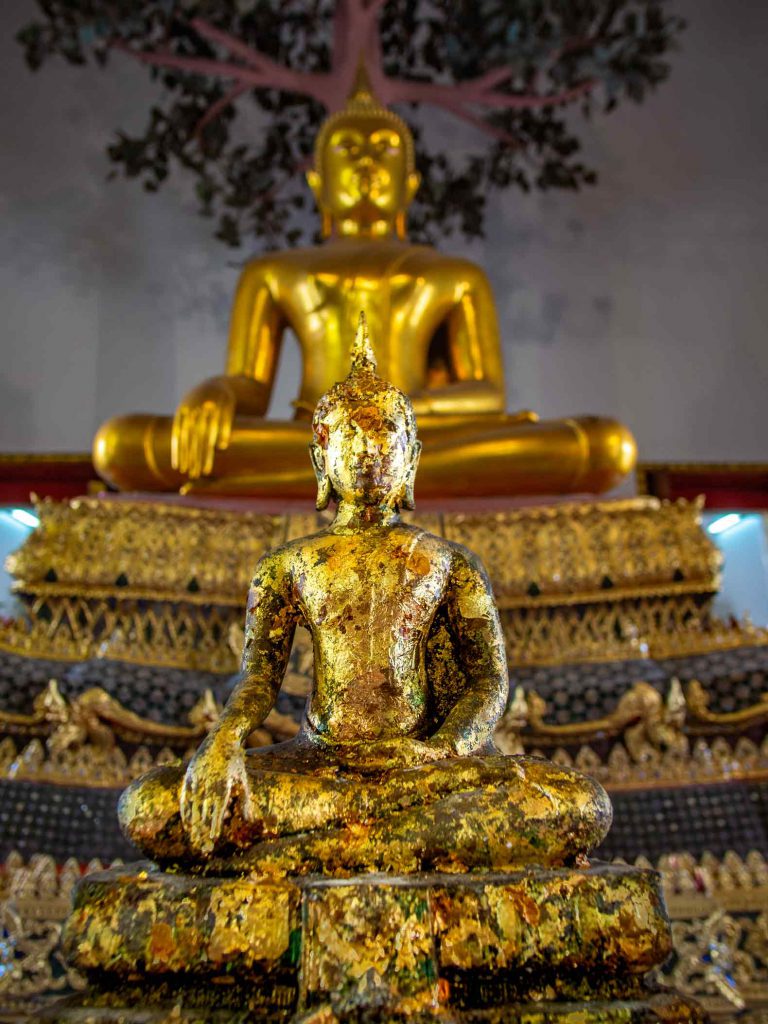 Khao San road
Khao San Road is smack in the middle of the old city center and is a backpackers heaven. In the evening there´s a night market and there´s a lot to see, hear and smell! From loud music booming from bars, to Thai massages on offer everywhere ("Hello, maaassaaaaage?") and street vendors selling all kinds of deep fried creepy crawlers.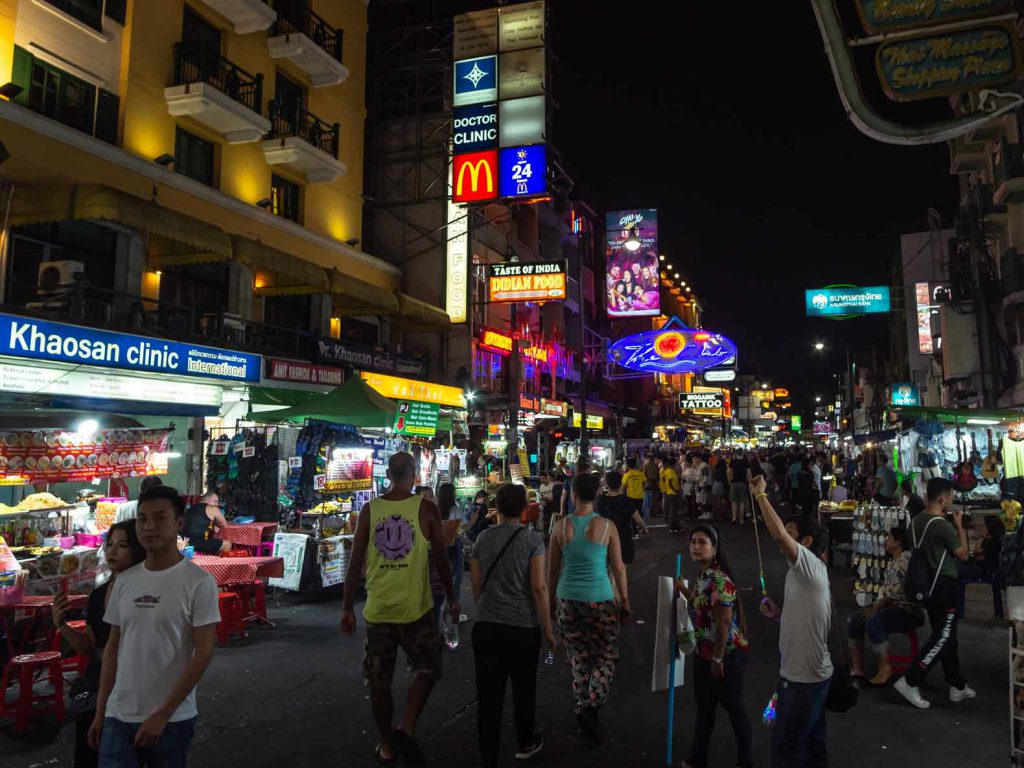 If you're like us, and you like a quieter place to eat or have a drink I suggest going to Rambuttri Alley, the street parallel to Khao San Road. Fewer tourists, less neon signs but still enough to do and see! At the end of the street, near the roundabout there's some great street food available. Try the Tom Yum soup at Tum Kin Kan restaurant;it's to die for!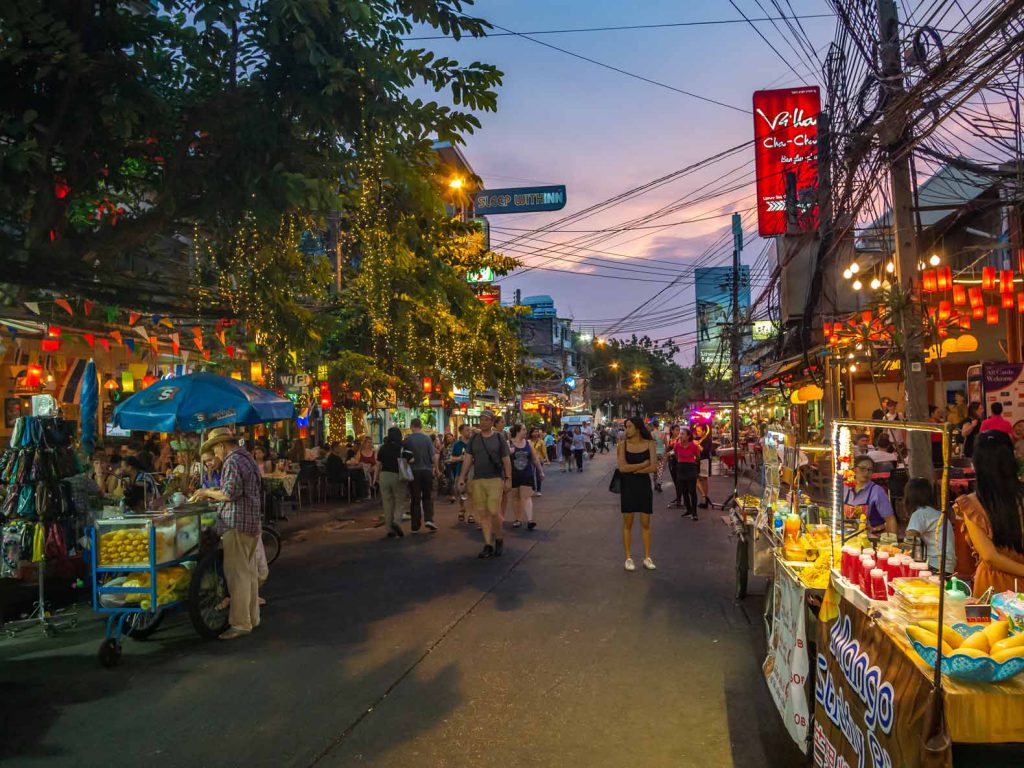 Take a river tour
When visiting Bangkok you won't miss Maenam Chao Phraya. This huge river snakes through Bangkok before it debouches into the Gulf of Thailand. Cruising the river is an excellent opportunity to see the city from a different perspective. Even better; during rush hour you´ll be waving at all the people stuck in traffic while you wizz past on the water.
You can take all kinds of different cruises, from a private long tail boat (a typical boat of Thailand) to dinner or party cruises at night. Or you can go for the budget option (like we did) and buy a ticket for one of the express boat river taxis (only 15 Baht for a one-way ticket).
As this is a commuters boat, mainly used by locals, you won´t get a guide who highlights all the Bangkok attractions. But we all know how to use Google, right? 😉
Take the BTS Skytrain
A surprisingly fun thing to do is to take the sky train in Bangkok. This track is elevated several meters above ground so you can see the city from a whole different viewpoint. There are two different tracks running through the city; the Silom Line and the Sukhumvit Line. They cross each other at Siam Station. There's also a big mall at this stop where you can spend several hours, as we did (see my next point). We rode most of the Sukhumvit line and it was really nice! You get to see the daily life of the Bangkok people outside of the "touristic bubble" that is the old city.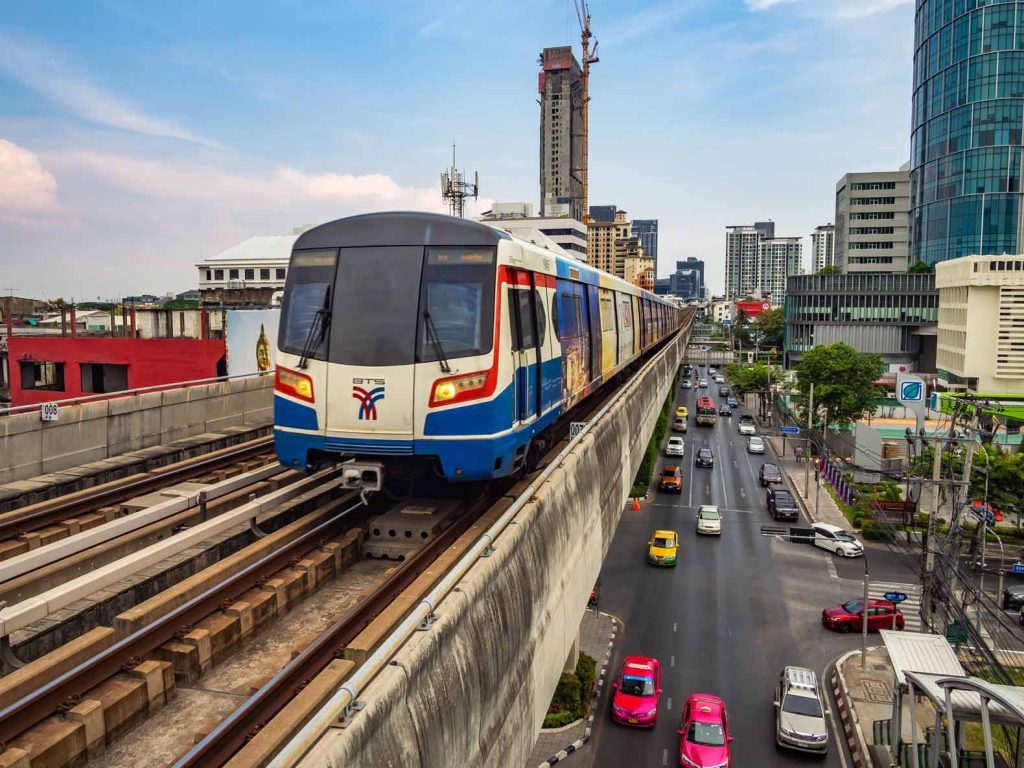 Just make sure you enter a train that isn't too busy; no use in trying to get a good view when you're standing packed like sardines. Usually the carriages in the back are less busy or just wait for the next train; a train arrives every three to six minutes, so you'll never have to wait for a long time.
Visit a megamall
Bangkok hosts several megamalls where you can easily spend an entire day if you want (and get lost if you're not paying attention). The nice things about these malls is that you get a peek at the local life; get a feeling of what the kids these days are buying! 😉
We spent a few hours at the Siam Discovery mall, a huge store-in-store concept where we found ourselves wandering among the well-organised and neat stores. The mall is divided in so-called 'labs', each offering its own array of products. My favorites were the 'digital lab' on the second floor and the 'creative lab' on the third floor.
TIP: Definitely don't skip the 'Food Republic', a big food court with many stalls offering local and international cuisine. You won't find the food court in Siam Discovery though; it's located on the fourth floor of Siam Center, another big shopping mall adjoining Siam Discovery.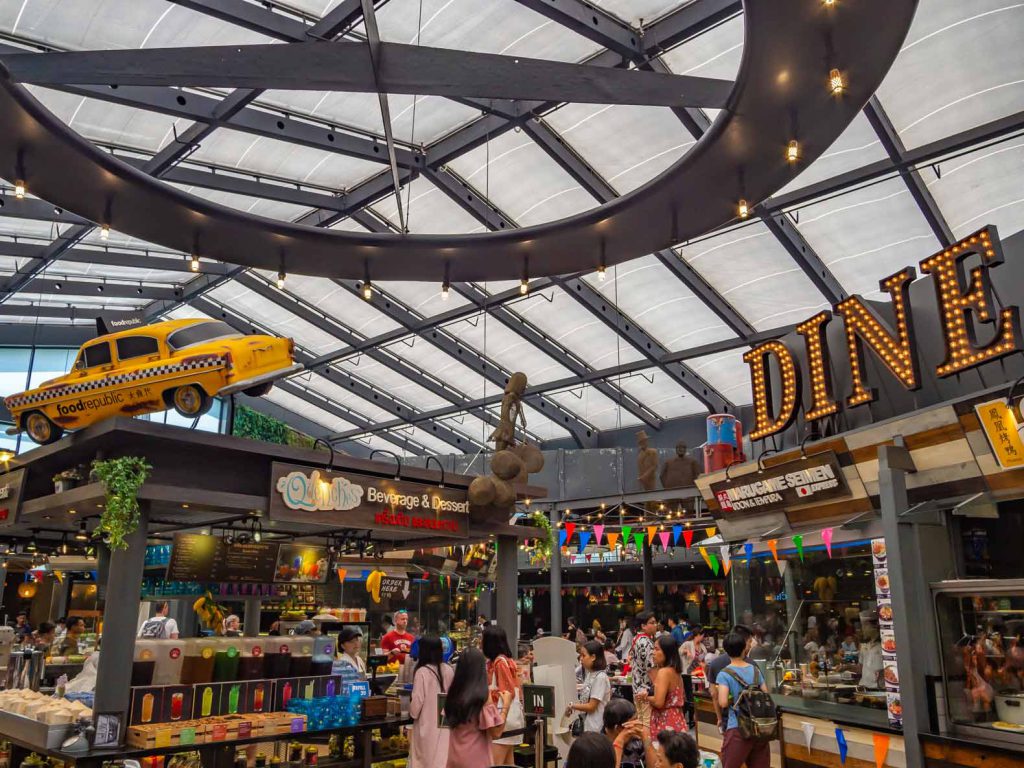 View the temples by night
Most of the Bangkok temples are illuminated at night. This makes for some great night wandering and picture taking! Some of the Bangkok attractions have evening opening hours, so you can enter after dark. Or you take the relaxed option (like we did) and order a drink at a rooftop bar while marveling at Bangkoks skyline. Cheers!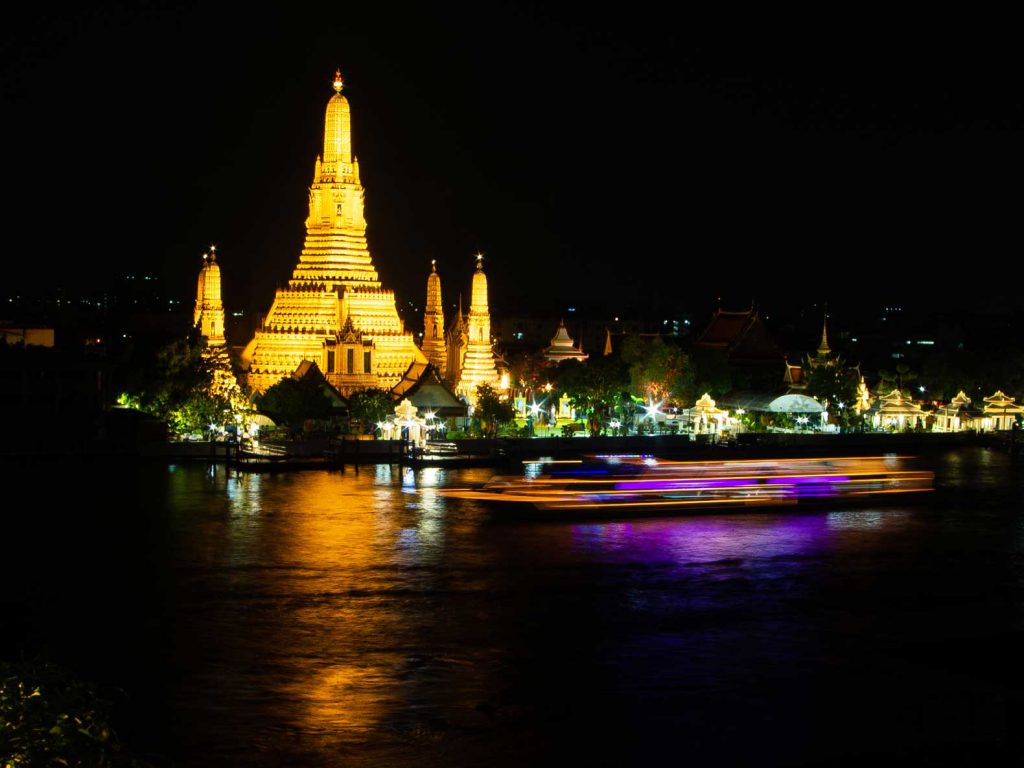 So that's it! These are the Bangkok attractions we visited and liked the most! With some more time we probably would've visited a floating market and sample some more of the local food! We're very curious what your favorite spots in Bangkok are. Leave a comment below and we'll make sure we put it on our list the next time we are in Bangkok! 🙂
Pin it for later!
Hi, my name is Geert and I'm traveling the world together with my wife Sandra. I like photography, cooking and eating good food, and exploring the outdoors.
---
---