The Three Colored Temples of Chiang Rai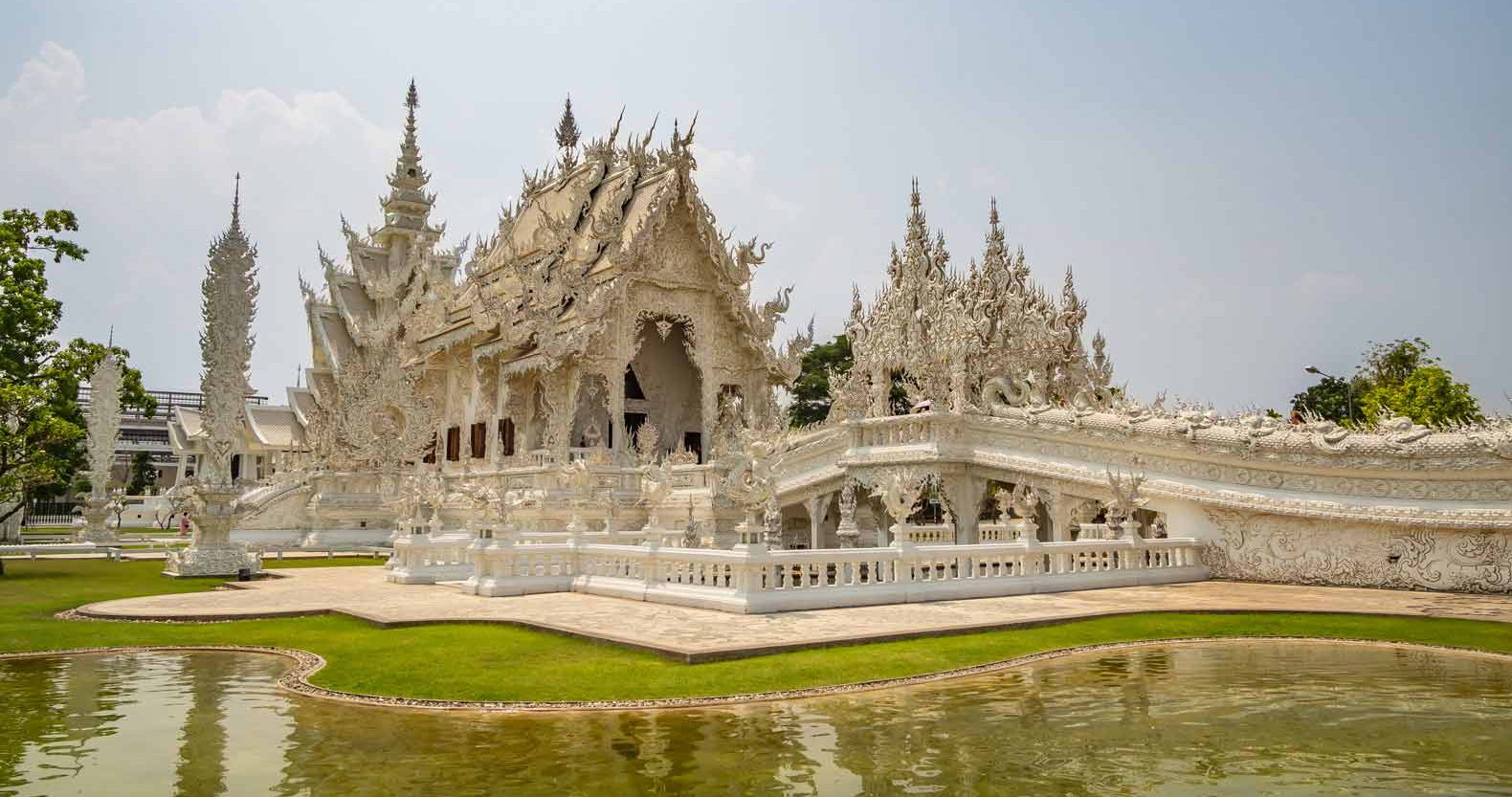 This post might contain affiliate links, which means we may receive a small commission on purchases made through these links, at no additional cost to you.
Many tourists skip Chiang Rai. Maybe it's because of its location, or because they don't have enough time. Some come on a (very long) day trip from Chiang Mai. Others only pass through on their way to Laos.
But luckily you're reading this blog post, so you won't be making the same mistake as them! Chiang Rai is an awesome city, with even awesomer sights and we recommend you stay for at least two nights.
The highlights of Chiang Rai are its three modern temples, which are really pieces of art, almost more than they are places of worship. You can easily visit all three of them in one day, which adds to the experience of seeing the contrasts between the three.
Because most Chiang Rai sights are at the edge of the city or even further out, it's unfortunately not possible to visit them by foot.
You could book one of the many tour options available, but they all seem to cram too many sights in one day. This means you probably only get half an hour at each temple, which is really a shame. We don't recommend this option.
Using public transportation is possible, but since you have to buy several separate tickets you end up paying the same as when you share a motorbike with two people. So that is what we did.
Chiang Rai White Temple
Wat Rong Khun, also known as The White Temple, is the most famous temple of Chiang Rai. It's even one of the most famous temples in the whole of Thailand!
The White Temple is a big tourist attraction because of its unique architecture. The completely white building, with mosaics of small mirror pieces, looks very different from most Thai temples.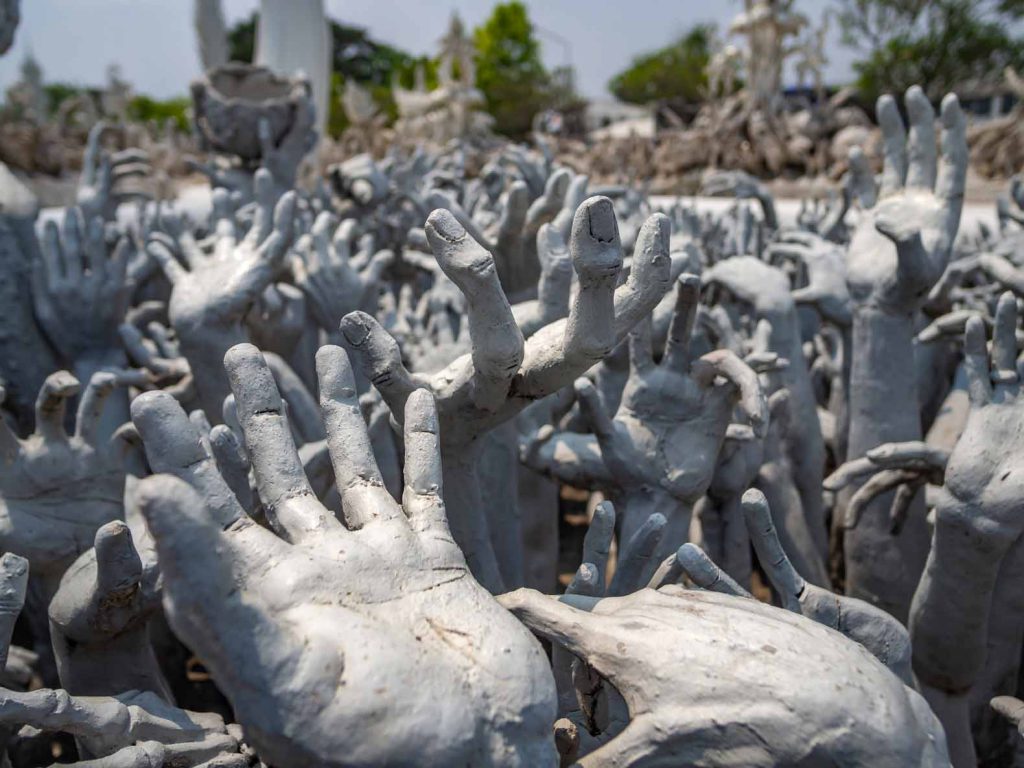 But it's not just the outside which is special. On the inside it's decorated with images of modern pop culture, such as Michael Jackson, Harry Potter, Pikatchu and Kong Fu Panda. Crazy, right? Unfortunately, we were not allowed to take pictures inside the temple, so you'll just have to take our word for it!
What many people don't know before they visit, is that the temple is actually part of a much larger complex. They are still adding new buildings and structures, so it'll probably be worth it to go back in a couple of years to see what has changed.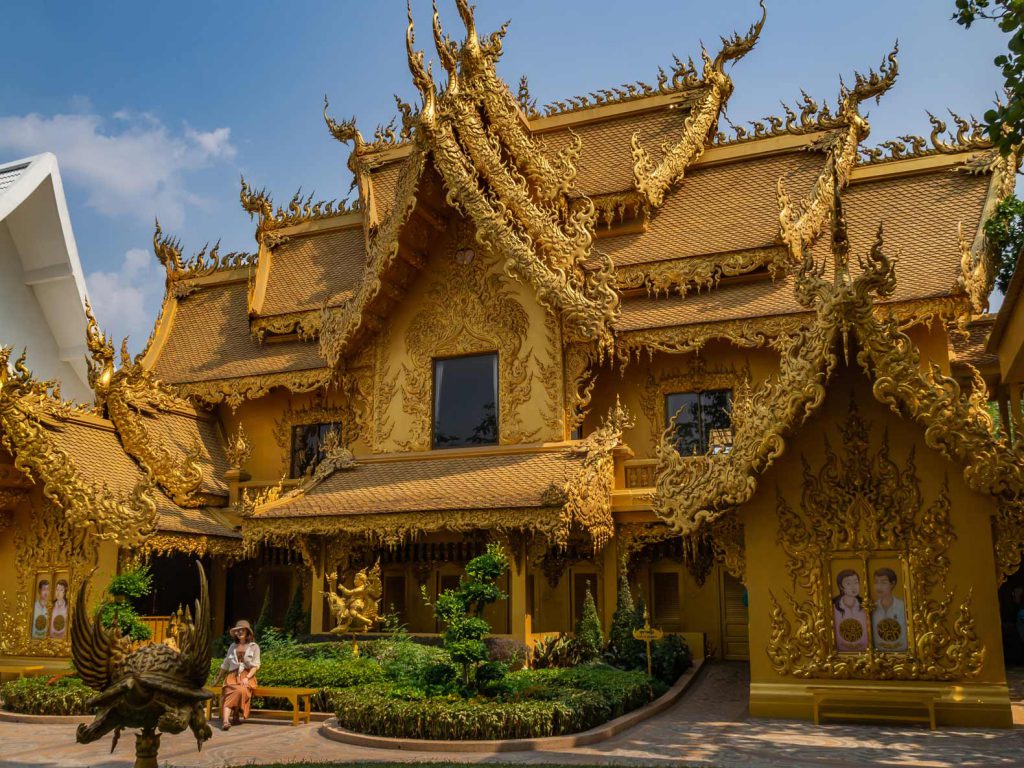 The complex itself is possibly even nicer than the main building, because you can wander around and take your time. It's surprising how many tourists just visit the main temple and don't bother with the rest.
Chiang Rai Black Temple
The Black Temple is actually not a temple, but a museum. Baan Dam, as it's called in Thai, translates to "Black House", which is a pretty good description of what it looks like.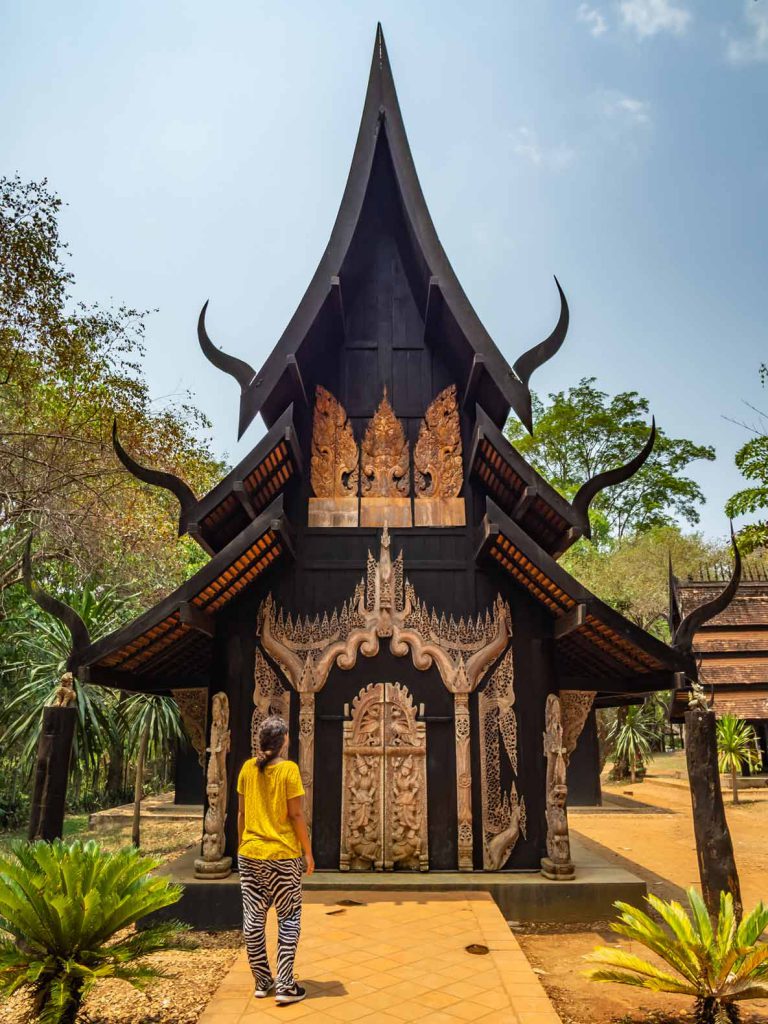 The Black Temple is the life's work of a famous Thai artist, who actually studied in The Netherlands. Like with the White Temple, it's also made up of one large main building and many other smaller buildings.
Though I'm happy that we visited the Black Temple, I'm not sure I liked it that much. The buildings display lots and lots of dead animals, such as crocodiles, snakes, turtles, bears, etc. At first it's kinda fascinating, but after yet another building filled with skins and skeletons, it starts to get a bit creepy.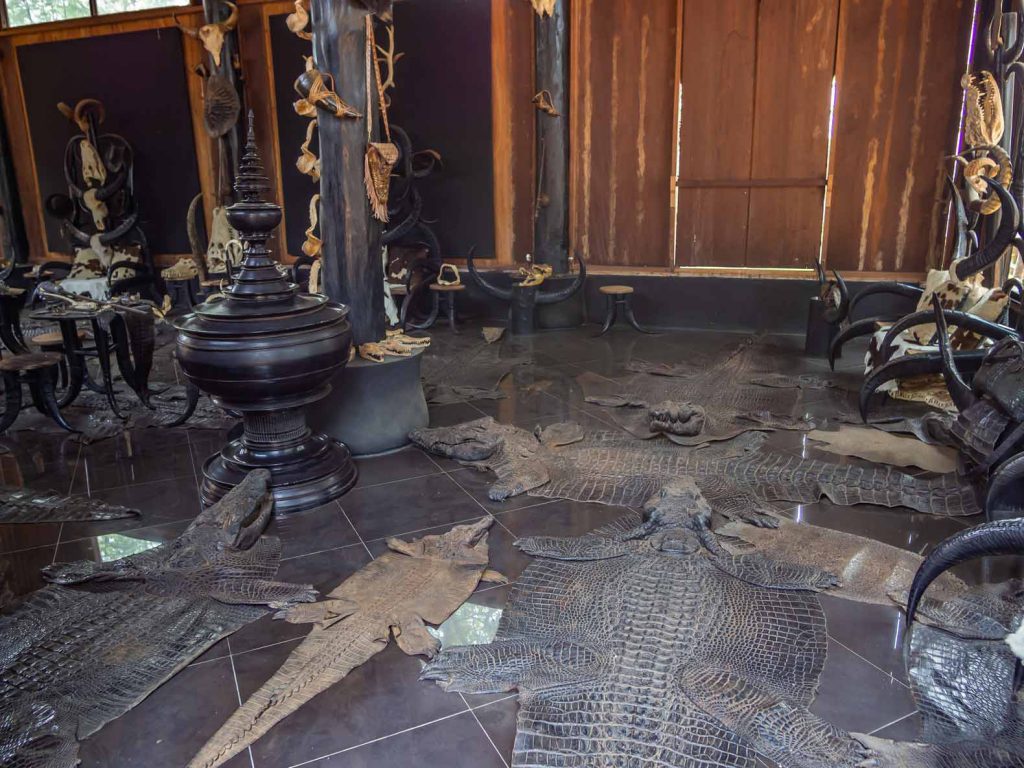 Chiang Rai Blue Temple
After visiting the Black Temple, be sure to make a stop at the Blue Temple on your way back to Chiang Rai. This temple is very new, as it only opened in 2016. Therefore, it's not yet posted in all travel guides and sees fewer tourists. But I'm sure that will not last very long!
The Blue Temple was designed by a student of the artist who made the White Temple. The vivid blue color of this temple and its surrounding structures is really stunning.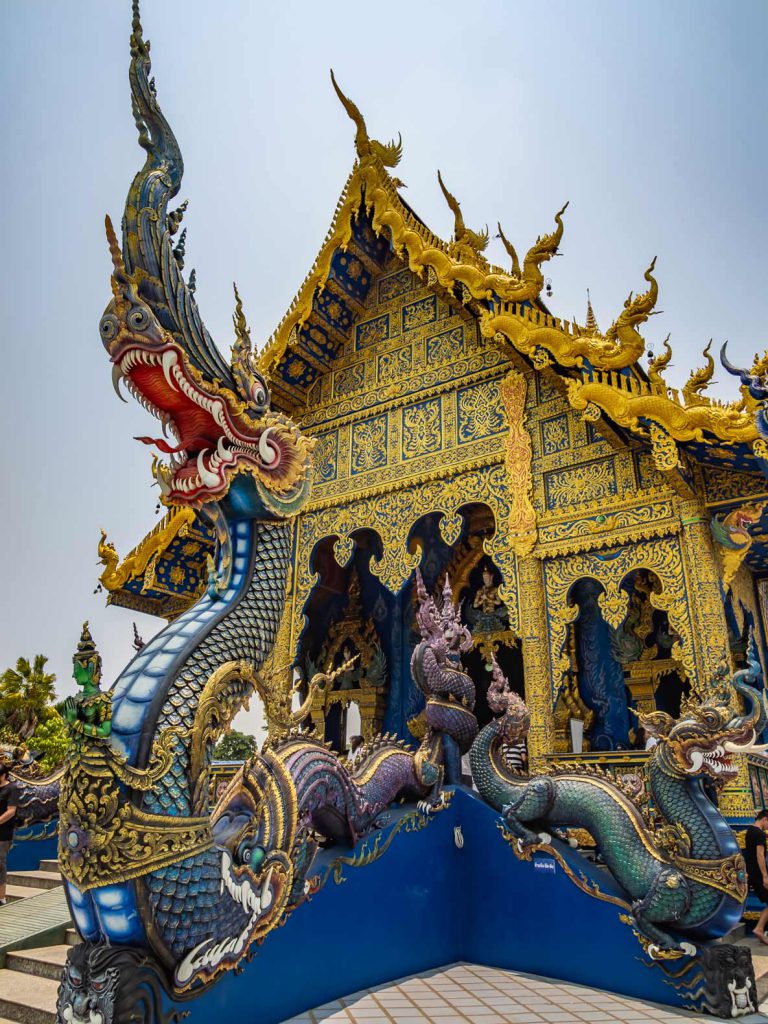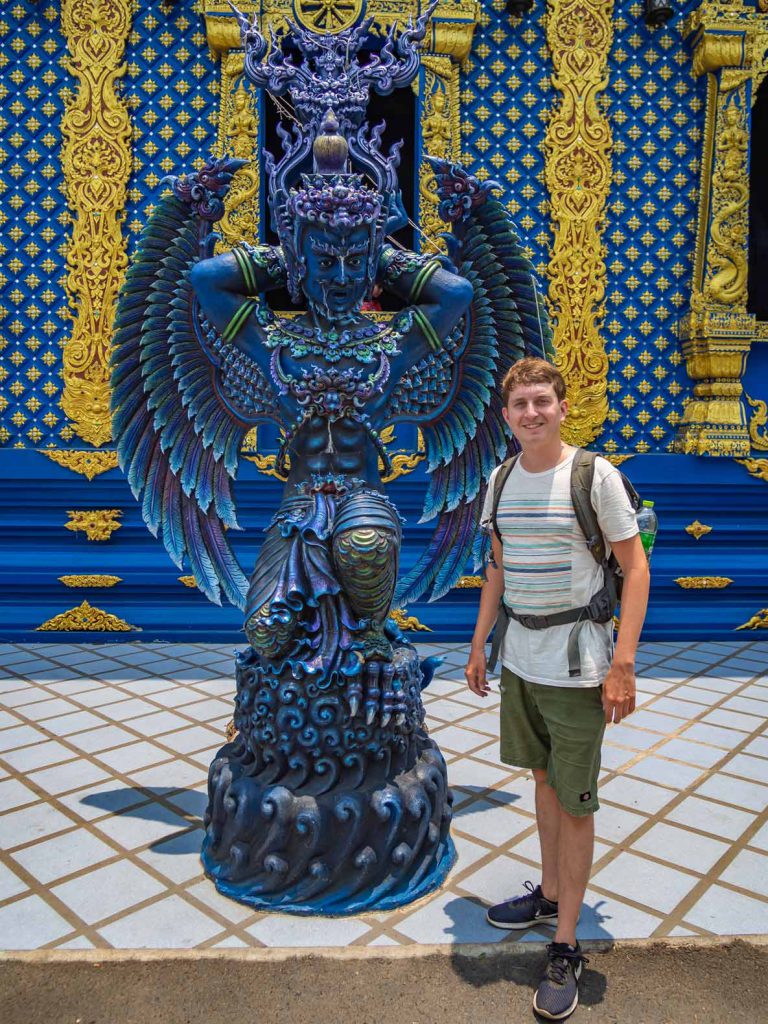 The inside of the temple is decorated with very colorful modern paintings. Their lively colors really complement the blue background.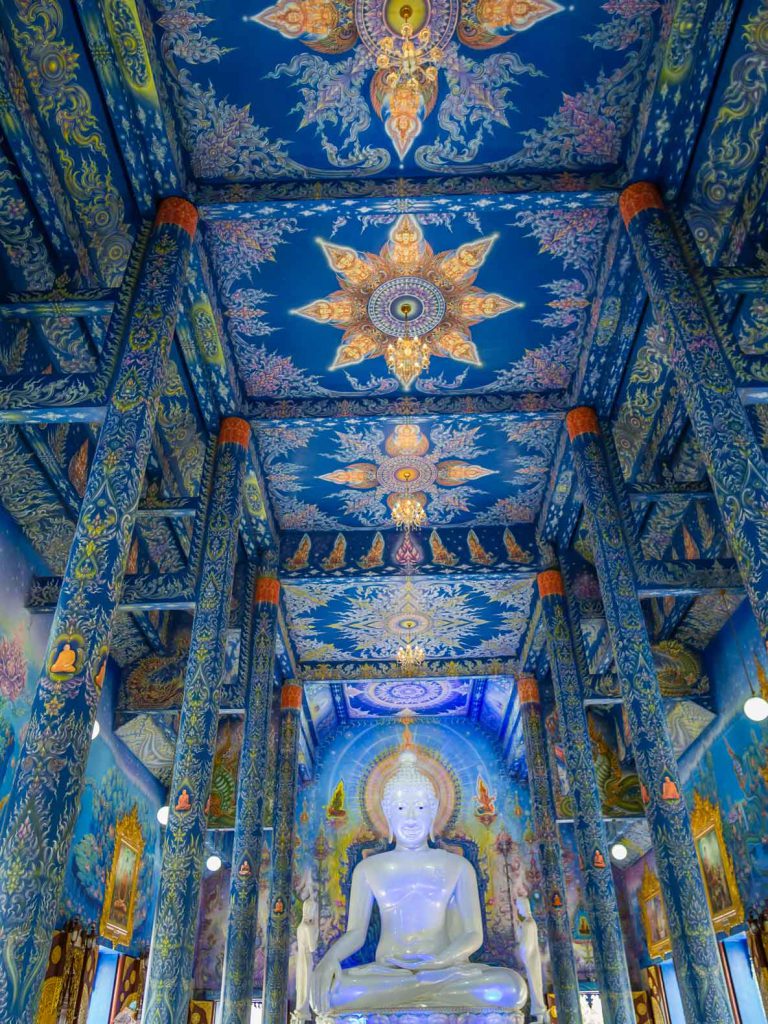 I would not hesitate to say that the Blue Temple is my favorite temple in Thailand!
Other things to do in Chiang Rai
Though a visit of the three colored temples makes for a nice day trip in Chiang Rai, it's of course not the only thing you can do there. Here's some other suggestions to extend your stay for at least another two days:
The Clock Tower
The Clock Tower is one of Chiang Rai's stranger attractions. It's a very elaborately decorated clock tower in the middle of a roundabout. But that's not the main thing. At 7 PM, 8 PM and 9 PM every night, the clock tower performs a music and light show. I'm not going to get into details here; just go and see for yourself!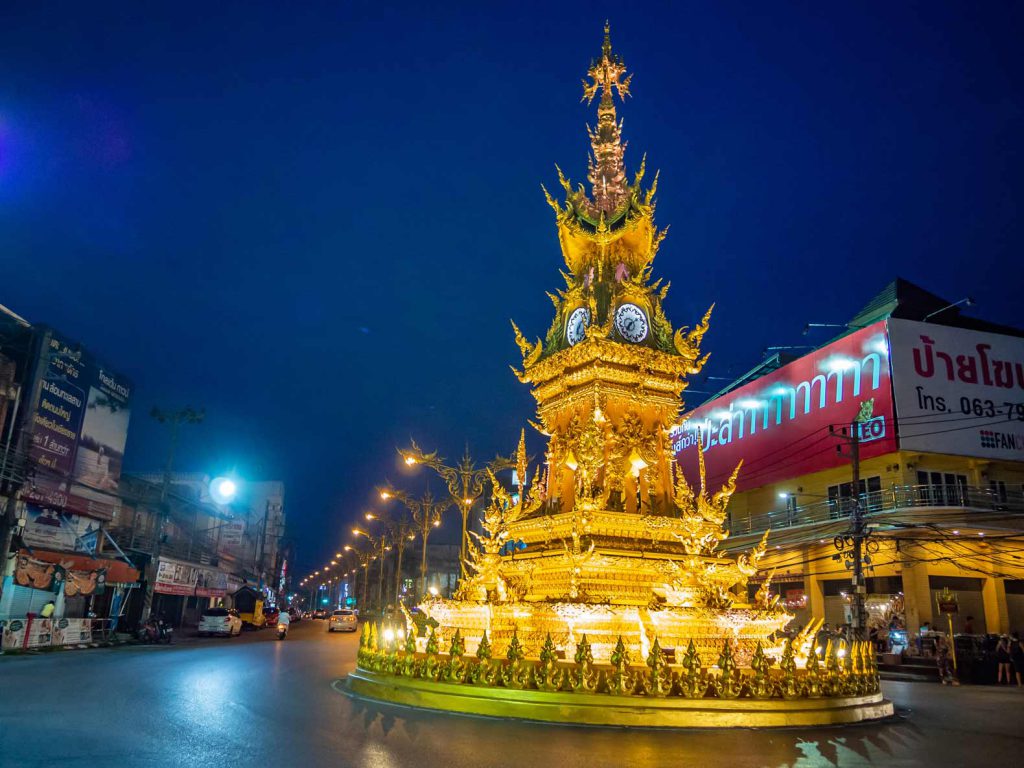 Pamper yourself
Like any place in Thailand, there are many spas and massage parlors in Chiang Rai. After sightseeing for an entire day, why not treat yourself to a nice treatment? I got myself a much needed pedicure, while Geert got his much needed haircut 🙂
Chiang Rai Night Bazaar
Chiang Rai's night bazaar is very nice for shopping and eating. It's big enough to have a lot to offer, but small enough to be able to see it all. It's also not nearly as busy as other night markets that we've visited, which gives it a nice atmosphere. The night bazaar has two squares where you can get food. The touristy one has wooden tables and chairs and was mostly empty when we passed by. The local one has metal tables and chairs, and is THE place to be for dinner in Chiang Rai. There many hotpot stalls for a delicious traditional Thai meal, and you can enjoy free music and dance performances while you're at it.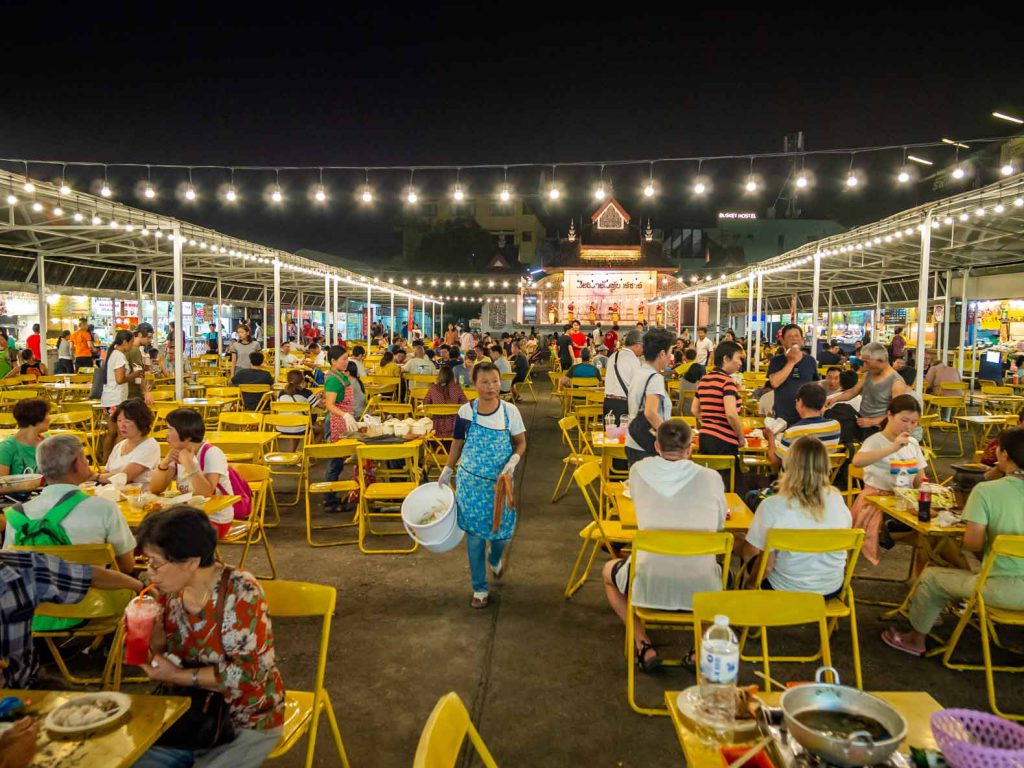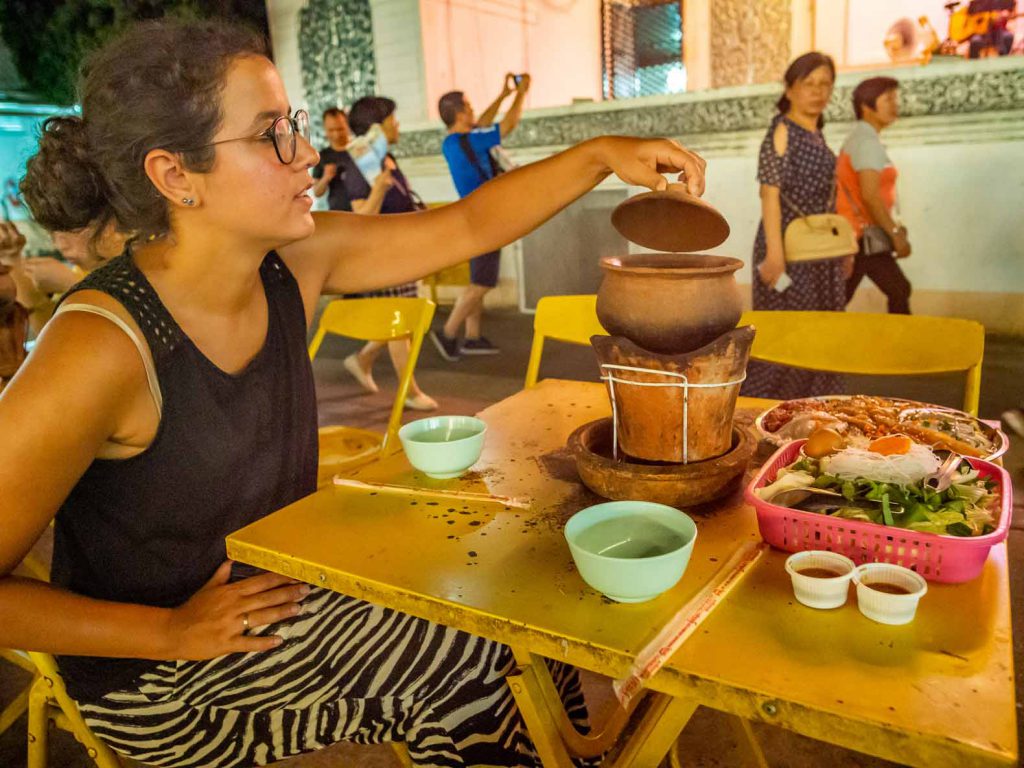 Saturday Walking Street
If you're in town on a Saturday, make sure you don't miss the Saturday walking street. You'll find many stalls with hill tribes offering their handicrafts, complemented by delicious food. We had the most amazing chicken curry samosas! When we were there, there also seemed to be some sort of dance event happening. The locals were all dancing in a group to the live music, which made for a very great atmosphere.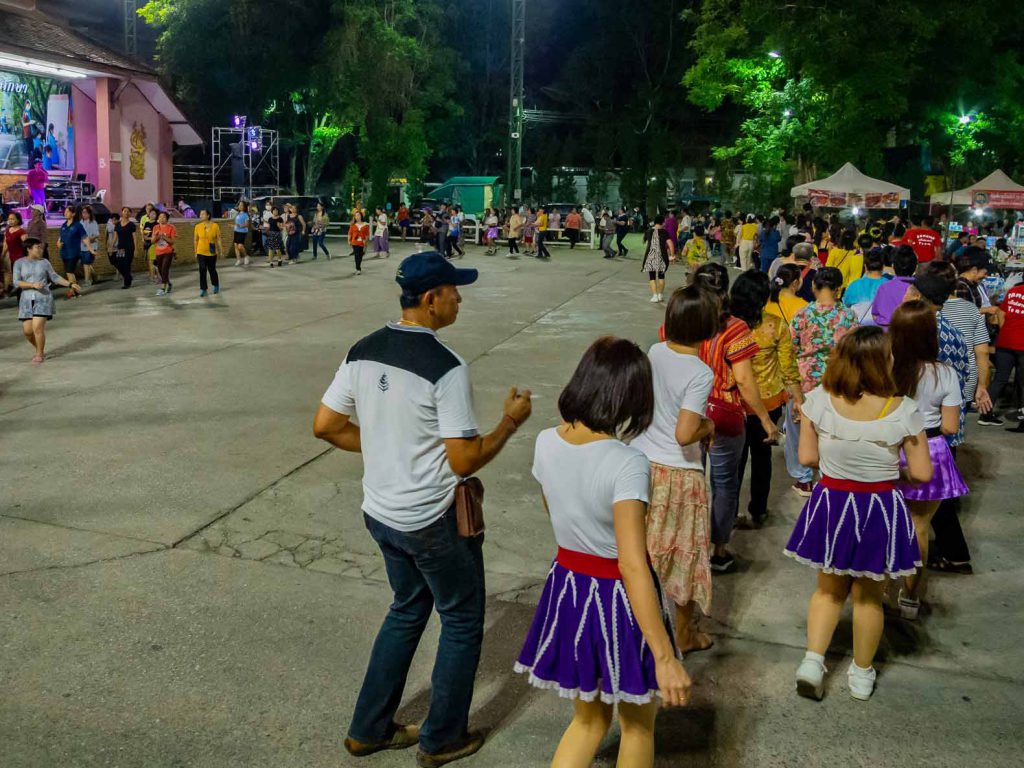 Tea Plantations
We did not get a chance to visit one of the many tea plantations that surround Chiang Rai. But that doesn't mean you should skip them as well! From what we've heard, Singha park seems to be a highlight. Besides the tea plantation, it also has many other attractions, such as a zoo and a couple of restaurants. It's also very conveniently located near the White Temple, so you could add it to your temple hopping day, if you have the time and energy. All the guided tours seem to go to Choui Fong Tea Plantation, which can be either a good or a bad thing. But as it's quite far up north, I wouldn't make the trip unless you are on your way to the Golden Triangle.
The Golden Triangle
Speaking of which, a visit to the Golden Triangle (where the borders of Thailand, Myanmar and Laos meet) is a popular excursion from Chiang Rai. We're not really sure why though, because there doesn't seem to be that much to see there. The reviews are mixed, but the Opium museum should be worth it.
Not convinced yet?
Overall, we're really glad we got the time to explore Chiang Rai. With its unique temples, amazing food and easy to navigate streets, it might even be one of our favorite destinations in Thailand. So make sure you pay it a visit on your next trip to Thailand!
Looking for more inspiration? Why not check out our blog posts on Bangkok, the Mae Hong Son loop and Khao Sok National Park?
Pin it for later!
Hi, my name is Sandra and I'm half of the traveling couple that makes up Bus stops & Flip-flops. I'm finally living the dream by traveling the world with my husband Geert. My other hobbies are eating good food, dancing and sleeping in. Did you enjoy reading my blog post? I'd love it if you leave a comment!
---
---