Two weeks in Cambodia: an itinerary for the independent traveler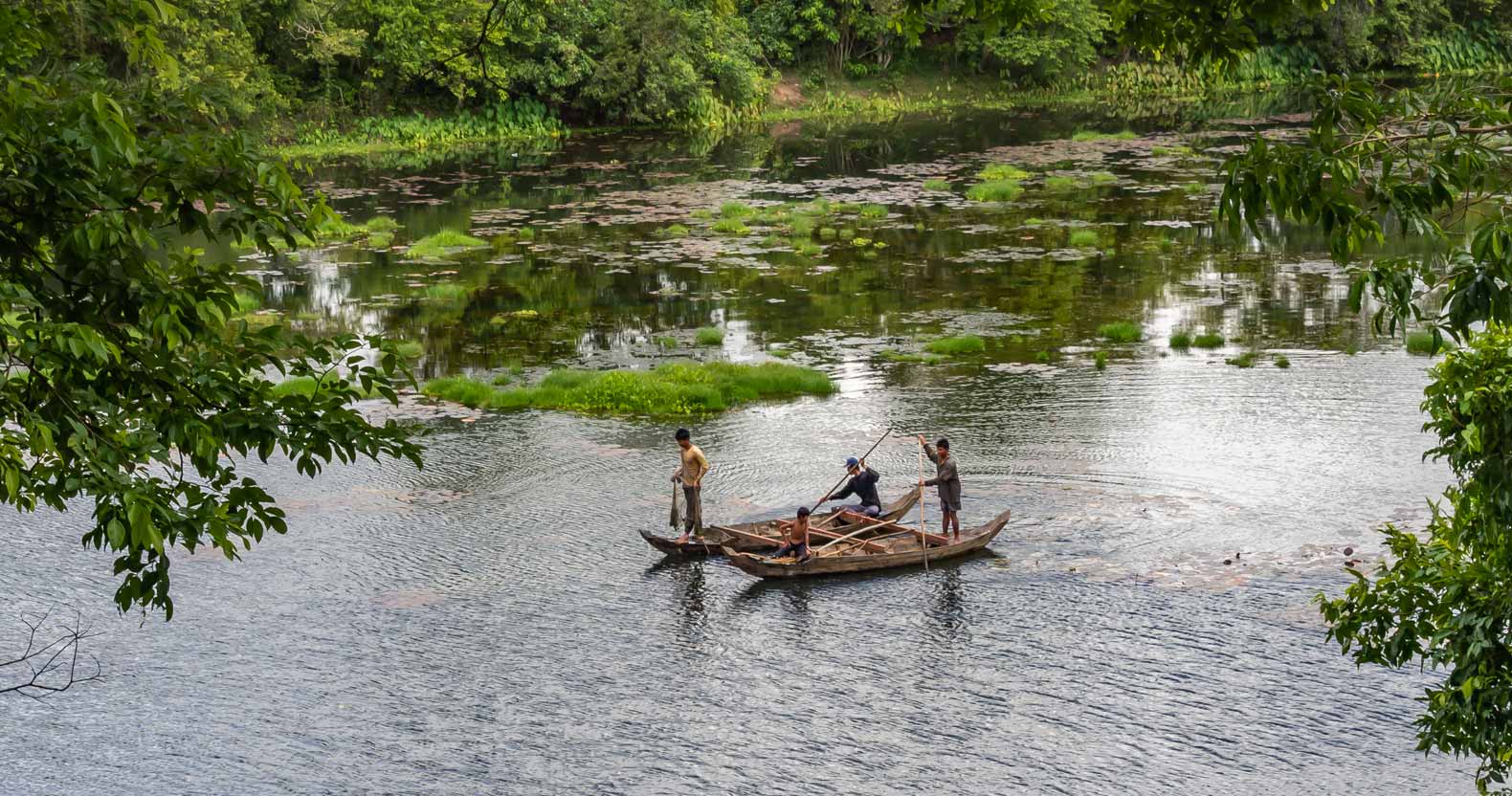 This post might contain affiliate links, which means we may receive a small commission on purchases made through these links, at no additional cost to you.
Two weeks in Cambodia is not a whole lot of time. However, Cambodia is a small country and it's therefore very well possible to see the highlights in this amount of time.
And we would advise you to do just that: focus on the highlights. While it might be tempting to try and see as many places as possible, it'll mean spending a lot of your time en route.
We've compiled this two week Cambodia itinerary for the independent traveler. Of course you'll see Angkor Wat, but there's also plenty of time for relaxation.
Here we go!
Day 1: Arrive in Siem Reap
The first destination on your two weeks in Cambodia is Siem Reap, which you'll use as a base to visit the temples of Angkor. You will most likely arrive by plane from Bangkok or Phnom Penh. It's also possible to arrive by bus from Thailand or Laos. Either way, you probably had a long journey, so take the rest of the day to relax and get your bearings. Maybe find an ATM to get some cash if you need to.
Tip: Though the official currency of Cambodia is the riel, the US dollar is used just as much, if not more, in any place that sees tourists. You'll find almost all prices are quoted in dollars, and riel are only used for buying small items, such as fruit or a bottle of water.

Confusingly enough, your change will almost always be given in riel. Most places use a fixed exchange rate of 4000 riel to 1 dollar. Keep your dollars very(!) crisp, or they won't be accepted.
Hotels in Siem Reap are cheap and plentiful. You'll find the best deals on Booking.com
Day 2 – 4: Angkor Wat
Do I really need to spend three days of my two weeks in Cambodia at Angkor Wat, you might think? Yes, you do! The temple city is huge and spending just one day there only gives you enough time to visit the three main touristic temples.
It's much nicer to be able to spend some time at the quieter temples, to enjoy the peaceful atmosphere and do some off the beaten track exploring.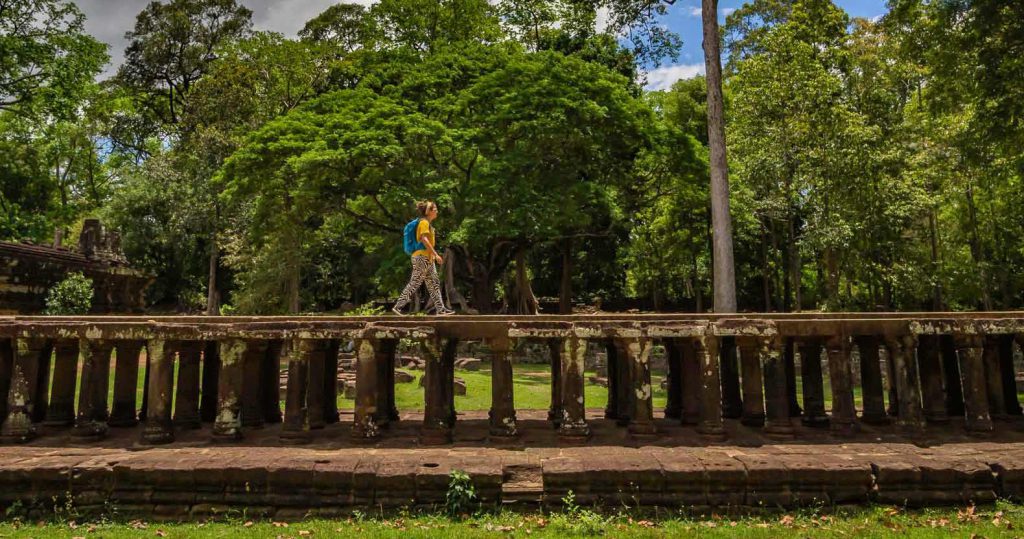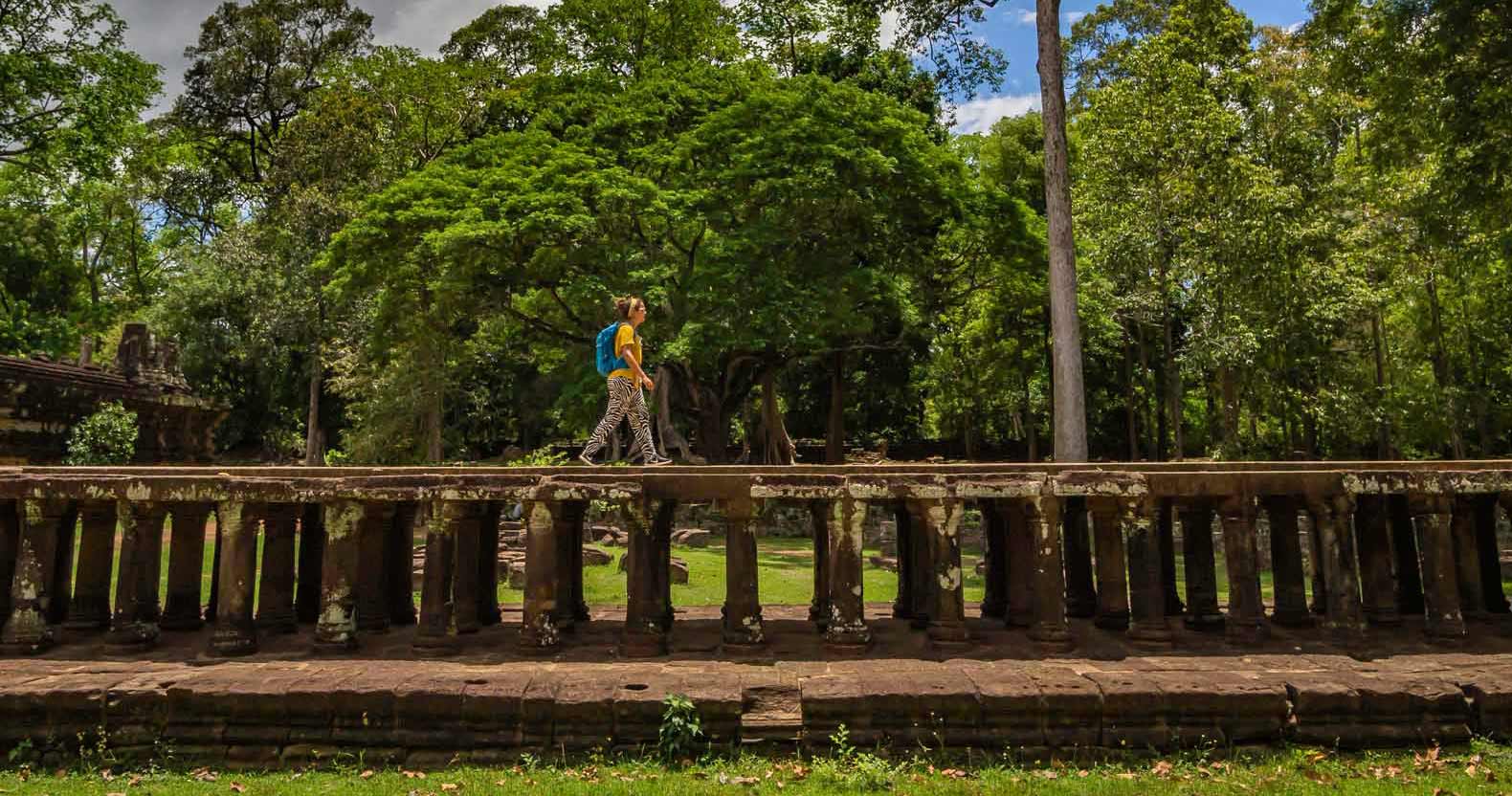 So get yourself a three-day ticket and go explore! You'll find more detailed information, including some nifty tips & tricks and a three-day itinerary, in our blog post on visiting Angkor Wat without the crowds.
If three days at the temples is too much for you (which we can't imagine), there's some other things to do in Siem Reap as well. Visit Angkor National Museum for more background information on the Khmer civilization, take a horse riding or cycling tour through the surrounding villages and secluded temples, or go shopping at Psar Cha or Angkor Night Market.
Day 5: Travel to Phnom Penh
Time to move on to the next destination of your two weeks in Cambodia. The most budget-friendly way to get to Phnom Penh is by bus. It'll take you about six to seven hours to get there, so you'll need to reserve an entire day for traveling.
We definitely recommend you take the Giant Ibis bus company, as they're by far the best bus company in Cambodia. Their buses are clean and spacious, have strong air conditioning, free WiFi and power outlets to charge your devices. You get picked up at your hotel and receive bottled water and a snack on board. All this for just 13 USD!
Day 6: Phmom Penh
Phnom Penh is OK-ish. We have to admit it's not the nicest Southeast Asian capital we've been to. Then why include it on your two week Cambodia itinerary? Because it's the best place to learn about the horrors of the Khmer Rouge regime. A must if you're spending two weeks in Cambodia.
Take this opportunity to visit the Tuol Sleng Genocide Museum and the Choeung Ek Killing fields. Thousands of people were tortured and killed here and learning about these stories in the places they actually took place is very powerful. The audio tours are highly recommended for background information and available in many languages.
We recommend you get a Tuk-Tuk for the day to drive you around, as the distances between the two sites are quite large.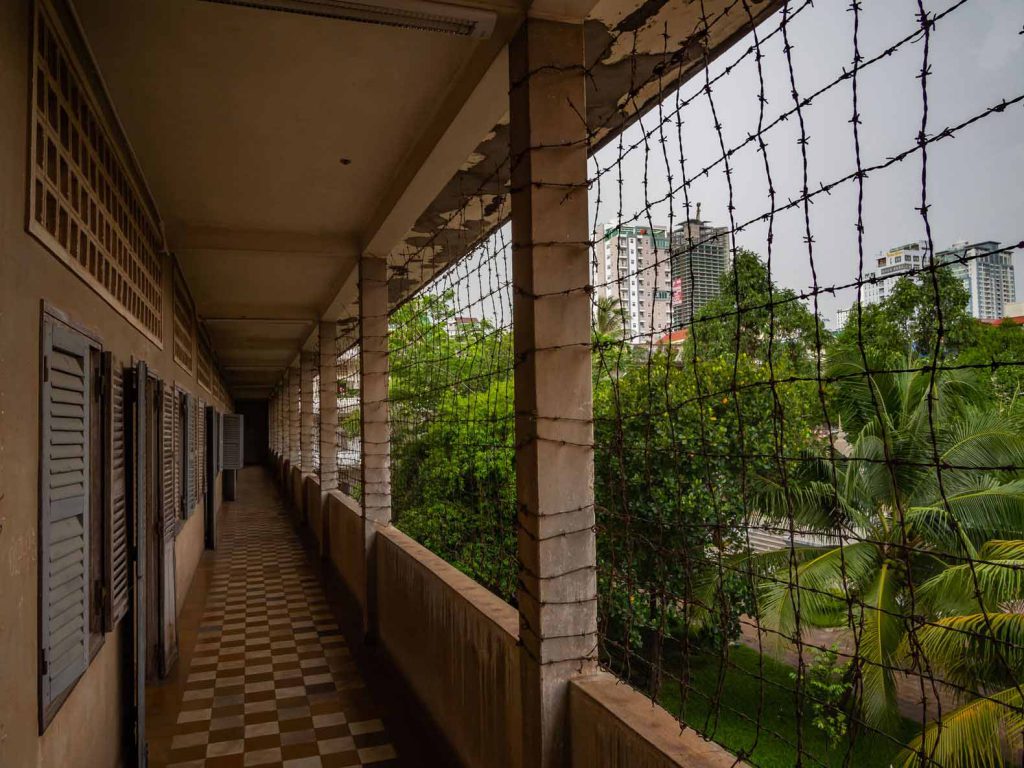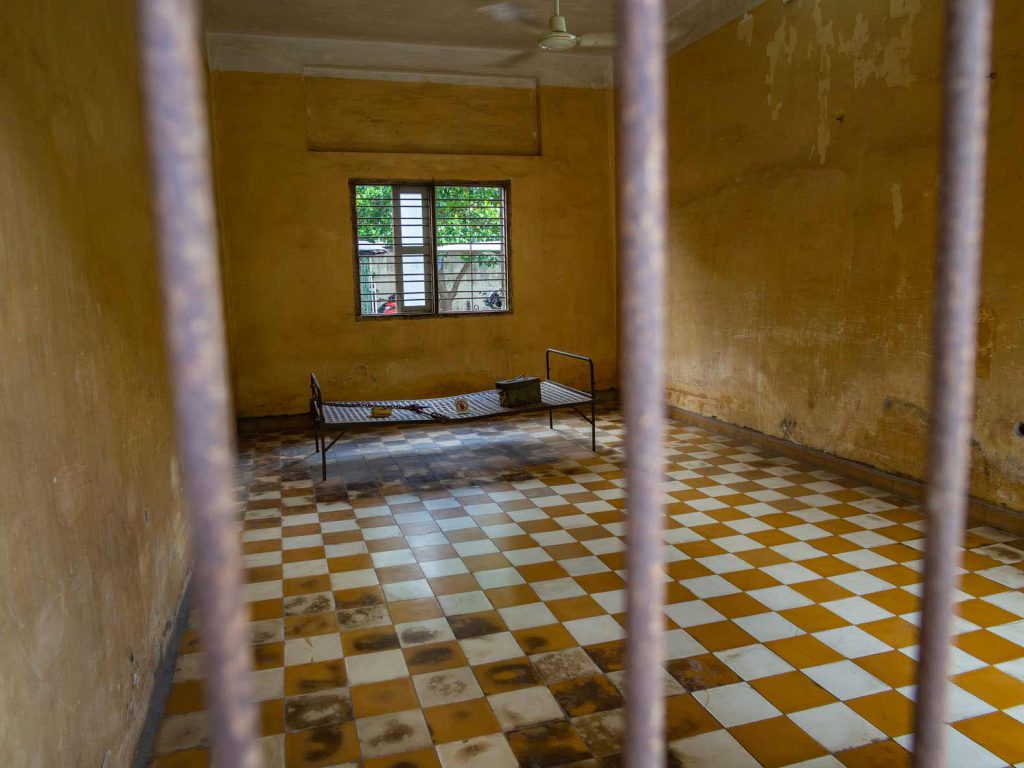 Day 7: Travel to Koh Rong (Sanloem)
After seeing the good and the bad of Cambodian history, we feel you deserve some beach time. So we're heading to the Cambodian islands!
But to get there, you first need to take a six hour bus ride to Sihanoukville. Sihanoukville itself is horrible. It's basically one large building site of Chinese hotels and casinos. It's dirty and smelly and you want to stay here for as little time as possible. So get yourself on the first speedboat to depart to the islands.
If you travel with Giant Ibis (which we highly recommend), you can arrange boat tickets plus a transfer to the pier via them. Though all boat companies get horrible reviews, GTVC seems to be the best of the lot. Our boat looked new and was comfortable (as comfortable as it gets on a speedboat).
Check with your hotel which pier you need to go to, because there are many. It's not possible to travel over land on the islands as there are no roads.
Day 8 – 10: Koh Rong (Sanloem)
You have a choice between two islands: Koh Rong and Koh Rong Sanloem. Which one is the best to visit, really depends on what you're looking for.
Though Koh Rong is more considered the party island and Koh Rong Samloem the relax island, both have busier and quieter parts. We therefore think it's more important to select the right beach, then the right island.
We stayed on Saracen beach on Koh Rong Sanloem. This is a nice beach with plenty of accommodation options and restaurants. It is also the main beach of Koh Rong Sanloem, so it's easy to get a speedboat there. However, you won't really get that "deserted island" feeling here.
On our second day, we decided to visit Lazy beach. This beach was much more beautiful and quiet and we liked it very much. However, there's only one resort there (which was above our price range) and it's a 20 minute walk through the jungle to get there from the main pier.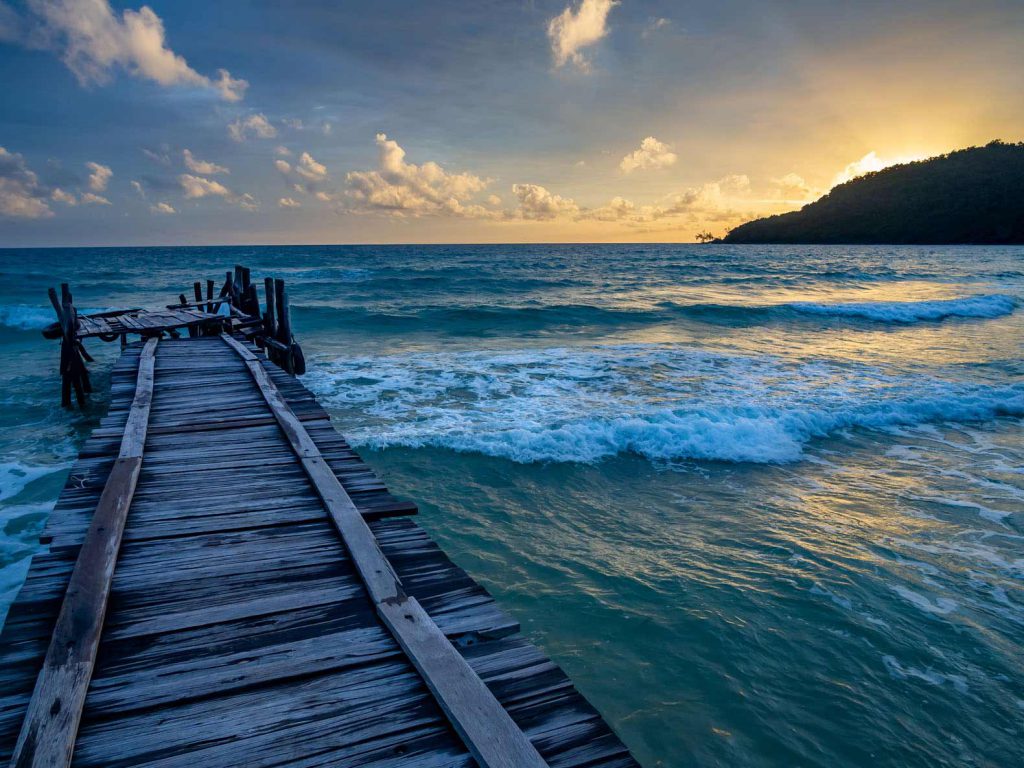 Compare your options and decide what's important to you for your beach days.
There are a few things to keep in mind, no matter which island or beach you stay at. First of all, prices are higher than on the mainland because everything has to be shipped in. Due to limited availability, accommodation prices are quite steep in high season as well. We were there in low season and got a 75% discount on our bungalow!
Also, things can get pretty basic. Most accommodation doesn't have A/C and power outages are frequent. WiFi is only available at some of the more popular restaurants. While we were there was some construction going on to build some roads. Once these are done, it will be easier to get from one beach to another. Otherwise it's jungle paths throughout.
We always use Booking.com to book our accommodation. They've got a lot of options and the best prices. Check out their options on Koh Rong Sanloem and Koh Rong!
Either way, spend your days relaxing on the beach as there's not much else to do here! You can go diving if you want or take a boat tour to see the glowing plankton, but that's pretty much it. Take a good book and some playing cards!
Day 11: Travel to Kampot
Get back on the boat today and buy tickets at the info booth on the pier for your next bus to Kampot.
If the sea is too rough the speedboat will bring you to the port, about half an hour north of the pier. They won't tell you this beforehand, but simply drop you off there.

You should know that there is a bus to take you back to the pier! Most people don't know this and the boat staff will not be helpful at all. But if you ask nicely, they will point you to where the bus is parked.

Out of two full boats that arrived in the port, there were only 6 of us on the bus. The others sheepishly walked off and probably had to pay an expensive tuk tuk to get back to town.
It takes a long time to get free from traffic congested Sihanoukville and the road to Kampot is bad in some places, but luckily it's only a 2-3 hour bus ride. Again, all companies get terrible reviews, so just go with the flow and hope for the best.
Kampot is quite small. If your hotel is in town you can easily ignore the tuk tuk drivers waiting for you at the bus stop and walk to your hotel. However, a lot of people stay outside of town in a riverside setting.
Day 12 – 13: Kampot
Kampot is a breath of fresh air after Sihanoukville. Its French architecture and riverside setting, combined with there hardly being any traffic, make it a lovely town to spend a few quiet days. For its size, there are lots of restaurants and cafés serving high quality western foods, coffee and baked goods. So you'll be well taken care of.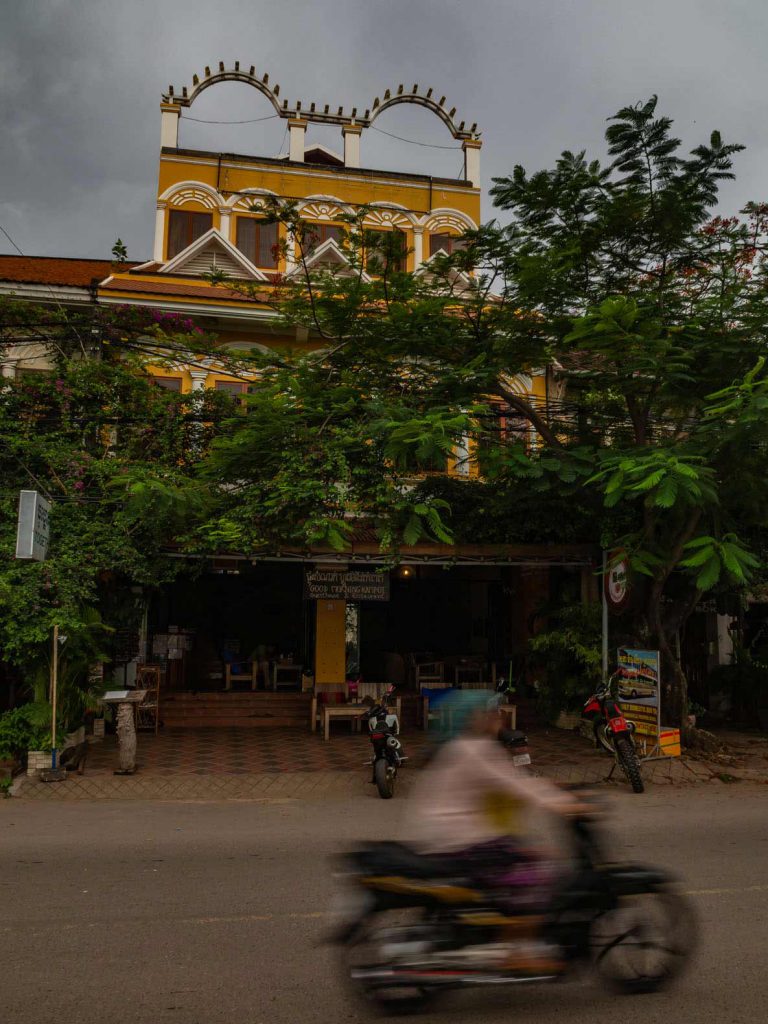 Possible activities in and around Kampot include taking a stroll around town, visiting the salt fields, going for a hike in Kep National Park, taking a motorbike up to Bokor Hill Station and spending a day at the beach.
Here's some highlighted activities that we enjoyed on our visit to Kampot:
Visit a pepper plantation
Kampot pepper is very famous and visiting a plantation is a great way to find out how the stuff's produced. There are several plantations that you can visit, but we recommend the French-owned "La Plantation". They offer very interesting free guided tours in Cambodian, French and English.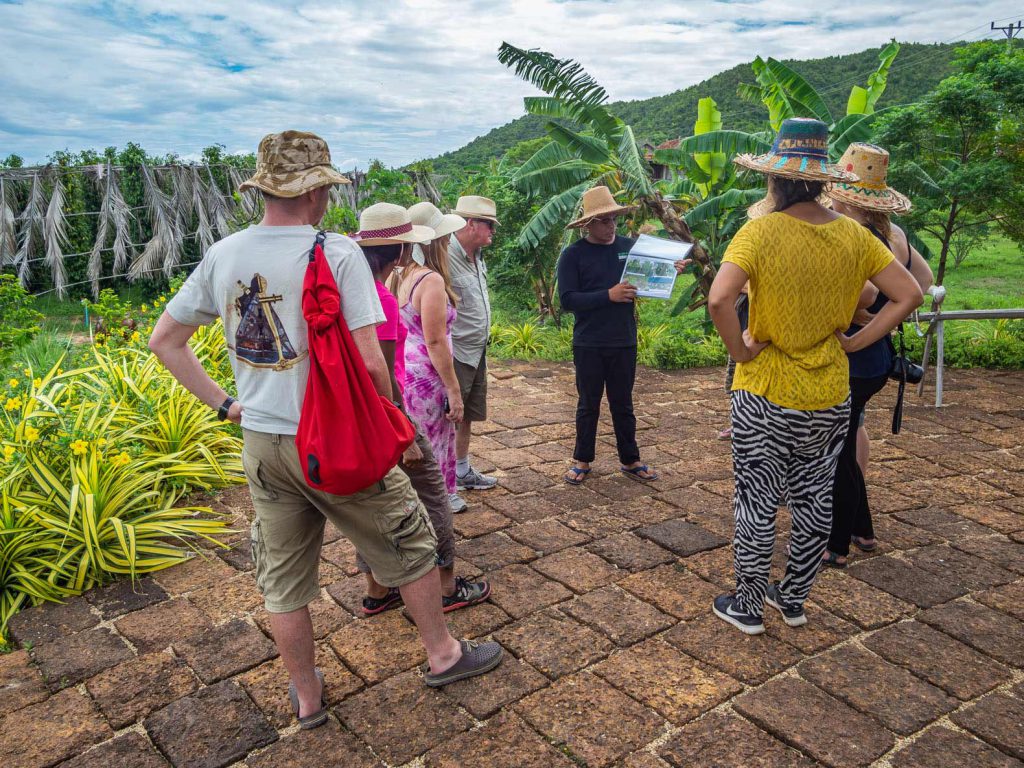 The tour concludes with a tasting of the different kinds of pepper you can buy in their gift shop. Though this is a nice idea, it is a bit overwhelming to taste around 15 different types of pepper. After the first few they all started to taste the same to us, to be honest.
You can visit La Plantation's office in the centre of Kampot to plan your visit and hotel pick-up. Or rent a motorbike and just show up, like we did.
Feast at the crab market
While you're on your motorbike trip, why not drive all the way to Kep and grab some lunch at the crab market? We feasted on a plate of freshly cooked crab with Kampot pepper and it was one of the best meals we've had in Southeast Asia. Besides crab, there's also plenty of fish, shrimp and other seafood on offer.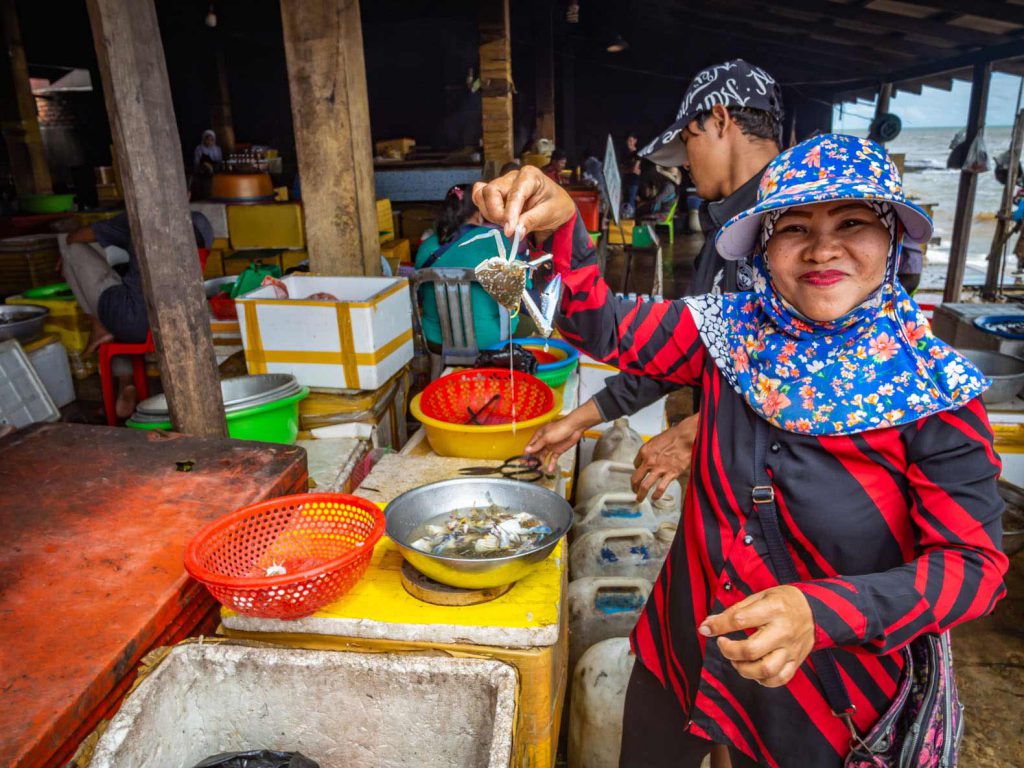 Before going here, keep in mind that the sights and smells of the market can be quite rough. Not everybody will be able to appreciate the experience. If you're a bit squeamish, you might want to get your crab from one of the restaurants next to the market in stead.
Sunset firefly river tour
With the Praek Tuek Chhu river taking up such a prominent place in the centre of Kampot, it would be a shame to not enjoy it from the water.
While river cruises are usually an expensive ordeal, in Kampot it's possible to join on a sunset boat tour for just 5 USD. And that includes two free drinks!
There are a few different boats, but they pretty much all offer the same experience. They leave Kampot around 5.30 PM, make a stop to watch the fireflies in the trees once it's dark, and return around 7.30 PM.
The boats are basically floating restaurants, so you can have your dinner on the boat. You're also free to bring your own food, which we saw a lot of Asian tourists do.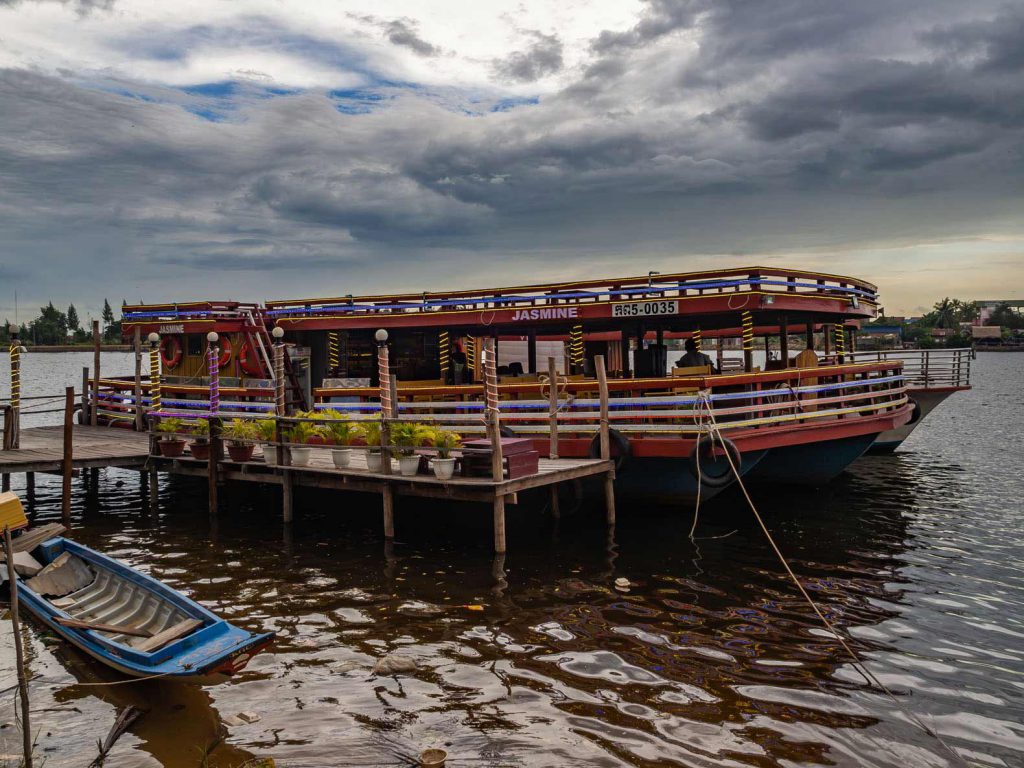 Day 14: Back home or to your next destination
Your two weeks in Cambodia have already come to an end. If you're heading home from here, you'll probably need to transfer back to Phnom Penh. It'll take you about four hours by bus. Giant Ibis is your best friend 😉
If you're continuing your journey into Vietnam, like we did, you'll be happy to know that Kampot is very close to the Vietnam border. It'll take you around one hour to reach the Ha Tien border crossing.
From Ha Tien, you can transfer to one of the tourist towns in the Mekong Delta, spend a couple of days on the beaches of Phu Quoc island, or head directly to Ho Chi Minh City.
Happy travels!
Pin it for later!
Hi, my name is Sandra and I'm half of the traveling couple that makes up Bus stops & Flip-flops. I'm finally living the dream by traveling the world with my husband Geert. My other hobbies are eating good food, dancing and sleeping in. Did you enjoy reading my blog post? I'd love it if you leave a comment!
---
---