The Gibbon Experience: Ziplining in the Jungle of Laos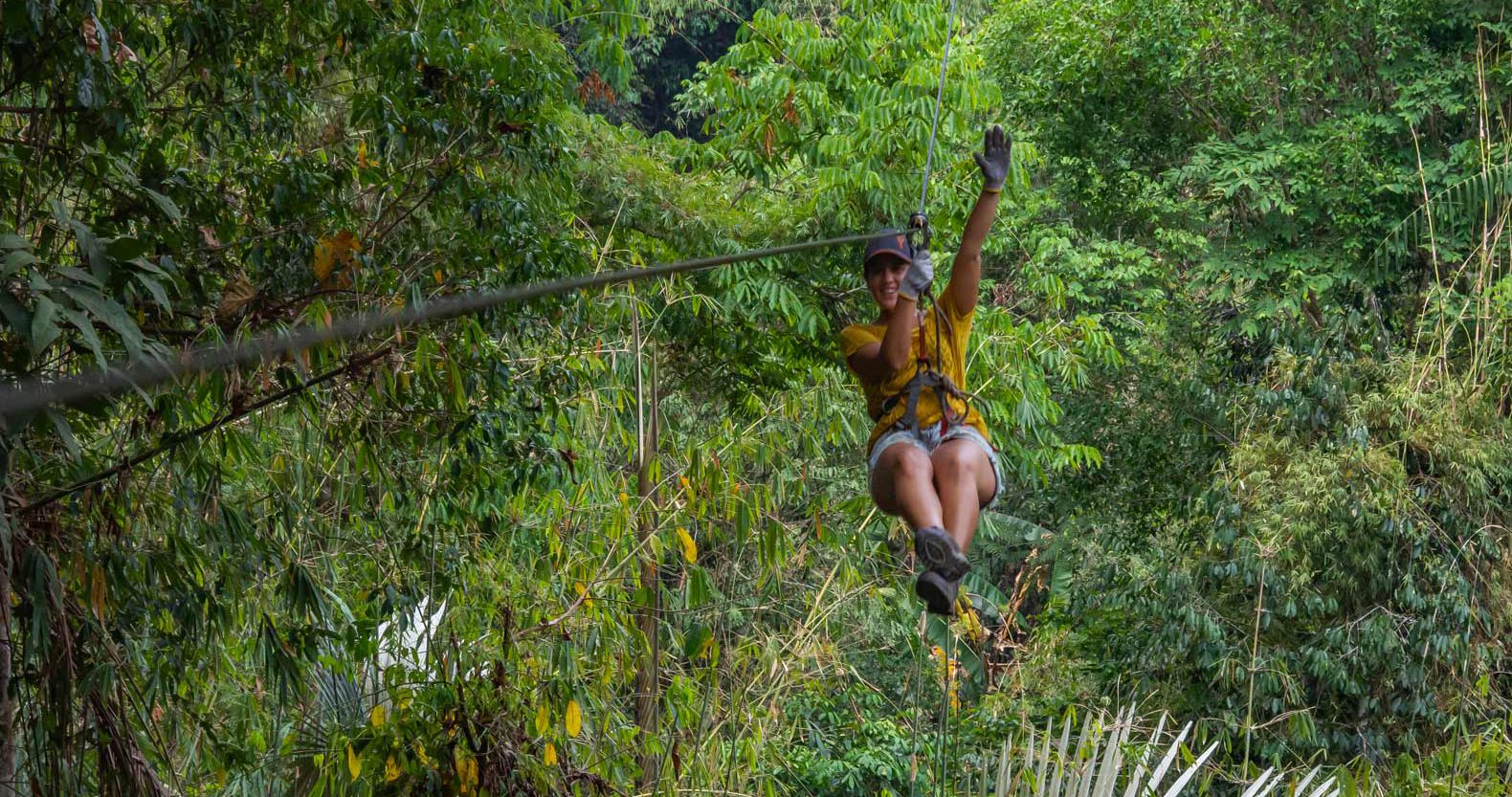 This post might contain affiliate links, which means we may receive a small commission on purchases made through these links, at no additional cost to you.
The Gibbon Experience is one of the few activities that many backpackers in Southeast Asia are willing to let go of their budget for. And for good reason! How could you let the opportunity pass to spend three days in the Lao jungle, trekking, ziplining and sleeping in a treehouse? We sure couldn't!
So we spent the 275 EUR each (which is an unbelievably large amount when you're backpacking in Southeast Asia) and joined the Classic Gibbon Experience.
Read on to find out all about this amazing adventure, that'll have you planning your own trip to Laos!
Choose Your Gibbon Experience
Like I stated above, we joined the Classic Gibbon Experience. There are however, other options. There's actually 4 different Gibbon Experience packages to choose from:
The Classic Experience
The Classic Gibbon Experience lasts for three days and two nights. It's a combination of trekking and ziplining through the jungle. You spend both nights in the same treehouse, while visiting the other treehouses on day two. You have the most chance of spotting gibbons with this experience, but that chance is still quite low!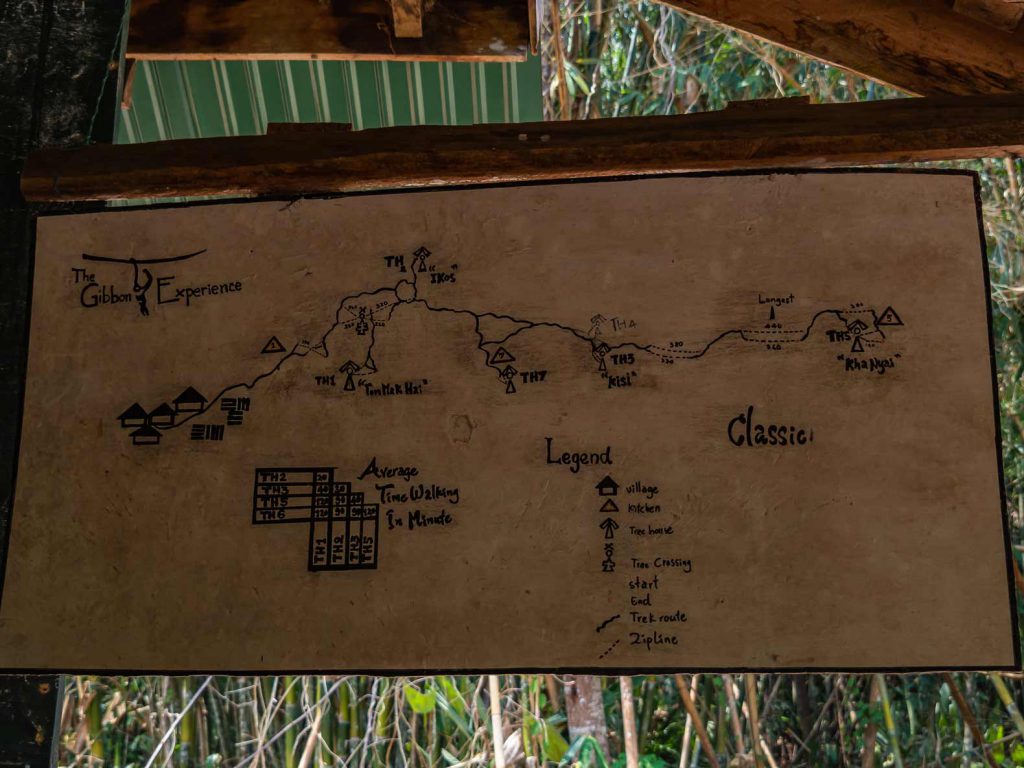 The Waterfall Experience
The Waterfall Gibbon Experience also lasts for three days and two nights. As you'll be going further into the jungle to visit the waterfall, there's more trekking on this experience. You'll be changing treehouses during the second day, so you'll need to carry your stuff with you.
The Express Experience
The Express Gibbon Experience is for the real adrenaline junkies. This two day and one night experience focuses less on trekking and wildlife and more on ziplining. It takes place in a different area than the other experiences, which means a shorter transfer by car. Plus, your treehouse is located right next to the biggest tree in Laos.
The Honeymoon Experience
This is the newest experience, which was just recently added to the Gibbon Experience website. It's basically the exact same tour as the Classic Gibbon Experience. The only difference is that you sleep in a private 2-person treehouse, in stead of one of the larger treehouses.
The Gibbon Experience Day by Day
The Gibbon Experience departs from the Lao border town of Huay Xai (or Houayxay). Though the town itself quite sleepy, you'll probably be passing through it anyway, as the famous slow boat to Luang Prabang departs from here as well.
Day 0
On the day we arrived in Huay Xai after crossing the border from Chiang Rai, we headed over to the Gibbon Experience office. We confirmed our tour for the next day and received our ziplining gloves. We also need to sign a questionable liability waiver, that basically frees them from any responsibility if you get hurt or die (even if it's because of negligent staff or faulty equipment).
As there's really not anything else to do in Huay Xai, we had no problem getting into bed early and having a good nights sleep before our adventure began.
Day 1
We report at the Gibbon Experience office bright and early at 8.15 AM. They have a storage room where you can store your big bag. This is really handy since you have to carry everything you take with you into the jungle yourself.
We watch a video with safety instructions and receive a cap and aluminum water bottles. The cap doubles as a cover for your "helmet", which protects your head in case you bump into any branches (but not much more!). We'll use the aluminium bottle to refill our water supply throughout the days. This is a nice environmentally friendly touch, as now there's no need to bring any plastic into the jungle. Also, they're nice souvenirs to take home!
At 9 AM we depart in the back of a truck, squeezed in between some bags of supplies. It's a long drive, so we immediately get to bond with our group. After two hours on a very curvy paved road, half an hour on an unpaved road and some car sickness on my part, we finally arrive at a small village.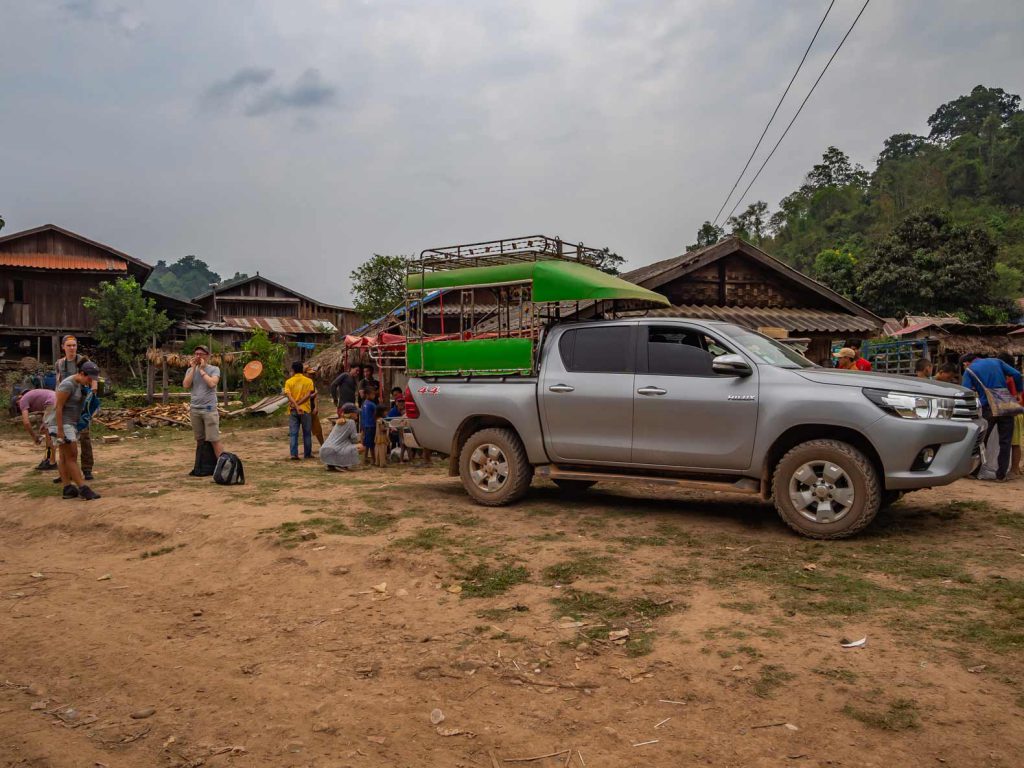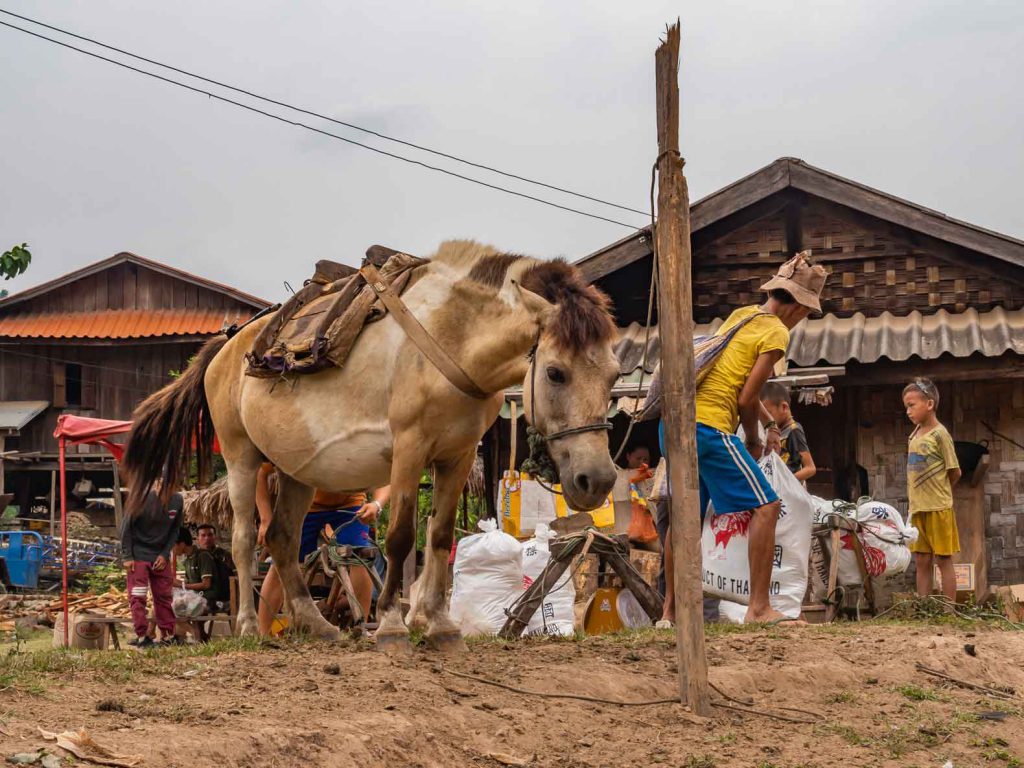 Here we get out of the truck, wait for our guides to load the supplies on three ponies and start our trek. For the first half hour, we walk through farmlands to our lunch spot. After a delicious chicken baguette and some sort of banana-rice-cake-pudding dessert, we continue on into the jungle.
At the next stop, we get our harness, split up into our treehouse groups and partner up with our guides.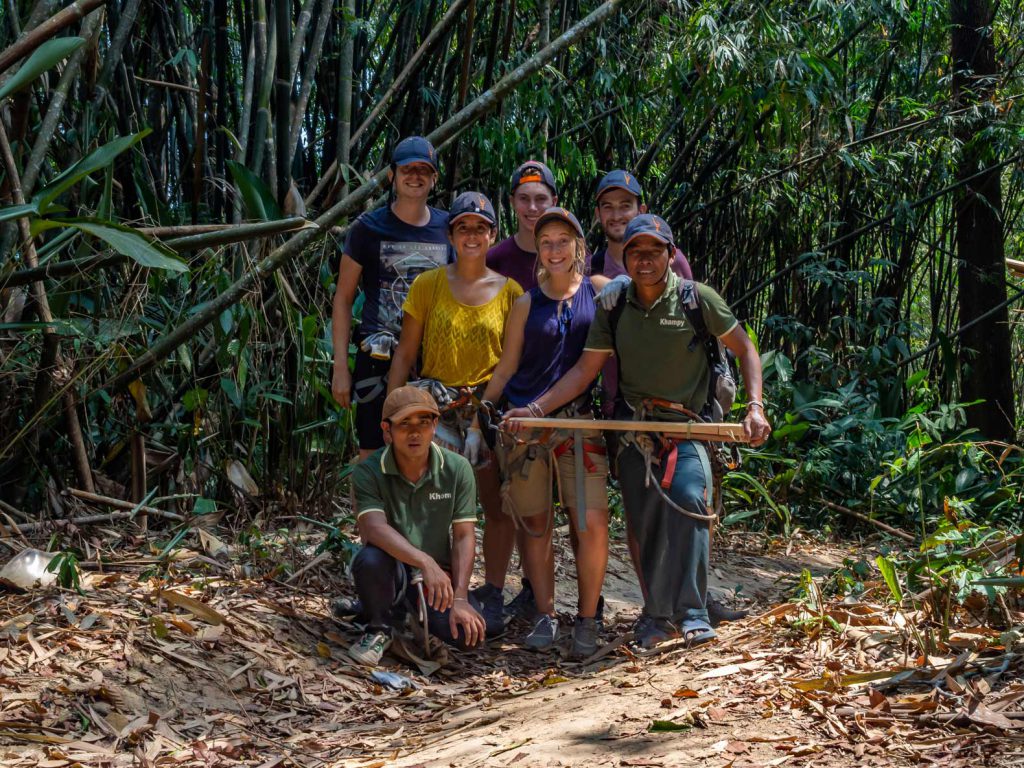 After a short practice line, it's now time to get onto our first zipline! You get a real adrenaline rush from soaring high above the canopy with amazing views of the jungle and the wind through your hair. But it's also a bit scary to step off the platform…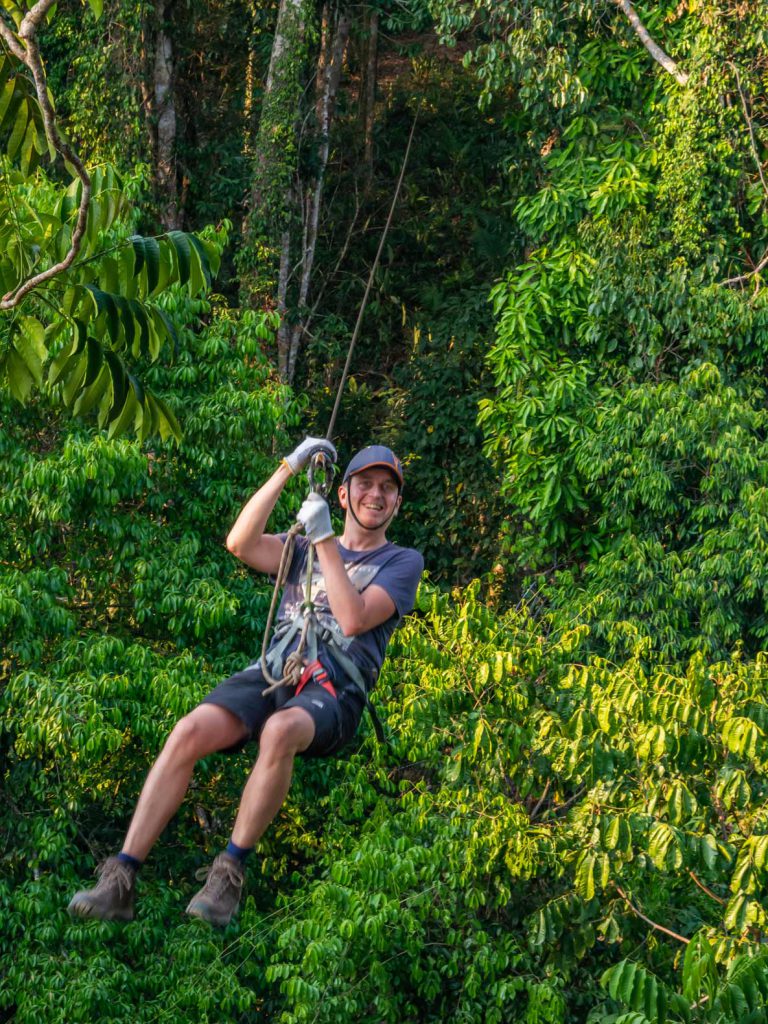 After a few more ziplines and some more trekking, we arrive at our treehouse at 3.30 PM tired but happy. The treehouse is absolutely stunning! We're quite high above the ground and have beautiful views of the surrounding jungle. There's nothing man-made in sight except for the zipline we used to get in.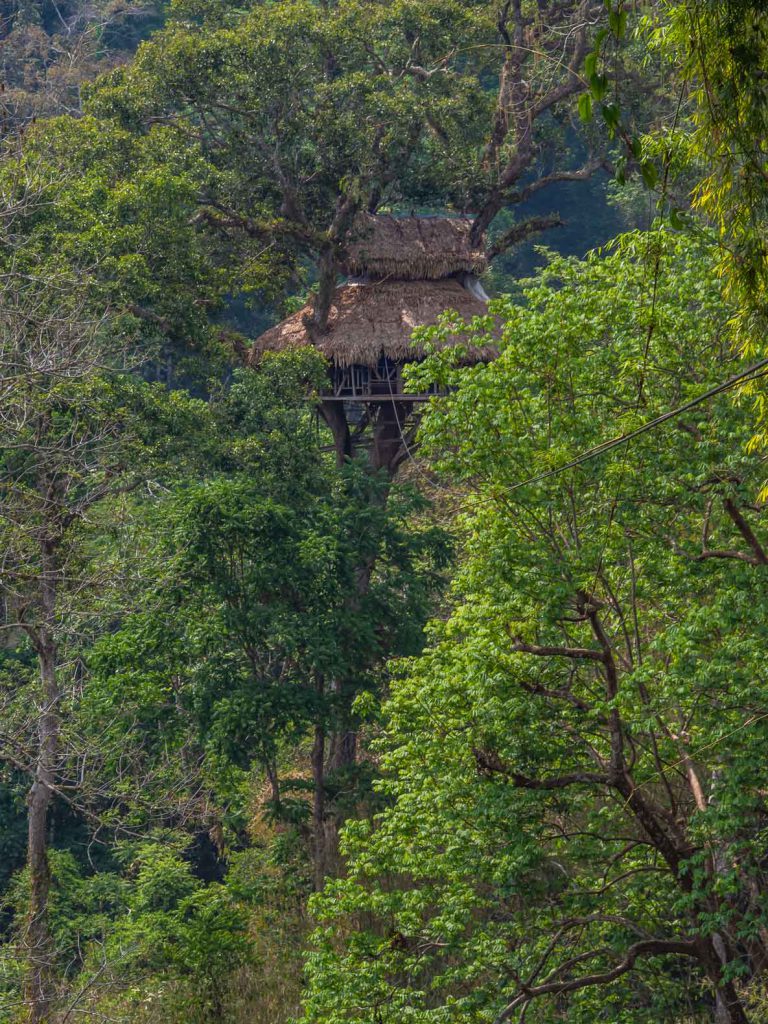 We get settled in and have an early dinner (the food is delicious!), which the cooks bring in by zipline as well. We spend the rest of the evening watching the sunset, chatting, playing cards and taking turns at the amazing open-air shower.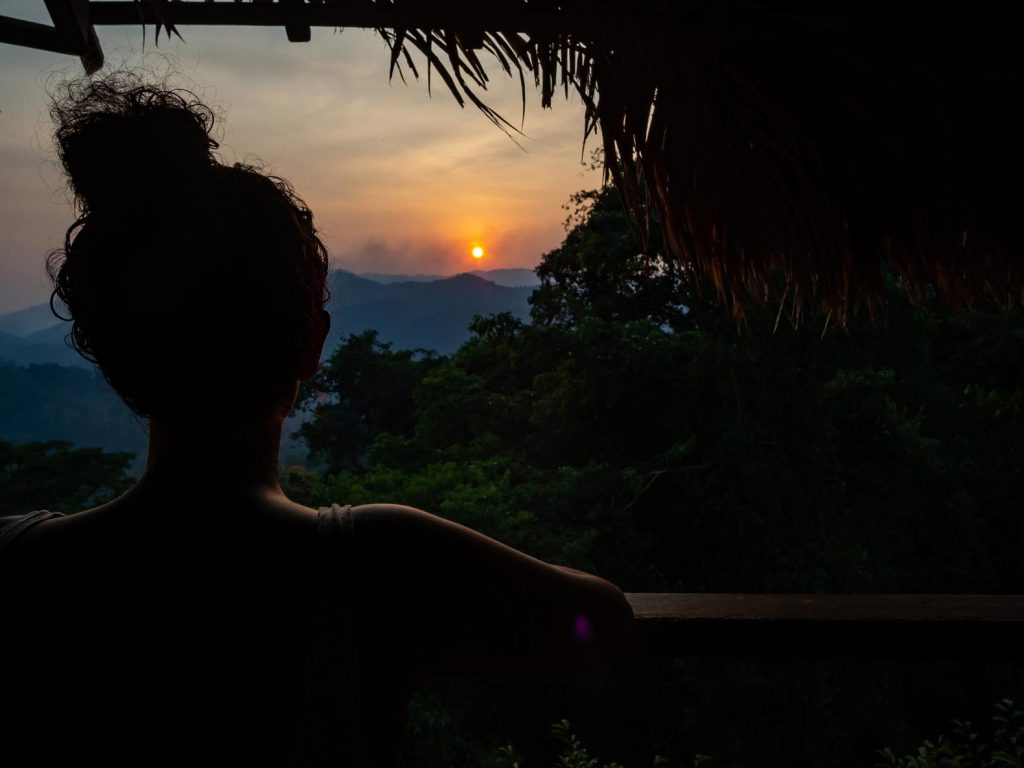 Day 2
After a warm night, we get up for an early breakfast. As we were getting ready to leave, we hear some rustling coming from outside of the treehouse. There are monkeys running around in the trees below us! They might not be gibbons, but it's still awesome to see wildlife from this close.
We spend the rest of the day trekking and ziplining around the area to visit all other treehouses. By now we're getting more and more comfortable with the ziplines.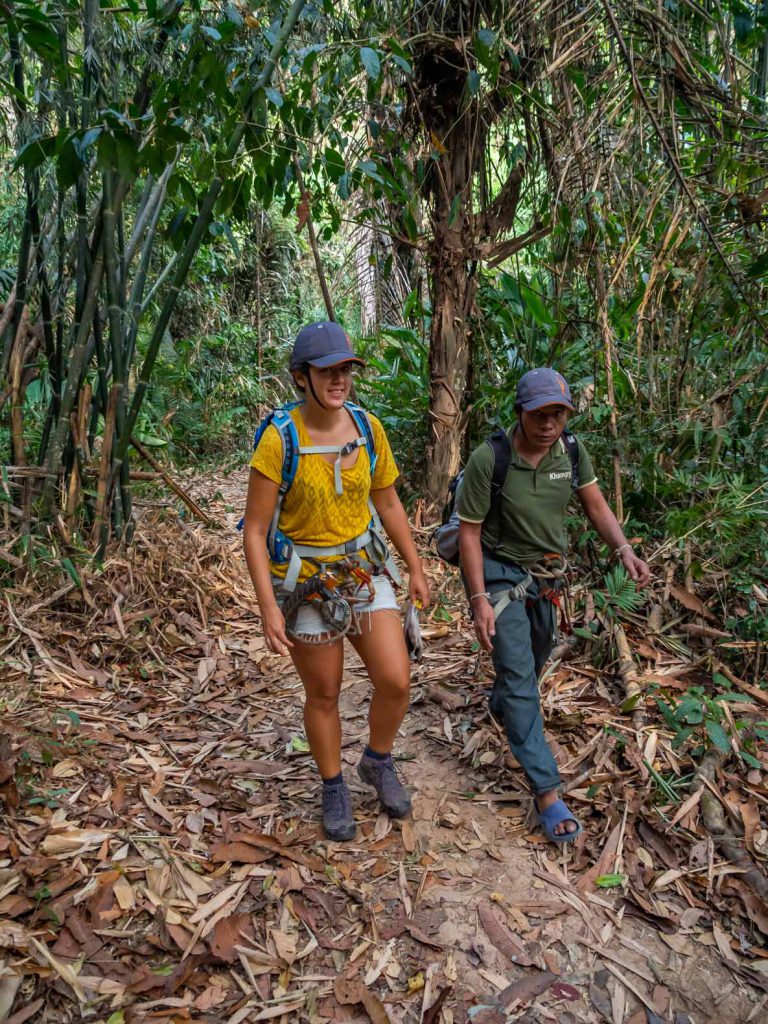 After a yummy lunch we take a little siesta (ziplining is tiring!) and spend some time chatting with the other groups. We have, by coincidence it seems, all gathered in treehouse 1 by this time.
A note on the treehouses: we were told by other backpackers that treehouses nr 1 and 7 are the best. We slept in nr 4, but were not dissapointed at all. Each has its own charm really.

Nr 1 is by far the biggest treehouse, with four levels and "private bedrooms", but because the tree it's in has so many overhanging branches, you don't have such a nice view. Nr 4 and 7 are similar, with nr 4 having the best sunset view and nr 7 having a small "penthouse" on the top floor.

You probably won't sleep in any of the other treehouses. Nr 2 is the honeymoon treehouse, nr 3 is only used if it's very busy, and nr 5 and 6 are used for the Waterfall experience.

I suggest you don't worry too much about the sleeping arrangements Either way, you'll spend the night in an awesome treehouse.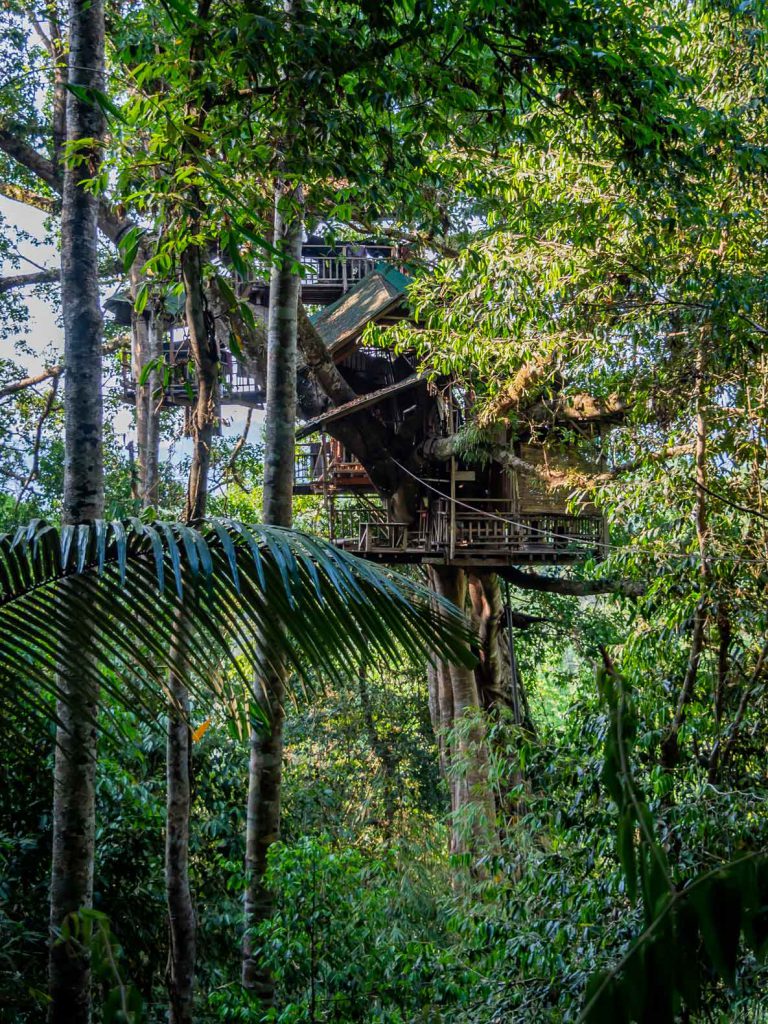 Dinner comes early again today (did I mention the food is amazing?!). After dinner we play some more cards and drink some Lao Lao (rice whiskey) that our guides brought us. A great way to end a great day!
Day 3
Our group decides to get up early today to do some gibbon spotting. As I'm not really into getting up early, I decide to skip this one and take in a few hours of extra sleep. This turns out to be a good idea, because not only does my group not see any gibbons, I have a great time spotting squirrels in the trees with our guide Khampy when he comes to make our coffee and tea for breakfast.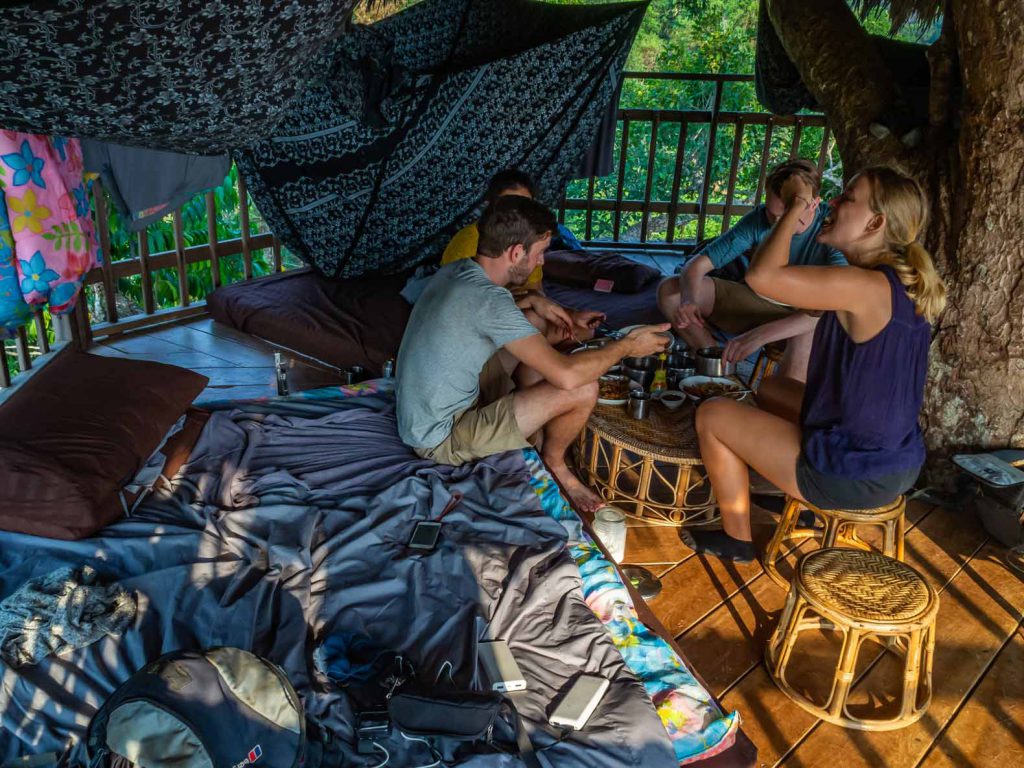 After breakfast we have a couple of hours left to do some more ziplining before trekking back to the village. Here we get ourselves a well- deserved ice-cold coke (there's no such luxuries in the jungle) and get back in the car to Huay Xai. Our Gibbon Experience has come to an end already.
A note on safety: In online reviews of the Gibbon Experience, you'll find some critical comments on the safety of the ziplining. There was also an unfortunate incident in 2017, which lead to the death of a tourist. However, safety procedures and equipment have been improved since then. While you do need to take care of yourself (you get the freedom to go ziplining without supervision of your guides and are responsible for your own harness), we never felt unsafe during our three days in the jungle.
Looking back, the Gibbon Experience is a true adventure that we are very grateful to have been a part of. We therefore highly recommend it to anyone visiting Laos. It's an amazing way to get in touch with nature in this beautiful country!
Pin it for later!
Hi, my name is Sandra and I'm half of the traveling couple that makes up Bus stops & Flip-flops. I'm finally living the dream by traveling the world with my husband Geert. My other hobbies are eating good food, dancing and sleeping in. Did you enjoy reading my blog post? I'd love it if you leave a comment!
---
---