The best places to eat in Budapest!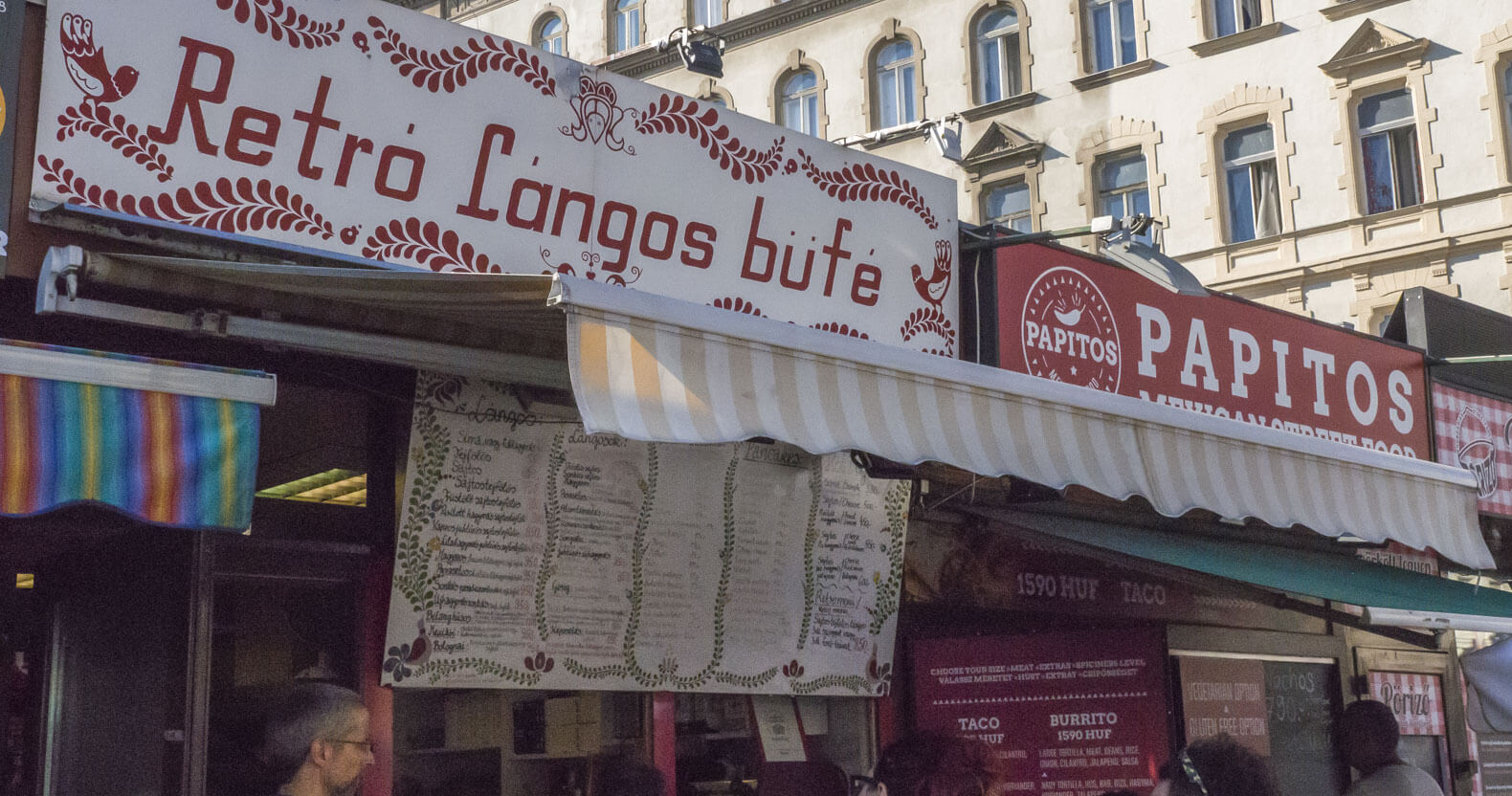 This post might contain affiliate links, which means we may receive a small commission on purchases made through these links, at no additional cost to you.
I don't know about you, but whenever we're planning to visit a city, deciding where to eat is almost as important as looking for accommodation or deciding which highlights to visit. A blog post about the best places to eat in Budapest could therefore not be skipped!
We visited this bustling city in the fall of 2018 as part of our Central Europe trip and spent a lovely five days exploring the many things to do in Budapest. We felt this was the perfect amount of time to see all the highlights and sample all the delicious foods that the city has to offer.
Check out some of the activities below if you're not sure yet on how to spend your days in Budapest:
As always, we've tried to eat like the locals do. Not only does this provide you with an authentic cultural experience, it's also nice for your wallet. Local food joints are often much cheaper that than touristy restaurants and fast food chains.
After much research and much tasting, here's our list of the best places to eat in Budapest!
1. The best lángos in town at Retró Lángos Büfé
Retró Lángos Büfé is a small food stall on the square at the exit of the Arany János utca metro station. It's quite an inconspicuous looking place, with just a few tables and chairs in front of it. If it weren't for the crowd of locals waiting in line, you probably wouldn't think it was anything special. But how wrong you would be… This is definitely one of our favorite places to eat in Budapest!
Although Retró Lángos Büfé serves a variety foods, such as pancakes and hot dogs, that's not what you're here for. You're here to get the best lángos in Budapest.
Lángos is basically deep fried dough with some toppings, sold as street food at the many stalls across the city. The Hungarians especially like to eat it after a night out in the bar. They top it with a garlic spread, sour cream and cheese. Sounds unhealthy? It is, but oh so delicious! And for only 750 HUF (about 2.50 USD) you definitely need to try it!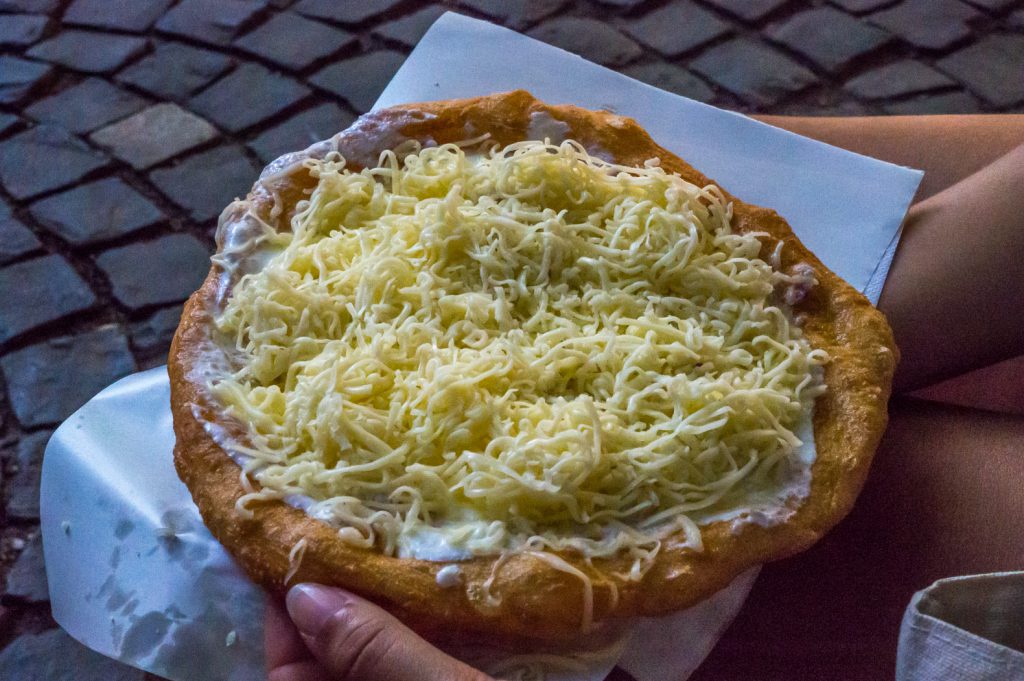 If you get your lángos at Retró Lángos Büfé (and you should!), you can choose between many different toppings, such as red onions, sausage, ham, tomatoes and/or jalapeños. There is even a sweet version with Nutella and banana slices. We opted for the classic sour cream and cheese combo and loved every bite of it.
If you eat your lángos as a snack, we recommend to split one between two persons. Or if you are really hung(a)ry (get it?) you can take one each and be sure that you will be stuffed!
2. Papitos: real Mexican street food
Right next to Retró Lángos Büfé is another Budapest gem: Papitos. This Mexican street food stall serves real Mexican tacos and burritos. And believe us, they are very tasty!
What's nice about Papitos' menu is that you can personalize your meal to create your own favorite tacos or burrito. You start by choosing a filling of either chicken, pork or beef (which are all equally delicious, so you can't go wrong). Next, you have the option to add toppings of sour cream, cheese and/or guacamole. To finish it off, you choose one of their six different salsas, which range from mild and zesty fresh to fiery hot.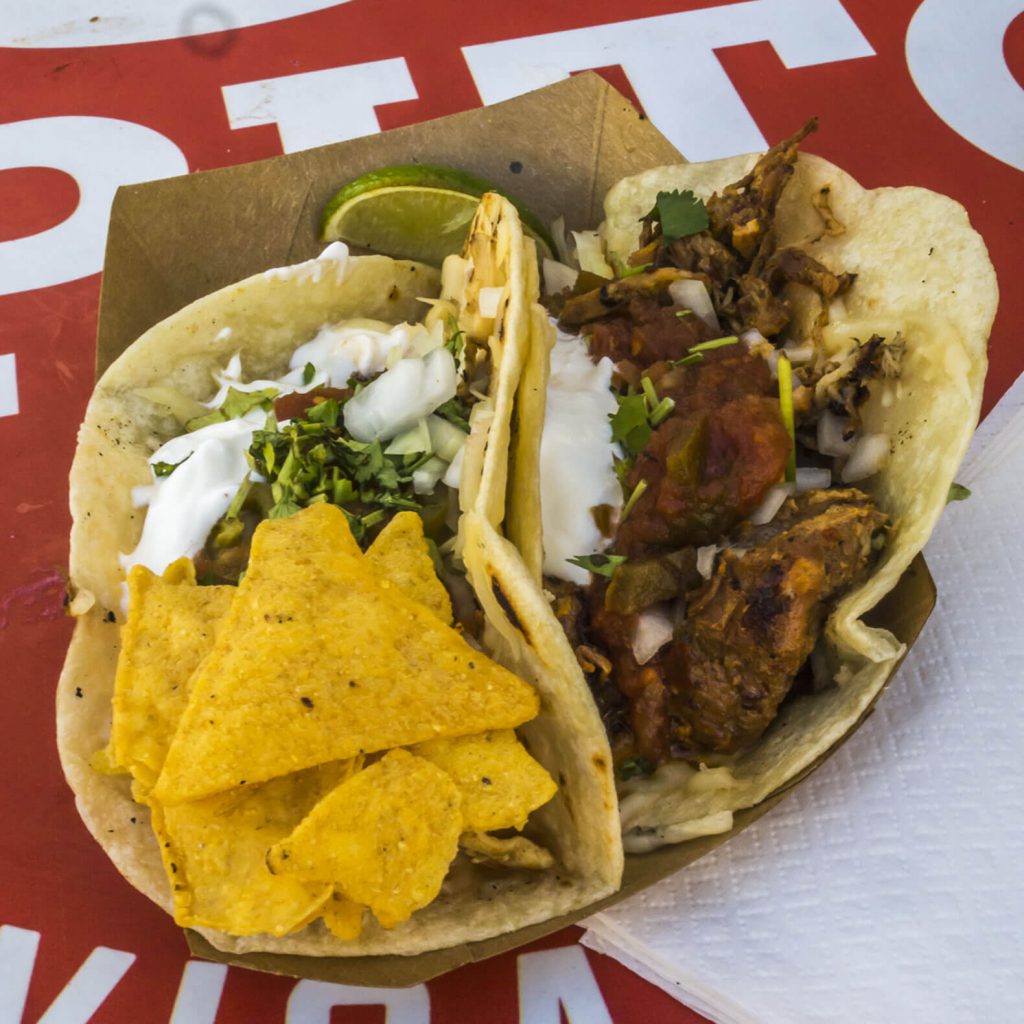 The tacos aren't very large, so we would recommend getting two (or three, if you've got a big appetite). They're served with some nacho chips and a lime wedge. Yummy!
There are also vegetarian and gluten free options, if that's what you're after, or you can get a quesadilla for variation. Order a Corona to go with your meal, and for around 2000 – 2500 HUF (7 – 9 USD) you'll be a happy camper!
3. Find your favorite ruin pub
Budapest's ruin pubs are famous throughout the world, and a large part of the reasons why many people love the city so much. Unfortunately, they do have a reputation of attracting a younger crowd looking for a cheep party.
Still, there are many nice ruin pubs, that have more of a restaurant feel to them, and that are very nice places to eat in Budapest; for dinner, lunch or even breakfast. You just need to know where to look. Luckily for you, we've done all the hard work for you and selected our 5 favorite ruin pubs in Budapest. If you check them out, you'll see they're as diverse as can be and there's a ruin pub for every occasion and every budget.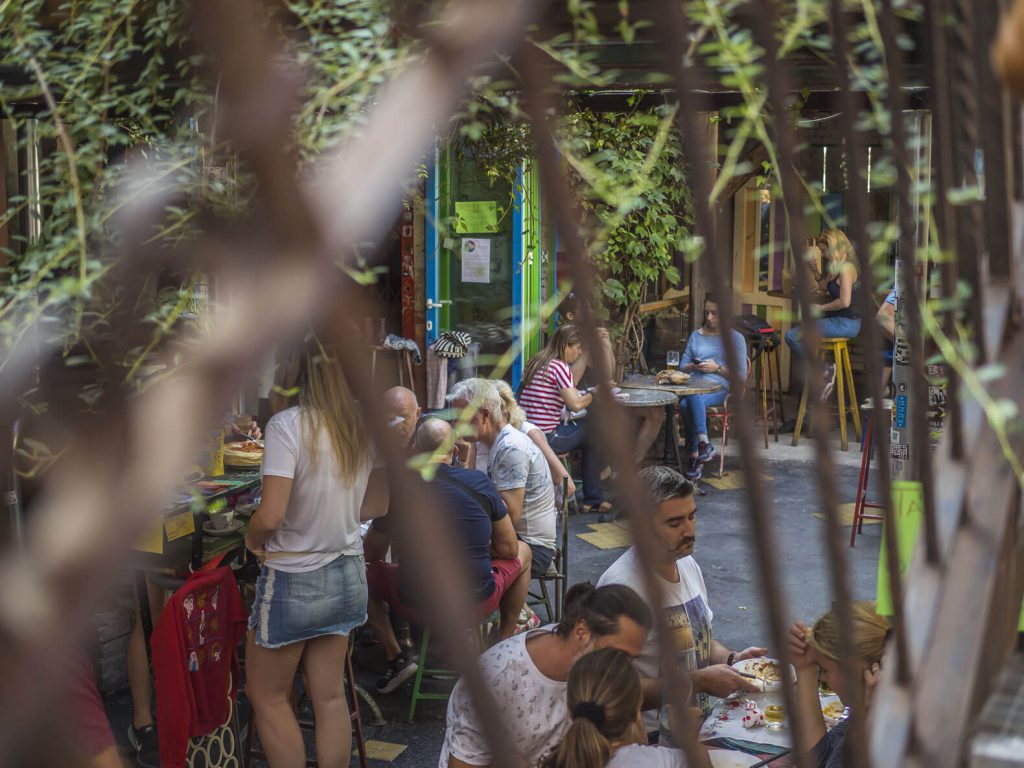 4. Beef and potatoes at Csülök Csárda
Oh how we love the savory, meaty, comforting dishes of the Hungarian cuisine. Our two favorite places to eat in Budapest for a traditional, no nonsense Hungarian dinner are Csülök Csárda & Huszár Étterem. Both restaurants are located on the same street (Berzsenyi Dániel utca) on the outer edges of district VII and district VII, meaning you'll find fewer tourists here and you'll be dining among the locals.
Csülök Csárda is a family restaurant and has a small, but atmospheric underground dining hall. You can fill up on mouthwatering meat and potatoes, for under 3000 HUF (about 10 USD), including a drink! We had a delicious paprika beef stew called vörösboros marhapörkölt, accompanied by potato croquets. The stew contains beef, onion, paprika powder and red wine. Believe us when we say you have to try this!
5. Traditional Hungarian food at Huszár Étterem
Huszár Étterem is a bit more fancy (though not by much) than Csülök Csárda. There's live music and they've put a bit more effort into the interior. If you're new to the Hungarian cuisine, we recommend ordering one of their specialties for 2 persons. You'll be served a three course dinner of traditional Hungarian dishes, including one drink per person, for only 7500 – 12500 HUF (26 – 44 USD). Now that's a good deal!
However, make sure to save up your appetite before you go here, because the portions are large and filling. We weren't hungry enough to finish a three course meal, so we decided to order from the regular menu. We went for a small bowl of gulyás as our starter. Gulyás (or Goulash) is one of the most famous dishes of Hungary. In the rest of the world this dish is a stew, but in Hungary they eat it as a soup. Filled with tender beef, pieces of potato, bell peppers and tons of other vegetables and herbs, this dish is a good hearty meal.
The main course dish of chicken paprikash (chicken legs stewed in a paprika sauce) was another hit and has become one of our favorite Hungarian dishes. We begin drooling again as we remember those tasty pieces of meat combined with a traditional side of tojásos nokedli. These Hungarian pasta dumplings with eggs (similar to German Spätzle) are a great side dish to any meaty stew. Yum!
6. Assemble a picknick at the Great Market Hall
No matter how many awesome places to eat in Budapest there are, sometimes you're just not looking to have a sit-down meal and be served at a restaurant. In those cases, a picknick is a great alternative! If you go to the Great Market Hall of Budapest, you can combine your picknick shopping with a visit to one of Budapest's popular tourist attractions.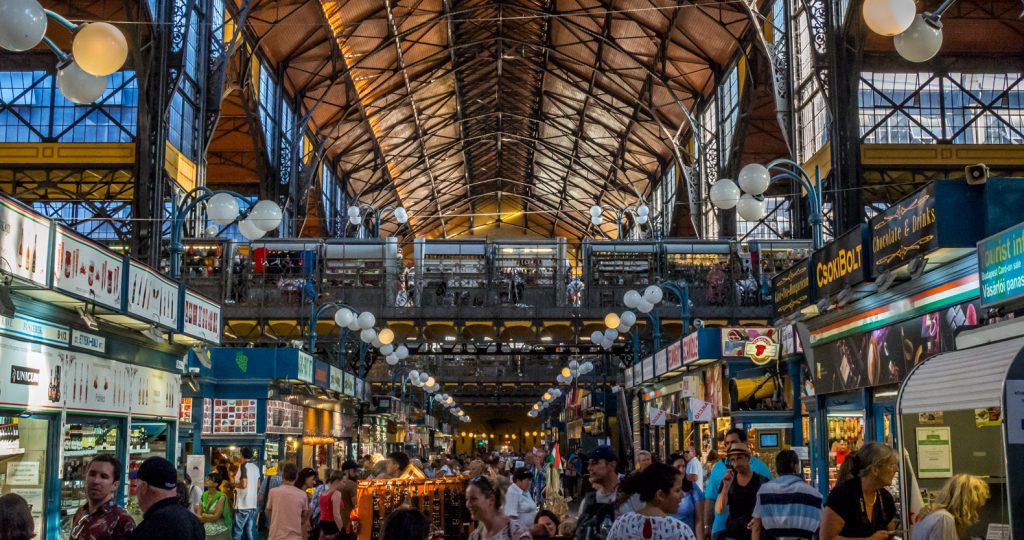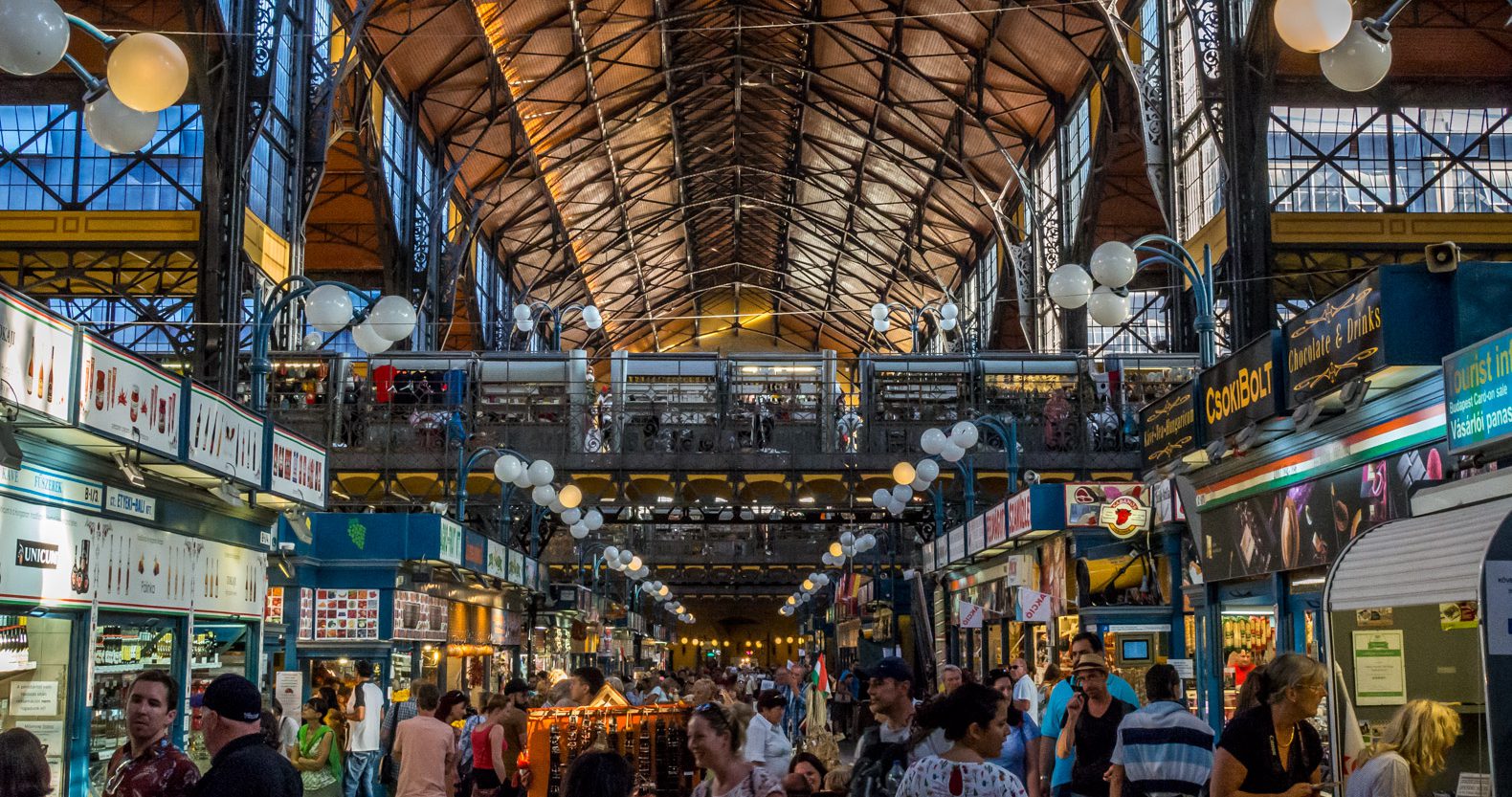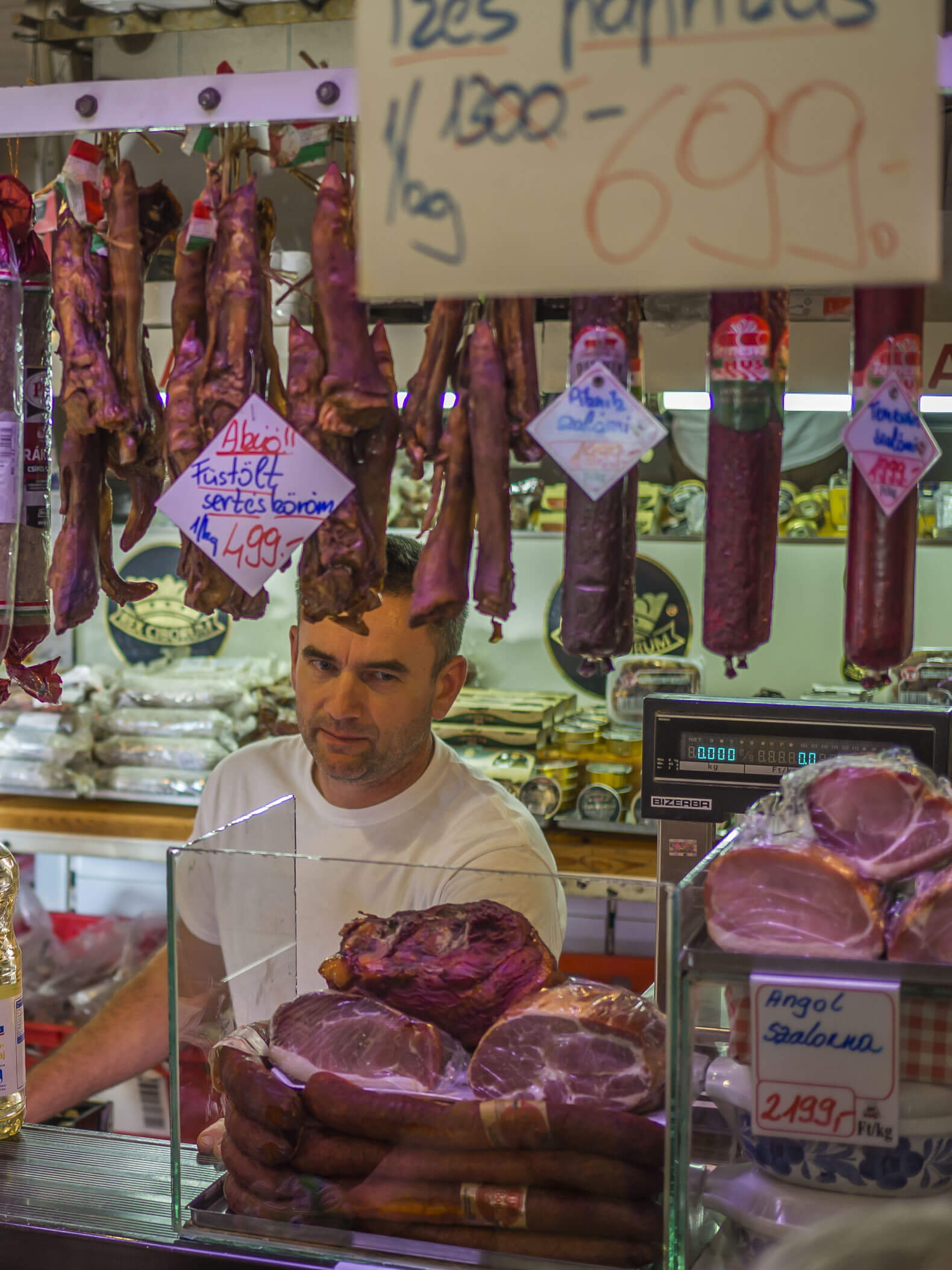 The largest indoor market of Budapest is set-up in a beautiful old building and hosts many different stalls selling anything from fresh produce to souvenirs. Go there in the morning to find the nicest atmosphere and buy the ingredients for your picknick. You can get fruits, bread, pickled vegetables, dried sausages, sweet and savory pastries, chocolate, wine, etc., etc. Take the time to see all the stalls and select your favorite items.
And while you're there, why not buy some paprika powder or paste to take home, so you can enjoy the flavors of Budapest even after your visit to this vibrant city has ended!
Hi, my name is Sandra and I'm half of the traveling couple that makes up Bus stops & Flip-flops. I'm finally living the dream by traveling the world with my husband Geert. My other hobbies are eating good food, dancing and sleeping in. Did you enjoy reading my blog post? I'd love it if you leave a comment!
---
---