Our 5 favorite ruin pubs in Budapest!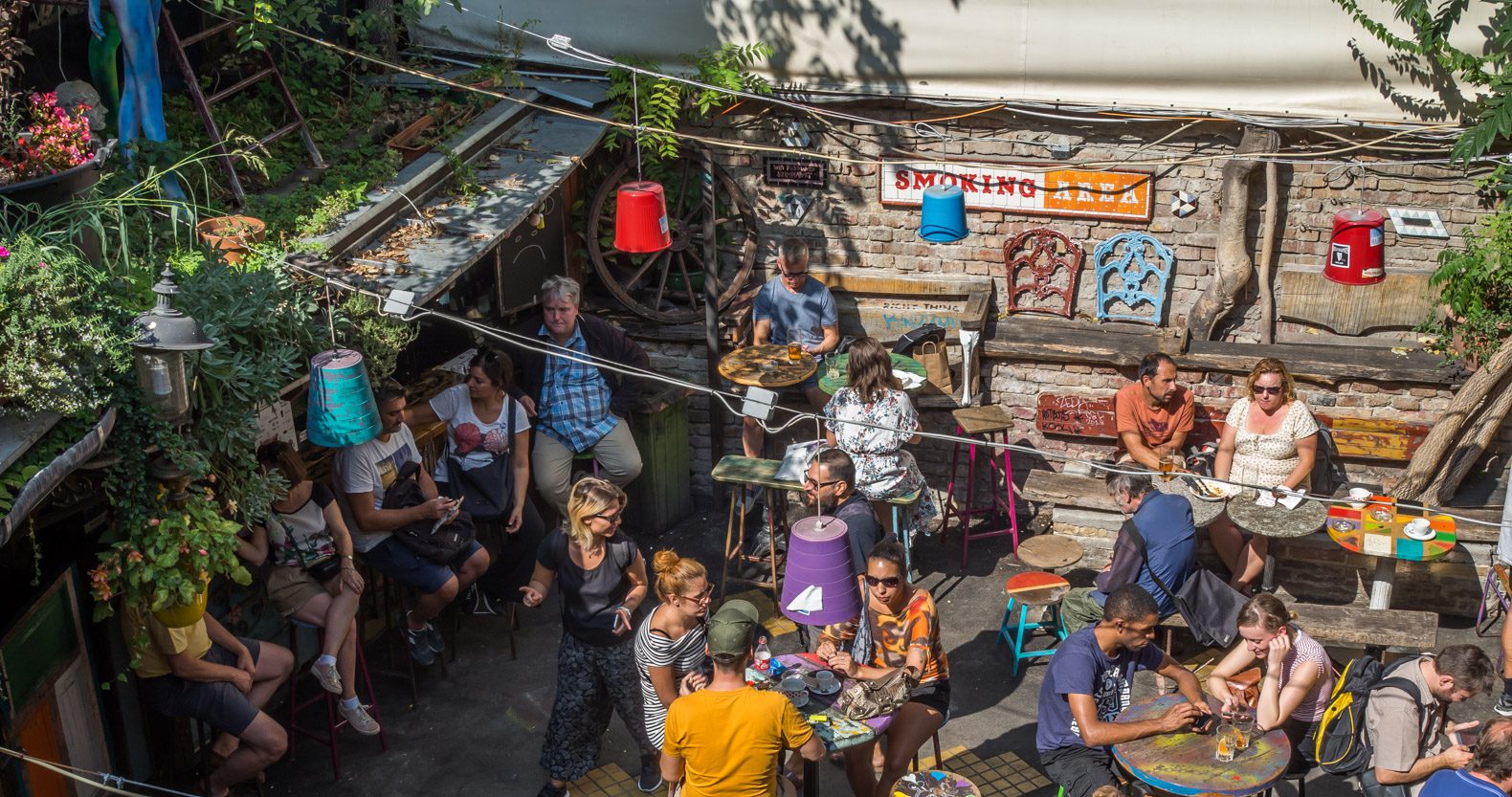 This post might contain affiliate links, which means we may receive a small commission on purchases made through these links, at no additional cost to you.
A trip to Budapest isn't complete without visiting at least one ruin pub. The ruin pubs in Budapest are a relatively new phenomenon and have started popping up in the Jewish Quarter since the beginning of the 21st century. They're basically alternative bars and cultural centers that are located in previously abandoned buildings in the former Jewish ghetto. In stead of reconstructing the buildings, the pub owners embraced the unique atmosphere created by the "ruined" buildings and decorated them with a mishmash of vintage items, graffiti and art. Beers and food are cheap and the crowd is mostly students.
As there are over 400 ruin pubs in Budapest, you might feel a bit overwhelmed when deciding which ones to visit in the limited time you probably have during your trip. But no worries, we're here to help you along! We've selected five ruin pubs in Budapest, that we believe provide you with a nice mix. Some more touristy, others more frequented by locals. Some to get food, others to get drinks. We'll get you the best to make the most of your Budapest trip.
So, let's get stuck in!
1. Szimpla Kert
You simply can't make a list of ruin pubs in Budapest without starting with Szimpla Kert. This is the first ruin pub to open in Budapest (in 2002) and also the most well known. It has become quite touristy over the years, but it's still definitely worth a visit. The pub is quite large, with a courtyard, several bars, a restaurant and even a small shop. At night Szimpla Kert is the center of Budapest nightlife and jam-packed with twenty-somethings drinking and dancing the night away.
If that's not really your thing, you can also visit Szimpla Kert during the day and marvel at the unique building and its eclectic interior. Just take a look at the pictures below, to get an idea of what you'll find.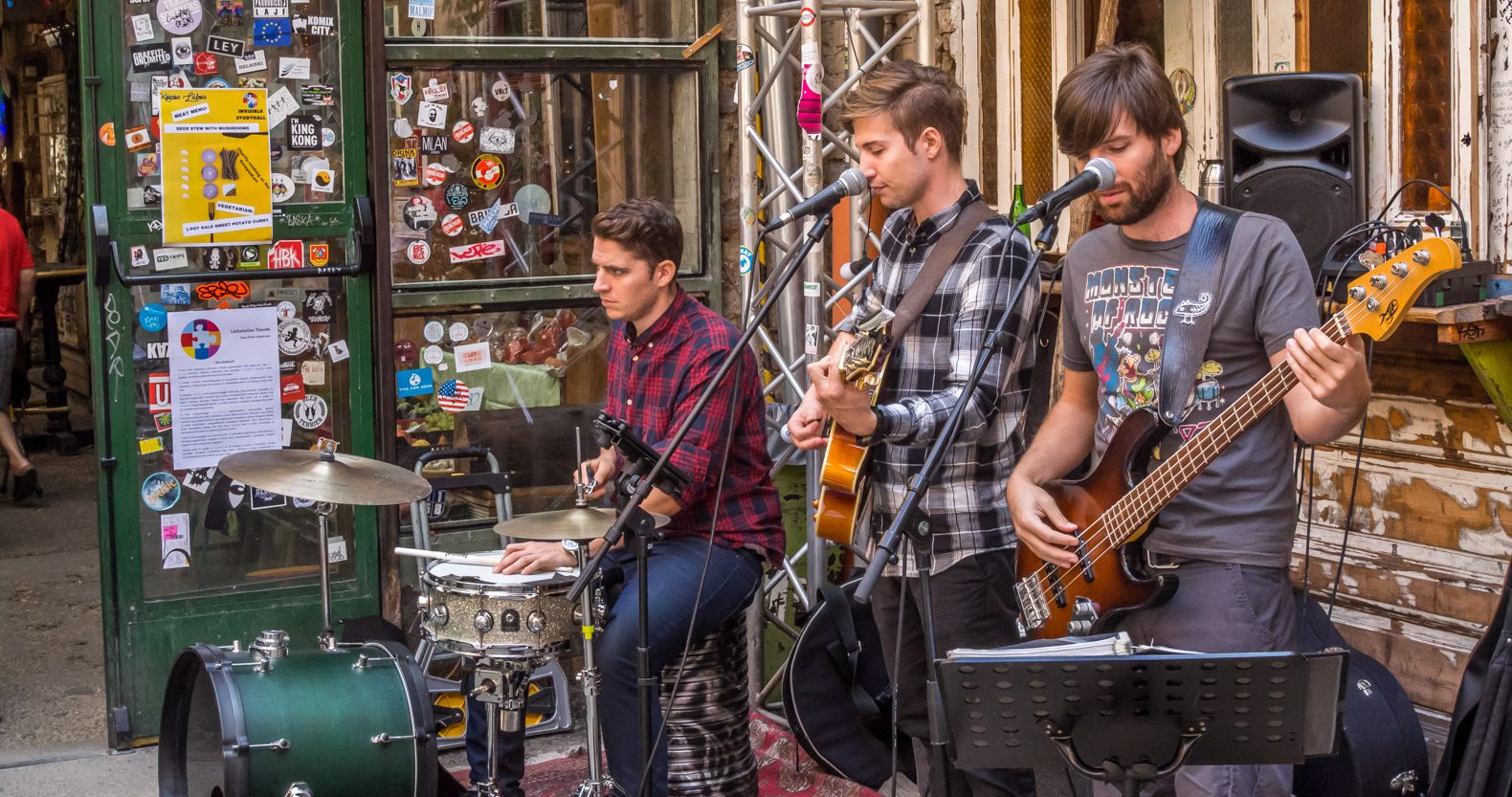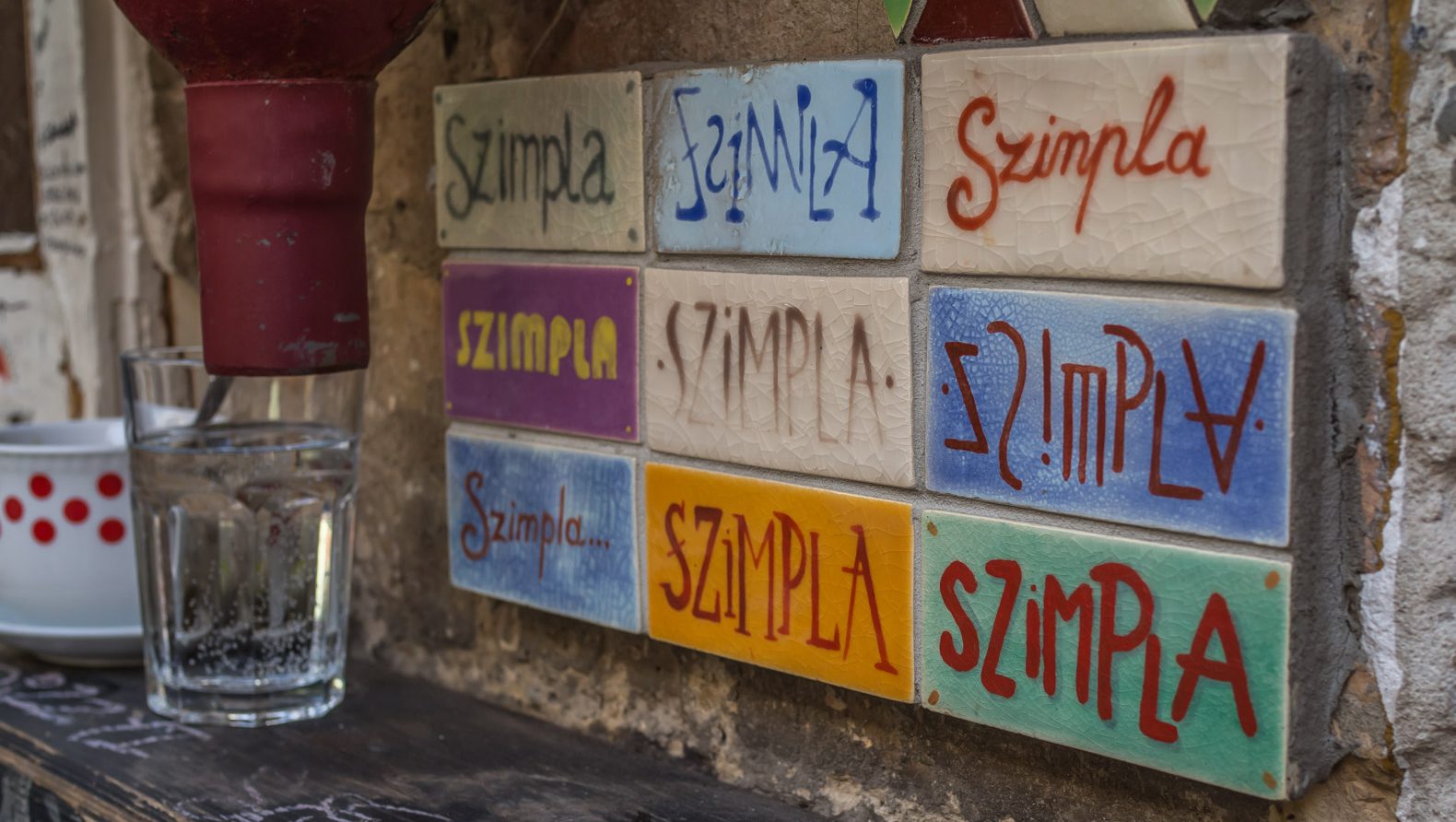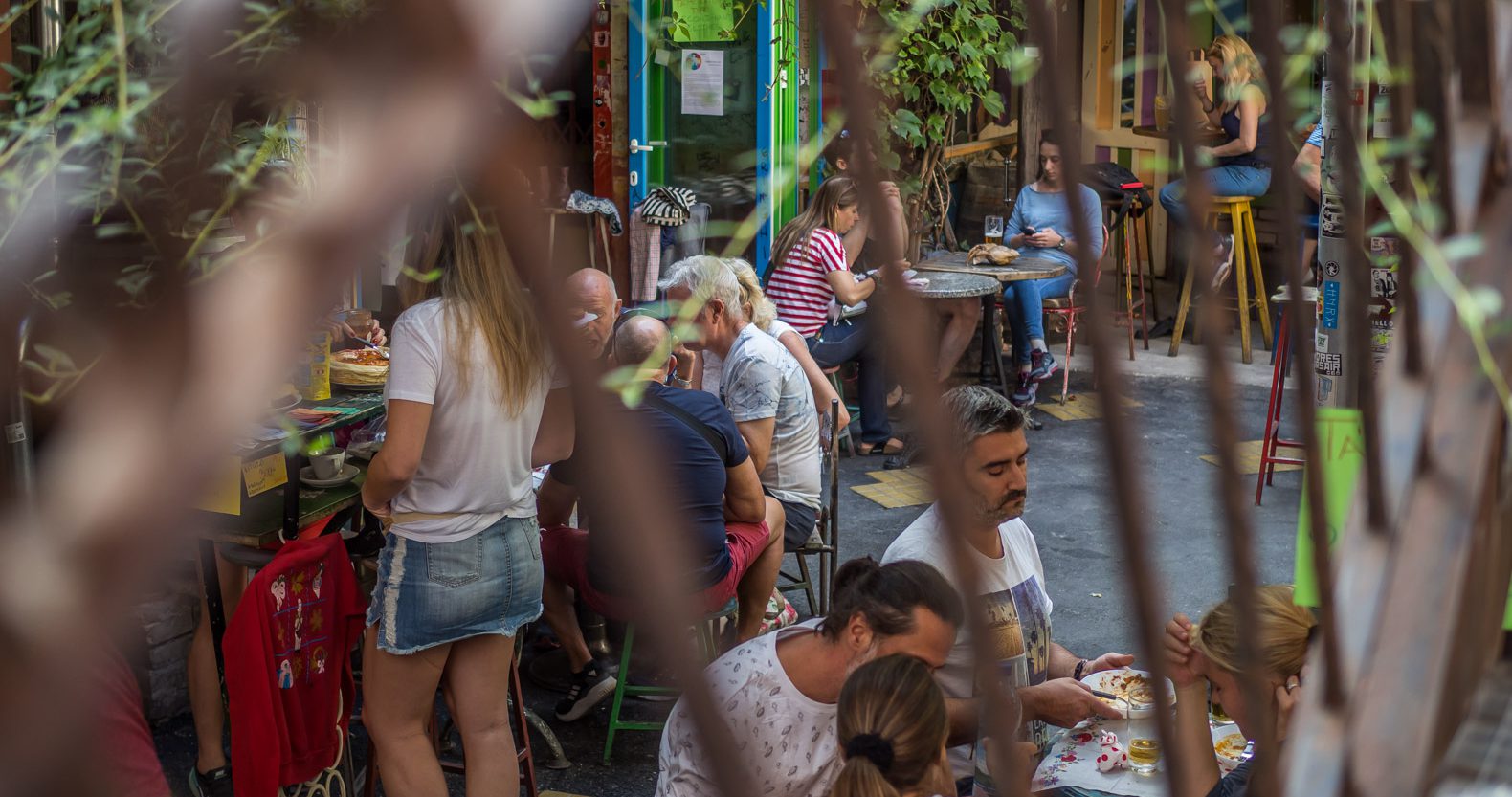 We decided to visit Szimpla Kert on a Sunday morning, when there's a small farmers market in the courtyard. The stalls sell all kinds of fresh produce, cheeses, cured meats, home made jams, soups and many more delicious things. This really adds to the already nice atmosphere, so we would definitely recommend it. And you don't have to worry about getting up really early either, as the farmers market is open from 9 AM until 2 PM.
You can find Szimpla Kert at Kazinczy utca 14. They're open daily from 10 AM (Sundays at 9 AM, because of the farmers market) until deep into the night.
2. KARAVÁN
Right next door to Szimpla Kert, you'll find KARAVÁN Street Food & Beer Garden. Not so much a pub, as more a collection of food trucks and stalls, this is the perfect place to grab a bite before or after hitting the bars. Each stall serves its own specialty; from Hungarian specialties such as lángos and gulyás, to Italian pizza's and Mexican burrito's. There are also plenty of vegetarian and vegan options and a bar serving beer, wine and stronger spirits. Simply order your food and drinks from your favorite stall and find a spot at one of the tables in the colorfully decorated garden. We enjoyed some delicious "real cheeseburgers" (no meat, the patty is made of breaded and fried cheese) that we washed down with some wine for me and beer for Geert.
KARAVÁN is located at Kazinczy utca 18 and is opened daily from 11.30 AM until 12 AM on Sunday to Wednesday and 2 AM from Thursday to Saturday.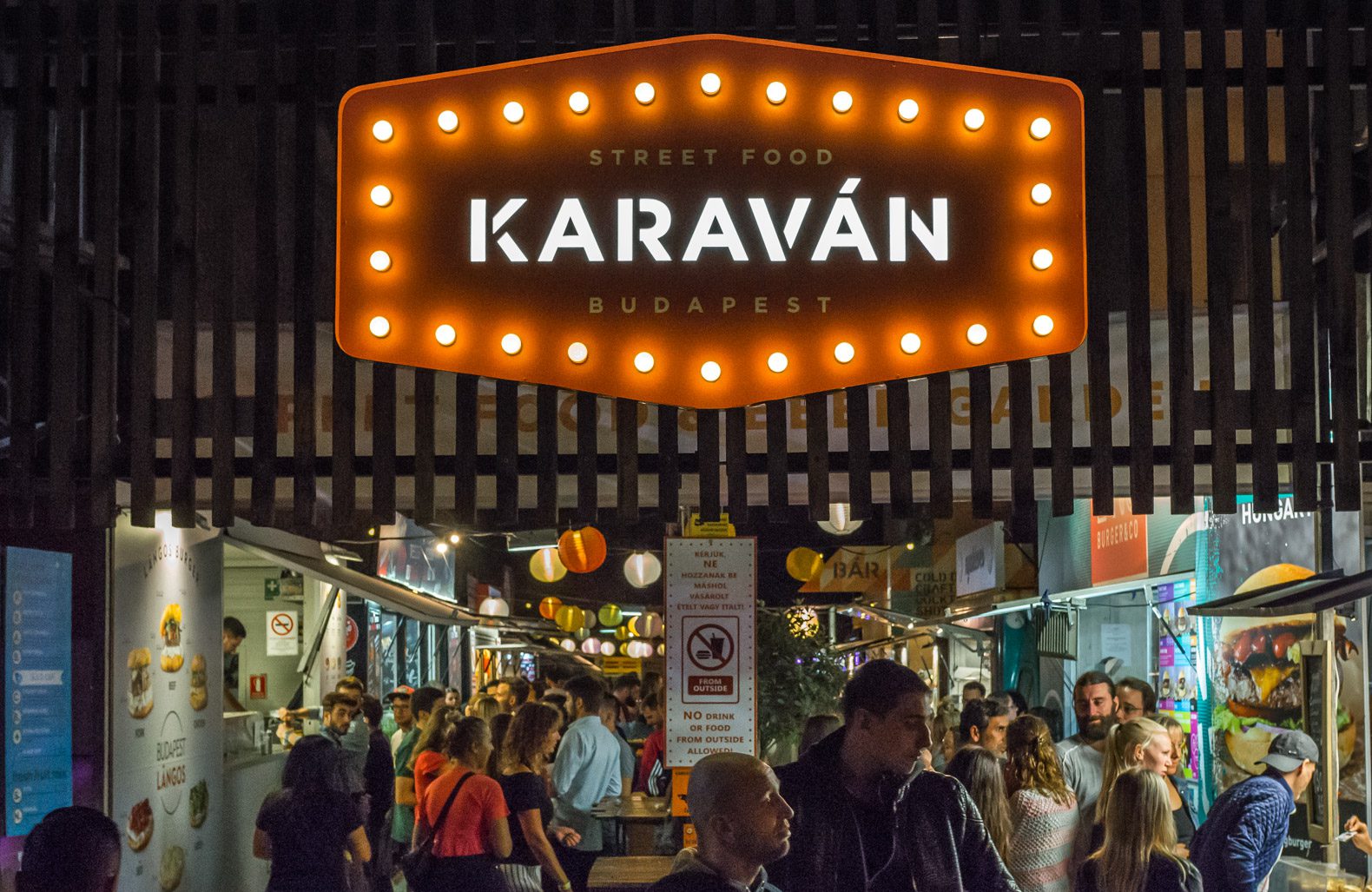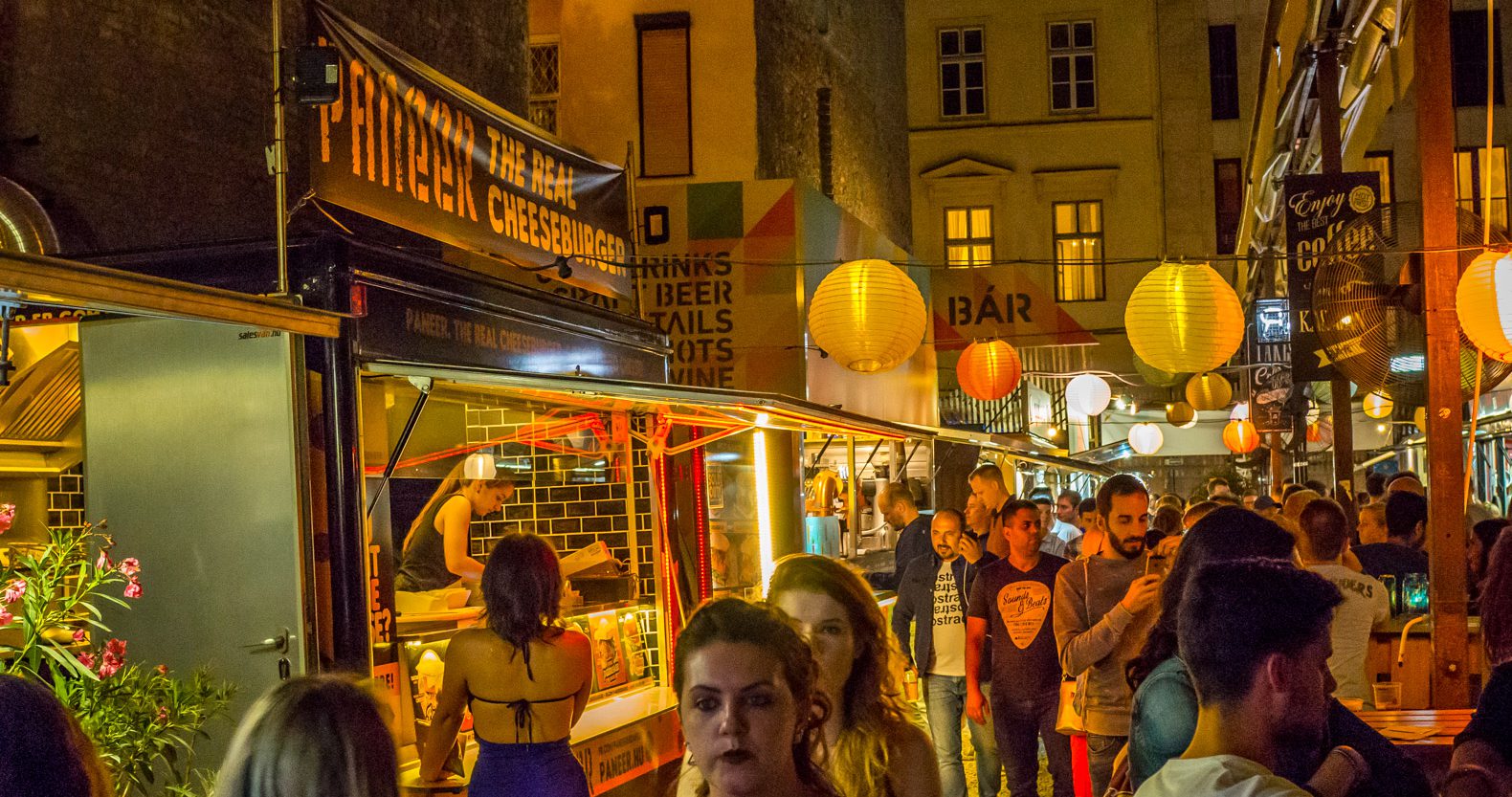 3. Kőleves Kert (Stone Soup Garden)
We stumbled upon Kőleves Kert when looking for a place to rest our feet and have a drink after a day of sightseeing. We were originally planning to find a spot at one of the many trendy restaurants and pubs inside the beautiful Gozsdu Courtyard. But we were disappointed with the high prices, so we moved on. And we were happy we did!
Kőleves Kert is a ruin pub in the "garden" of the Stone Soup restaurant, which was created when the building next to the restaurant was knocked down. The open-air bar has a relaxed atmosphere due to the colorful garden tables and chairs, romantic light bulb decoration and laid-back music. The crowd is a nice mix of tourists and locals of all ages. When we were there, there was actually a birthday celebration going on, which to me is a sign that the locals appreciate the place.
Kőleves Kert is also located on Kazinczy utca, but it's two blocks further along the street at number 37-39. Opening hours are 8 AM to 12 AM from Monday through Friday and 9 AM to 12 AM on Saturday and Sunday.
4. Mazel Tov
Mazel Tov is one of the most popular ruin pubs in Budapest, even though it's not actually a pub. This Middle Eastern restaurant is like the ruin pub 2.0. It's located in one of the ruins of the Jewish Quarter, but with a carefully designed and absolutely stunning interior. In stead of cheap drinks in an alternative hangout, you go there to get delicious food in an upscale atmosphere.
I mean, when you see pictures like this, you just have to go there, right?!
Mazel Tov was probably our favorite restaurant / ruin pub in Budapest. We had their trademark hummus plates, topped with tahini, cucumber and tomato salad, and the most delicious falafel we had ever eaten. They serve it with a warm toasted pita bread for dipping, and of course some lovely Hungarian wine. Desert was an Israëli cheesecake and an apricot pistachio tart. Yummy!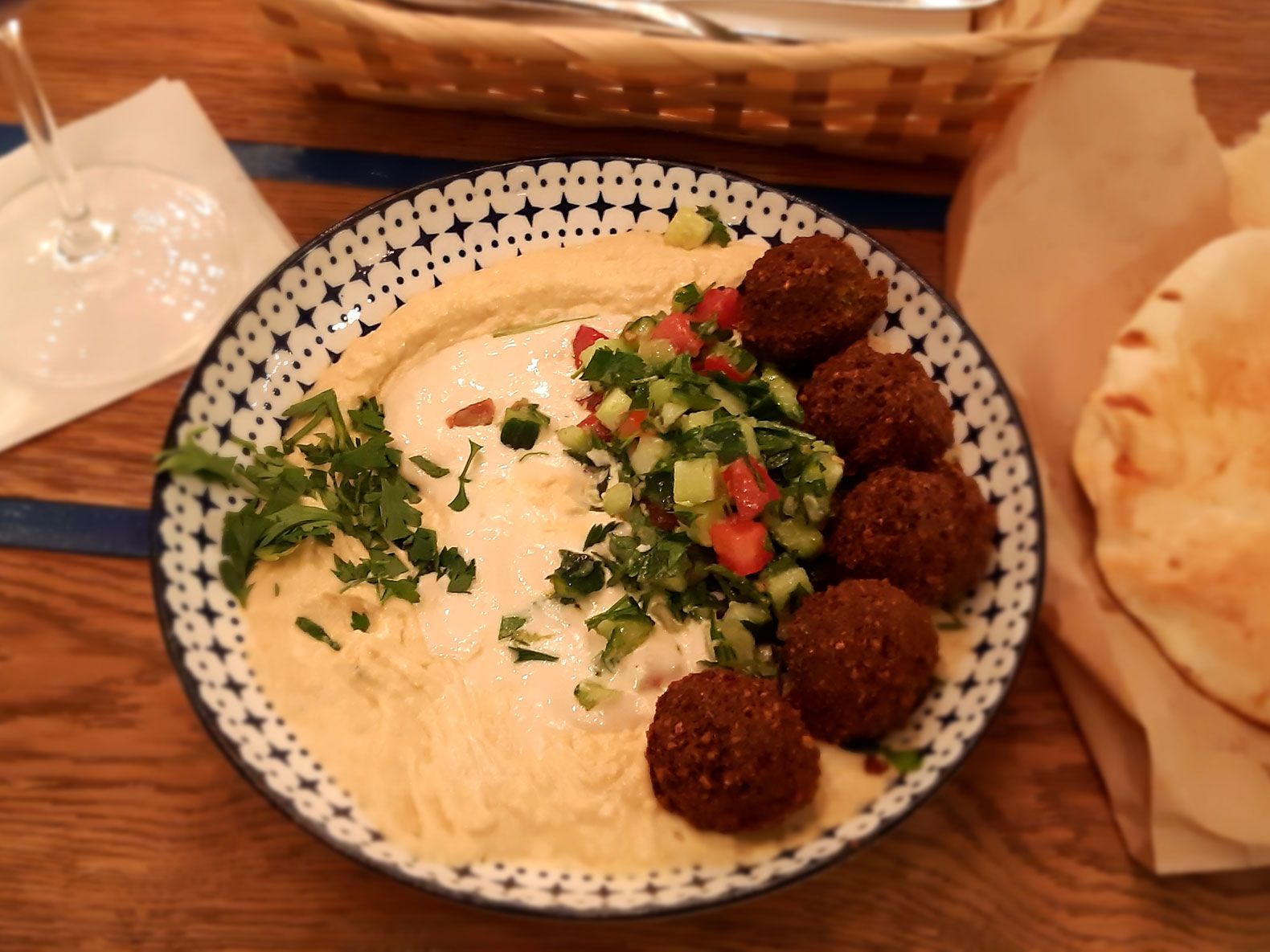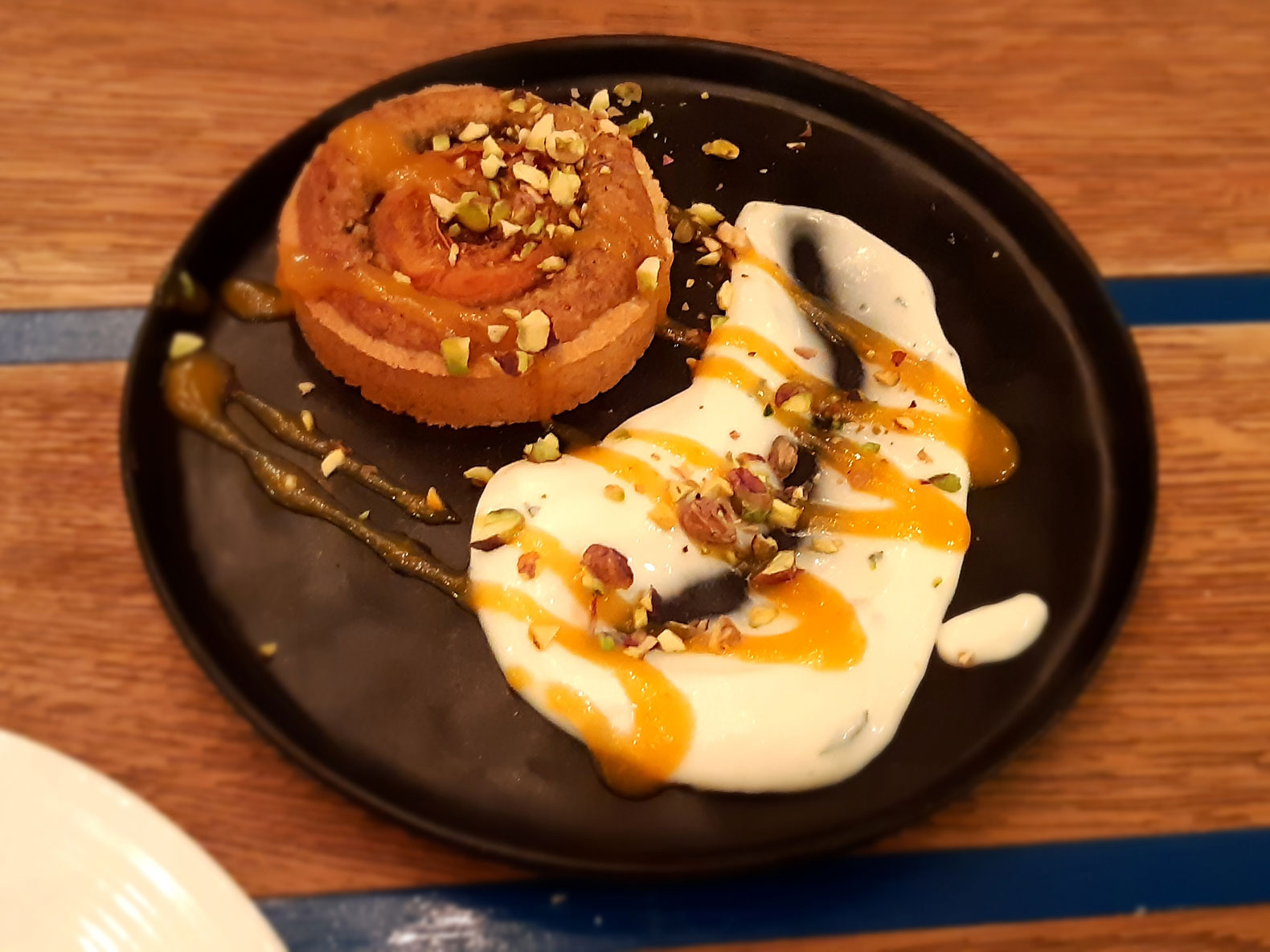 You'll find Mazel Tov at Akácfa utca 47. Opening hours vary throughout the week, but they're open for lunch through dinner on a daily basis. We advise you to make a reservation or be prepared to wait in line. Even though the place is quite large and service is quick, you'll still have to wait at least 30 minutes for a table during dinner time.
5. Red Ruin
Even though Red Ruin is not really a ruin pub, it's still deserves a place on our list. As you may or may not know, Hungary was controlled by a communist regime until 1989. Red Ruin found a clever way to use this historic fact to create a unique pub in Budapest's city center. As the name suggests, the interior of the pub is painted almost completely red. Furthermore, you'll find images of communist leaders, propaganda posters and many other references to communism, but all with a humorous and sarcastic touch. For example, one painting states "Welcome to the party", with Mao Zedong as a DJ, and Stalin and other communist leaders wearing birthday hats. Definitely worth a look!
Red Ruin is located at Irányi utca 25, in the city center (so not in the Jewish Quarter!) and is open daily from 2 PM to 4 AM.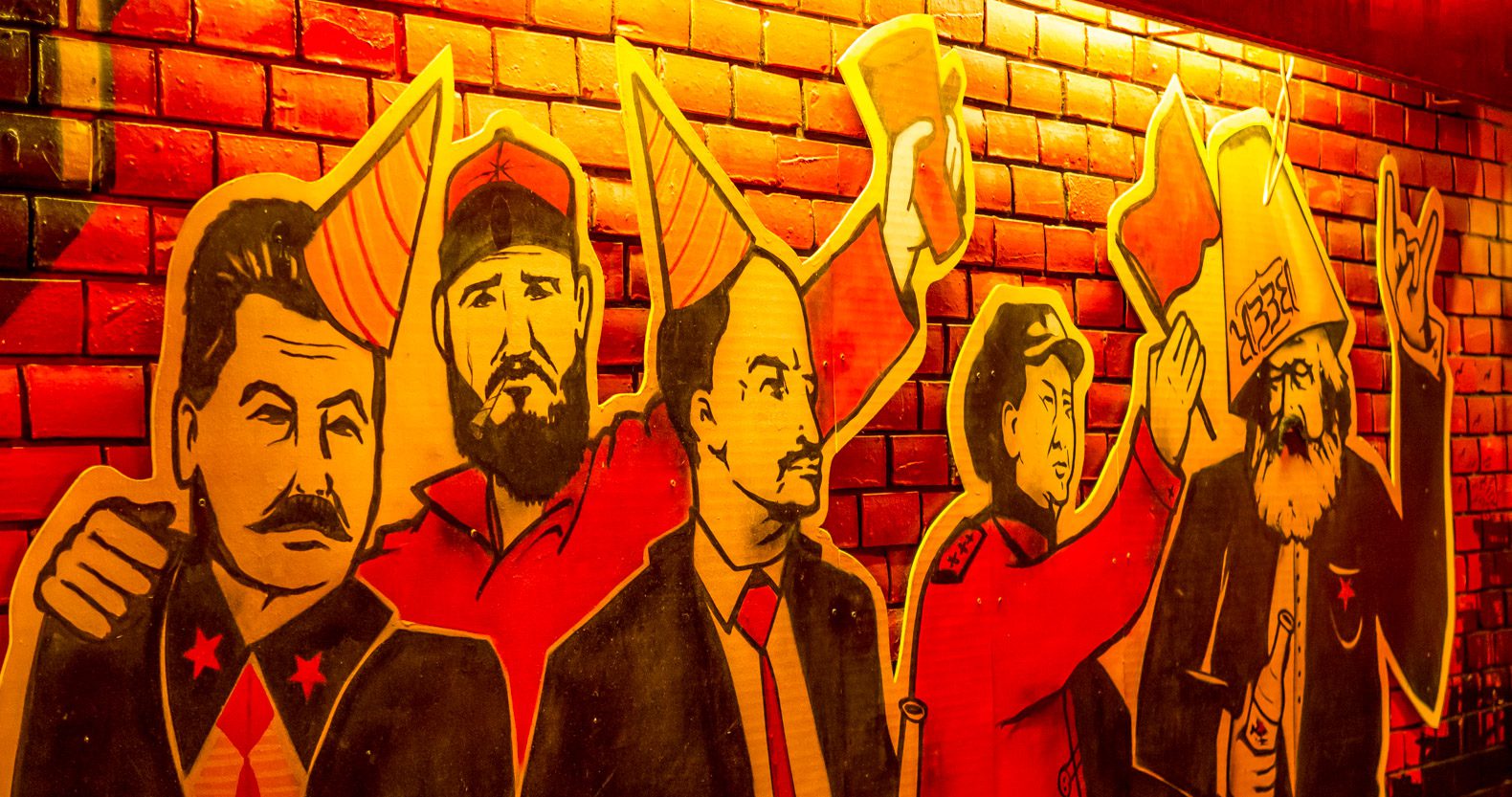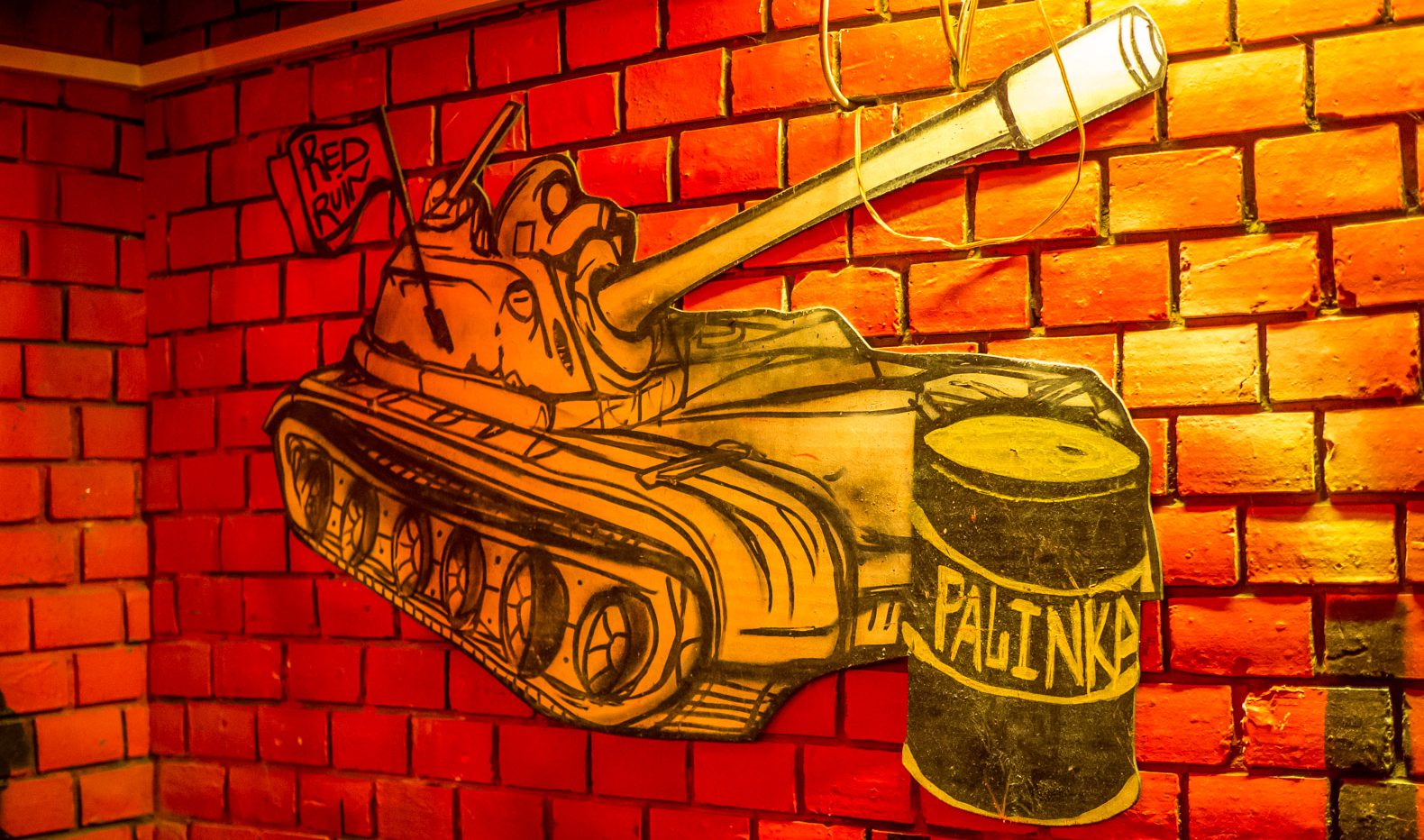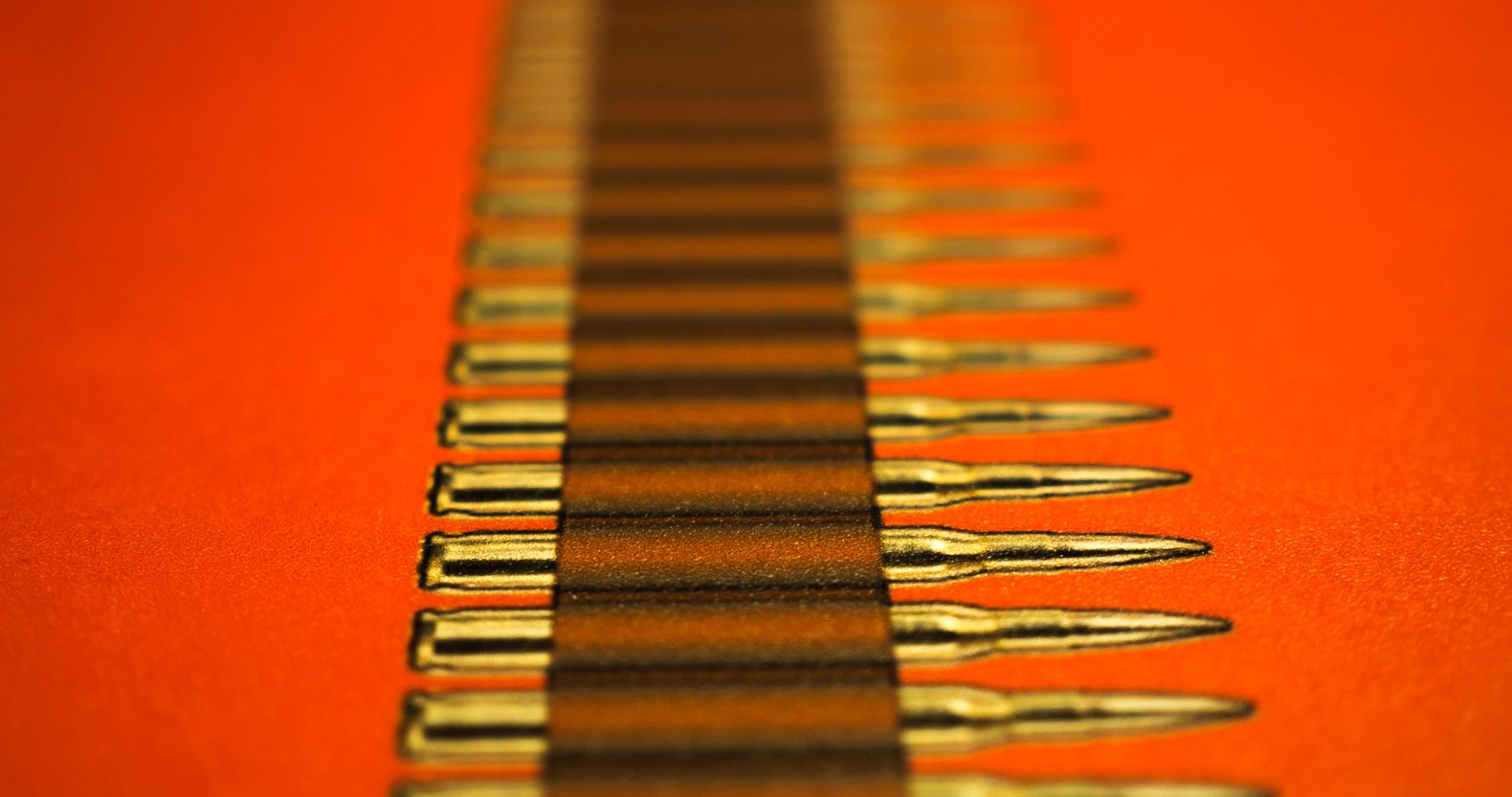 So there you have it; our 5 favorite ruin pubs in Budapest. You should definitely check them out when you visit this awesome city!
Pin it for later!
Hi, my name is Sandra and I'm half of the traveling couple that makes up Bus stops & Flip-flops. I'm finally living the dream by traveling the world with my husband Geert. My other hobbies are eating good food, dancing and sleeping in. Did you enjoy reading my blog post? I'd love it if you leave a comment!
---
---