Budapest: things to do for travelers in their 30's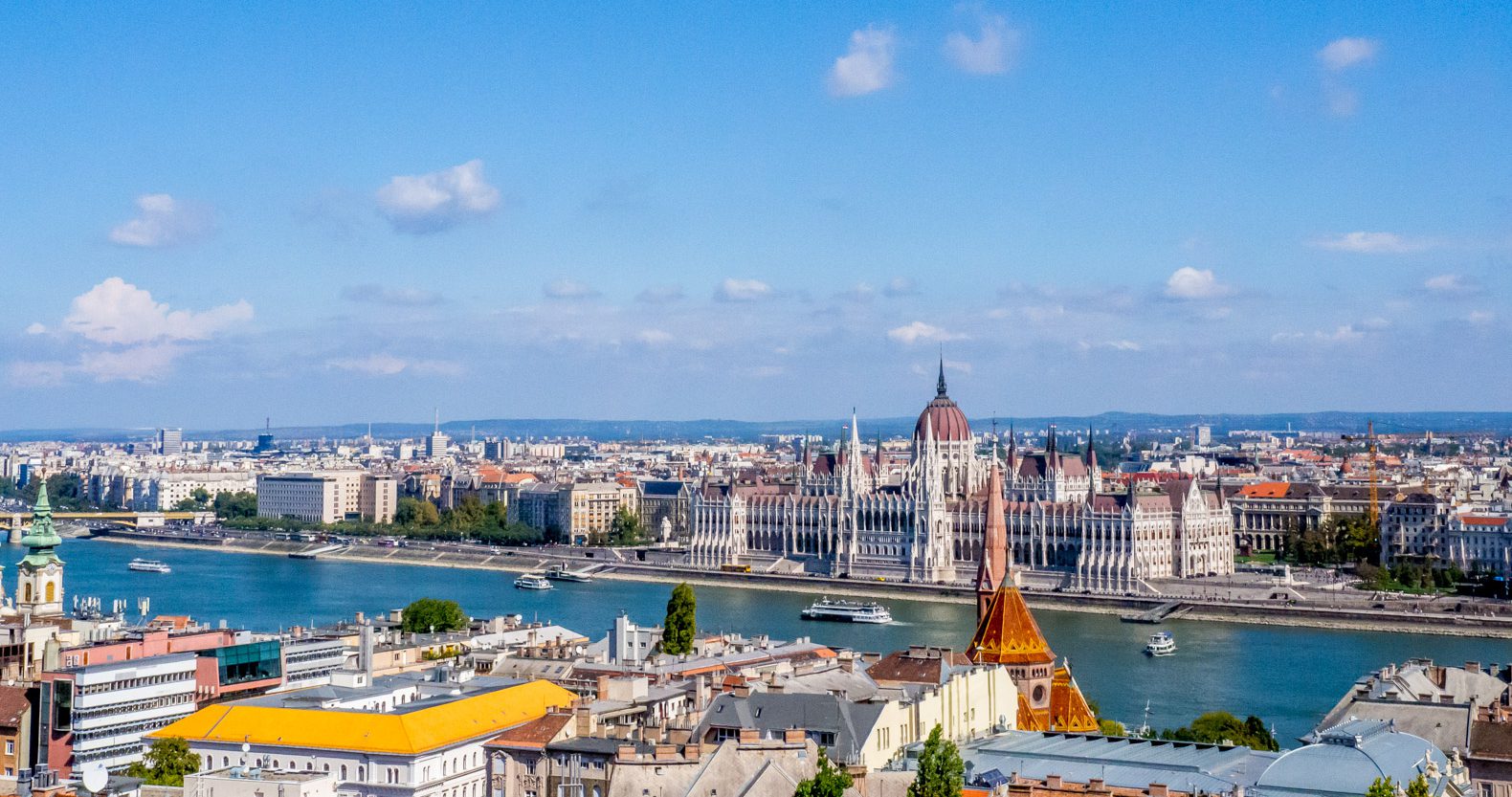 This post might contain affiliate links, which means we may receive a small commission on purchases made through these links, at no additional cost to you.
Budapest is a beautiful city where there are things to do for everyone. You see a lot of young people drinking cheap beer and enjoying night life, bachelor parties roaming the streets and organized pub crawls.
Although we do enjoy a nice drink and join a party once in a while, our times of standing in clubs like sardines doing shots are mostly in the past. Do we sound old, saying it like that? Ah well, then so be it!
So what can do you do in Budapest besides drinking for cheap? In this blog post we'll show you all kinds of cool and interesting Budapest things to do in your 30's!
Do an escape room
We are big fans of playing escape rooms; we've already played more than 20. For those of you who haven't heard of them yet: an escape room is a game where you get locked up in a room and you have to solve puzzles to escape, usually within 60 minutes.
Budapest was actually the first to bring the live escape room game to Europe in 2011! Nowadays, the city offers more than 70 escape rooms, making it one of the top things to do in Budapest!
We played the Legend of Noo'Zaca from the company Mindquest, located above the Ruin Pub Füge Udvar. Without going into too much detail; when playing this escape room you feel like a real Indiana Jones. You walk around in a beautiful decor solving the puzzles that are all in the theme of the room.
We got out with two hints and 19 minutes left on the clock!
Eat traditional Hungarian food
Budapest has a lot of fast food joints like McDonald's, KFC and Pizza Hut. But where's the fun in that? One of the best ways to get to know a city or country is to taste its local cuisine. And boy, does the Hungarian kitchen have some great dishes!
We love hearty dishes with strong flavors and the Hungarians can definitely deliver in that area! Some of our favorites are lángos (deep fried bread topped with garlic spread, sour cream and cheese), chicken paprikash (chicken legs stewed in a paprika sauce, served with pasta dumplings) and gulyás (beef soup with potatoes and vegetables).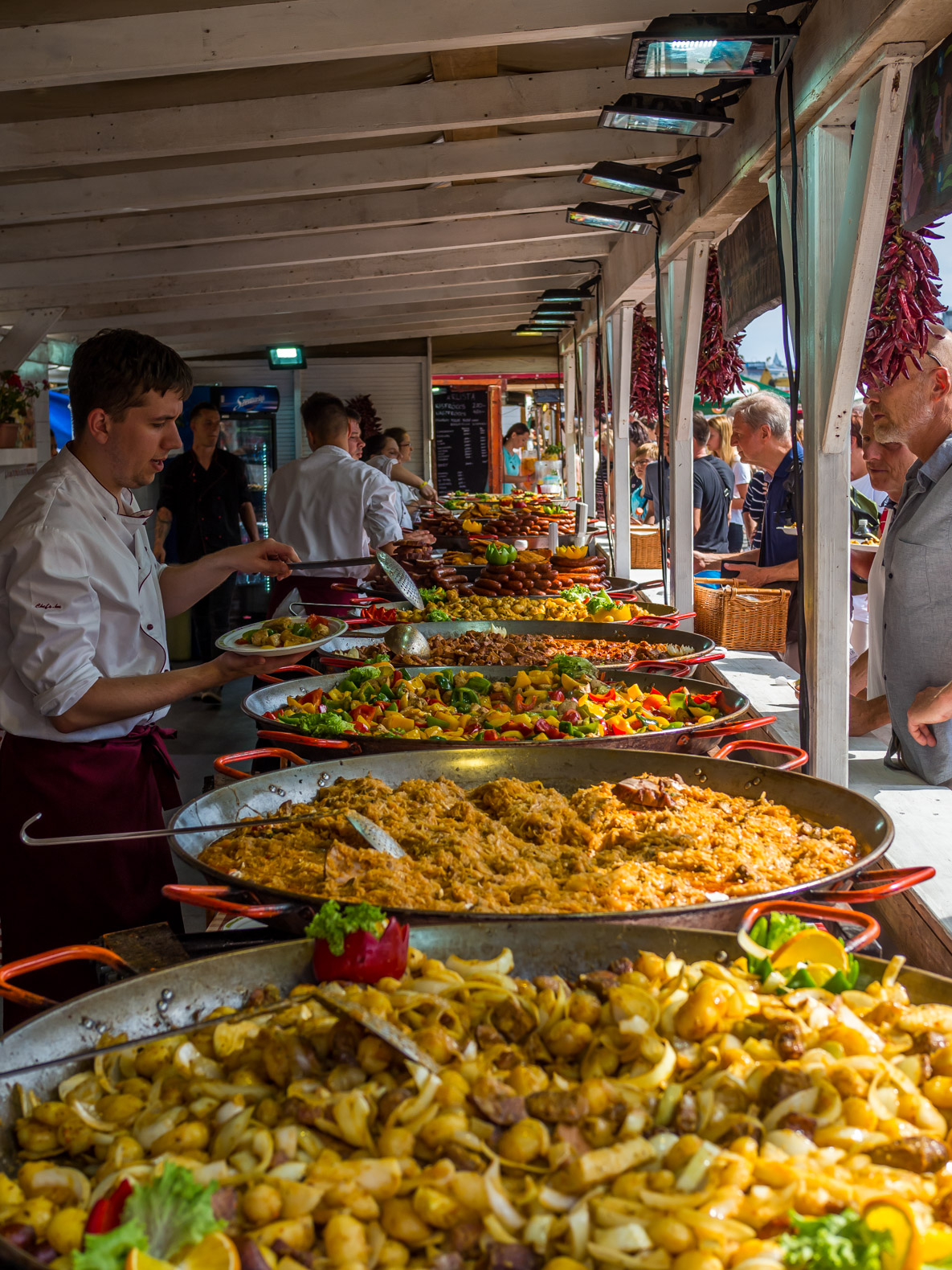 Visit the House of Terror
The House of Terror sounds like a bad haunted house on a fun fair, right? Well, it's nothing like that. The building was used as the headquarters for the fascist Arrow Cross Party during the latter part of World War II. After that, during the Communist era in Hungary, the building was occupied by the AVH (the Hungarian version of the Russian KGB). The building was used for interrogations, imprisonments, torture and executions of their political enemies. For many Hungarians the House of Terror became the symbol for the fear and terror that accompanied those dark decades.
Nowadays, the building houses a museum commemorating the Hungarian people that fell to both regimes. The museum takes you through the 20th century and shows you how Hungary and its people have suffered. It offers a lot of video material from survivors telling their stories.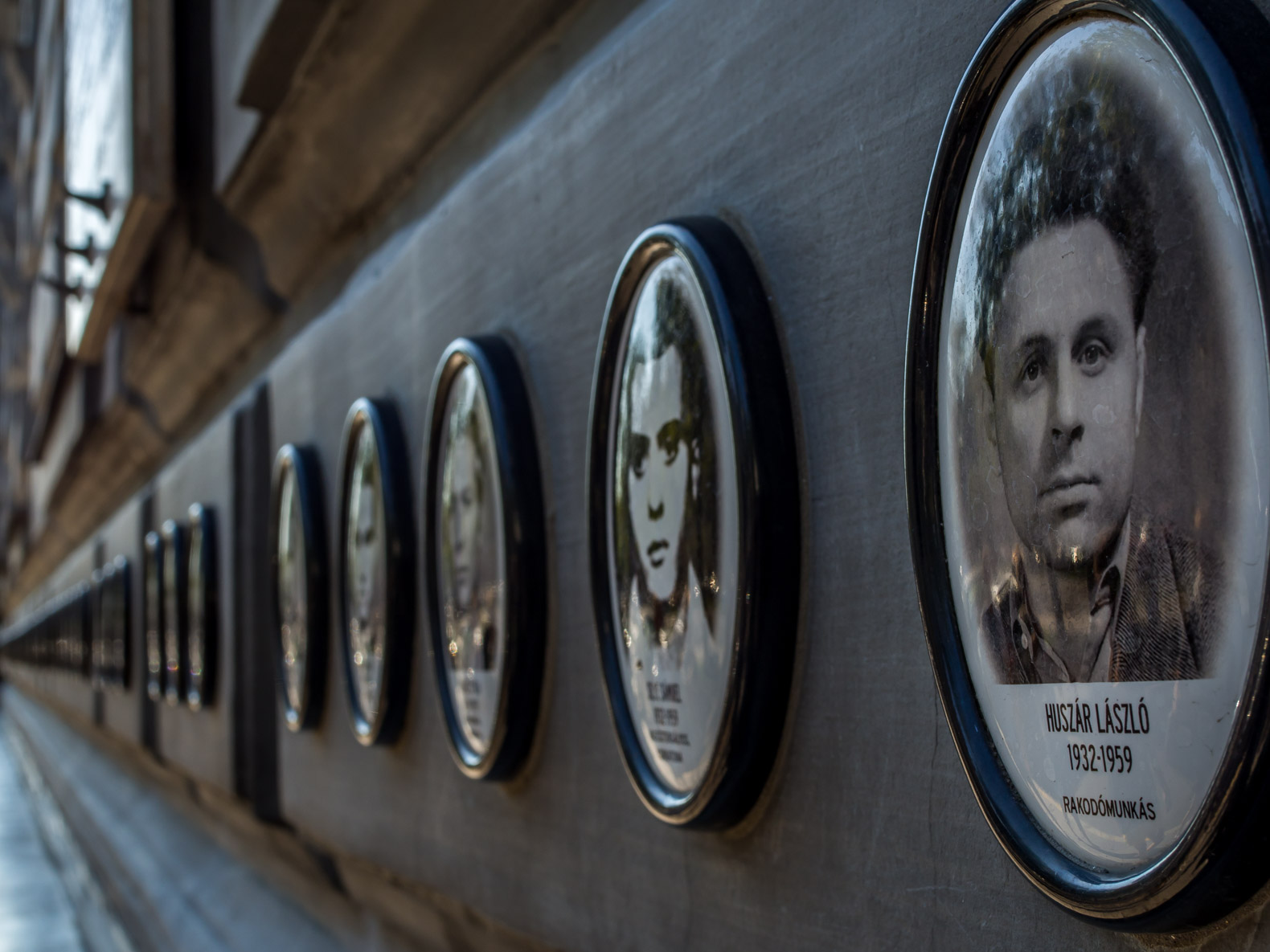 Hearing these dark tales of history made us better understand the (still very recent!) dark history of Hungary and realize how lucky we've been growing up free in a democratic society. Although the museum definitely doesn't classify as something "fun" to do, we highly recommend paying the museum a visit. We believe it's always good to remember these kinds of horrible atrocities and commemorate the people who have died and suffered.
Rent a bike
Us Dutch people do love a good bike ride! It's cheap, environmentally friendly and a great way to get some exercise. Budapest offers city bikes for locals and tourists alike to get around the city. The registration is really easy and it's also very cheap. A ride is free as long as you return the bike to a station within 30 minutes. The benefit of biking over walking is that you can move around the city much faster.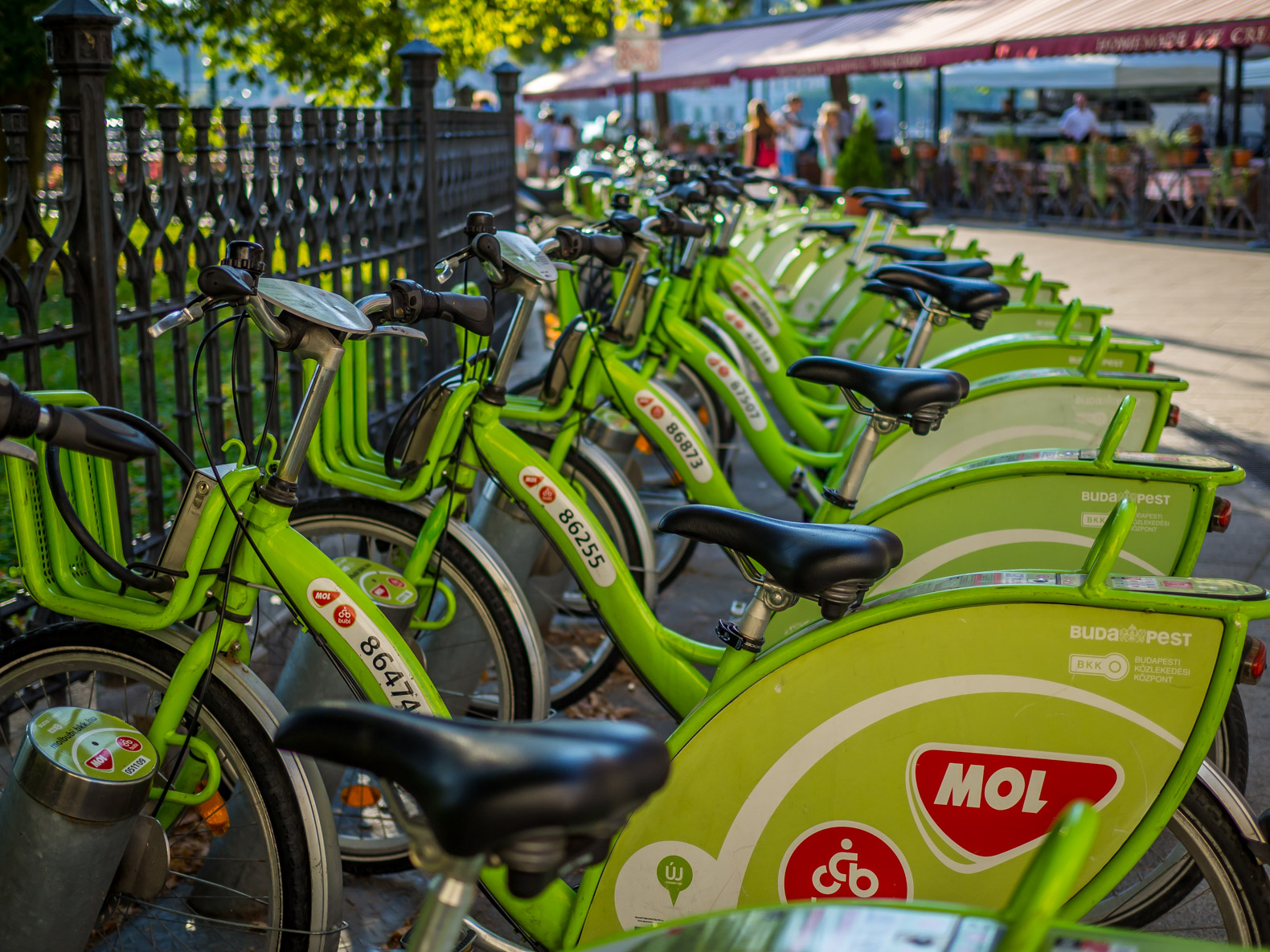 Visit a thermal bath
You can't go to Budapest and without visiting a thermal bath as it's one of the most famous Budapest things to do. Unless of course you don't fancy water and a regular bath or shower. If you're not among those dirty kind of people, we highly recommend a (half) day of relaxing at a thermal bath.
There are thermal springs all over Budapest and the people of Budapest have used them very gratefully by building dozens of thermal baths in and around the city. We spent an entire day at The Gellért Thermal Baths, one of the biggest bath houses in the city. Other popular alternatives are the Széchenyi Baths, Lukács Baths, Rudas Baths and Király Baths.
The Gellért bath house is decorated in a beautiful Art Nouveau style and offers several thermal baths ranging in temperature from 35 to 40 degrees Celsius (95 to 104 Fahrenheit). The water has all kinds of therapeutic functions and supposedly eases different ailments such as arthritis or a hernia. If you're of sound health, like us, it's also very nice to just relax in the warm water and look at the wall decorations.
You can also make use of a couple of different saunas, steam baths and even a wave pool outside. There are sunbeds in the outside area to relax on sunny days. Keep in mind that bathing clothes are obligatory; it's a bath house, not a spa. You can bring your own food and drinks, so you don't have to get lunch at the (nice but expensive) in-house restaurant.
Entrance to the Gellért bath house ranges from 5,600 Ft to 6,200 Ft, depending on the day of the week and whether you want a locker or a cabin to change and store your stuff. Prices at Széchenyi are similar, but the smaller baths can be a lot cheaper.
Tip: If you want to enjoy a famous bath in peace and quiet, go early in the morning. When we arrived at 10.30 AM the baths were still relatively quiet with mainly locals present. After 12.00 PM tourists came pouring in and it got much busier and noisier. And we weren't even there in the weekend!
Take a free tour
A great way to familiarize yourself with a city is a tour by a guide, making it one of the best things to do on your first day in a new city. Budapest offers a lot of different tours, but the most popular ones are the (almost) free ones. Go figure, right? The idea of a free tour is that a local guide shows you around the city free of charge. After the tour you give a tip, the amount depending on your budget and how satisfied you are with the tour.
We decided to go with the 'Free Budapest Walk' which we found on TripAdvisor. All of their tours start at Vörösmarty square at the fountain. Ours started at 10.30 AM (and another starts at 2.30 PM).
When we rounded the corner into the square we were shocked at first; around 200 people were waiting at the fountain for the free tour to start! Luckily, quickly after we joined, it became clear that there were several guides and the big group of people would be divided into smaller groups. Our group consisted of about 30 people, which was OK.
The tour guide took us from Vörösmarty square to the castle district on the Buda side of town in about 2.5 hours. We passed St.Stephen's Basilica and walked the chain bridge crossing the Danube. While walking the guide told us all kinds of interesting and funny stuff, such as the history of Budapest and Hungary in general, different kinds of local food we could try and famous inventions by Hungarians. Did you know the Rubik's cube is an Hungarian invention? Neither did we!
A nice bonus is that you get a flyer crammed with useful information at the end of the tour, such as (almost) free outdoor activities, the best free views of the city and the do's and dont's in Budapest. Score!
We really enjoyed this tour, and the guys and girls from the tour are really professional and know their stuff!
Tip: The tour company offers several other free tours besides the one we did: the Free Communism Walk, the free Jewish District Walk, the Street & Urban Art Tour and the free Evening Walk.
Admire the street art in the Jewish quarter
If you like street art you will take a long time walking through the Jewish district. You'll have to stop every few minutes to admire another giant wall graffiti! It's not like your run-of-the-mill graffiti tag that's secretly sprayed on a wall in a shabby back alley. These are real pieces of art! And because pictures speak louder than words, you'll see two of our favorites below. And we didn't even see them all!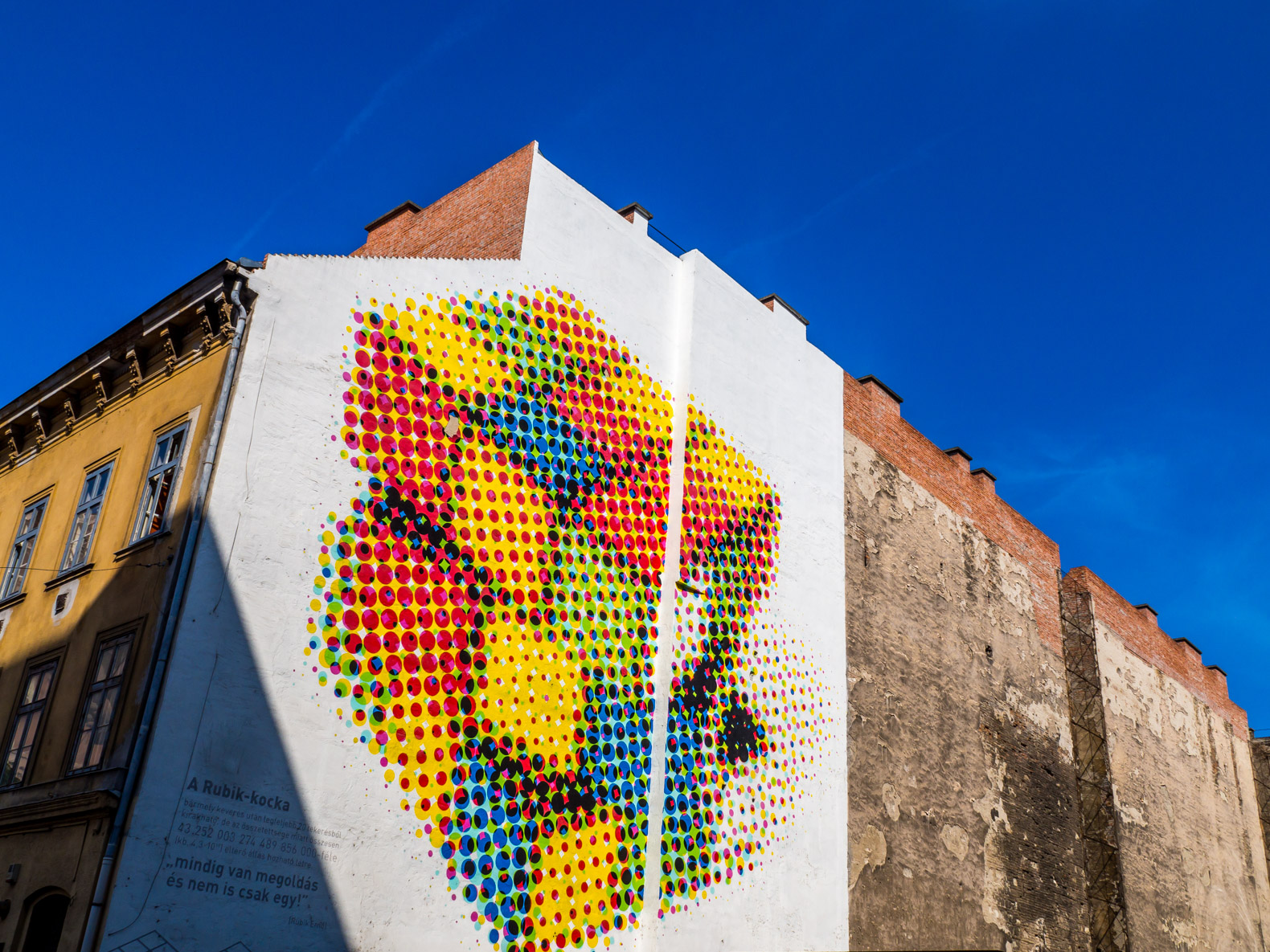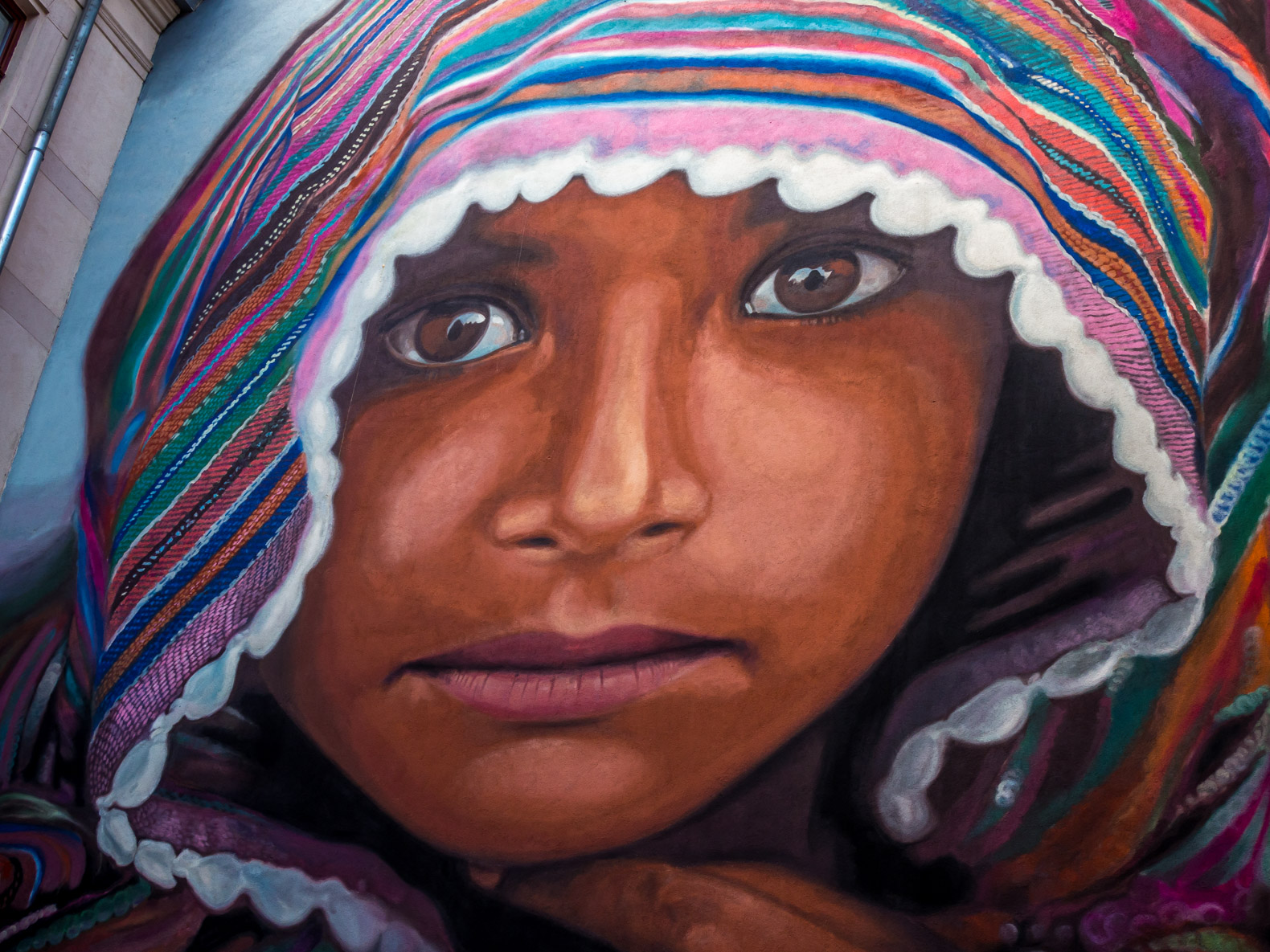 Visit the central market hall
We love markets. Whenever we visit a city, we always try to find a nice market, to see the produce and soak up some local vibes. Budapest is host to the beautiful central market hall where you'll find all kinds of stuff. Locals buy their meats and vegetables there. Tourists will find all kinds of nice souvenirs to bring home. And not just the average tacky fridge magnets (we actually like them; the tackier the better) but also things like paprika paste and powder to make your own gulyás! The building has a first floor and a second floor so enough to spend at least an hour. Honestly, a lot of stalls sell similar products, but hey; which market doesn't?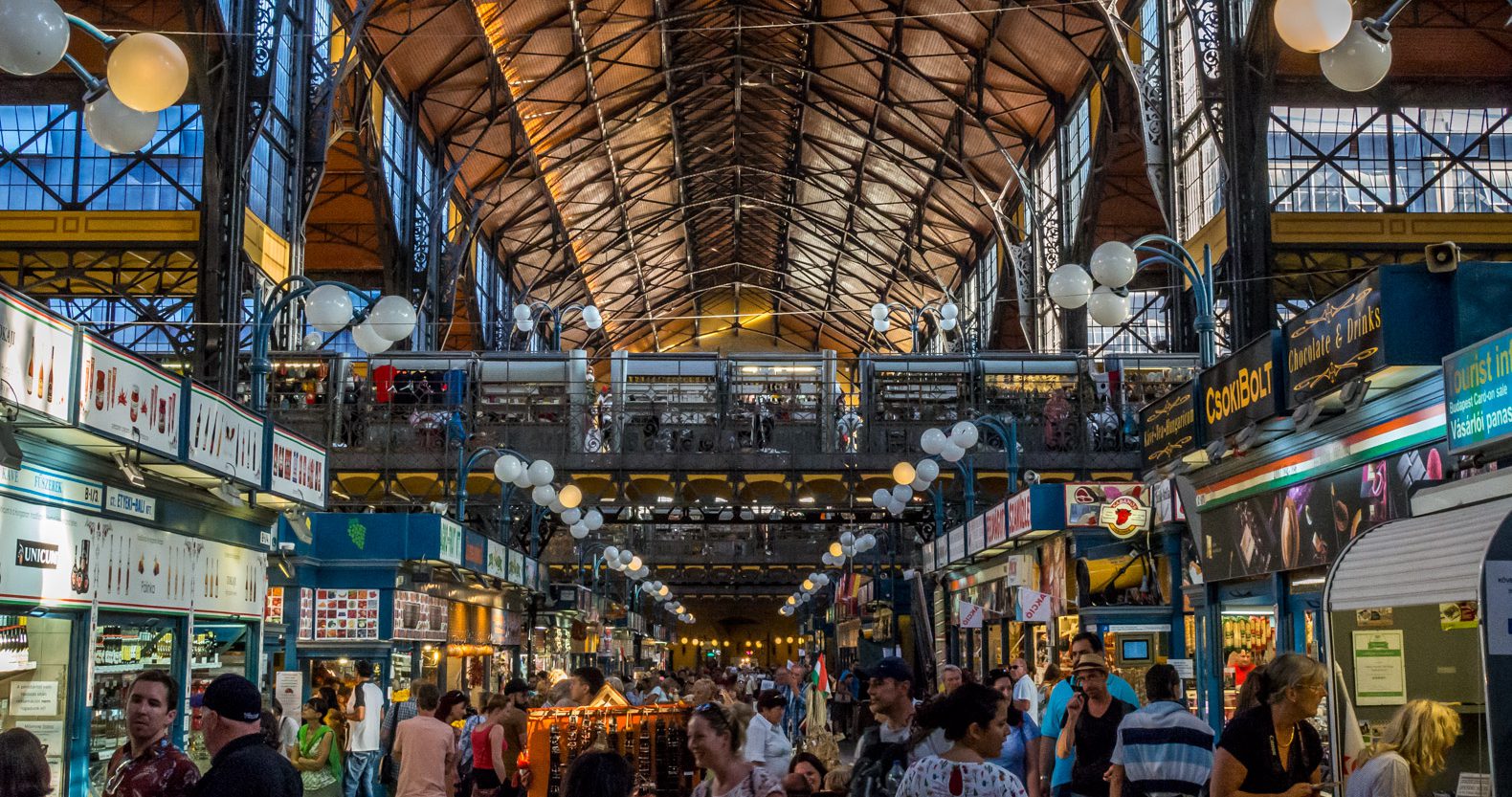 Walk around the top of Buda Hill
Many visitors to Budapest will go to Buda Hill to admire the Matthias Church. And for good reason: this church has a beautiful and colorful tile roof that cleans itself when it rains! So you can imagine it always looks spotless and brand new.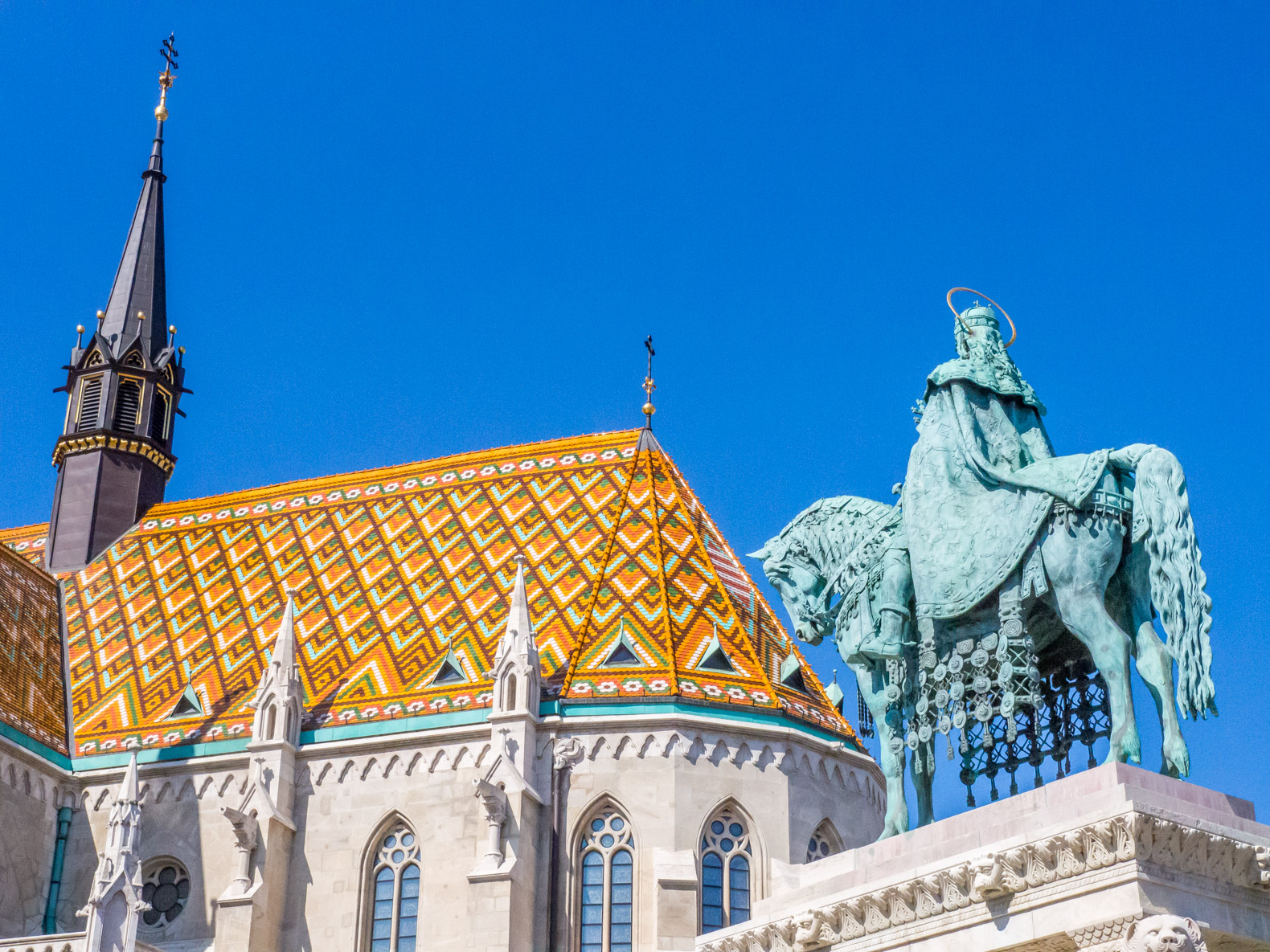 The square next to the church does not only offer a great view of the church but also a beautiful vista of the Danube and the Pest side of the city.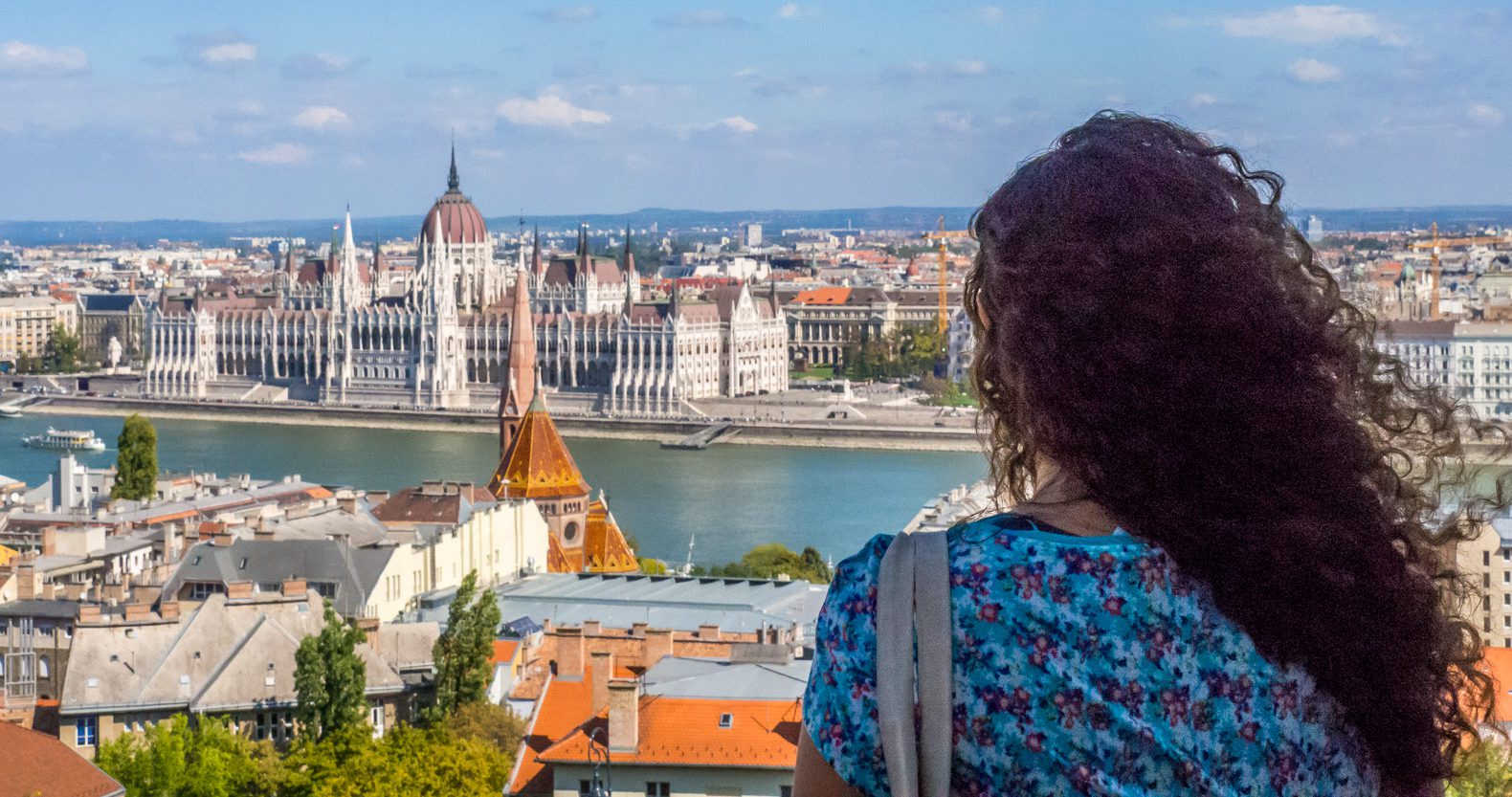 And when you're done gawking at the church and the view and you think: "it's time to leave"… Don't! There are much more things to do! We recommend seeing:
The bronze replica of the coronation mantle of King Stephen;
A walk along the car free Tóth Árpád sétány where locals are relaxing on benches and you have a view of the other side of Buda;
Don't forget Buda Castle.
Visit a ruin bar
Visiting a ruin bar is definitely one of the top things to do in Budapest. The ruin bars are located in abandoned buildings and famous for their unique atmosphere and cheap beers. As they're located in the Jewish Quarter, you can easily combine a visit to one or more of the ruin bars with your street art tour. And don't worry, it's not all partying youngsters. The ruin bars are as diverse as the city itself, so you'll certainly find one that matches your mood. Whether it's getting a cup of coffee in one of the ruin pub gardens, eating a delicious meal or sampling the lovely Hungarian wines. Don't know where to go? Here is a list of our five favorite ruin pubs.
Do you have more great suggestions for things to do in Budapest? Let us know in the comments below!
Pin it for later!
Hi, my name is Geert and I'm traveling the world together with my wife Sandra. I like photography, cooking and eating good food, and exploring the outdoors.
---
---