7 awesome things to do in Yogyakarta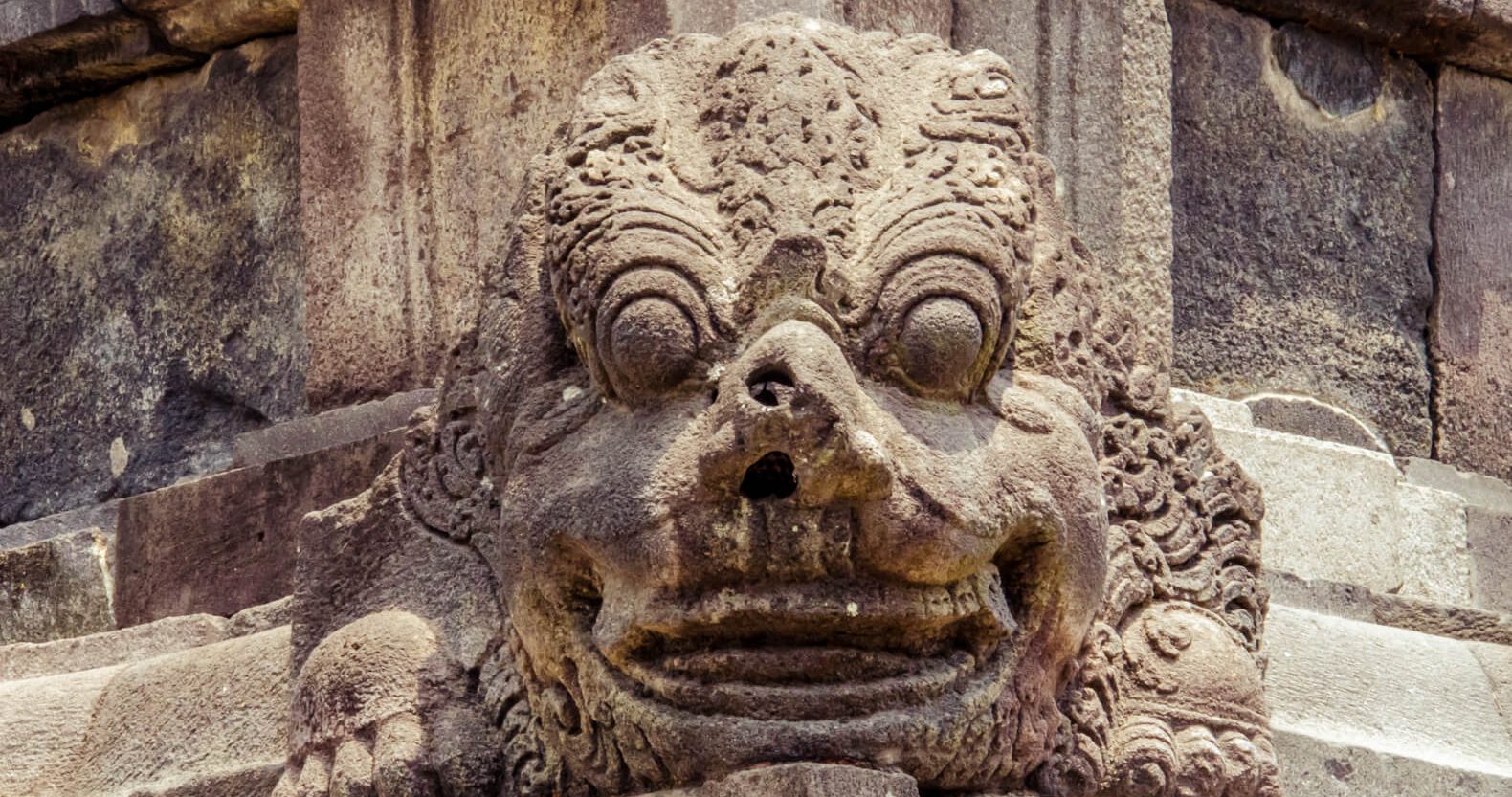 This post might contain affiliate links, which means we may receive a small commission on purchases made through these links, at no additional cost to you.
As part of our honeymoon in Indonesia in september 2017, we spent three days in Yogyakarta. This city of about half a million inhabitants is way more relaxed than Jakarta, the capital of Indonesia. For example, there is far less traffic. However, we still wouldn't recommend renting a scooter or a car here, unless you have nerves of steel or a clear death wish. Instead, either walk, use public transport or use the app Grabcar to get you from place to place.
Most travelers use Yogyakarta as a jump off point to visit the temples and continue on a tour of the Bromo volcano. Hoewever, we recommend spending some extra time in the city to absorb the atmosphere and sample the food. Not sure how to spend your time? We'll get you startet with these 7 things to do in Yogyakarta that we enjoyed most and you should definitely add to your list!
1. Soak up the sun at Borobodur
Borobodur is the biggest Buddhist temple and stupa complex in the world and it's located just outside of Yogyakarta. We decided to book a sunrise tour to be able to fully enjoy this UNESCO World Heritage Site during a quiet sunrise and to avoid the large bus crowds that visit during the day.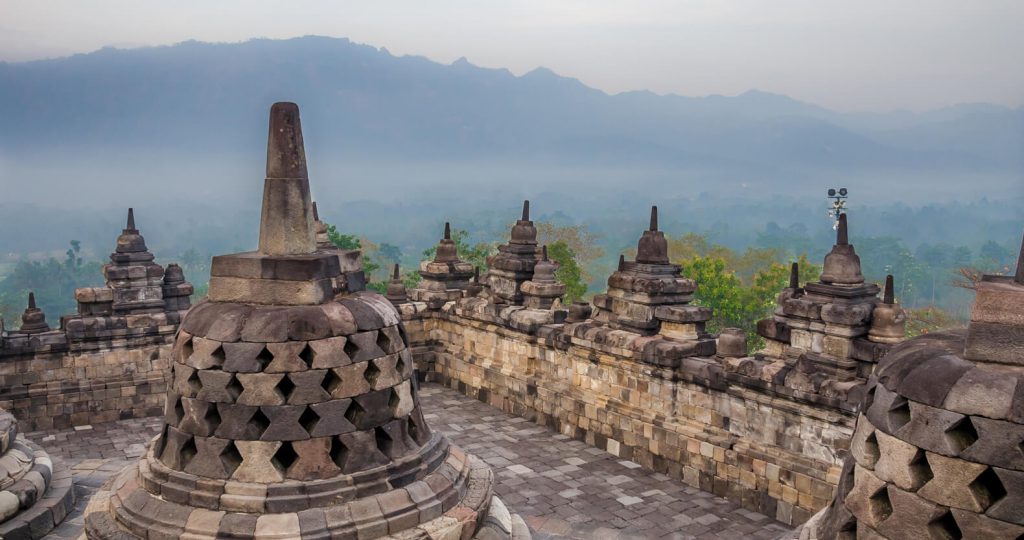 Unfortunately, while we were there, it was very misty so we didn't get to see a nice sunrise at all. It was still very beautiful though! All the different levels of the temple complex with those big 'bells' (the stupas) were very impressive.
2. Go cycling to Prambanan
Prambanan is the biggest Hindu temple complex in Indonesia and located on the city edge of Yogyakarta. Next to Borobudur, it is one of the main reasons tourists and backpackers flock to Yogyakarta. Most people visit Prambanan as part of an organised tour. However, we decided to visit Prambanan by bike tour with a guide.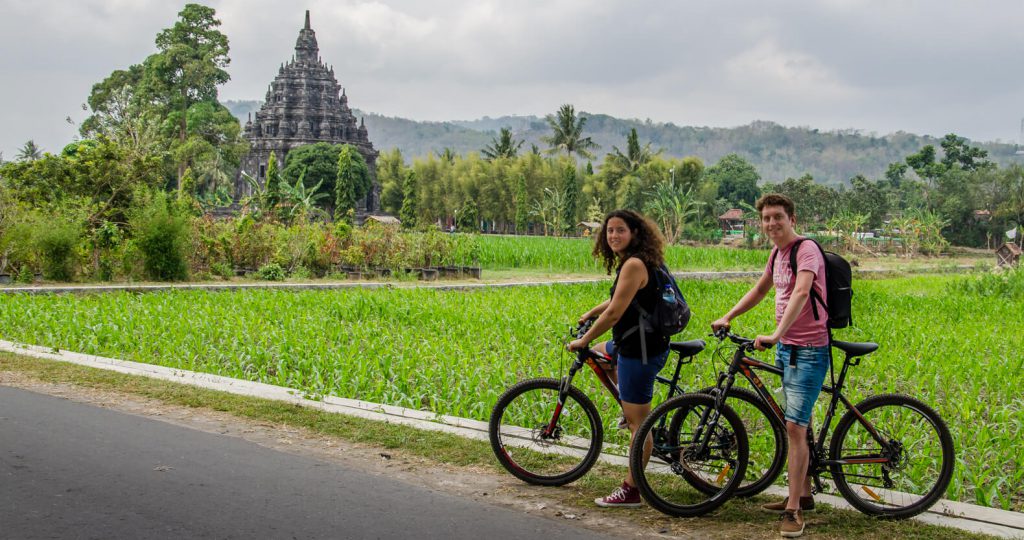 We cycled from the city center of Yogyakarta to Prambanan in about three hours. We were happy to have a guide with us as it's quite difficult to navigate the busy traffic of the city center. As soon as we were out of the center the tour got much more relaxed, cycling through an idyllic landscape of beautiful rice fields and authentic farms. After about four hours (this includes a much deserved break of about an hour) we arrived at Prambanan where our guide left us and we were free to roam the site by ourselves.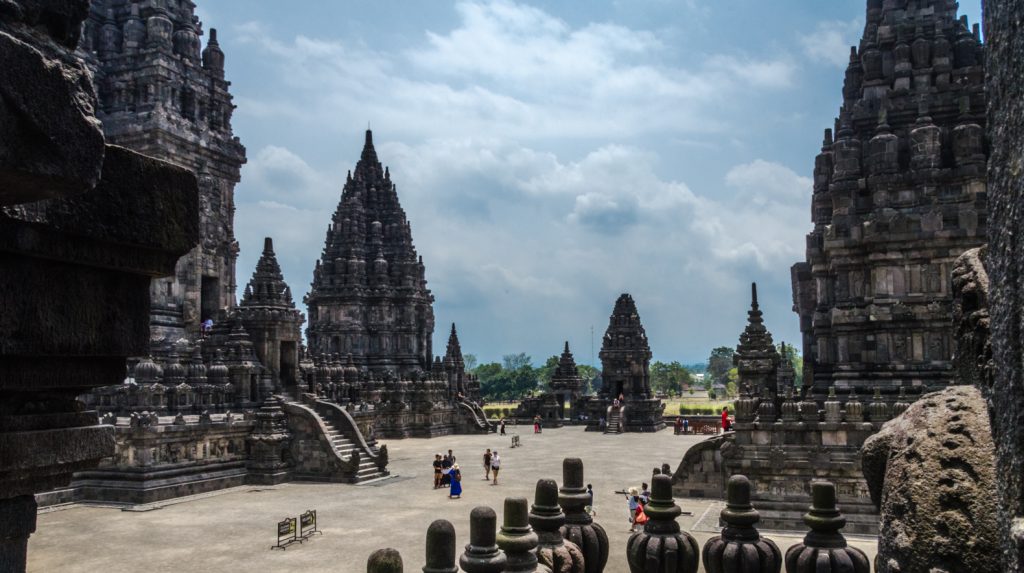 The most popular part of the complex is the first part, closest to the entrance, with the biggest shrine being the Shiva temple surrounded by the temples dedicated to Vishnu and Brahma and the animals the gods rode on.
If you want to visit a quieter section of the Prambanan temple complex you should head to the Sewu temple. It's approximately a 20 minute walk through the courtyards of the complex. You'll find a temple almost as big as the Shiva temple but completely deserted. Many of the visitors to Prambanan don't take the effort to visit this part of the grounds (or do not even know about its existence). A great place if you want to enjoy the place in silence and it's awesome for taking some beautiful pictures (without all the tourists).
3. Shop your heart out at Pasar Beringharjo
This indoor market is huge! We were here for about two hours and we feel like we didn't even see half of it. Locals sell everything from batik, to modern clothing, antiques, fruits and vegetables, herbs, meats and fish. In the time we were there we only saw locals. So if you want to have an authentic experience; this is the place to go!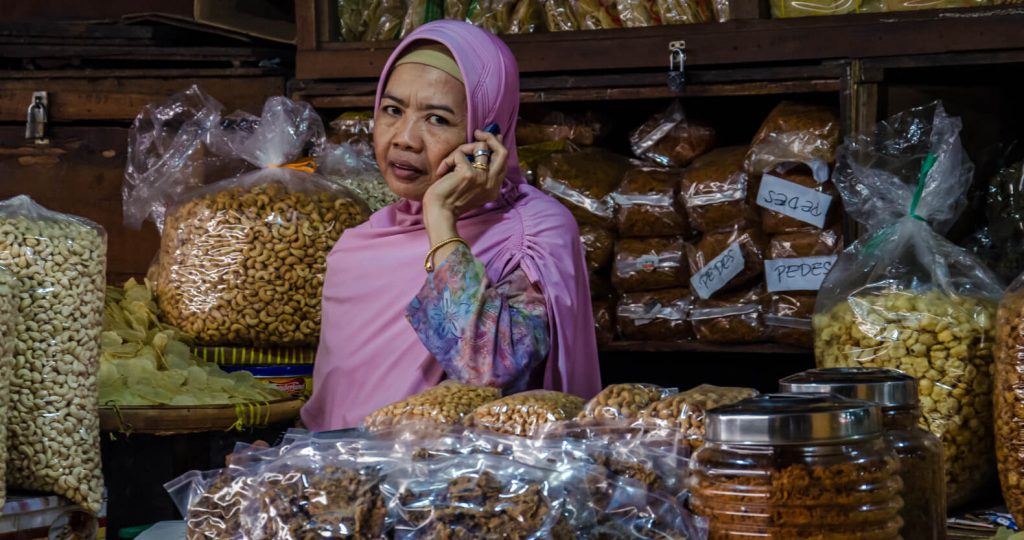 4. Explore the old sultan's water palace: Taman Sari
This water palace was built by the royal family in 1758 and used as a bathing complex. The central courtyard of the complex has been completely restored in the 70's. It's a quiet place and not that crowded with tourists. We enjoyed the white buildings and the clear baths very much. Just be warned; don't bring your swim shorts, you are not allowed to take a dip!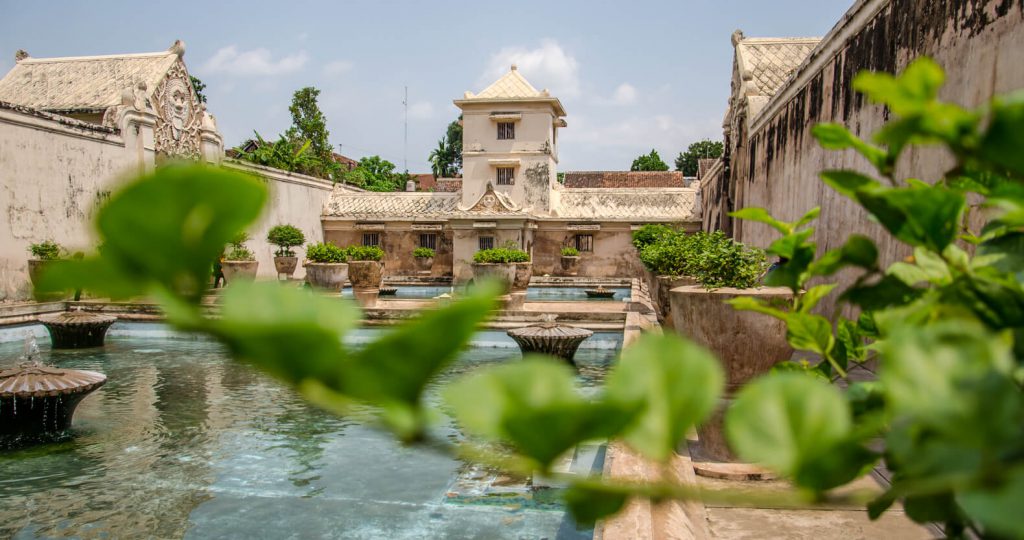 5. Try a food stall at Jalan Malioboro
The most famous shopping street in Yogyakarta is Jalan Malioboro. The street itself is quite touristic and we didn't like it that much. But the food stalls crowding the pavements; so good! We sat down (no chairs, just sitting on mats on the ground) at a stall and sampled some delicious local Indonesian dishes. One of the best dinners we had during our Indonesian travel!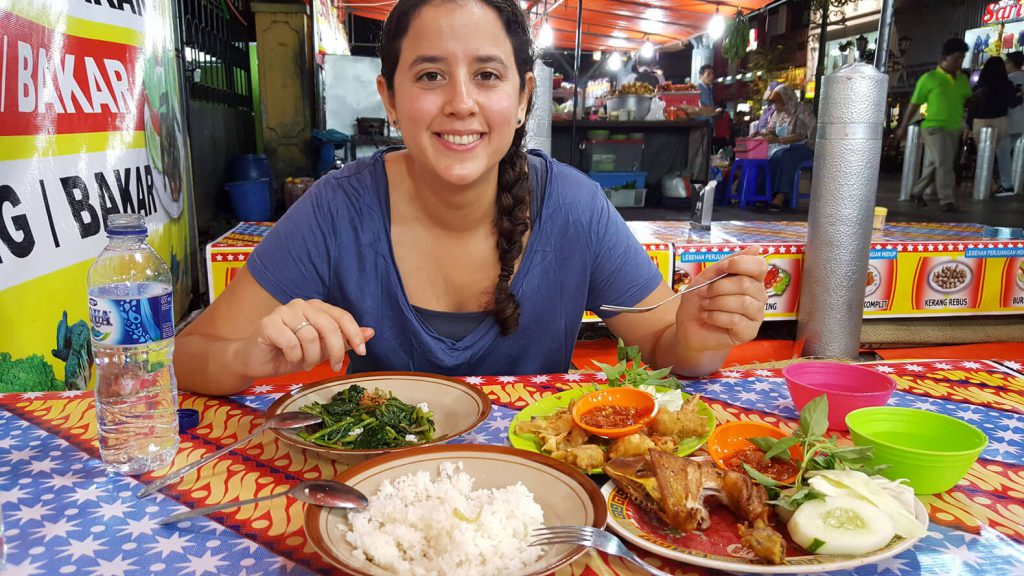 6. Spend an evening at Alun-Alun Selatan Kraton
During the day this square doesn't seem like much, but after dark it turns into a bustling hangout for locals and mainly Indonesian tourists. You can either see them cycling around the square in these ridiculously funny bike cars full of bright lights or trying to walk, while blindfolded, between the two ancient Bayun trees on the square. Managing to walk between them apparently proves that you are pure of heart. Watching some brave attempts shows that it's actually more difficult than it looks. Get some food and just watch people having fun or participate in the activities.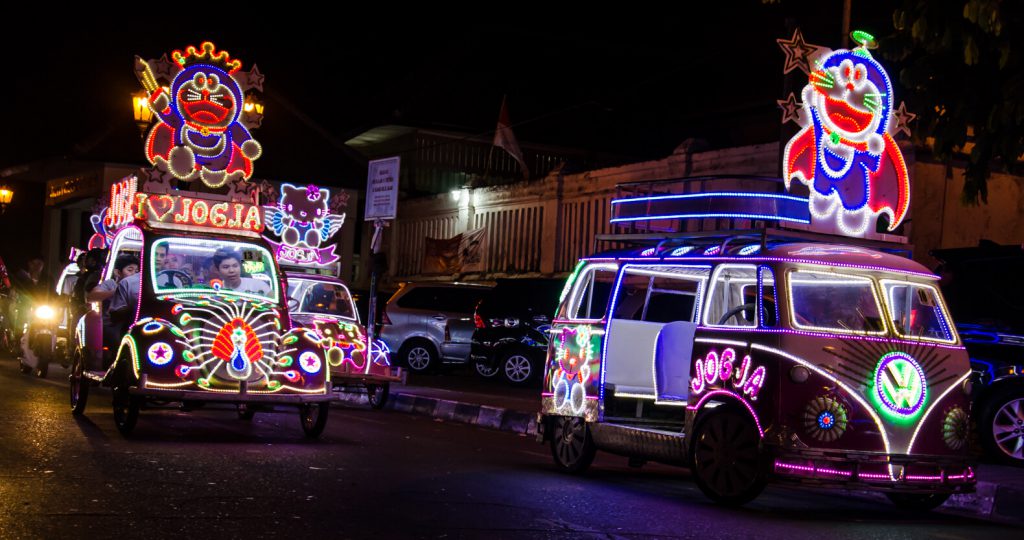 7. Try Yogyakarta's signature dish: Gudeg
When you're visiting Yogyakarta you can't skip their most famous local dish: Gudeg. It's a sweet stew made of young jackfruit. The fruit is cooked in coconut milk with a lot of spices for several hours. Gudeg is usually accompanied by rice, chicken, egg and tempeh. We had our Gudeg fix at restaurant Gudeg Yu Djum Wijilan 167 in the Kraton area, supposedly one of the best Gudeg restaurants in Yogyakarta. And no disappointment there; the food was really good. The venue being chock-full of locals (we were the only foreigners) also attested to that!
Where to stay?
We stayed at the hostel The Patio Yogya for three nights. This small, but charming accommodation is located within the walls of The Kraton, the Sultans' palace of Yogyakarta. You might think: "wow, you were royal guests?!?" Well, no… The Kraton area actually consists of a palace and a whole neighborhood closed off by palace walls. Our hostel just happened to be within these walls. You can book this hostel and plenty of other accommodation options via Booking.com.
Do you want to read about our other adventures on Java, Indonesia?
Hi, my name is Geert and I'm traveling the world together with my wife Sandra. I like photography, cooking and eating good food, and exploring the outdoors.
---
---