Ten things to do in Vienna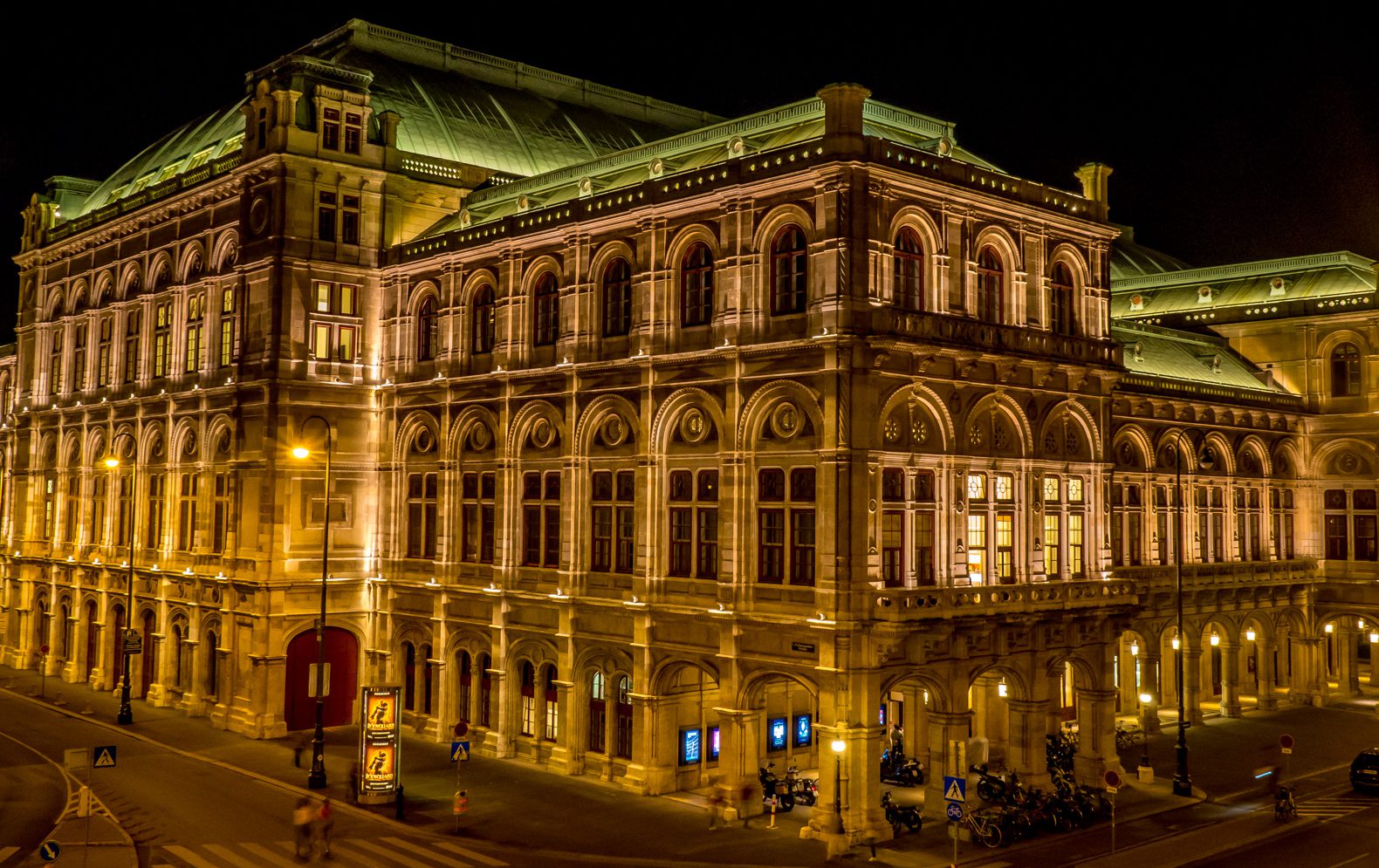 This post might contain affiliate links, which means we may receive a small commission on purchases made through these links, at no additional cost to you.
Vienna, the capital of Austria, was once the home of Sigmund Freud and Empress Elisabeth of Austria, the latter one better known as 'Sissi'. The city offers an abundance of historical, cultural and culinary sites. So where to start when visiting Vienna? No sweat! Here is our top ten things to do in Vienna that you should include on your Vienna itinerary!
1. Visit an opera performance at the Vienna State Opera
The Vienna State Opera is one of the most prestigious opera houses in the world and watching a live opera performance should definitely be on your list of things to do in Vienna! Even if you're not that much of an opera fan, it's still great to experience the ambiance and grandeur of the building during a performance. You might think that a ticket to the opera is out of your budget. Well, in almost every other opera house in the world that would be the case. However, the Vienna State Opera offers tickets for the low price of 3 EUR! How to get your hands on one of those tickets? We'll tell you all about it in our post on how to get cheap Vienna opera tickets!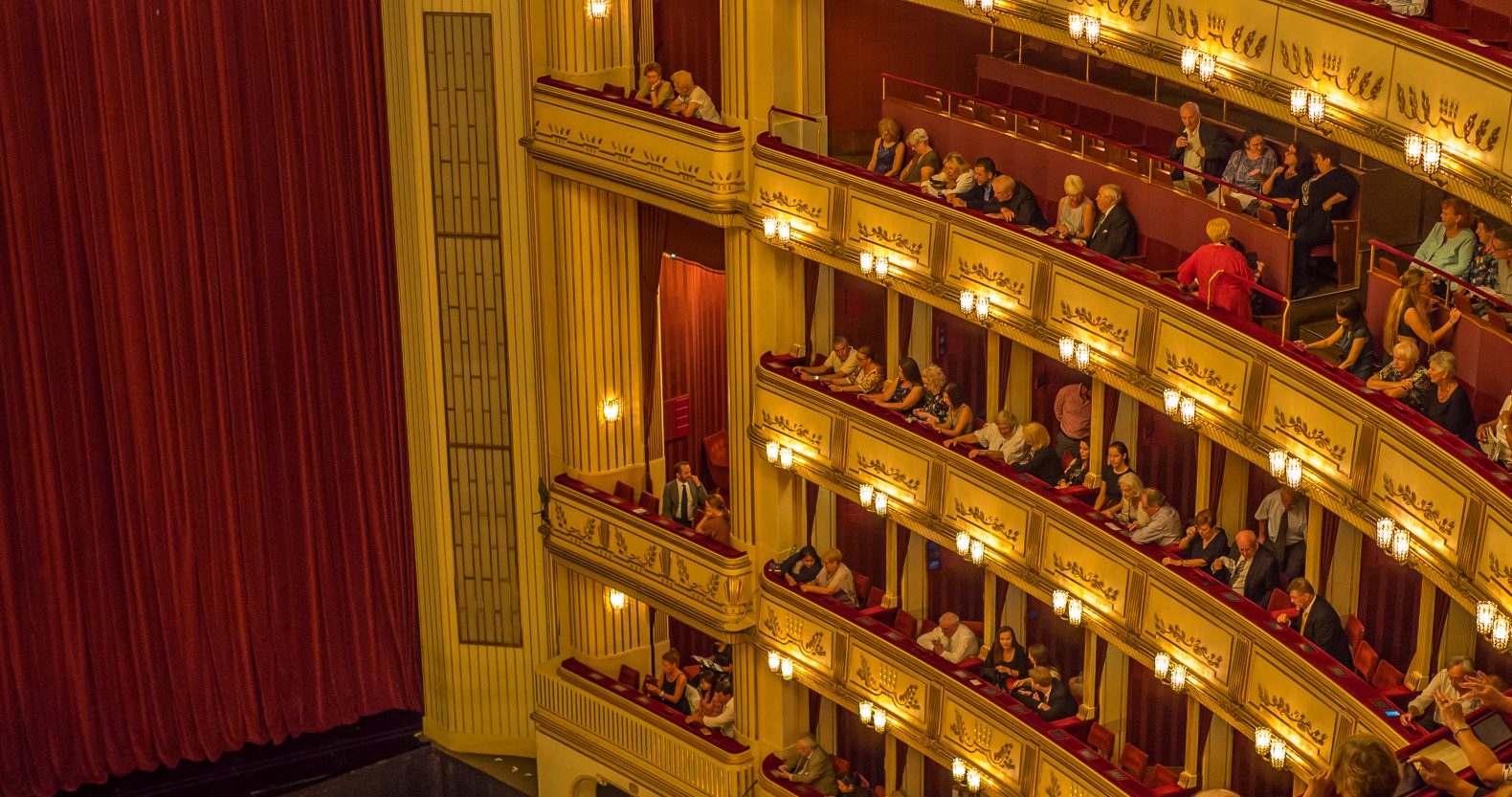 2. Practice your evening and night photography
This might not be one of the typical things to do in Vienna, but if you're into photography you shouldn't miss this! Vienna after dark offers great opportunities to practice your evening and night photography. The city has many well lit buildings, such as the St. Stephen's Cathedral, the Vienna State Opera and Vienna City Hall. My personal favorite however is not a building but the view of the Danube Canal with its boats and riverside restaurants and clubs. The mixture of colors makes for great pictures. Don't forget your tripod!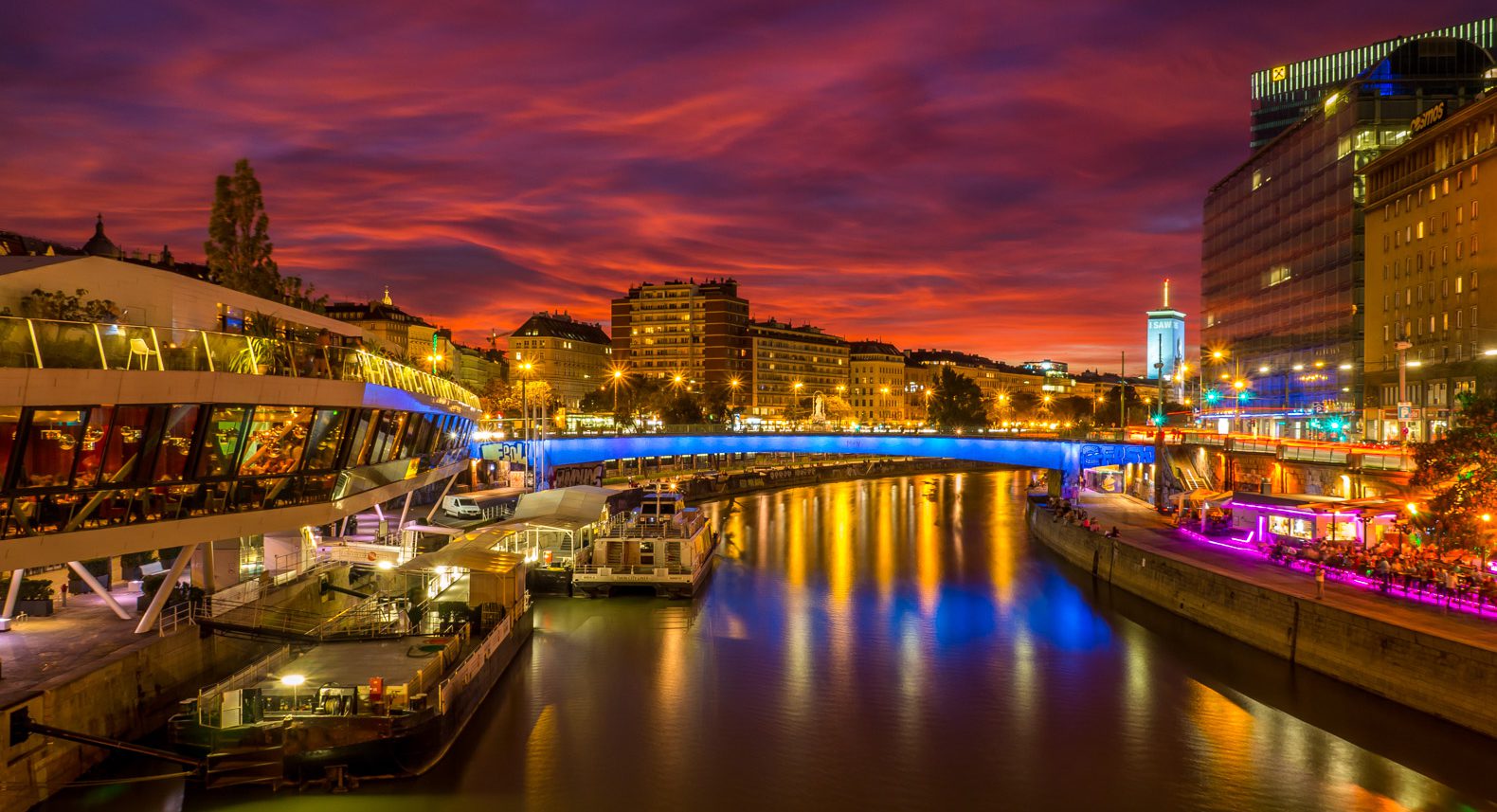 3. Visit the Naschmarkt
The Naschmarkt is a bustling food stall market where locals get their groceries and tourists taste and buy typical Viennese produce. What's unique about the Nashmarkt is that many of the stalls have set up permanent housing on the market in the form of small restaurants where you can enjoy all sorts of food and drinks. Saturday is the busiest day, when local farmers join the permanent stalls to sell their fresh products. Go and sample the wares of the food stalls, go grocery shopping, buy some souvenirs and have a bite at one of the restaurants. You can easily spend a couple of hours at the Naschmarkt. The stalls are only open during the day, but the restaurants don't close till after dinner service.
Tip: If the Naschmarkt is a bit too touristy for your taste, visit Brunnenmarkt. This market is outside of the city center and comparable to the Naschmarkt but without the tourists. For the best experience, visit on a saturday when locals do their grocery shopping.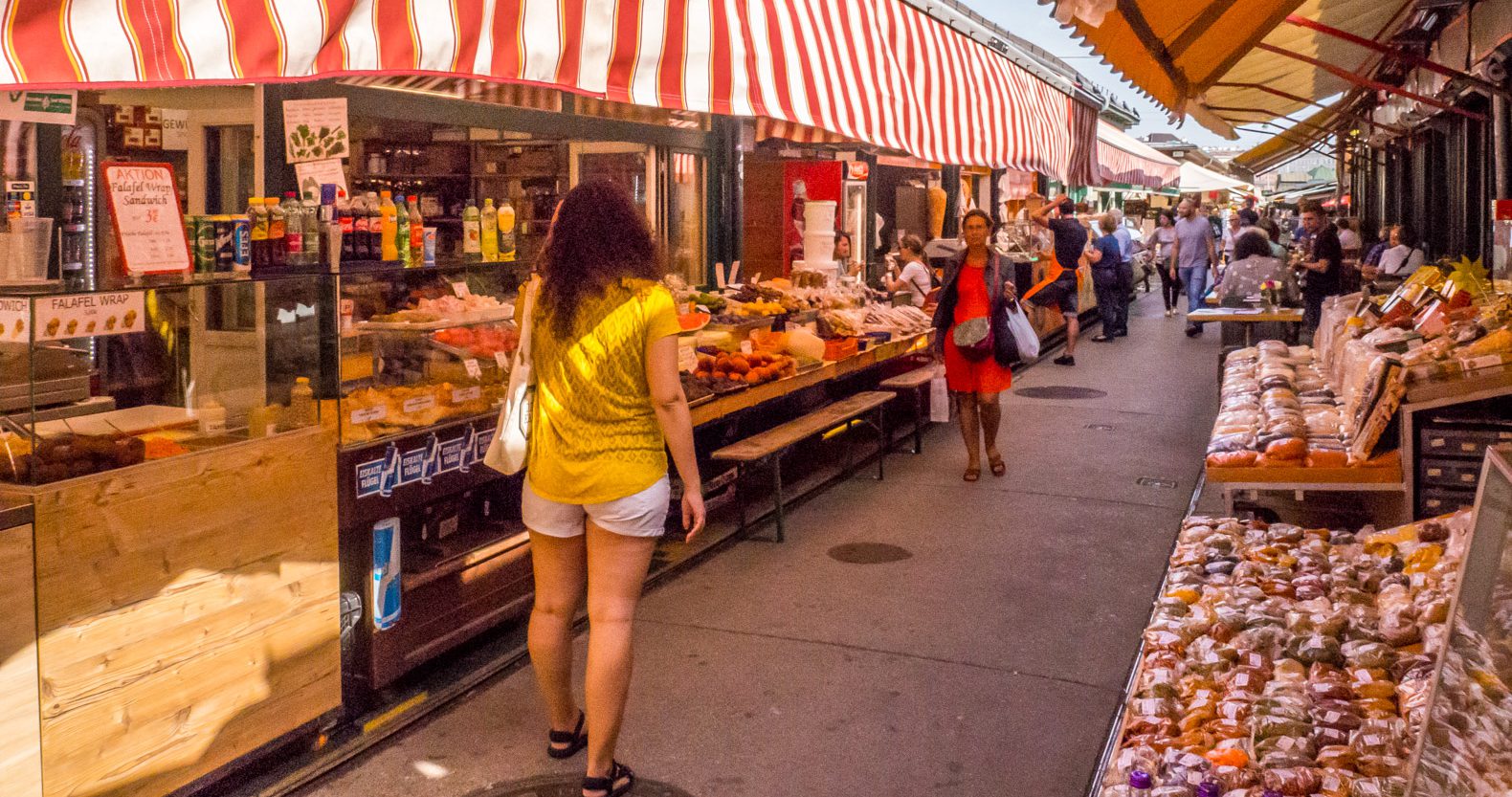 4. Go for a picknick in Rathaus Park
Don't want to "waste" a beautiful sunny day inside a museum or with a guided tour of one of the palaces? Grab your picnic blanket, a good bottle of wine and some snacks, and relax in Rathaus Park. This park is located right in the center of Vienna and has a great view of Vienna City Hall. Don't feel like lying down on a blanket? Just sit down on one of the many park benches. The paths in the park are actually almost completely lined with these benches, so you probably won't have any trouble finding an empty one. The park is also a regular scene for wedding pictures and lovey-dovey couples pictures. So, you photo bombers can have a blast! Just kidding! Seriously, don't do that…
5. Eat a sausage at a Würstelstand
If you're a vegetarian you can skip this one. If you are a meat lover like us, you definitely have to try the sausages they prepare at one of the many Würstelstands in Vienna. These food stalls are scattered throughout the city and offer all kinds of different sausages. You can choose to get your sausage with a nice slice of sourdough bread, or in a white roll which is then called a hot dog. To top it off, you get a nice large dollop of ketchup and mustard. And if you're very hungry, you can add some extra sides such as onions, pickles or french fries.
During our stay in Vienna we've been to Würstelstand 'Bitzinger' (behind the Vienna State Opera) and Würstelstand 'Südtirolerplatz' (near central station 'Wien Hauptbahnhof'), which both served great sausages. We recommend the popular Currywurst or the more traditional Käsekrainer with a nice bottle of beer!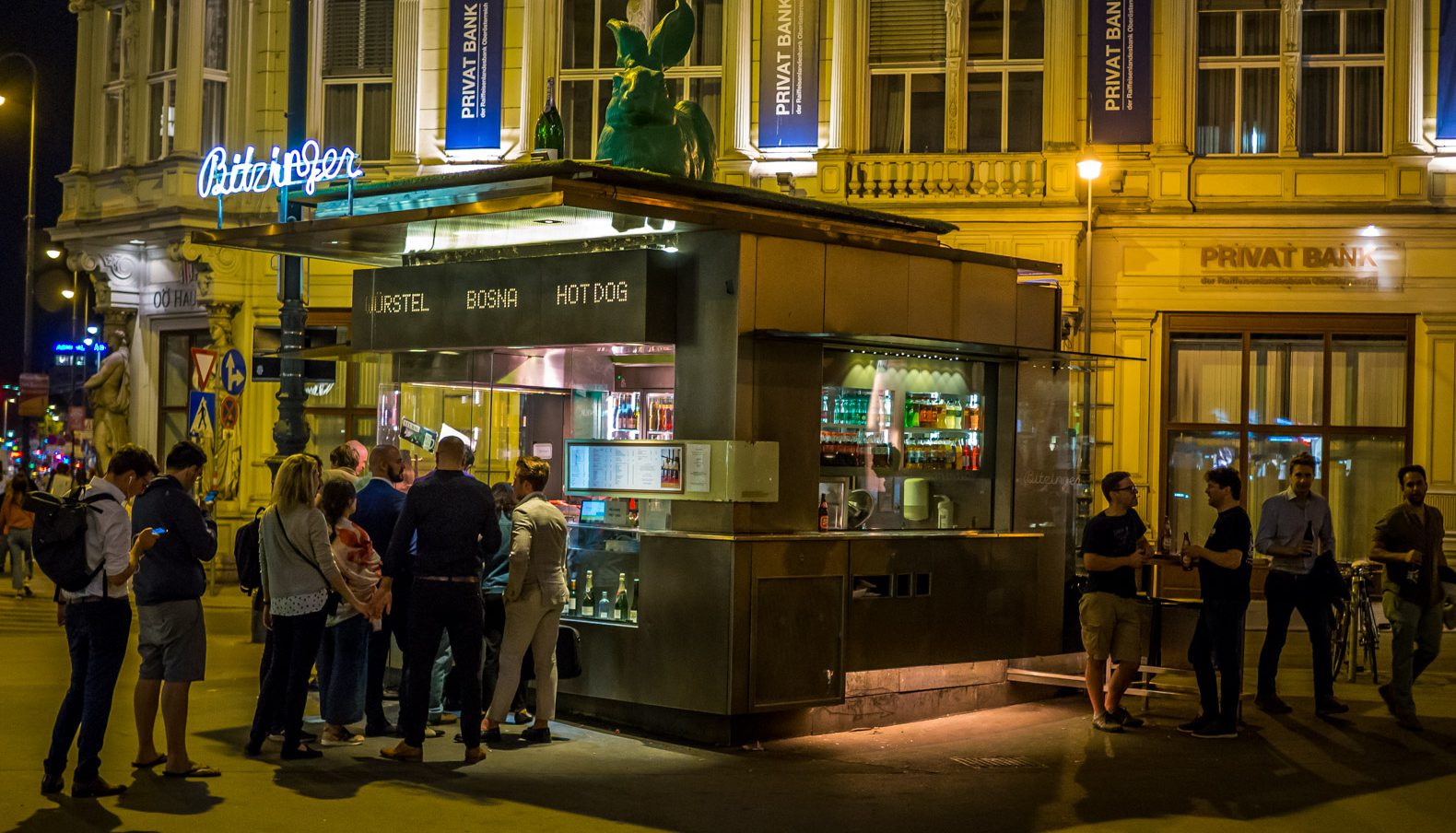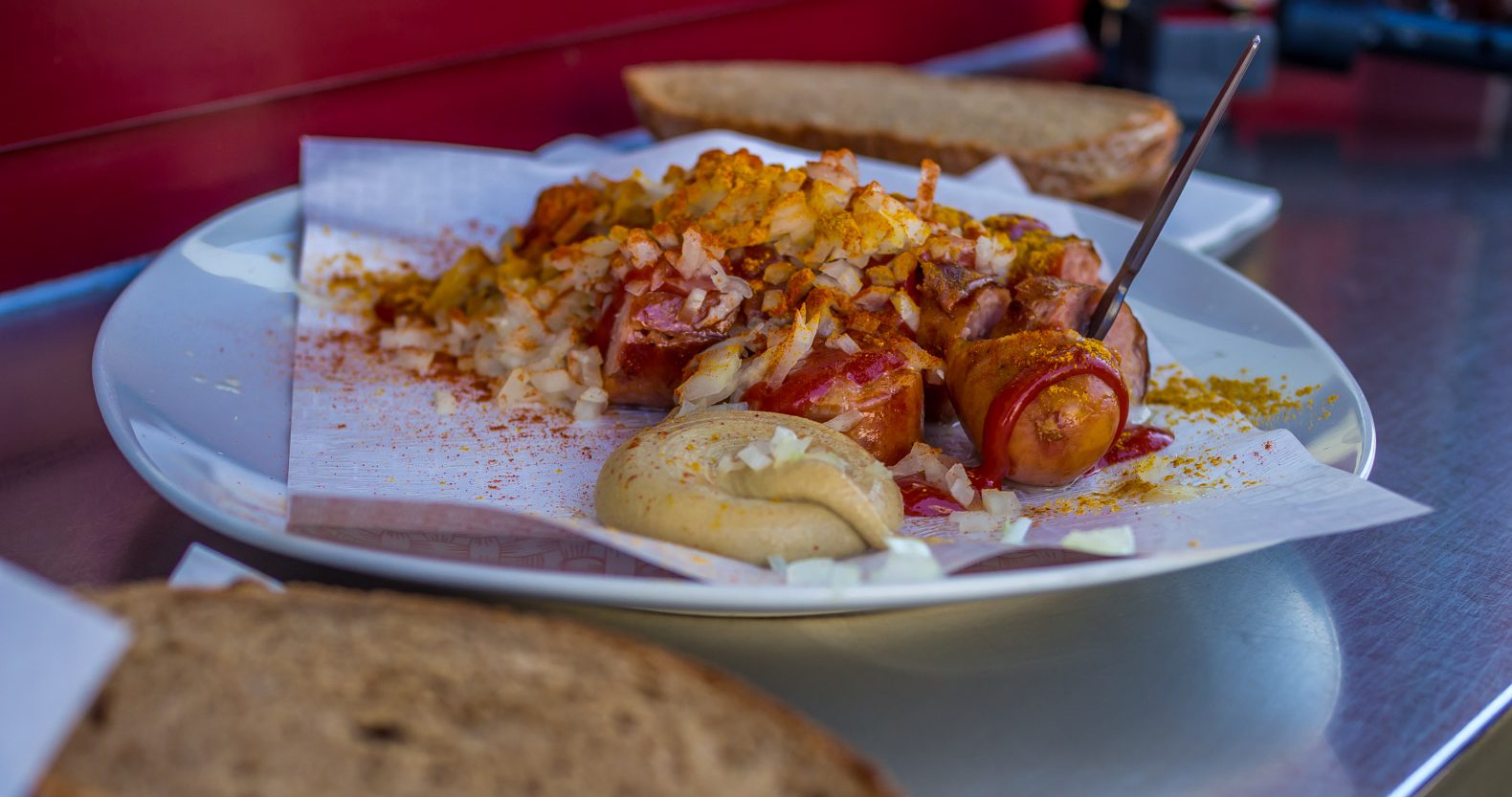 Tip: Looking for a place to stay in Vienna? We find you get the most options and best prices on Booking.com.
6. Have a coffee with something sweet
The Austrians take their coffee very seriously, as they should, in my opinion as a coffee addict. The Viennese coffee house has even been included in the countries' UNESCO list of Intangible Cultural Heritage and therefore definitely has to be included on any list of things to do in Vienna! So visit a coffee house and order a Wiener Melange (comparable to a cappuccino but with less milk foam), Kleiner Schwarzer (espresso), Brauner (espresso with a splash of milk) or one of the other numerous coffee variants they have on offer. Then accompany that coffee with a delicious sweet treat, such as the Sachtertorte (typical Viennese chocolate cake) or Apfelstrudel (an apple pastry).
7. Visit a tradional Heuriger
If you're in Vienna and you're a foody you absolutely have to visit a Viennese wine tavern, known as a Heurige. In this Viennese take on the Beer Garten you can enjoy excellent Viennese wines by the glass or bottle, accompanied with great regional foods. The atmosphere is relaxed with mostly locals frequenting the venues. We've visited Edlmoser for an afternoon of great wines and food in their beautiful garden. There's an extensive wine list (all wines from their own vineyard of course), but we recommend going for the "Gemischter Satz". This is a white wine made from a mix of grape varieties and serves as the house specialty of each Heurige. Foods are displayed on a buffet; simply point out whatever looks good.
The Edlmoser Heuriger is outside of the touristic area and takes some time to reach (about 60 minutes with public transport from the city center). The benefit of this (at least for us) is that many tourists don't take the effort to go, which offers a more local experience. If you're looking for easier access you can visit the village of Grinzing , just outside of Vienna (40 minutes by public transport from the city center). This village is more frequented by tourists and has several Heurigen.
Tip: If you happen to visit a Heurige in September, ask for the Sturm wine. Sturm wine is a young sweet wine that tastes like freshly pressed and fermented grape juice (but with alcohol, yay!). The alcohol percentage is lower than regular wine; from 1% and up. It tastes like a mixture between wine and grape juice, very refreshing and a definite recommendation! You can only get a few weeks a year in September. Because of the rapid fermentation in the drink  it can't be stored for a longer period of time.
8.Have fun at the Vienna Prater
Do you remember those times in your youth, swirling around in the merry-go-round? In Vienna you get a chance to relive those times! A trip to Vienna isn't complete without a visit to the Vienna Prater, a permanent fun fair that's open all year round. You can ride go-karts, enter several haunted houses, rollercoasters and more. There are also a lot of attractions specifically for (smaller) kids.
Even if you're not a fan of fun rides, you have to see the giant ferris wheel. It was built in 1897 and is one of the oldest operational ferris wheels in the world! Tickets for the ferris wheel are 10 EUR and grant you a great view of Vienna.
The entrance to the Prater itself is free. You have to pay separately for each ride. So you can make your visit as cheap or expensive as you want!
We didn't go in any rides as we're not a big fan of fun fair rides. Instead, we spent a lot of time taking pictures of the rides. Fun fairs are great places to take beautiful pictures!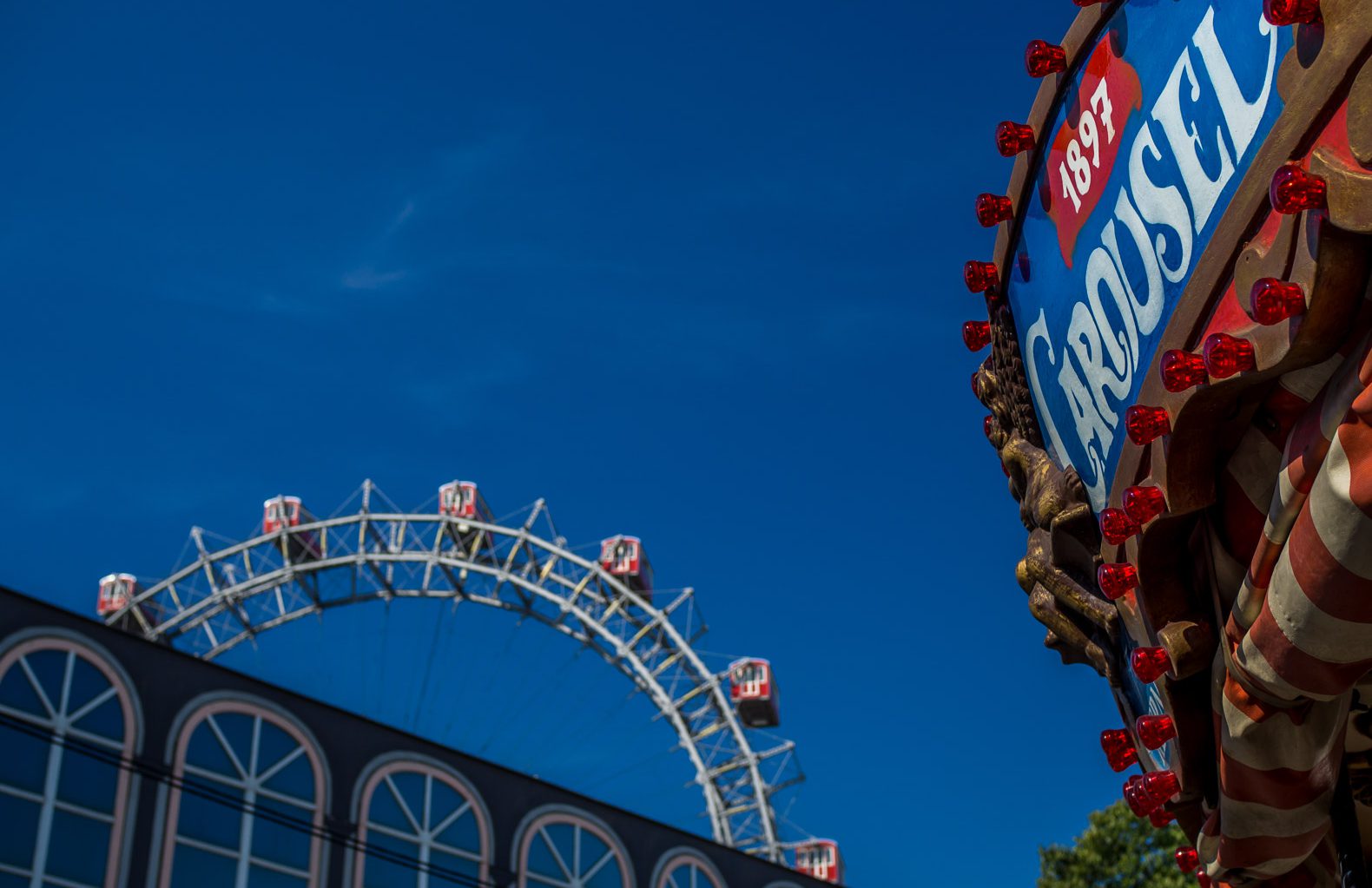 9. Eat a (Wiener) Schnitzel
Again, apologies for the vegetarians among us, you can skip this one if you don't eat any meat. But if you do, you definitely have to try the Wiener Schnitzel or the Schnitzel. Is there a difference, you ask? Yes, there is! A Wiener Schnitzel is always made with veal meat. The name 'Wiener Schnitzel' is a protected name. So if a different kind of meat is used (usually pork) it should be called a Schnitzel.
If you really want to stay true to the Viennese tradition you should order the Wiener Schnitzel. Or you can do like us, and go for the cheaper pork variant. We ate a Schnitzel with a side of potato salad (price just over 13 EUR) at Kaffee Alt Wien, just outside the tourist area. The portion was big and the Schnitzel was very tasty! Kaffee Alt Wien has no veal option. If you want to eat the Wiener Schnitzel you can go to restaurant Figlmüller, just down the street. They offer both the Wiener Schnitzel (around 20,00 EUR) and the pork variant. However, prepare to stand in line with many other tourists before you get a table, as this is a very popular venue.
10. Visit Schönbrunn palace
This beautiful baroque palace was once the summer residence of the royal Habsburg family. Among its most famous members are Emperor Franz Joseph of Austria and his wife Empress Elisabeth of Austria. Nowadays, visiting the Schönbrunn palace and its beautiful gardens is one of the most popular things to do in Vienna, attracting millions of visitors each year.
When visiting the palace, we took the Imperial Tour (which is the cheapest one at around 14 EUR). It led us through 22 rooms and took approximately 30-40 minutes. The ticket includes an audio guide which explains the function of the different rooms, the history of the palace and court life of the Habsburg dynasty, which was really nice. Afterwards we walked through the palace gardens (most parts of the gardens are free to visit), where you can get a great hilltop view of the palace with the city of Vienna as its backdrop. You can easily spend three hours with just the Imperial Tour and a stroll around the gardens.
If you want you can pay all kinds of extra's to visit a bigger part of the palace and/or different parts of the palace gardens (they even have a zoo!). We didn't find that necessary. We found the cheapest tour and the free parts of the gardens already a good value for money and a great way to spend an afternoon.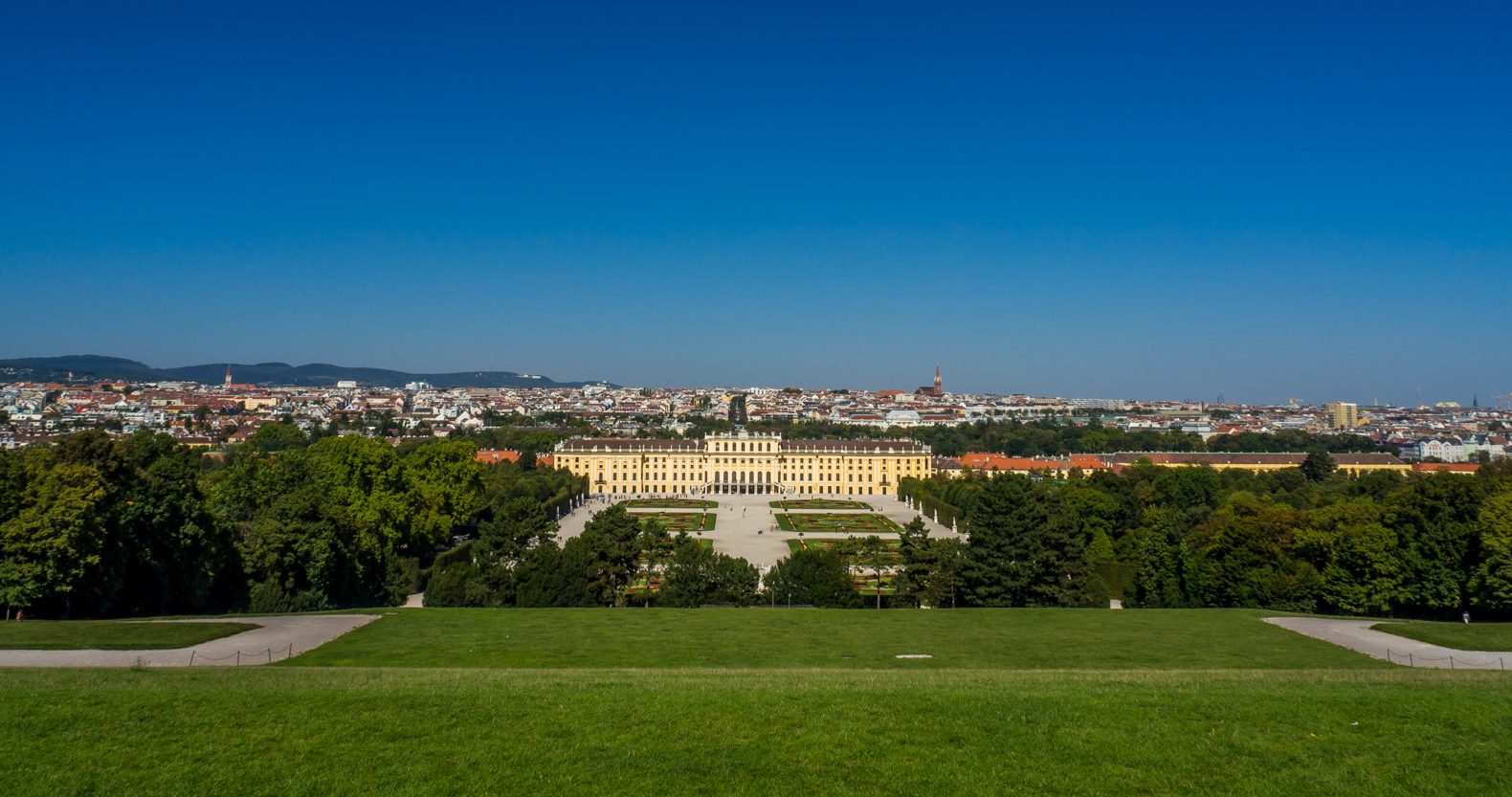 There are of course many more things to do in Vienna, such as visiting the Belvédère, Spanish Riding School or going on a cruise on the Danube. But these ten things represent our favorites and provide you with a nice and varied itinerary for spending a day or three in Austria's capital. Have you been in Vienna and do you have other tips on things to do in Vienna? We are glad to hear them! Leave a comment in the section below!
Pin it for later!
Hi, my name is Geert and I'm traveling the world together with my wife Sandra. I like photography, cooking and eating good food, and exploring the outdoors.
---
---