Sukamade Turtle Beach: A highlight of our Java trip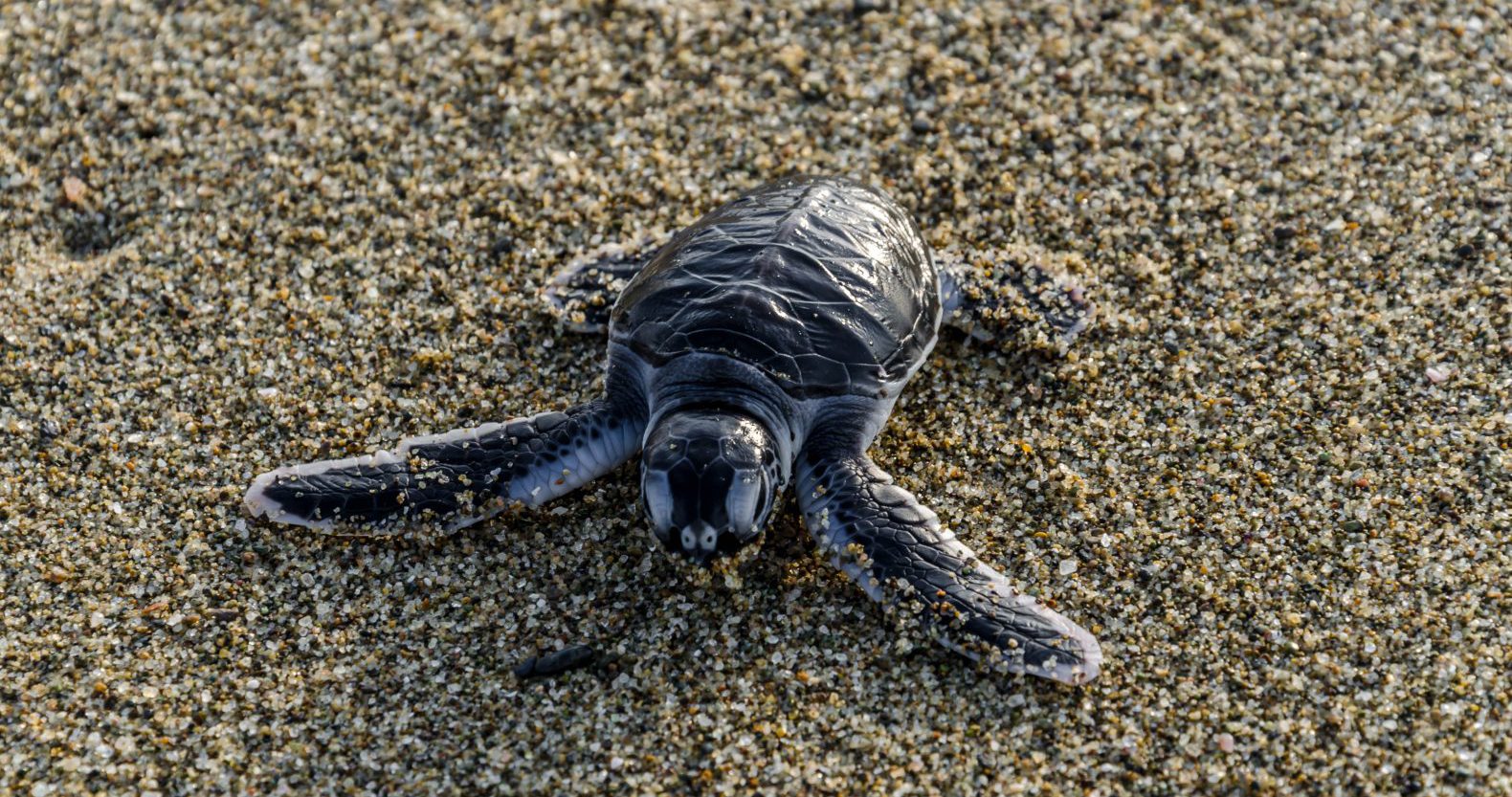 This post might contain affiliate links, which means we may receive a small commission on purchases made through these links, at no additional cost to you.
During our two weeks of traveling through Java, Indonesia, we did a lot of great things. But one of the most memorable highlight was our overnight stay at the Sukamade Turtle Hatchery. Seeing a female turtle laying her eggs at the beach at night and releasing baby turtles into the sea the next morning was a truly beautiful experience. If you're ever in Java, we highly recommend you to take this tour!
Sukamade Beach
Sukamade Beach is located in the Meru Betiri National Park in the southeast of Java, Indonesia. The beach is known for its turtle activity. At night, female Green Sea Turtles (and sometimes also Leatherback Turtles) work their way up the beach to lay their eggs. The breeding season is between October and March. So, if you want to maximize your chances of witnessing a turtle laying her eggs at night, plan your visit in these months. The beach itself is at a remote location. More on how to get there below.
How to get to Sukamade beach?
The only way to get to Sukamade Beach is by booking a tour. The reason for this is the long drive, mostly over difficult terrain. Moreover, there are hardly any signs indicating where to go, so it is easy to get lost. As far as we know there isn't any public transportation or another way to DIY your tour to Sukamade Beach.
We booked our tour via our hotel in Kalibaru (west of Banyuwangi). From Kalibaru it's a six hour drive (four of which are through the jungle) to Sukamade Beach. You can also depart from Banyuwangi if you're there to visit the Ijen volcano. Just ask your hostel or guesthouse to arrange a tour for you.
The drive to and from Sukamade Beach is an adventure in itself. Driving through the beautiful rain forest we saw monkeys, exotic birds and wild pigs. Ask your guide to stop at 'Green Bay', about halfway into the jungle. It's an easy 30 minute walk from the road to this secluded bounty beach. We were there with just the two of us, our guide and three local fishermen. Take some time to sit on the wooden swing while looking out over the ocean. Don't forget to take beautiful pictures to send back home!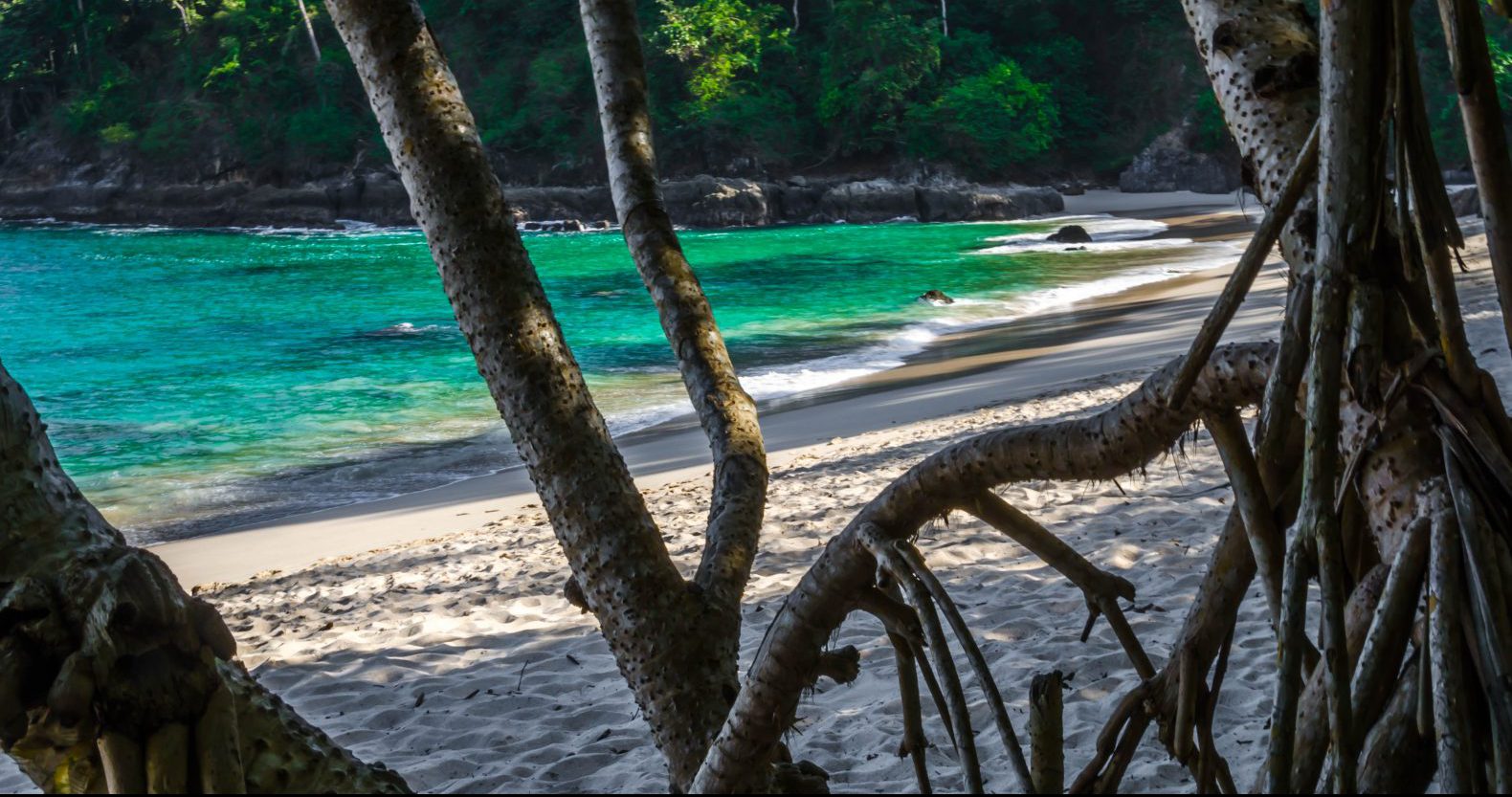 Keep in mind that that the jeep ride to Sukamade takes you through the jungle on very rocky roads. If you get car sick easily, it's probably a good idea to take some pills against motion sickness.
Activities at Sukamade Beach
We arrived at Sukamade Beach in the late afternoon. Apart from the turtle related activities, there isn't much to do at Sukamade Beach. But as seeing the turtles is the reason you're there and you'll only be staying for a short time, there's actually no need to do anything else. We enjoyed watching the cheeky monkeys roam around the ranger camp and steal food from unobservant visitors.
A night time visit to the beach
After dinner, at around 8 PM, we left for the beach with a group of around 30 tourists and a couple of rangers. It was almost full moon, so the path to the beach was reasonably well visible. Once we arrived at the beach we were told to turn off our flash lights and wait in silence while the rangers went out searching for turtles. While we waited, the only sounds we heard were the crashing of the waves and the excited whispers of the other tourists. Everyone was hoping to see a turtle. The rangers had said beforehand that we would have to be patient. It could be a while before they would find a turtle, if they would find any at all.
But we were lucky! After about 45 minutes one of the rangers came back to tell us that a Green Sea Turtle had entered the beach and was now digging a hole to lay her eggs in. We quietly walked up to the turtle and had to wait at a short distance until she finished digging her hole and started laying eggs. Seeing this magnificent creature, illuminated by a near full moon, preparing her nest, was already a magical experience.
When she started to lay her eggs we stood in a semi circle behind the animal. The whole process of actually laying the eggs took only about ten minutes. The turtle lays more than a 100 eggs in this short window of time! The rangers made sure that everyone could take pictures (no flash!) while they dug out the eggs. They even passed around an egg for us to hold. It kinda felt and looked like a rubbery ping pong ball.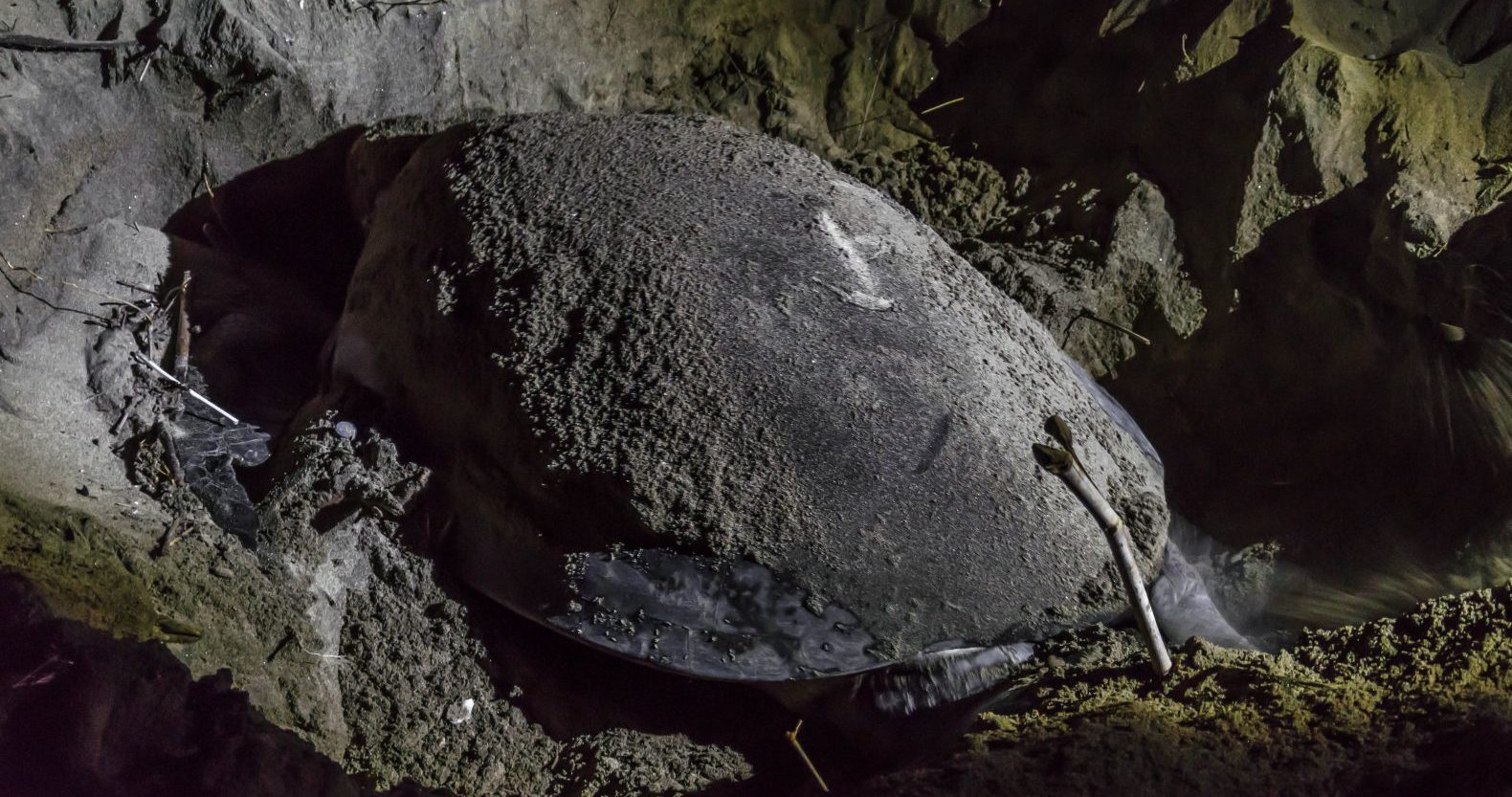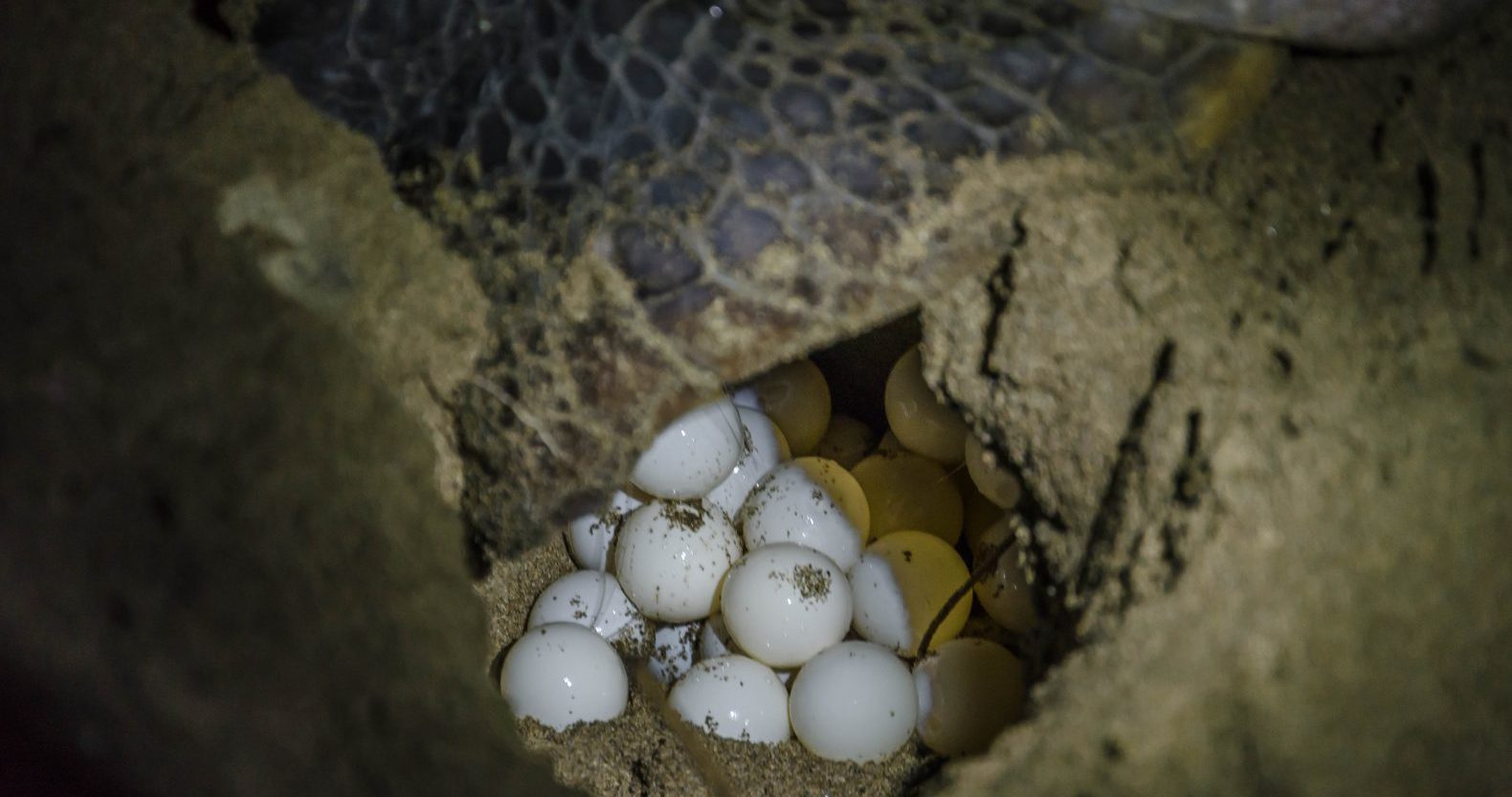 After the turtle finished laying her eggs we waited some more hoping that she would be heading back to the ocean soon. Unfortunately, at around 12 AM, she was still busy covering up the nest (unaware that there we no longer any eggs inside) and we had to go back to our accommodation. The four hours flew by and we were really thankful that we were able to witness this magnificent event!
No guaranteed turtle sighting!
Jut to be clear: there is a risk of not seeing a turtle at night. If none show up, it's tough luck for you. But at least you still have the release of the baby turtles in the morning! If one does show up, then there's still the possibility that the turtle just enters the beach to scout (and leaves again after half an hour). Best case scenario the turtle stays to lay her eggs. The turtle sighting is limited to seeing one turtle per night.
The hatchery
The turtle eggs that the park rangers collect on the beach are hatched at the Sukamade Turtle Hatchery. Why do they do this, you ask? Well, many sea turtle species are endangered, mainly because people hunt them for their eggs, shells or meat. It's estimated that only 1 out of a 1000 baby turtles make it to adulthood. So, at the Sukamade Turtle Hatchery the park rangers dig out all eggs they can find at the beach. Afterwards they bury them again in a protected hatchery. This way, the eggs are protected from their natural predators (and humans!) at least during the initial phase of hatching. After release, it's every turtle or turtlette (meaning: 'a female turtle', I invented the word just now) for itself.
Releasing baby turtles
In the morning we got up at around 6 AM and we gathered near the hatchery. They gave us a bucket with baby turtles and then we headed to the beach with the ranger again. We were with about ten people; a far smaller group than the night before. Releasing these cute little creatures was so much fun! We named all our eight turtles before releasing them into the ocean. I know, we shouldn't have grown attached to the little buggers! The release of these baby turtles on this pristine beach with the jungle as a backdrop was just awesome! We highly recommend this tour to anyone.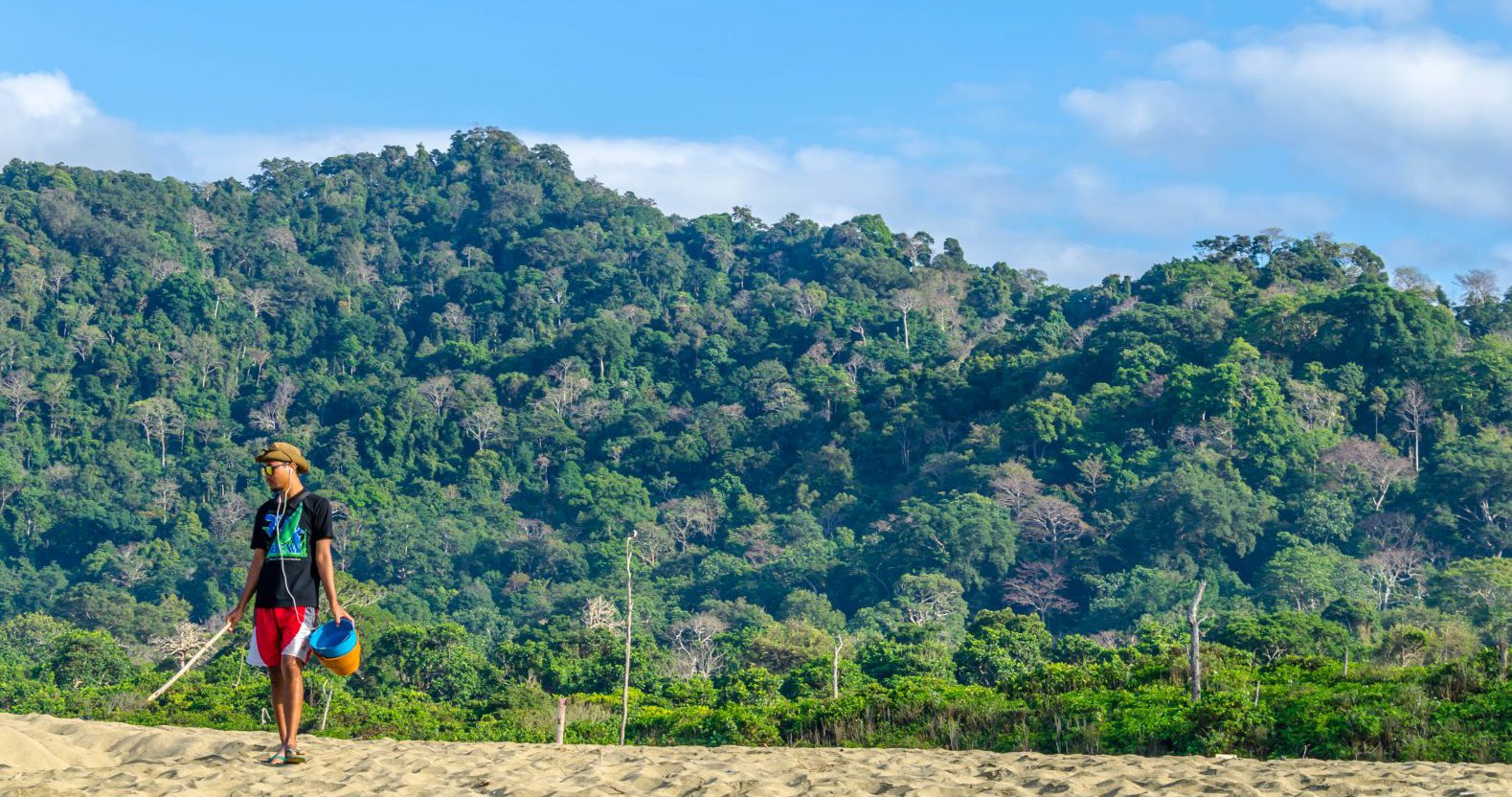 Accomodation & costs
We stayed at the ranger camp near Sukamade beach (five minute walk), which was included in our tour. The accommodation at the ranger camp is very basic, with an Indonesian style squat toilet, no A/C and no electricity after night fall. It's also possible to stay in the village of Sukamade, which is a 30 minute drive from the beach. We've heard that the only accommodation at the village is a little bit better than the ranger camp, but still very basic.
We paid 2.600.000 Indonesian Rupiah for the entire two-day tour for the two of us. This included: transportation (4wd) to and from Sukamade, lunch, dinner, breakfast, accommodation and a guide. As you pay a fixed amount for the jeep and tour guide, it would have been cheaper per person if we could've found two other tourists who were willing to join our tour. Unfortunately, we weren't able to find someone else.
We had a great time visiting Sukamade Beach and seeing and releasing the turtles. We can recommend this trip to everyone!
Pin it for later!
Hi, my name is Geert and I'm traveling the world together with my wife Sandra. I like photography, cooking and eating good food, and exploring the outdoors.
---
---